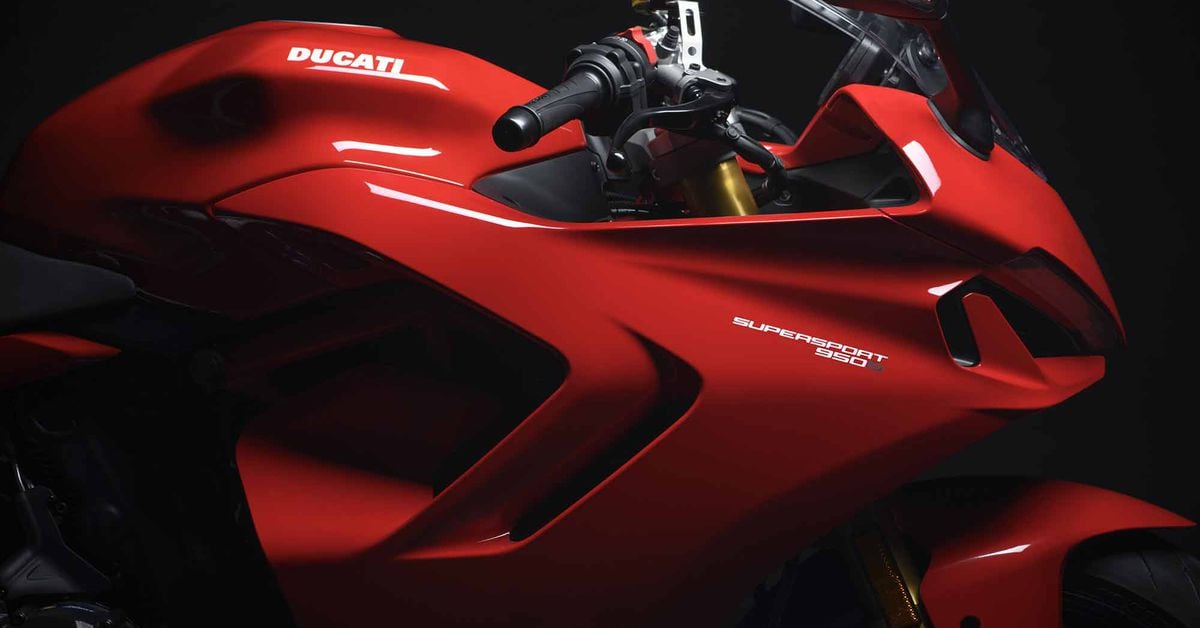 The 2021 Ducati SuperSport 950 S. (Ducati /)
It's been four years since Ducati revamped the SuperSport. For 2021, it gets an overdue rework complete with updated styling, a contemporary electronics package, and a new name. Now dubbed the SuperSport 950, the road-biased sportbike from Borgo Panigale will appear in US dealerships in March, starting at $13,495 for the base model.
Ducati Senior Designer Julian Clement, who penned the 2017 SuperSport as well as the Panigale V4 and Scrambler Icon, chipped away at his original design to give the SuperSport 950 an aggressive look more in line with the Panigale family. While the tank and tailsection appear unchanged, the front fairing and side fairings are new. The fairings feature prominent side extractors and the front end has a look reminiscent of the 1099/1199/899 Panigale.
The redesigned extractors are inspired by the Panigale V4 and are designed to pull hot air away from the rider. (Ducati /)
The SuperSport 950 has the same 937cc Testastretta 11° engine as before, but it's now Euro 5 approved. Horsepower and torque figures remain unchanged. Ducati claims the engine produces 110 hp at 9,000 rpm and 69 pound-feet of torque at 6,500 rpm. New for 2021, the SuperSport gets a hydraulic clutch, replacing the cable-actuated unit of the outgoing model.
Other than the design, the big news is an updated electronics package featuring a Bosch six-axis IMU managing cornering ABS, traction control, and wheelie control. Ducati Slide Control, as found on the Hypermotard 950 and Panigale V4, is conspicuously absent—though perhaps not missed, considering the SuperSport is destined for neither hooliganism nor racetrack dominance. The electronics package has three ride modes to allow complete adjustability, as is Ducati's MO. Adjusting parameters is simple thanks to the new 4.3-inch TFT dash.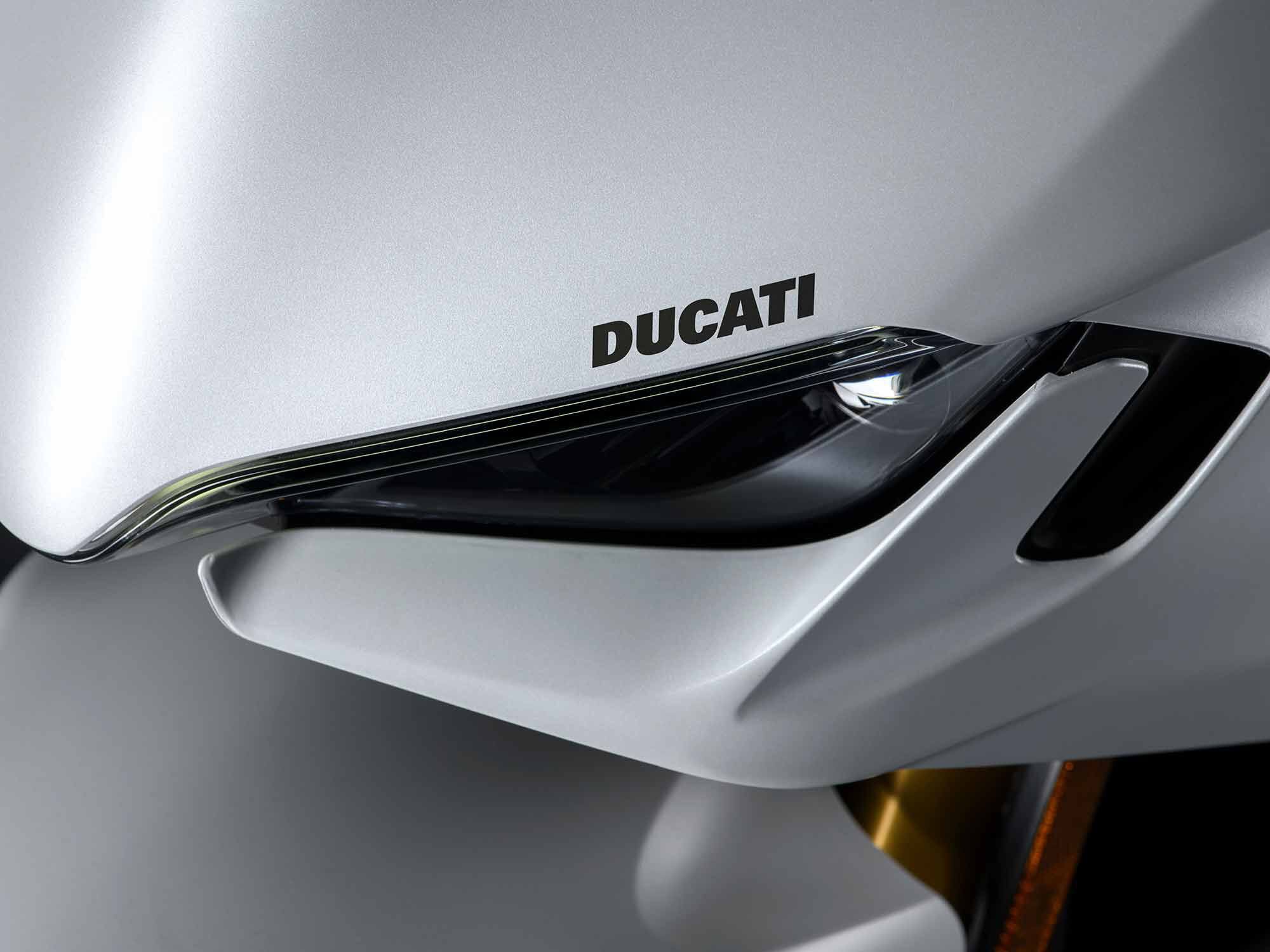 The SuperSport 950 S in Arctic White Silk. (Ducati /)
The SuperSport 950, like its predecessor, is available in a base and an S model. The latter replaces the 43mm Marzocchi fork and Sachs shock with a 48mm Öhlins fork and Öhlins shock. The S retails for $15,795 in Ducati Red and $16,195 in Arctic White Silk. That's only $300 less than the Panigale V2.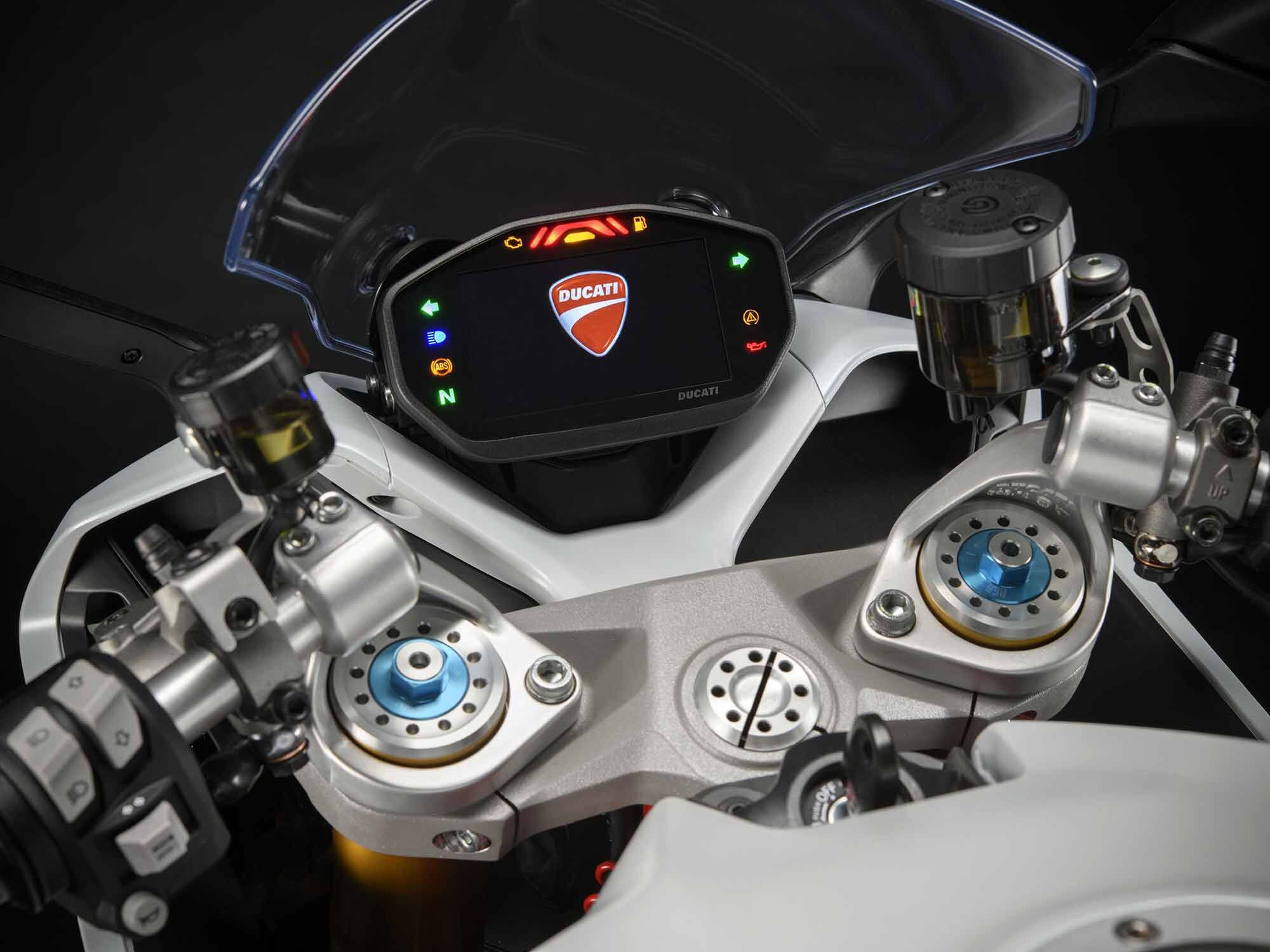 The new TFT dash is shared with other models in the lineup. (Ducati /)
Heated grips, semi-rigid bags, and a taller windscreen are available as accessories. Given the price point and category, we'd love to see the SuperSport 950 come with cruise control and heated grips as standard. While heated grips are available as an accessory, it does feel rather uncharitable of Ducati not to include them, at least on the S model. For a cool 16 grand, it'd be nice to have something warm to hold onto.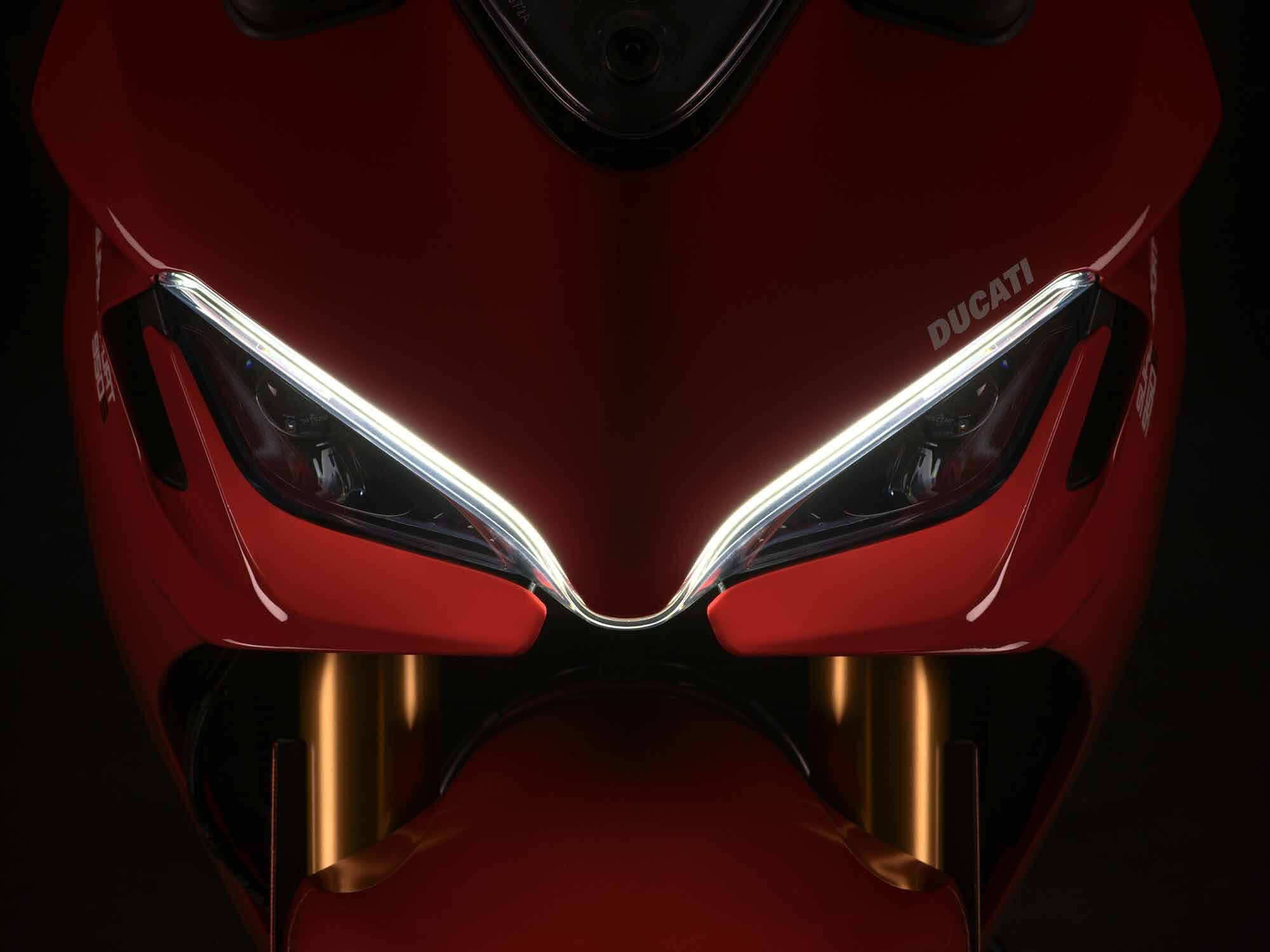 At a quick glance, it could be a 1099/1199/899 Panigale. (Ducati /)
Given its famous name, one can't help but pause and consider the SuperSport's lineage for a moment, especially in light of its new, aggressive looks. Specifics of the design, specifically the swooping LED headlight and front intake layout, are seen throughout much of the current Ducati lineup, suggesting a unifying design language intended to produce a strong brand identity. Parent company VW/Audi follows a similar strategy with its automobiles, so it's interesting to see Ducati follow suit more than ever. That isn't to say it's necessarily a directive from corporate ownership, or that such a directive would be a bad thing. It's not even a new strategy for the brand, but it's becoming more and more realized across the range. In the '90s, Miguel Galluzzi's 900 Supersport and Massimo Tamburini's superbikes shared the limelight without resembling each other even a jot, and were neither the better nor the worse for it. Please note: This observation contains no qualitative assessment or nostalgia, but is merely put forth as a point of contemplation for those sipping their morning espressos and daydreaming of Ducatis.
We Thank To Our Readers For Your All Contributes. We Still Seek Your Support In Pandemic CoronaVirus.
Donate Bellow For Better Future
Registered before? Log in to use your saved details.
If you registered an account, please enter your details below to login. If this is your first time, proceed to the donation form.