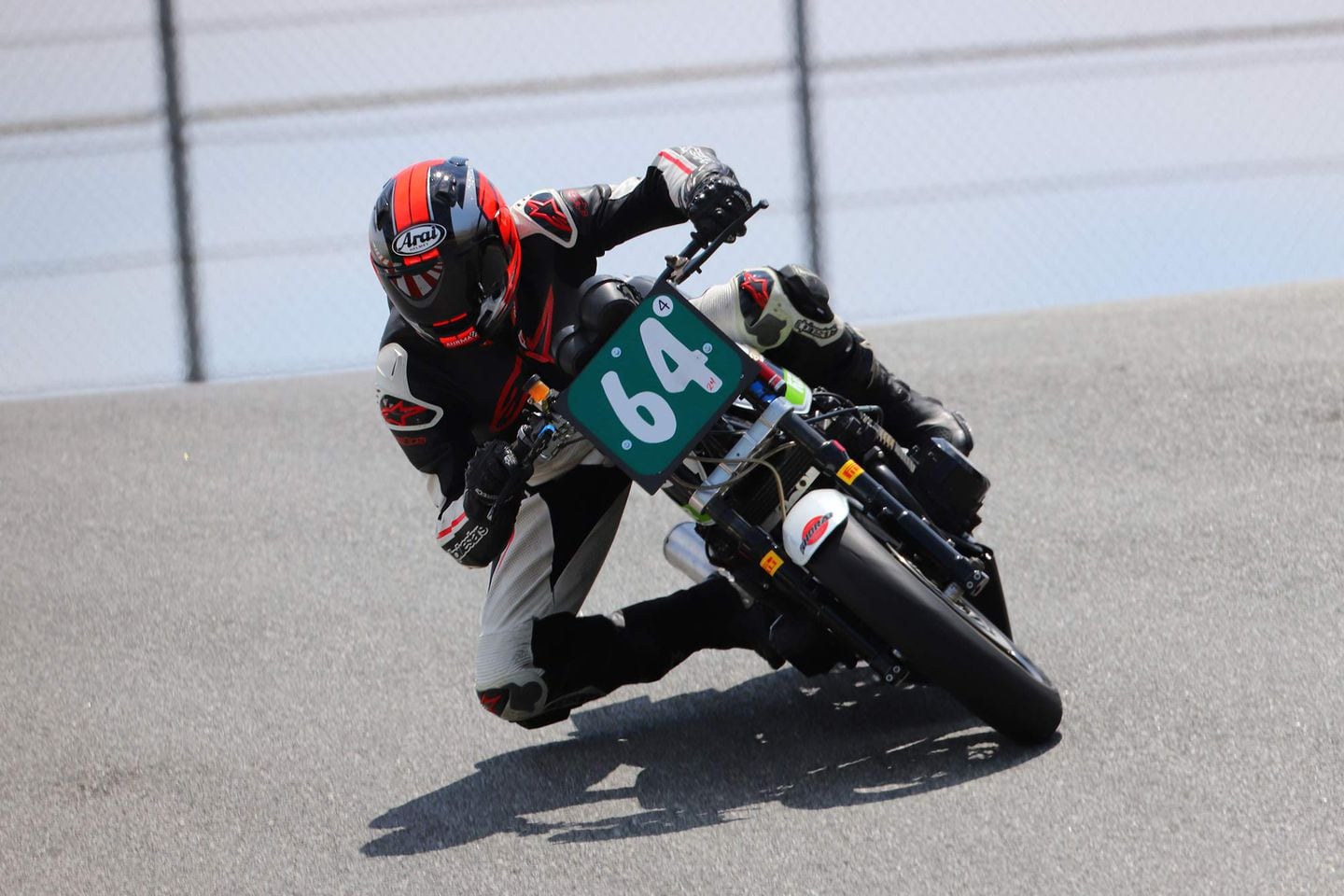 Laguna's epic Corkscrew aboard Chris Carr's 1981 Kawasaki GPz550 built by HyperCycle. Could there be a better birthday party? (Etech/)
During the third week of July 2021 I turned 60 years old. When asked by my wife Judy how I'd like to celebrate this event, I answered, "Race Chris's bike at Laguna with Carry…and drive there in the El Camino with stops to visit Mom."
Driving an old truck to race an old bike with old friends and hang out with my old mom—a perfect birthday week for someone who loves vintage life. Judy rolled her eyes and said, "Have fun." No roll-up windows, manual locks, and carburetors for her, but she knew it was a dream of mine to drive a vintage truck to an American Historic Racing Motorcycle Association (AHRMA) vintage race, and she knows how much Chris Carr (AHRMA Chris Carr, not dirt-track Chris Carr) meant to me. She also understands my love of racing, especially on anything built by HyperCycle's Carry Andrew.
Chris' GPz on the left, Carry Andrew's Z1 on the right—both 2021 Laguna Seca AHRMA winners. Carry's work on the 550's electrical system, the Millennium cylinder work, and a new Yoshimura MJN kit for the carburetors took this storied racebike to a new level. The suspension hadn't been touched for a decade and Steve Biganski did his magic, changing springs and valving on both ends. All this, and Carry has a list of fun things to do next! (Alberto Gonzalez Jr./)
My mom would turn 85 the day after I turned 60. My El Camino is 54 years old. Chris Carr let me ride his 40-year-old GPz550 for the last five years. Carry Andrew, age 68, would bring Chris' freshly rebuilt bike and his own 1977 Z1 Superbike up from Southern California's San Fernando Valley and we would continue our 30-year friendship with some more racing. It was a vintage birthday and one of my best.
Carpe Diem
The words "seize the day" are brought to life in the AHRMA paddock. Yes, there are young racers and modern bikes enjoying their lives, but I'm talking about us geezers on the old stuff! For a dozen weekends a year we gather to celebrate the youthful exuberance of flying around tracks on motorcycles, untethered from the mirror that shows age lines with our gray hair and expanding foreheads with nothing to worry about except grid positions and perhaps the location of the nearest bathroom. We line up and give it hell, but it's a respectful hell and nobody actually cares too much where they finish as long as they're in the hunt—and perhaps whether or not they beat their buddy. Working on the old crap is just about as much fun as racing it.
And I met my good friend, Chris Carr, at AHRMA. We became fast friends about 10 years ago, hanging with each other at races and other motorcycle events. Chris rode everything—and he rode all the time, winning seven AHRMA championships on his GPz550 and performing other feats of derring-do, like riding from Alaska to Florida on a Sportster. He owned a handful of Motorcycle Safety Foundation locations in Georgia, and we shared a passion for riding instruction. When his cancer hit, we doubled our time together, events that included COTA for the Grand Prix as guests of friend Don Cook, Las Vegas for IMS, and the 2019 Barber AHRMA finals. He never wanted to talk about his cancer but it was bad and it took him away at the age of 61. I wrote about it here.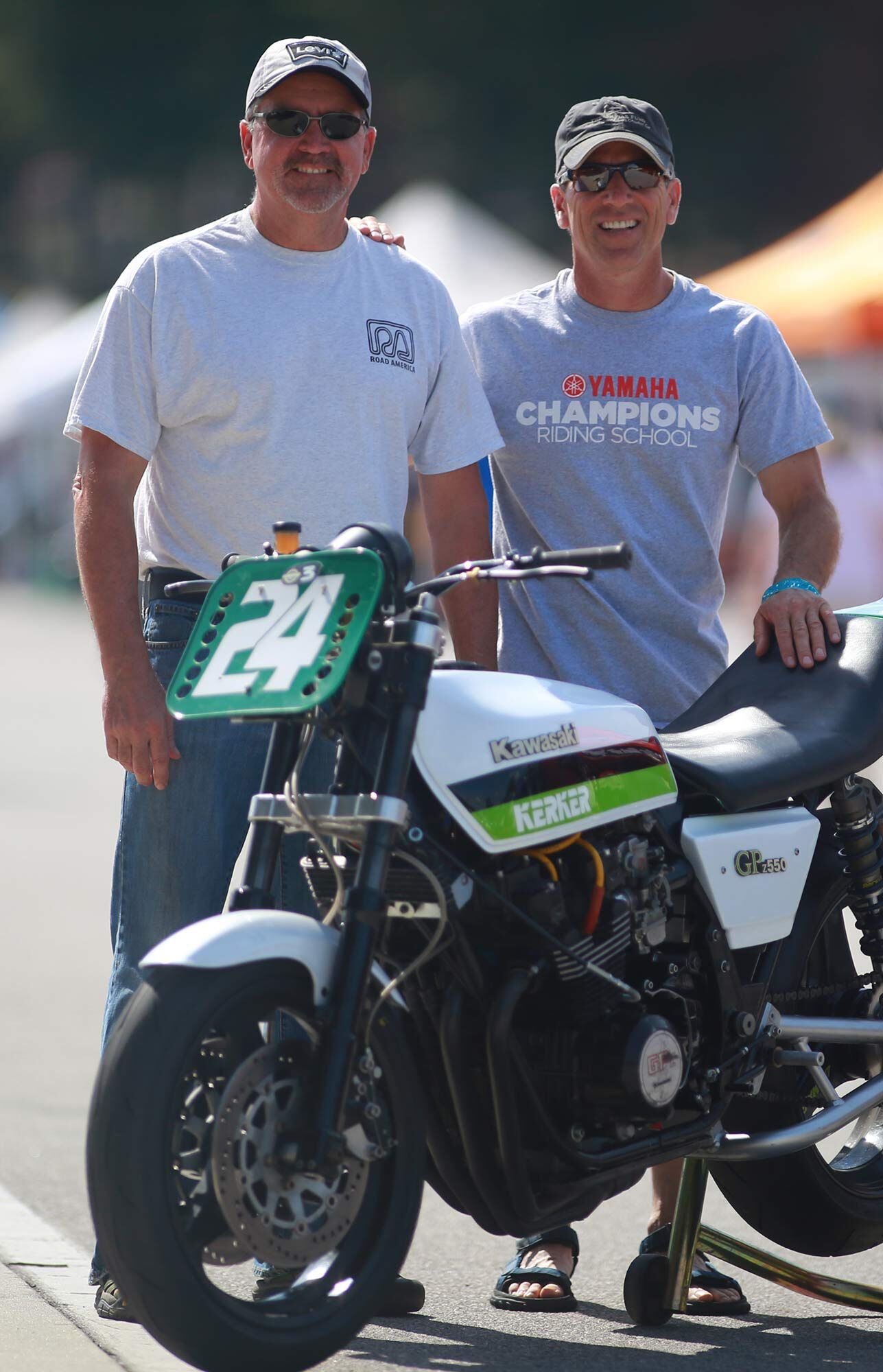 Chris at Barber Motorsports Park five years ago, the first weekend I raced his bike. Since then Carry has taken over the prep work and Steve Biganski has rebuilt and revised the suspension. Look closely and you'll see a cookie sheet used as an "oil catch pan" in case of catastrophic engine failure; a cookie sheet won't hold much oil so TaylorMade shaped carbon fiber to form the real thing, just an example of the direction we're going. (Etech/)
The drive from southern Colorado to northern California for the weekend of racing was done with Chris on my mind. This was his kind of a trip, with no timelines and as little freeway driving as possible. I thought of him a great deal because his enjoyment of AHRMA's people and machines matched mine; we both appreciated how blessed we were.
On Saturday morning's first practice I rolled out wishing he was at Laguna; as I zipped up the hill to the Corkscrew my face shield was full of a perfect blue sky above the black asphalt and red/white curbing. It was magical, and I felt Chris with me on his white 550. It put tears in my eyes. That happened a lot this trip, it happens a lot in my motorcycle life. He was special and I was honored to have him as my friend. Thank you to Chris' wife Sowatha for allowing Carry and me to continue to prep and race Chris' bike; it's in good hands, much loved and appreciated by us and all who see it being campaigned.
Pictures Tell the Story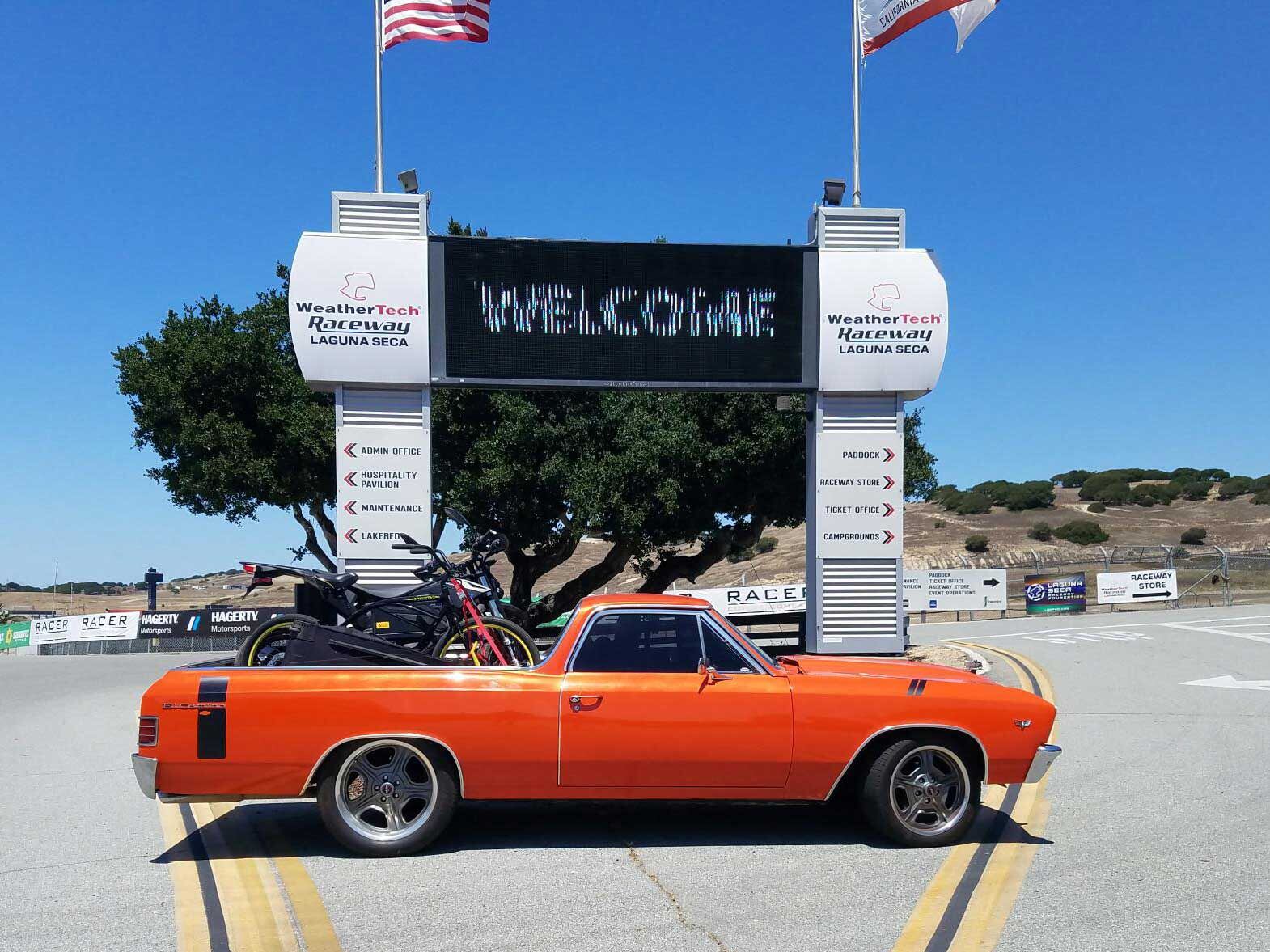 Made it! A quick picture before descending the hill into Laguna Seca's paddock on Thursday. The El Camino marched from Colorado to California very well, running along Highway 50 for as much of the trip as possible. Tall gearing plus a five-speed transmission allows it to loaf along at freeway speeds while hauling my Zero FXS and a bicycle. Q: "Why do you always carry a motorcycle or bicycle?" A: "Because this thing is 54 years old, and I'm the mechanic." (Nick Ienatsch/)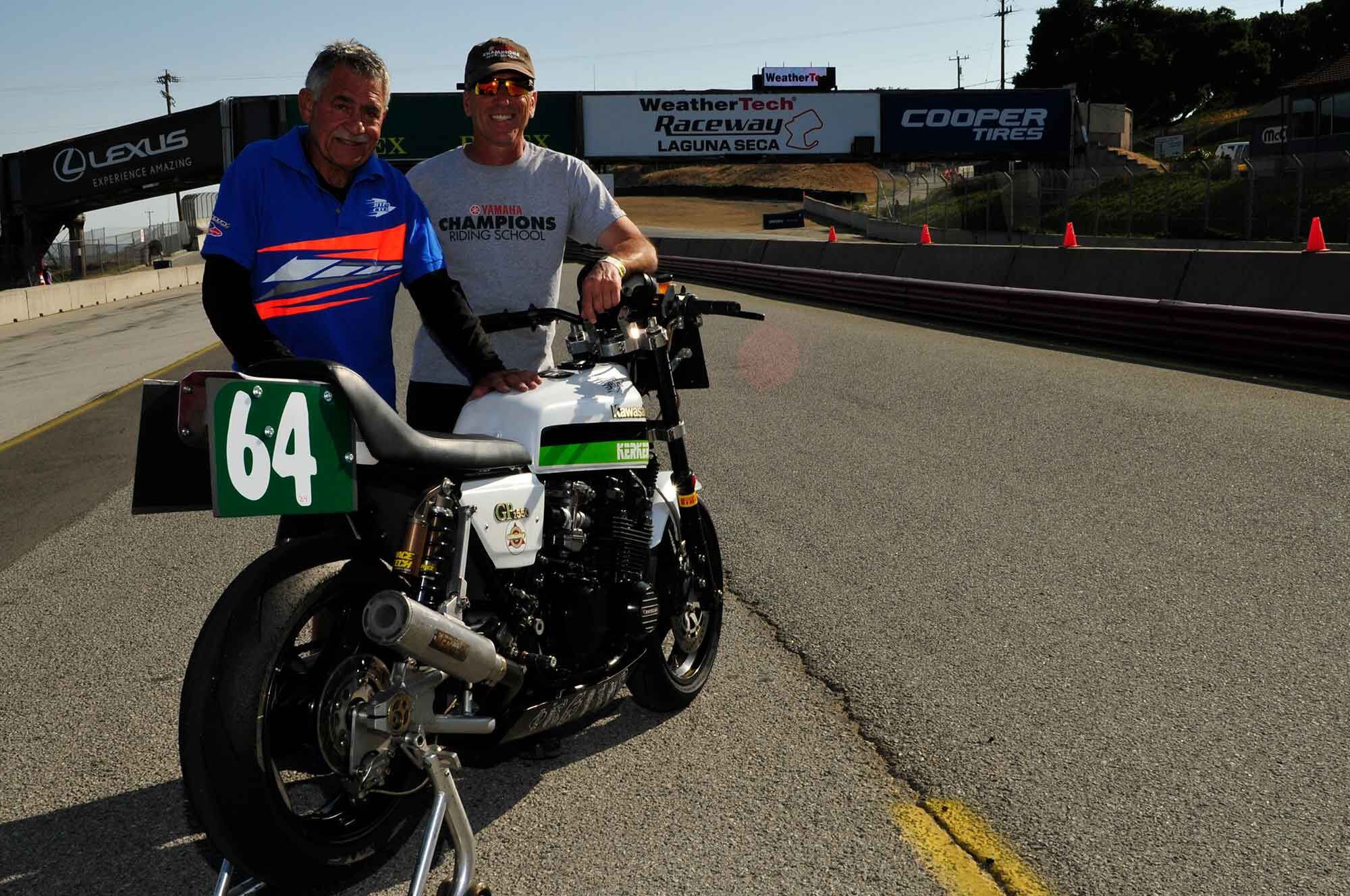 When COVID hit, fortunately Chris' GPz had gone to California from the Barber AHRMA 2019 finals in Carry's box van. The national-championship-winning tuner put his skills into everything, with his best efforts going into the engine build. Carry has used Millennium Technologies for years and asked it to Nikasil the cylinder liners for the JE pistons. A month before this shot at Laguna, Carry debuted the new build by winning handily at the Streets of Willow AHRMA round. We. Love. This. Bike. (Alberto Gonzalez Jr./)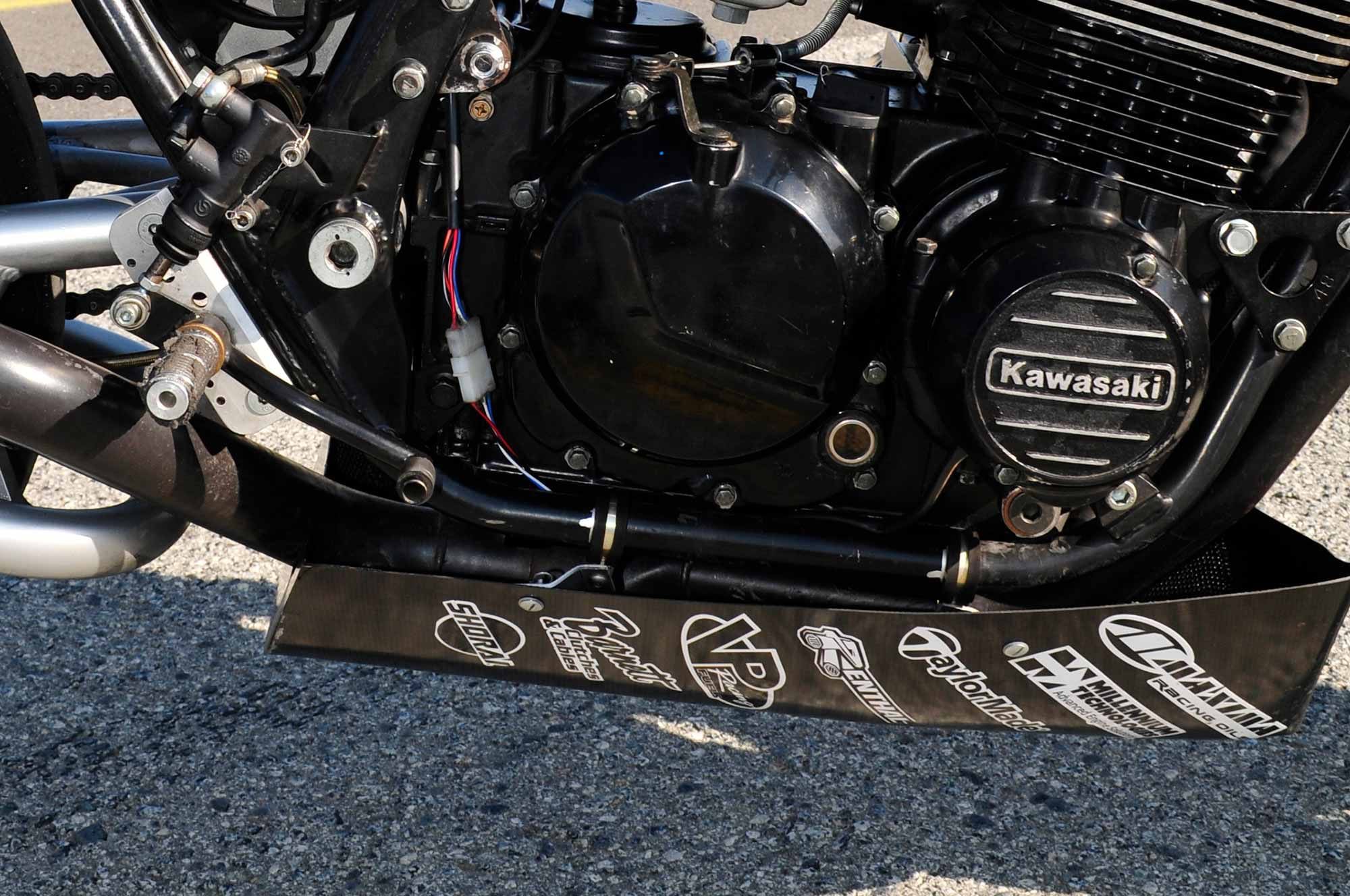 If you remember the Barber race, we fashioned the world's ugliest bellypan from a metal bucket and I've yet to hear the end of it! Not this time: TaylorMade produced this carbon fiber work of art. It doesn't drag, holds a lot of oil, and the fit and finish are exemplary. Carry redid the seat too—something that's been necessary for more than a few years now. Wow, what a concept: Stop racing for a year and really improve the bike! (Alberto Gonzalez Jr./)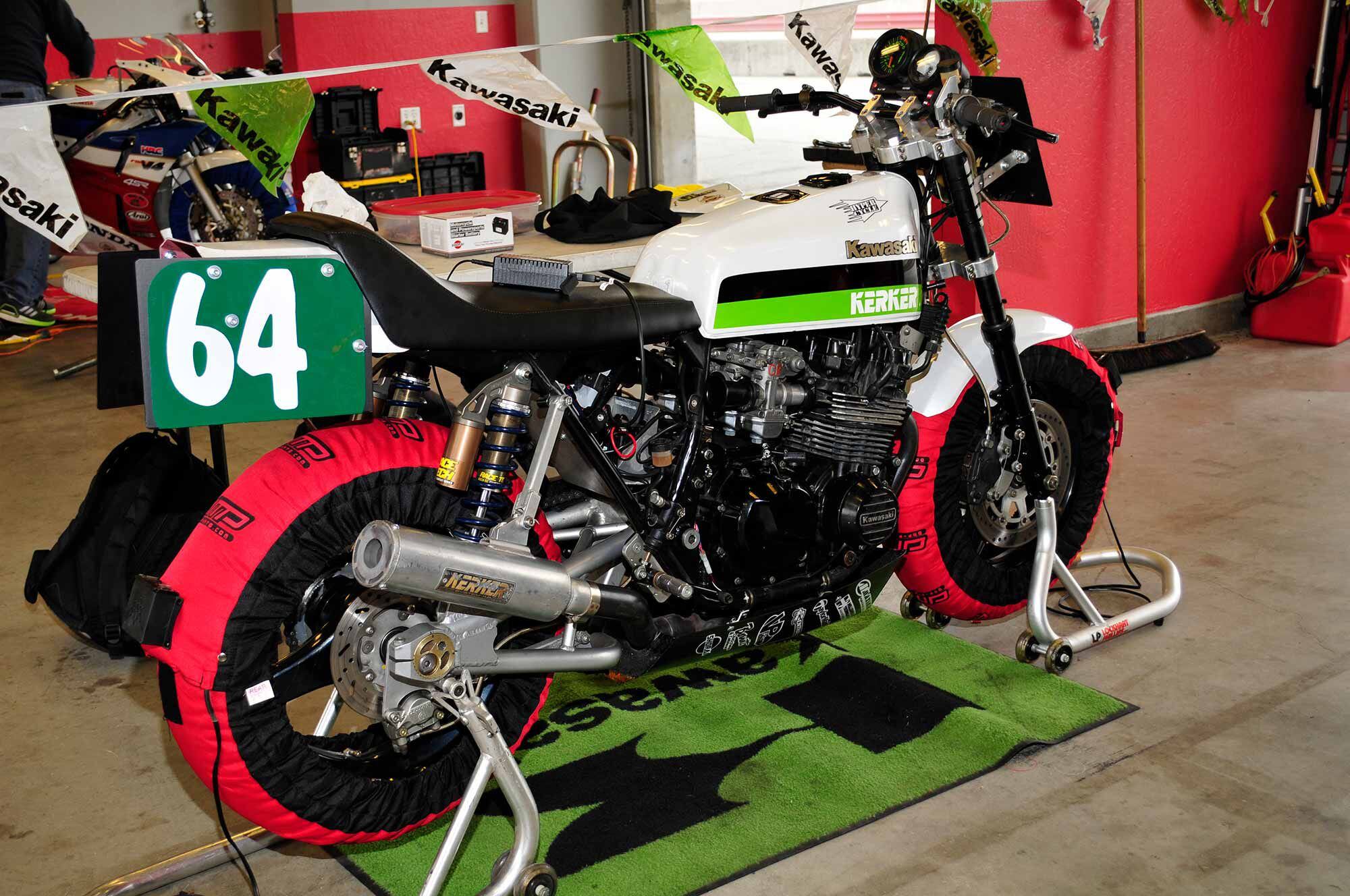 Carry and mechanic (and photographer) Alberto Gonzalez Jr. didn't have much work to do on the GPz over the weekend. The cylinder head was retorqued and the Shorai battery was recharged due to the constant-loss system with Dyna ignition. Our only misstep was failing to read the battery voltage correctly and that resulted in no ignition and no noise from the engine on Saturday. A charged battery made great noises on Sunday. (Alberto Gonzalez Jr./)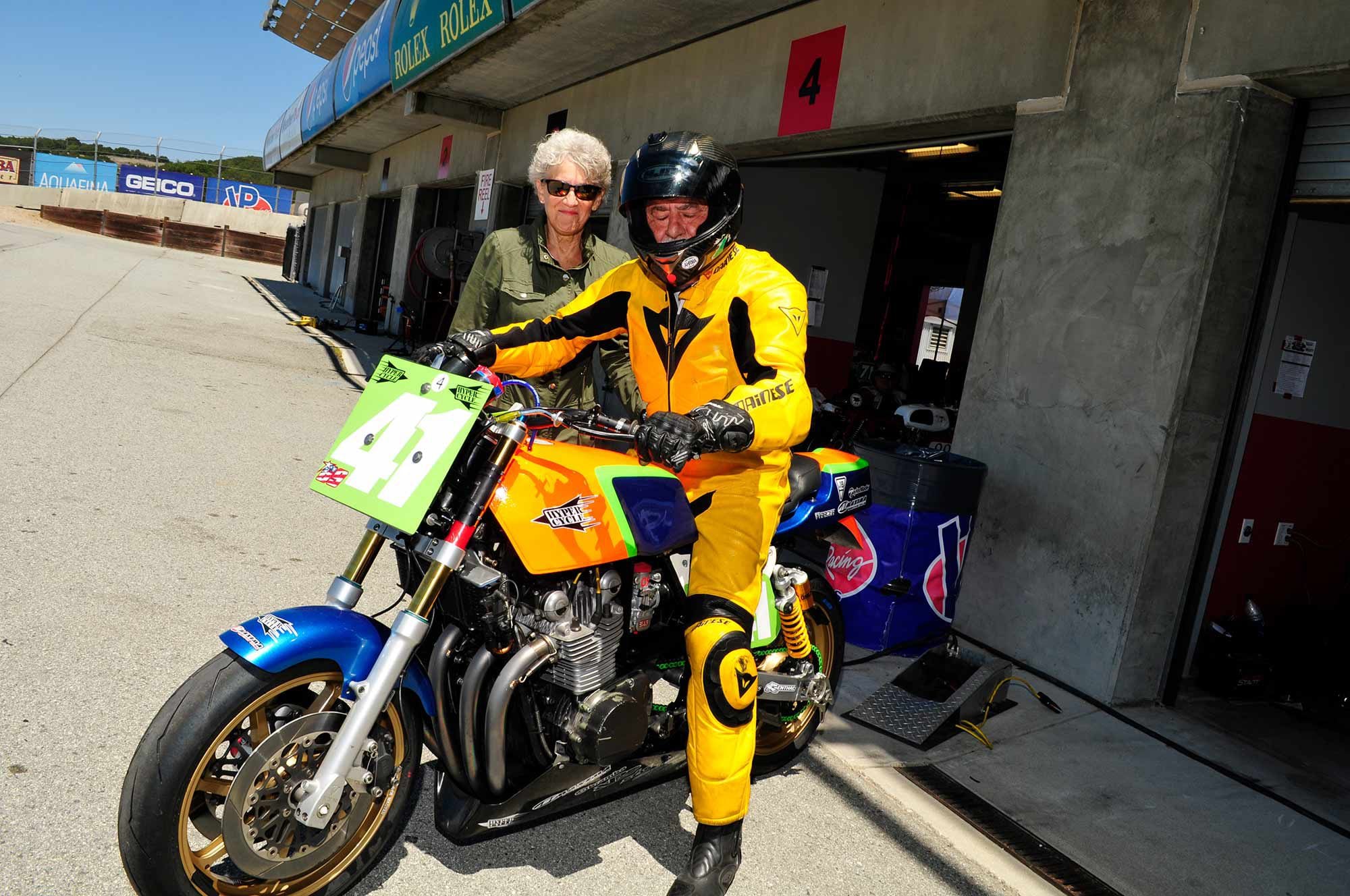 Carry and Nancy Andrew just prior to practice for Vintage Heavyweight Superbike. Carry's 1977 KZ (named Yancy and wearing 1979 Mark 2 bodywork in classic Hypercycle colors) is the same bike he raced as a young man in AMA Superbike competition. Thanks to his years of experience and trick JB Power parts, the bike has aged as elegantly as the Andrews. The latest fun is a carbon fuel tank, and this highlights a major joy of AHRMA: tricking out the old stuff. (Nick Ienatsch/)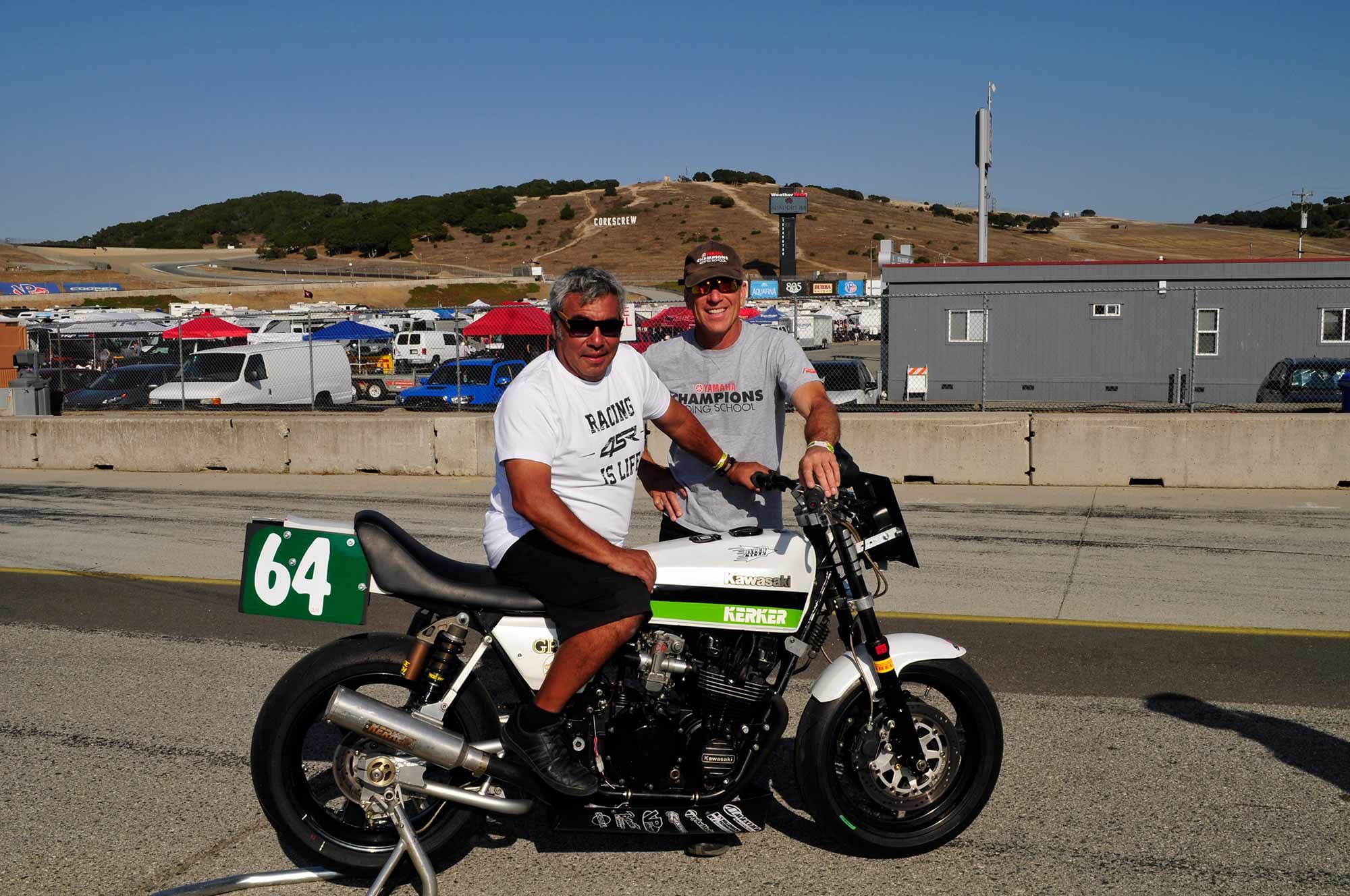 Big thanks to Alberto Gonzalez Jr. for all the wrenching and picture taking during the weekend. I've known Alberto for years and it was a pleasure having him care for the GPz. We borrowed him from Florida's Moto Corse Performance, so thanks to fast guy Chris Boy too. Both Alberto and I are about 5-foot-8 so this picture illustrates how small Chris' GPz is; Carry reports that it weighs 345 pounds with oil but no gas. That lightness comes through over every inch of Laguna (Carry Andrew/)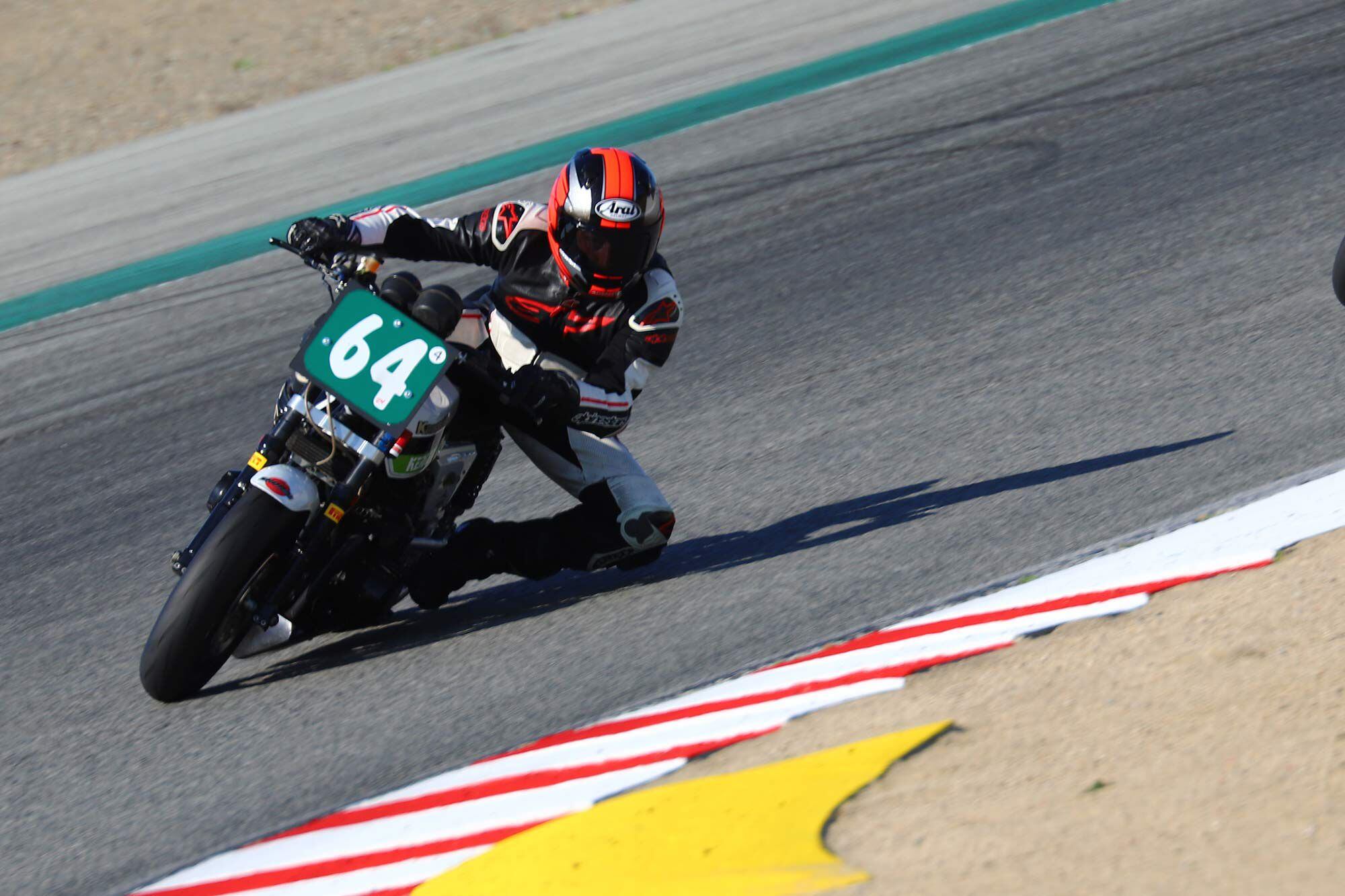 When I think of Laguna's turn 2, I think of Eddie Lawson and Jimmy Filice, two great riders to emulate. Steve Biganski gave me a suspension setup that could be really loaded and the decade-old Framecrafters work on the GPz really shined. Chris Maguire of Pirelli fame (CT Racing) fitted an SC1 up front and SC2 in the rear and the bike was on rails from the first corner of the weekend; CT Racing also introduced our team to the new Mullico digital tire gauge—great stuff. This Vintage Middleweight Superbike class is a joy: entertaining power on 17-inch DOT-legal race tires (no slicks allowed) in a simple and light package. (Etech/)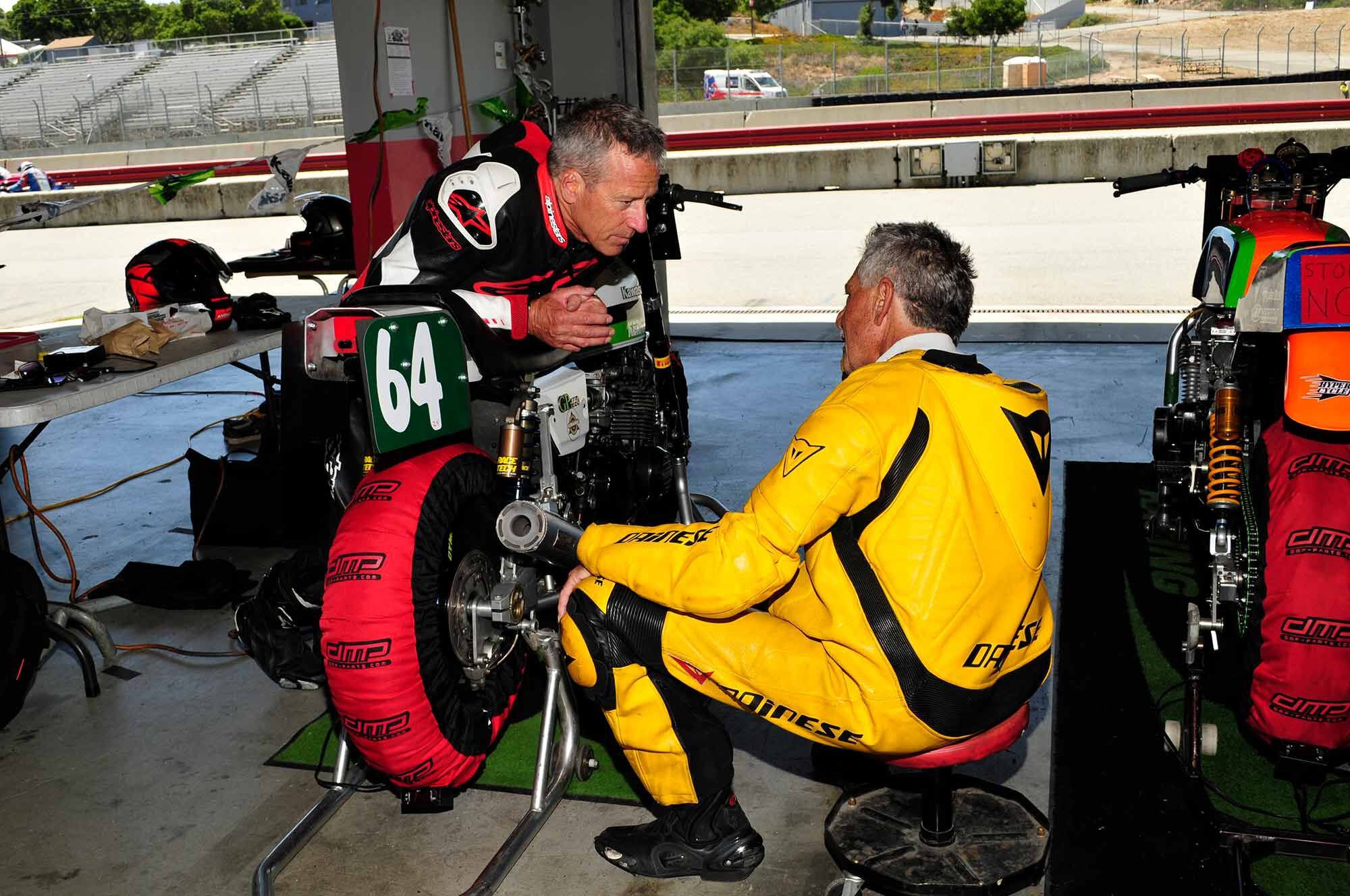 Beneath the fun of racing AHRMA is the seriousness of a risky endeavor. Bike preparation, passing, pushing too hard on the first lap, and getting into slower waves that started ahead of us… Carry and I talked about it all. As an amateur hobbyist mechanic with more enthusiasm than talent, much of our conversation is me gleaning information to further a garage project—I might as well ask the best. (Alberto Gonzalez Jr./)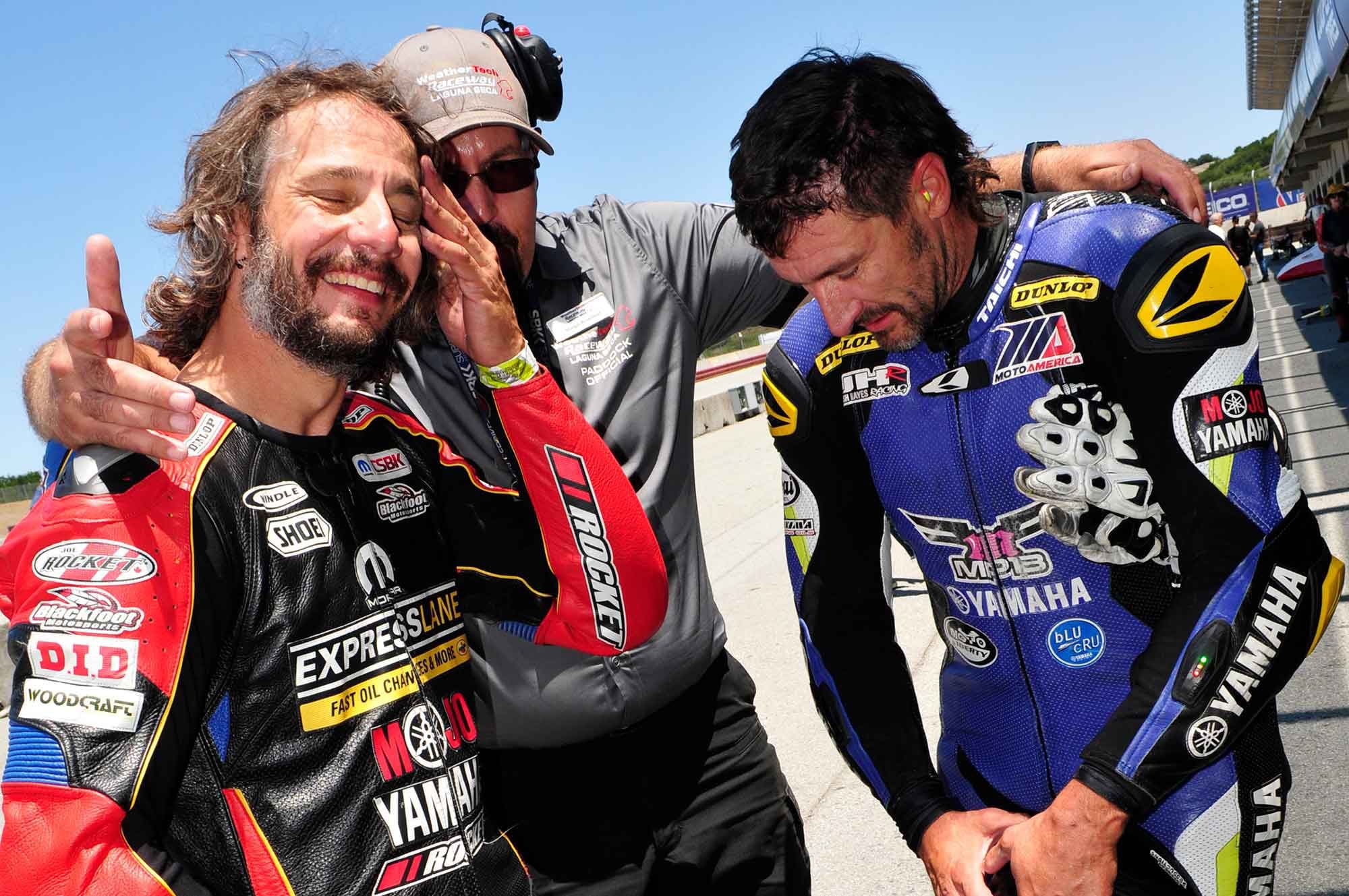 Hey, isn't that…? Yes, it is. Jordan Szoke and Josh Hayes in the AHRMA paddock with an official just prior to thrilling us all in the Phillip Island Classic class. Two Superbike champions haulin' ass on XR69s with Yamaha FJ power. (Alberto Gonzalez Jr./)
AHRMA is all about catching up with friends and it was great to see Jim Granger again. Jim was the man behind so many of our racebike and magazine-bike paint jobs, and his passion for all things motorcycling is still going strong. His son Russ races sidecars with AHRMA. (Alberto Gonzalez Jr./)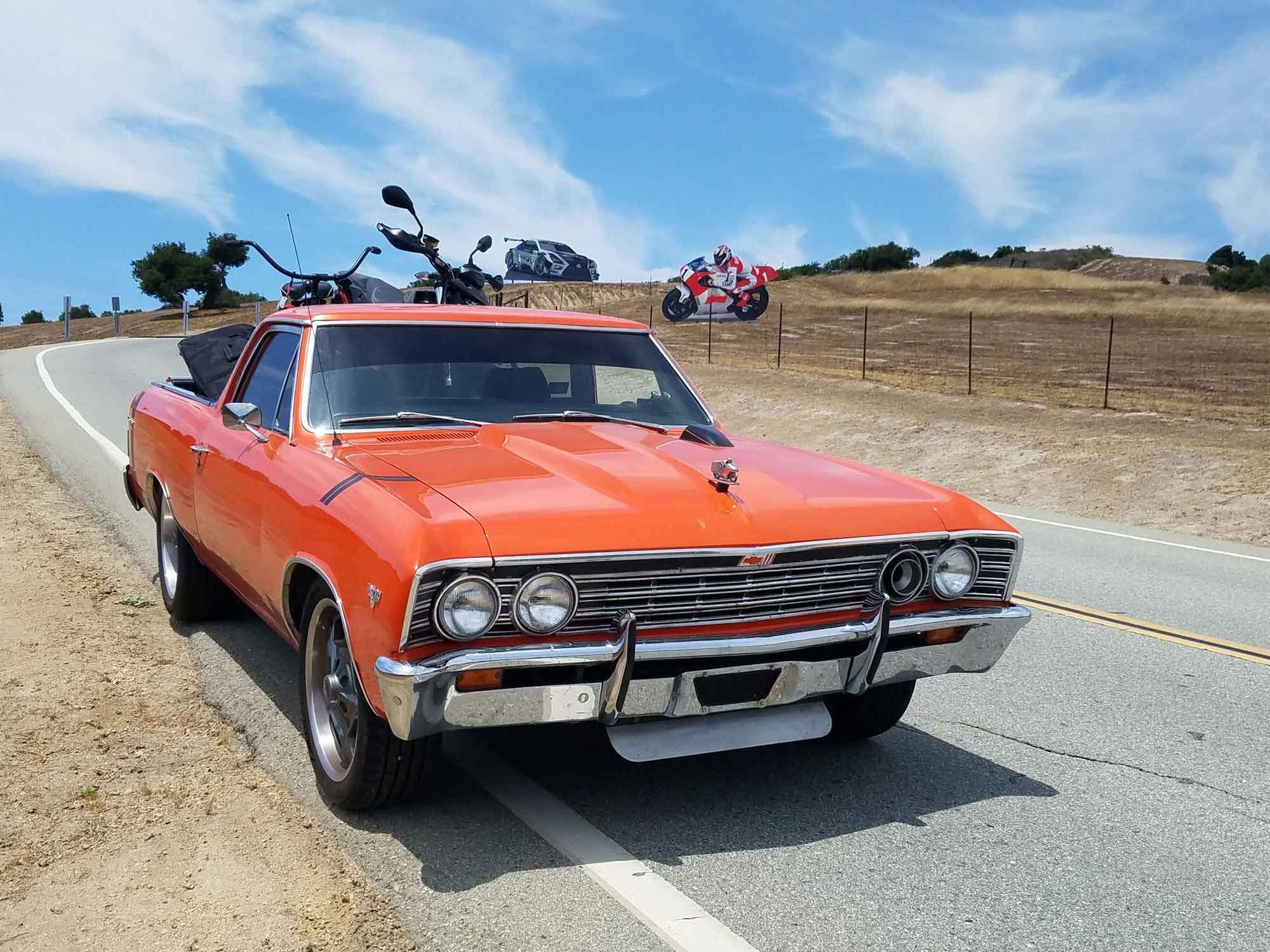 Loaded up and leaving Laguna I stopped for a picture with one of my heroes, Wayne Rainey. Laguna memories include riding here from Salt Lake City with six friends to camp in the infield in 1982 and '83, getting our minds blown by Kenny Roberts and Randy Mamola. I also met Eddie Lawson here for a "Lessons from Lawson" Motorcyclist magazine story on FZ750s in 1986. With friends gone, especially Chris, I deeply treasure these memories and this vintage birthday trip. (Nick Ienatsch/)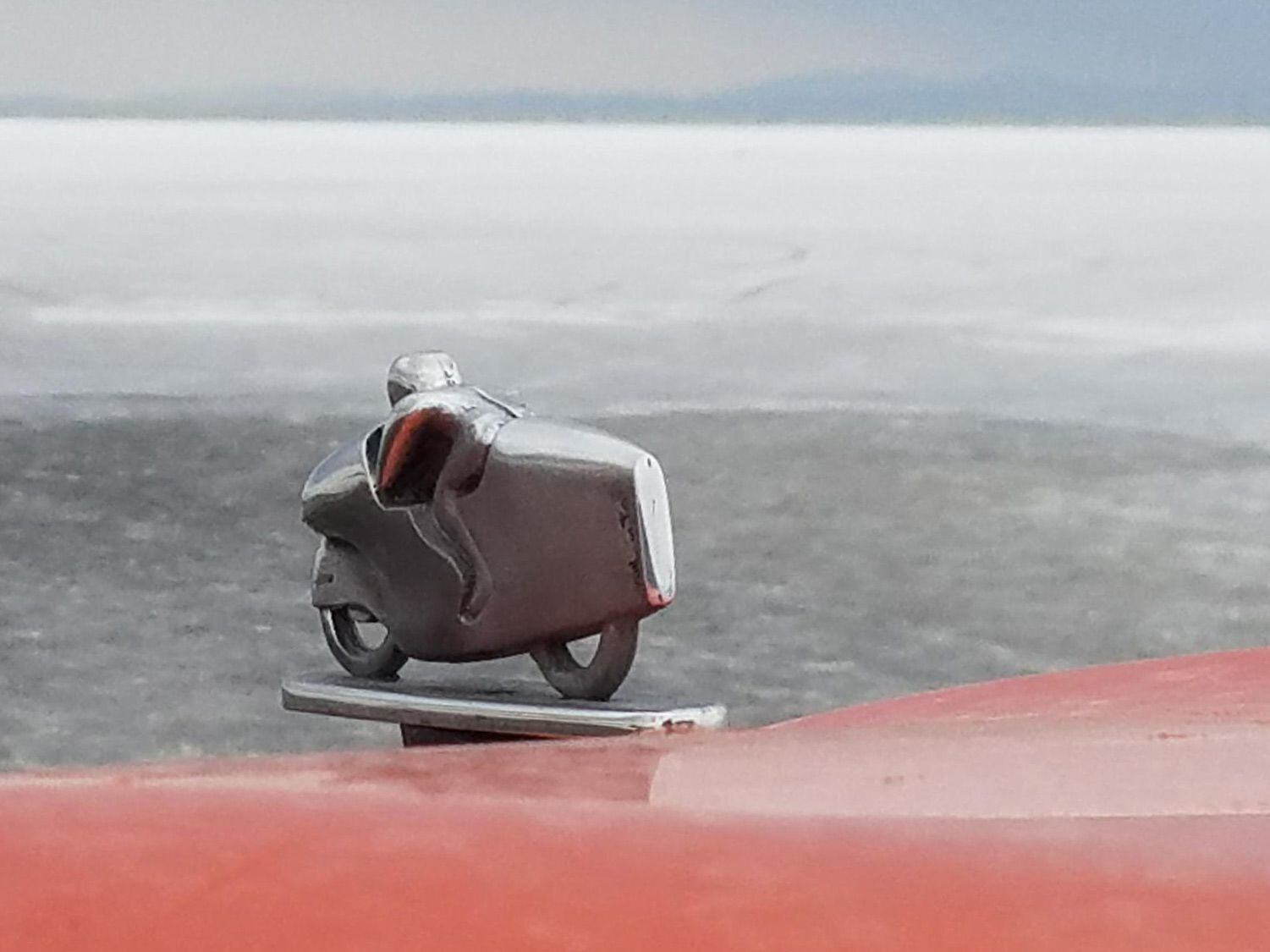 I took a detour to the Bonneville salt because of my El Camino hood ornament. It was listed on eBay motors with no history or information but after I mounted it, I learned from my 200-mph-club friend Walt Kudron that it was a Bonneville trophy topper. To me, it's a replica of my friend Ralph Hudson, a big-time land speed record rider who came to YCRS and then raced with me at Phillip Island several years ago. Ralph passed in 2020 so I took him back to the salt for a look at a world he excelled in. My 297-mph friend Ralph leads my Elko in all adventures. "It's OK officer, Ralph has been over twice this speed." (Nick Ienatsch/)
There's a place for you here at AHRMA. Not just as a rider, but as a sidecar driver or monkey, a builder, crew member, AHRMA employee or volunteer, spectator, bike-show participant, swap-meet participant, or story-telling expert. Also, don't forget that most AHRMA national rounds feature motocross and dirt-track as well—Laguna did. Additionally, most AHRMA roadracing rounds feature the Academy of Racing that allows students to race that very weekend if they do well in class. AHRMA brings happiness to a lot of us, those like-minded people pursuing joy on two wheels at any age. A weekend in this paddock focuses us on all that is right in life: Great people involved in an all-encompassing passion.
More next Tuesday!
Source link