Jack Miller took the win in Jerez, after Fabio Quartararo dropped from the lead due to pain associated with arm-pump. (MotoGP/)
For many laps this GP looked like another well-managed win by Fabio Quartararo on Yamaha. On Friday, he said, "I'm feeling great and have great confidence with the bike." Then he suffered arm-pump with pain and weakness, going rapidly backward from his 1.4-second lead on lap 13 (having taken the lead from Jack Miller, Ducati, on L4) to finish 13th, almost 19 seconds behind winner Miller.
Miller and Ducati team manager Gigi Dall'Igna were nearly overcome with relief and their collective accomplishment, Miller riding a "roller coaster of emotions" that included tears, and Dall'Igna saying, "I think I'm the happiest person in the world right now. Jerez has always been a difficult track for the Ducati bikes [their last win at Jerez was by Loris Capirossi in 2006!] so to be able to finish first and second today is crucial for us, especially from a technical point of view."
Although Honda riders Marc Márquez and Dani Pedrosa have won here multiple times, this has been considered a best venue for the "corner-speed people," namely Valentino Rossi and Jorge Lorenzo. Franco Morbidelli described Jerez as having "long and smooth corners where I feel good."
Today's Ducati 1-2 finish (Miller, Francesco Bagnaia) seems to confirm that the team was correct to replace the highly respected Andrea Dovizoso with an assortment of younger men. And think about the career of Miller, who was plucked by Honda directly from his Moto3 success but failed to take fire in MotoGP as Márquez had done, having next to accept a place at what has in the past been called "the graveyard of careers": Ducati. (Think of Rossi's time there—and Lorenzo's.) Today is Miller's first win in the dry, confirming at last that he can stay at the front to the flag. He can now look in the mirror and see that, yes, he does exist. This has been a huge day for both men.
If Yamaha has at last overcome its problems with rear grip, where were the other Yams? Morbidelli was third on his 2019 Petronas bike, the mercurial Maverick Viñales seventh on the second factory bike, and Rossi an ignominious 17th on the other Petronas bike. Quartararo deserves our admiration for the apparent ease with which he led this race, but the overall result does not foretell a new era of Yamaha dominance such as Rossi's championships of 2004, 2005, 2008, and 2009. Rather it causes us to remember crew chief Jerry Burgess saying that a manufacturer can feel good when its bike wins races under more than one rider, showing that it's not just a quirky special that's only usable by one person.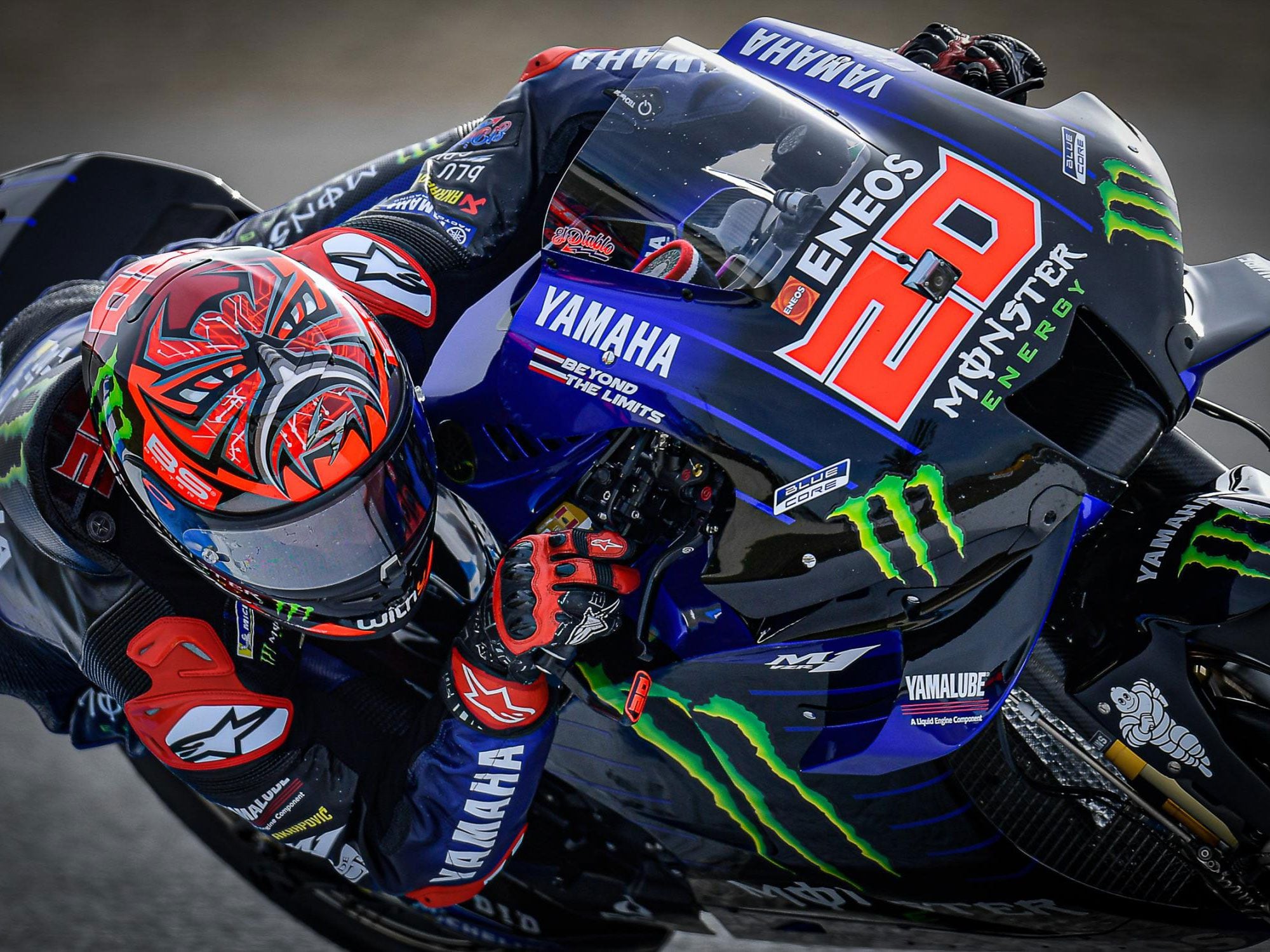 Fabio Quartararo looked to have the Spanish GP in the bag, until he quickly faded back to a 13th place finish. (MotoGP /)
This brings us to this remarkable outburst by Honda rider Pol Espargaró: "We do not have traction, we do not turn, and our speed is not good. I cannot ride smoothly so I'm riding tight. I'm trying to gain every time more and more time on the brakes, until the brakes give up and then I go wide. Because in these areas we are a mess.
"I'm just an employee of Honda and I'm going to do what they want me to try and I'm going to work with the package they want me to work on.
"We are all using different packages. He's using one, I'm using another one. And the satellite team—they are using another one.
"Because I think we are going too much individually and not as a group, and this at the end is hurting the group. And this is not good."
As he expanded further into discussion of tires, there was an interruption and a technician's voice announced a technical problem. After a few moments service was restored and Espargaró could be heard to recite the familiar litany (as if handed a memo) that he was sure the team were working hard to give him the best possible bike.
Rossi, too, sounded as though he had been reminded of his corporate responsibilities. On Friday, he had said, "I lack grip on the rear; the tire slides too much. In recent years I have suffered from this problem, especially since the tires have become so soft [in carcass construction], while in my career I have always preferred hard [carcass construction] tires."
After the race, he backpedaled. "I don't like talking about tires, saying that they are too soft for me," Rossi said, "because they are the same for everyone, and if you want to race in MotoGP you have to adapt."
The fact is that they are not the same for everyone. Back in 2008 I spoke separately to then-teammates Colin Edwards II and Rossi about their tire preferences. At the time I was interested in whether or not Edwards, ostensibly hired to test tires for Rossi, required the same characteristics in tires as his teammate.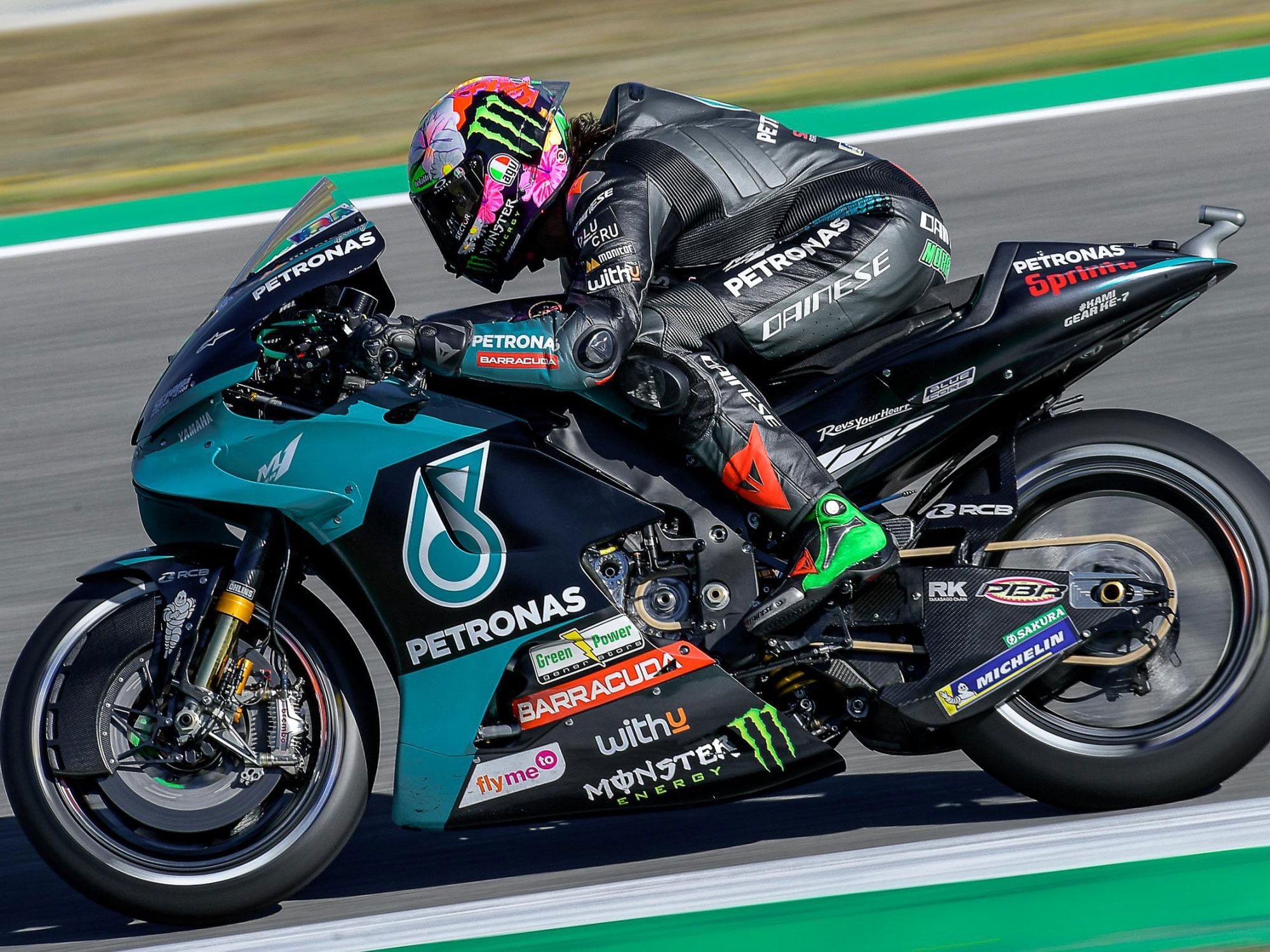 Franco Morbidelli was the top Yamaha at Jerez. (MotoGP/)
First, however, we must make a clear distinction between the hardness or softness of the tread rubber and the stiffness or softness of the tire's carcass construction. A tire's carcass is a composite construction made of layers (plies) of unidirectional high-strength fabric, bonded together and embedded in rubber. Depending on the nature of the under-tread stiffening belts and the ply angle used in its construction, the carcass can be given a range of stiffnesses. Street tires are often given a very forgiving but lower-performing flexible belt with a zero angle between its wound-on fibers and the central plane of the tire. Racing tires are more often given two or more under-tread belt plies, laid on in a range of angles from 30 degrees to the maximally stiff 22.5 degrees. The stiffer the belt, the more it behaves like a tank's track, which stiffly resists any sideways flex.
The remarks of the two riders explain a lot. Edwards has always ridden a point-and-shoot style: Late, hard braking down to a low apex speed, followed by rapid turning and then by maximum acceleration to recover the speed lost at the apex. The strong point of this style is that by getting the turning done early, in a limited zone, the rest of the turn can be reserved as a dragstrip in order to attain a high exit speed. Because the tire is maximally stressed only in the zone of rapid turning, this style can be easier on tires than the corner-speed style, which continuously subjects the tire to peak edge grip all the way through long sweeping turns.
Edwards said that he needed a very flexible tire carcass to lay down a tread footprint of maximum area and give the traction needed for speed recovery during corner exit.
Rossi said he wanted a stiff carcass that could establish and stably maintain high-side grip to allow him to corner at the highest possible speed.
When I asked Rossi what happened when he rode Edwards' kind of tire, he said, "The bike jumps sideways."
The fact that these two riders of entirely different styles were teamed together, one to test tires for the other, shows that the decision to do so was made by someone high enough in authority to have lost all connection with the basic facts of racing. In the business world this is known as "rising to your level of incompetence," aka the Peter Principle as developed by Laurence J. Peter.
Further, another time at Laguna Seca Edwards found himself unable to get the available rear tires to operating temperature. He tried lower inflation pressure, hoping that increased rubber flex would heat the tread rubber to its best operating temperature. Nothing.
He then tried overinflation, reasoning that perhaps by inducing wheelspin, this would temperature-up the tire. Nothing.
In that set of circumstances, one might be tempted to say, "The tires are the same for everyone," but it would not be true. Tires were being optimized for Rossi, the dominant rider of the time, whose high corner speed put a great deal of heat into tires. But a rider with Edwards' style was stuck. Unable to get such a heat-tolerant tire to operating temperature, he had to make do with the limited grip his cool tires afforded.
Then why not just change his style? We were treated to a demonstration of how difficult this is when Lorenzo, the supreme corner-speed rider of his time, was hired to ride the Ducati, engineered as a point-and-shoot bike. Lorenzo was able to adapt, but it took him 18 months of intense effort and persistence through failure to do so.
In the fast-moving flow of events on the racetrack, a rider is not consciously sending commands to each muscle. Instead, the movements become integrated into a reflex-like performance that is mostly unconscious. In similar fashion, when a person tries to ride a bicycle whose steering operates backward, he or she cannot ride it no matter what efforts are made. But continuous schooling over six or more months can overcome subconscious learned responses, making it at last possible to ride the backwards-bike. Yet now the rider has become unable to ride a normal bicycle. That is something like the problem facing a rider of one style who is trying to ride a bike or tire engineered for a contrasting style.
Therefore I suggest that just because the spec tires are the same for everybody, this does not imply equality for all. It is true, as Rossi said today, that "if you want to race in MotoGP, you have to adapt." But this may not be possible for some.
In fact, I strongly suspect that Dorna has been accumulating changes in bike and tire design that discourage older riders, persuading them that it's time to retire.
I wonder also if some aspect of this clash of rider style and tire design is behind the on-again, off-again performances of Viñales, who can achieve stunning lap times (as during today's post-race test, which he topped) on his own, but too often in races finds himself helpless to overcome mysterious tire drop. If his manner of using the tires differs in the two cases, the tire may respond in one case by working as well as it does for Quartararo or Bagnaia, but in the other by internal structural changes that result in reduced grip.
I am reminded of the novelty weather stations consisting of a toy cottage from which can emerge either an old witch (falling barometer, rain coming) or two happy children (high barometer, clear weather). Can we magically control the weather by pushing the witch back into the cottage? It seems to me that editing or suppressing rider comments is just another example of witch-pushing.
Also interesting were a number of rider comments this weekend on the numerous crashes. Joan Mir noted after qualifying, "It was hot but the wind was cold and it cooled the tires and the track. I believe that the crashes came for these reasons and not because the riders pushed too hard, since we are all very close."
Being close was another curious feature of the result, as there was no lead group, but rather as Aleix Espargaró noted, "Today's race was a bit of a train—we all had the same pace…"
This meant that some of the fastest laps of the race were made late, by riders well down the order, such as Márquez (ninth). Remember the days of two-stroke 500 GP, when only one, two, or possibly three riders had the speed to win, and the rest of the field seemed more like inert filler? Today so much depends upon a) being on the front row, b) nailing the start, c) not getting mobbed in turn 1 and losing several positions, and d) reaching a strong pace early, even with the weight of full fuel.
Marc Márquez had two big get-offs before race day. (MotoGP/)
It's not surprising, then, that once the race leader has settled into a tire-conserving pace, others farther back routinely lap faster than the leader as they strive to improve their positions and points.
More than one rider expressed concern over run-off distance, as several riders had high-speed crashes, with Marc Márquez on Saturday going straight across the gravel in turn 7 and into the air fence. Happy ending? Yes, but at the time, he looked like the nail and his bike like the 110 mph hammer—it just did not quite hit him. The question of run-off distance has understandably never been popular with management because of places like the top of the Corkscrew at Laguna Seca, where any significant increase in run-off distance would require major earthworks. The air fence is the temporary answer.
Aleix Espargaró noted that the bikes lap ever quicker as a result of stronger acceleration and braking, but the riders remain only human. Some kind of limit is reached; for example, the arm-pump experienced by early leader Quartararo.
"I love to train," Espargaró said, "but there is no real way to prepare for these performances." Might there be a future in which ambitious racers must routinely have themselves modified by surgical cutting or removal of the muscular fascia of the arms?
Despite such troubling questions, something remarkable has been achieved when the top five finishers consist of four different makes of machine; two Ducatis, Miller and Bagnaia; Morbidelli on Yamaha; Takaaki Nakagami on Honda; and Mir on Suzuki.
Le Mans, the French GP, is next.
Source link