Although it's being called a concept, the just-revealed Husqvarna E-Pilen electric seems nearly production-ready. (Husqvarna/)
Husqvarna is about to embark on a coordinated onslaught across the electric motorcycle market, and the first machine to emerge from the project will be a production version of what you're looking at here—the E-Pilen concept. Don't worry too much about the supposed "concept" status of this machine; it's really a near-production prototype, and just as Husqvarna previewed its Svartpilen and Vitpilen models with "concept" machines that then reached production virtually unchanged, the showroom version of the E-Pilen will be almost indistinguishable from the concept bike.
RELATED: 2020 Husqvarna EE 5
In fact, Husky's decision to photograph the prototype in a darkened studio is largely because it might give away clues not only to the forthcoming E-Pilen model but also to as-yet-unreleased KTM machines.
Husqvarna's minimalist 'Pilen styling extends to the electric concept with a clean, uncluttered look—from what we can see. (Husqvarna/)
The E-Pilen is the first fruit of a project by Husqvarna's parent firm, Pierer Mobility—which also owns KTM and GasGas—and its Indian partner company, Bajaj. Under those plans, the firms will launch a variety of electric bikes on a common 48-volt platform, with power ranging from 4kW (5.36 bhp) to 11kW (14.75 bhp) to effectively fit into the 50cc and 125cc sections of the market. The range will include scooters and motorcycles, with manufacturing expected to take place in India. Pierer Mobility estimates that the market for electric two-wheelers—emotorcycles and ebicycle—is set to be worth 10 billion euros ($12 billion) by 2025, and is looking for a substantial slice of that action.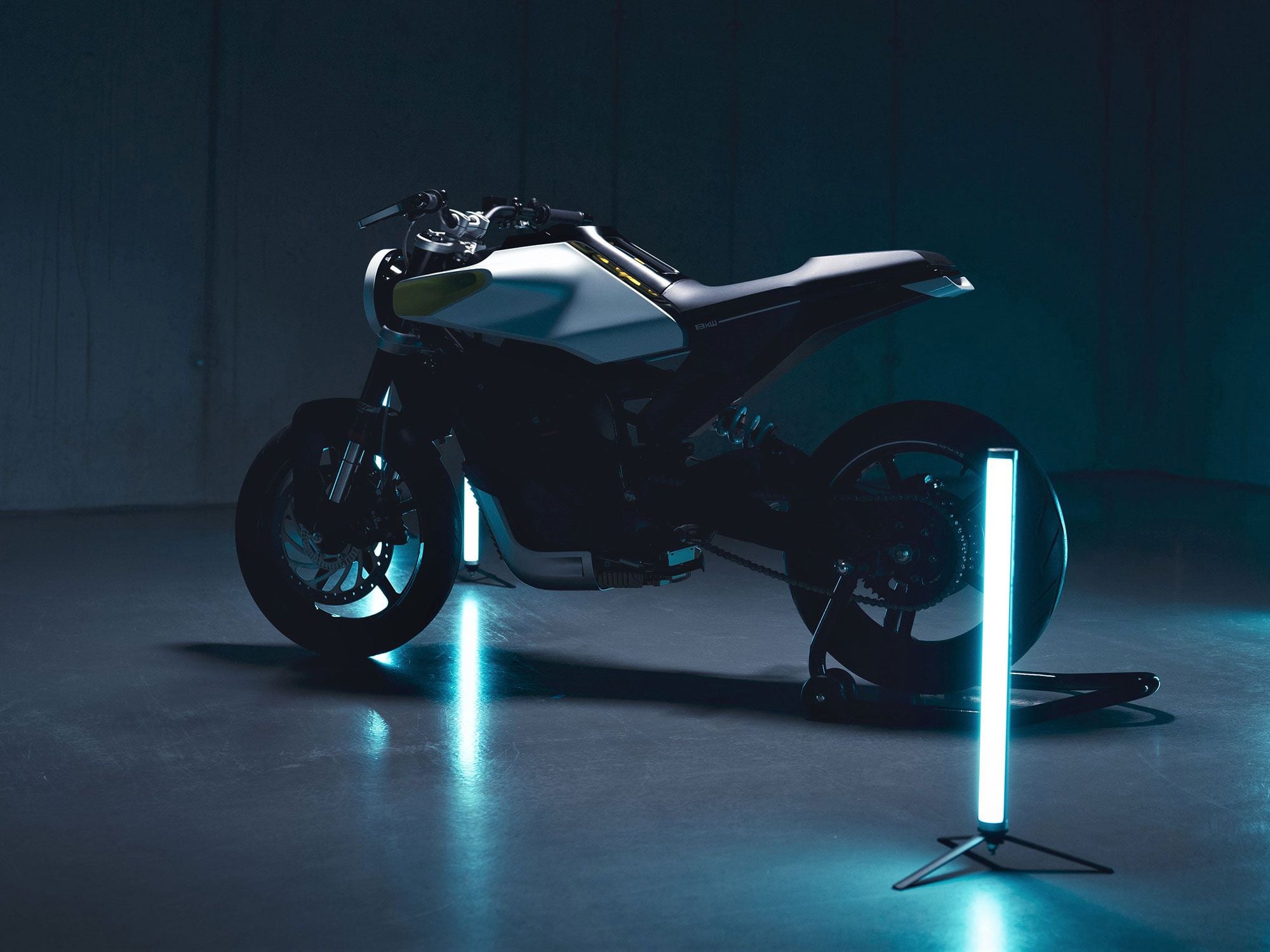 The E-Pilen's motor is said to be a modest 8kW unit allied with swappable batteries to offer the benefit of lighter weight. (Husqvarna/)
Spec-wise, the E-Pilen won't drop any jaws in terms of power, performance, or range. Husqvarna says it's got an 8kW motor (10.73 bhp), with a range of 100 kilometers (62 miles), which doesn't sound like much until you realize that the range issue will be mitigated by the E-Pilen's use of swappable batteries. KTM, along with Honda, Yamaha, and Piaggio, is in a consortium that's trying to hammer out common specs for swappable electric motorcycle batteries, so multiple brands will be able to use the same packs, thereby expanding their availability. Meanwhile, Honda, Yamaha, Suzuki, and Kawasaki have already established the specifications for a similar swappable battery in Japan, so it's very likely that the European brands will adopt the same standards.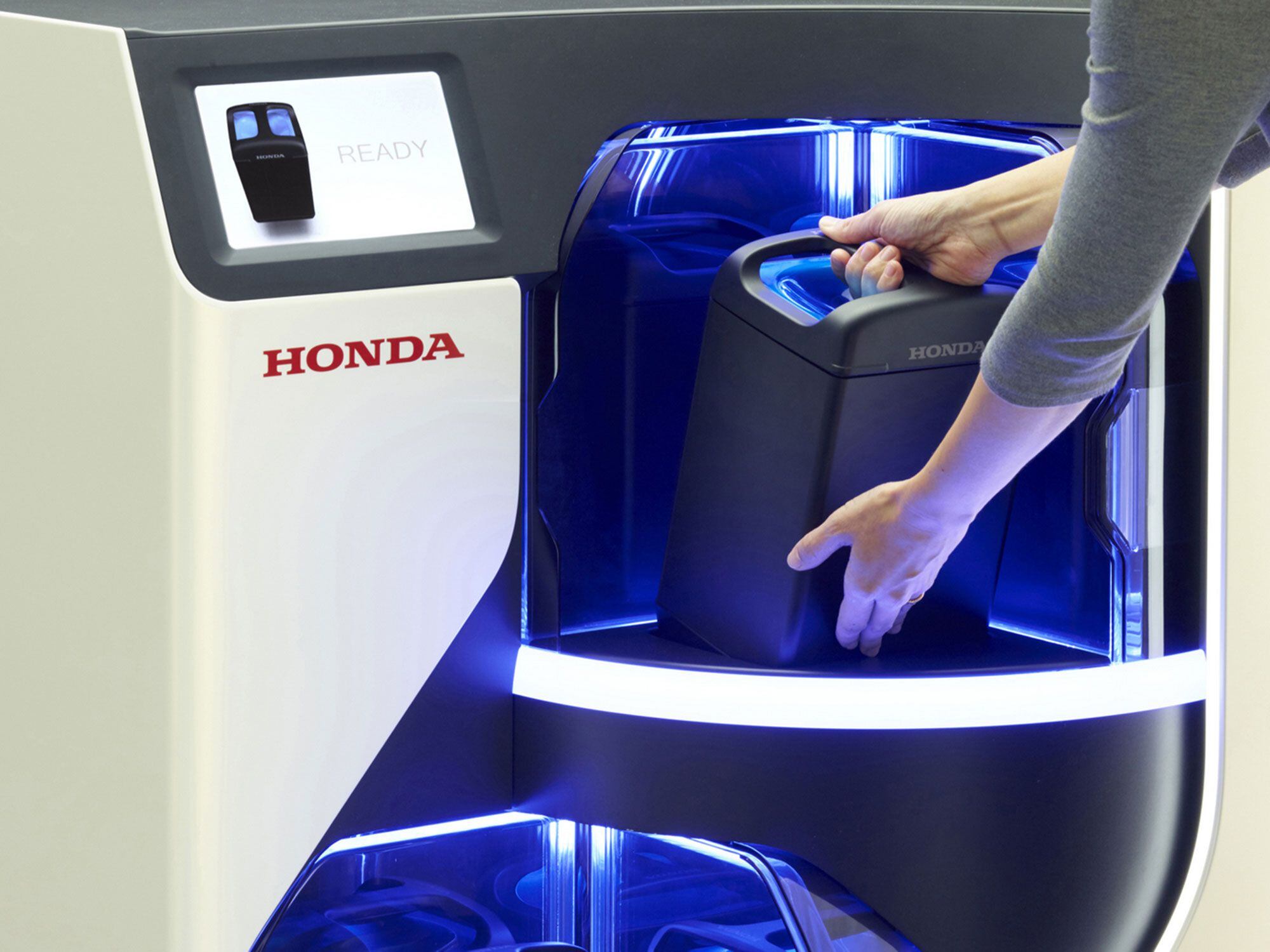 Battery "swap stations" like this that allow various brands to use the same units make for better accessibility and quicker fuel stops. (Honda/)
Swappable batteries mean fuel stops will be quicker and cleaner than filling a gas tank, and as payback for the relatively short range, the bike will be much lighter than a longer-range machine with a fixed battery that might take hours to charge. It's a beneficial cycle, as a lighter bike can then use a smaller motor for the same performance, increasing efficiency and allowing smaller, lighter suspension and braking components to be used.
RELATED: 2020 KTM 200 Duke First Look
The 8kW power level may also not be quite as weak as it initially seems, as electric motors are usually rated using "continuous" power rather than their peak output. Continuous power is the amount that a motor can make for an extended period without overheating—and thus isn't really comparable with the peak power measurements for combustion engines. Just like a combustion engine, an electric motor can make significantly more "peak" power for short periods, so it's possible that the final E-Pilen will be able to put down far more than 8kW, perhaps even twice that much, for short bursts of acceleration.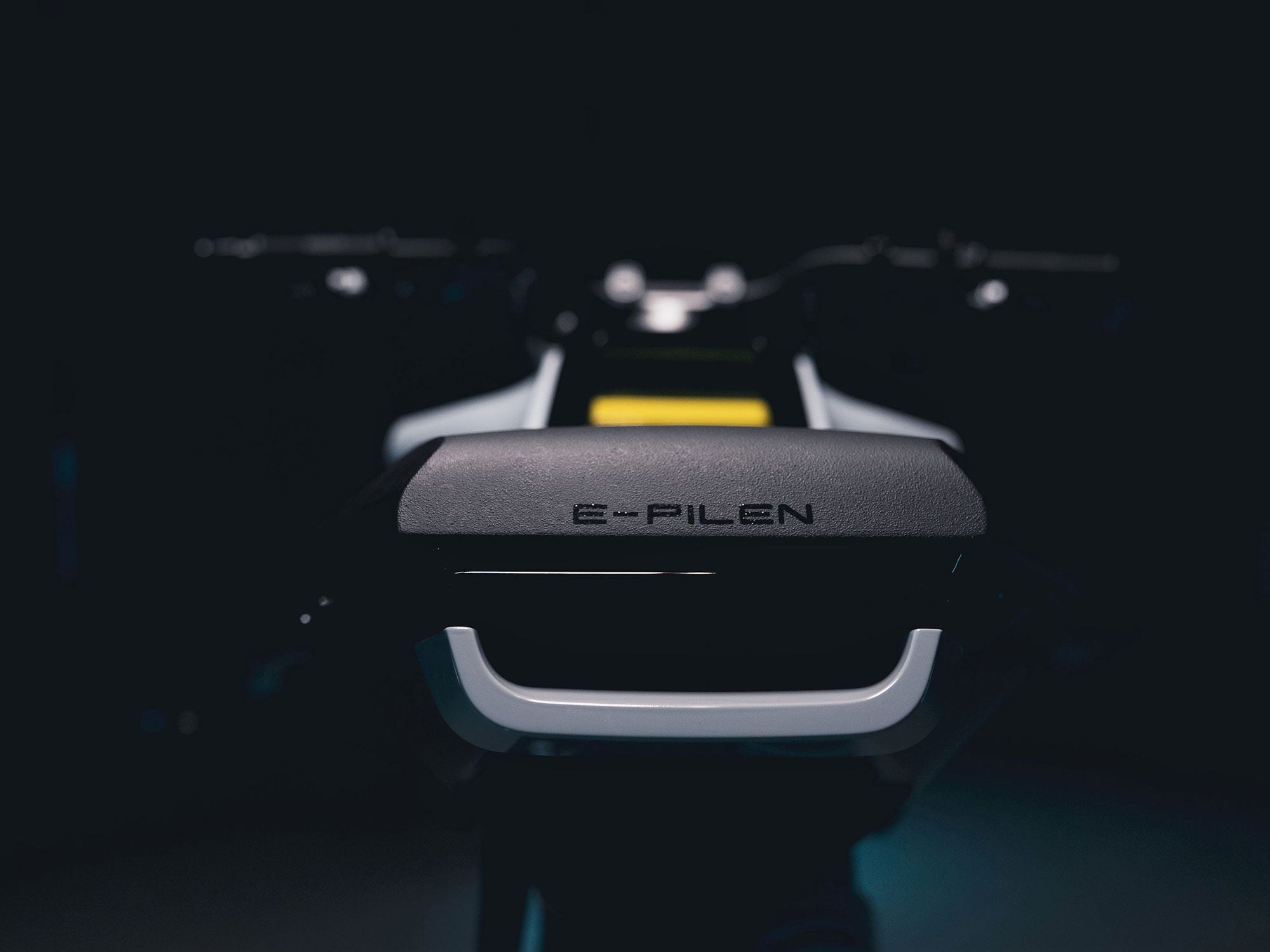 The press photos are shadowy, but the E-Pilen shares much of its underpinnings with smaller-displacement, next-gen KTM Duke models. Will we see a KTM E-Duke? (Husqvarna/)
The reason for the E-Pilen's darkened publicity photos is likely to be the fact that it appears to use the same frame and banana-shaped swingarm that's been spied on next-generation KTM 125, 250, and 390 Duke models currently being tested. Once again, that's a logical step; those models are to be made in India, where the electric project is to be manufactured, and by creating an electric powertrain and battery setup that bolts directly in the place of a range of combustion engines, sharing similar external dimensions and mounting brackets, it becomes easy to create future model ranges in both electric and gas-powered forms. A KTM E-Duke, for instance, is a virtual certainty, simply swapping the E-Pilen's mildly retro-styled appearance for more angular, futuristic bodywork. Similarly, it will be easy to create an electric adventure model equivalent to the 390 Adventure if there's demand for such a creation.
Source link