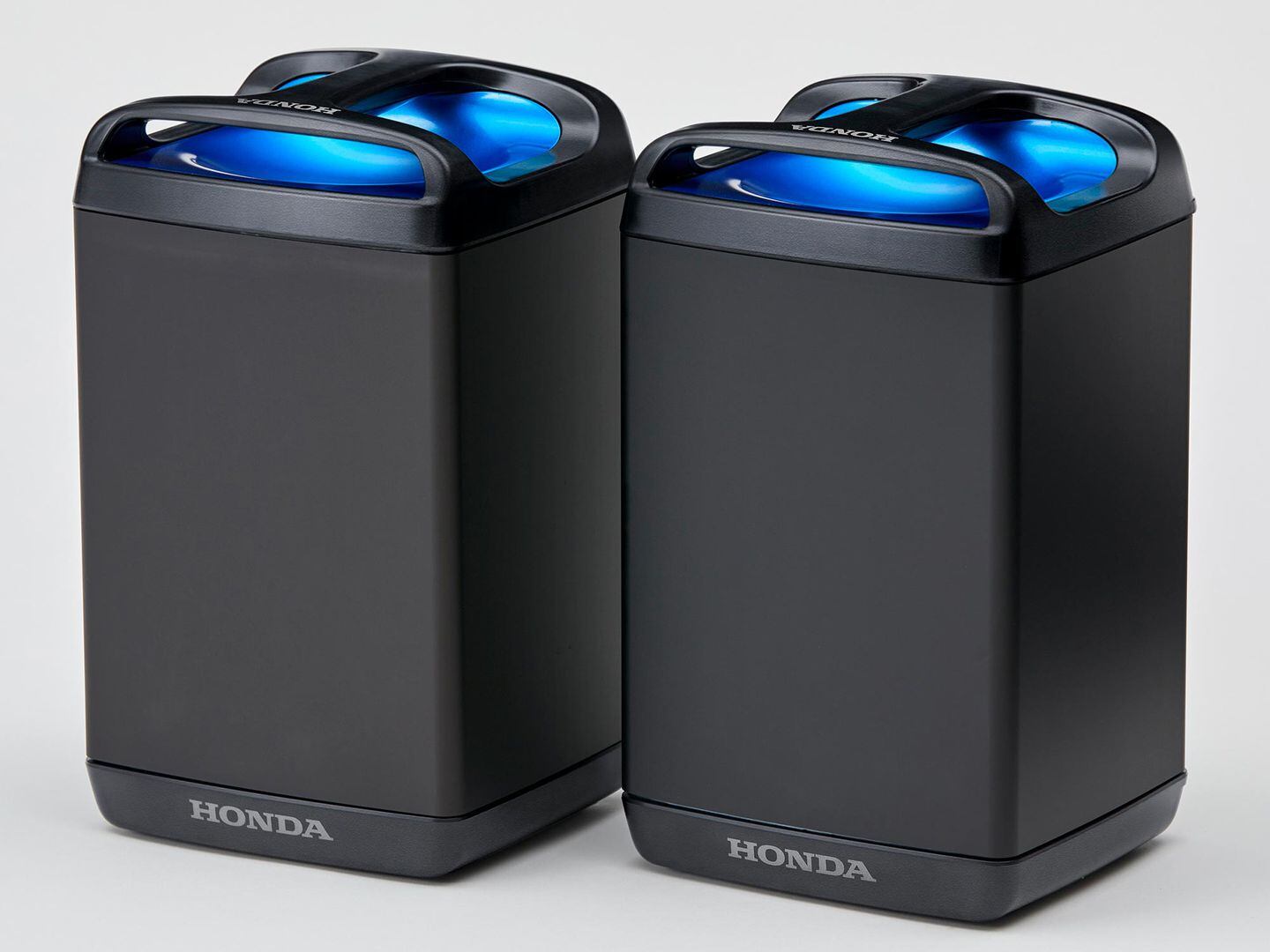 Honda is charging into an electric future with plans for four new electric bike models and a new patent for home battery charging. (Honda/)
There's a tipping point at which electric bikes will start to make financial sense both for their owners and the companies that manufacture them, and Honda clearly believes that moment is nearly here as it embarks on a bold electric strategy for the future.
The firm recently revealed that it plans to have at least four new electric bikes on the market by 2024. It has also signed a deal with Yamaha, Suzuki, and Kawasaki that agrees to a standard specification for swappable electric bike batteries, and has embarked on a project with KTM and Piaggio to reach a similar agreement in Europe. Suddenly, after years of milling at the edges of the electric motorcycle market, Honda appears to be ready to leap in.
The firm will expand upon its current electrics as well as introducing new "fun" models. (Honda/)
Over the last few months we've seen several patents from Honda that hint at the company's plans with electric bikes, and the machines confirmed to reach production by 2024 neatly match those designs. Initially, Honda will have three models competing in the 50cc and 125cc classes—a 50cc-equivalent moped, a larger scooter to compete with 125cc machines, and a motorcycle in the 125cc class. The last of these is likely to be the CB125R-based electric bike the firm patented last year.
RELATED: Honda CB Electric Preview
These bikes were confirmed by Honda President and Representative Director Toshihiro Mibe, at a press conference in Japan last month. Mibe also added, somewhat mysteriously, that Honda will introduce electric bikes in what's known as the "fun" class, with a slide showing the silhouette of a sporty-looking model to illustrate it.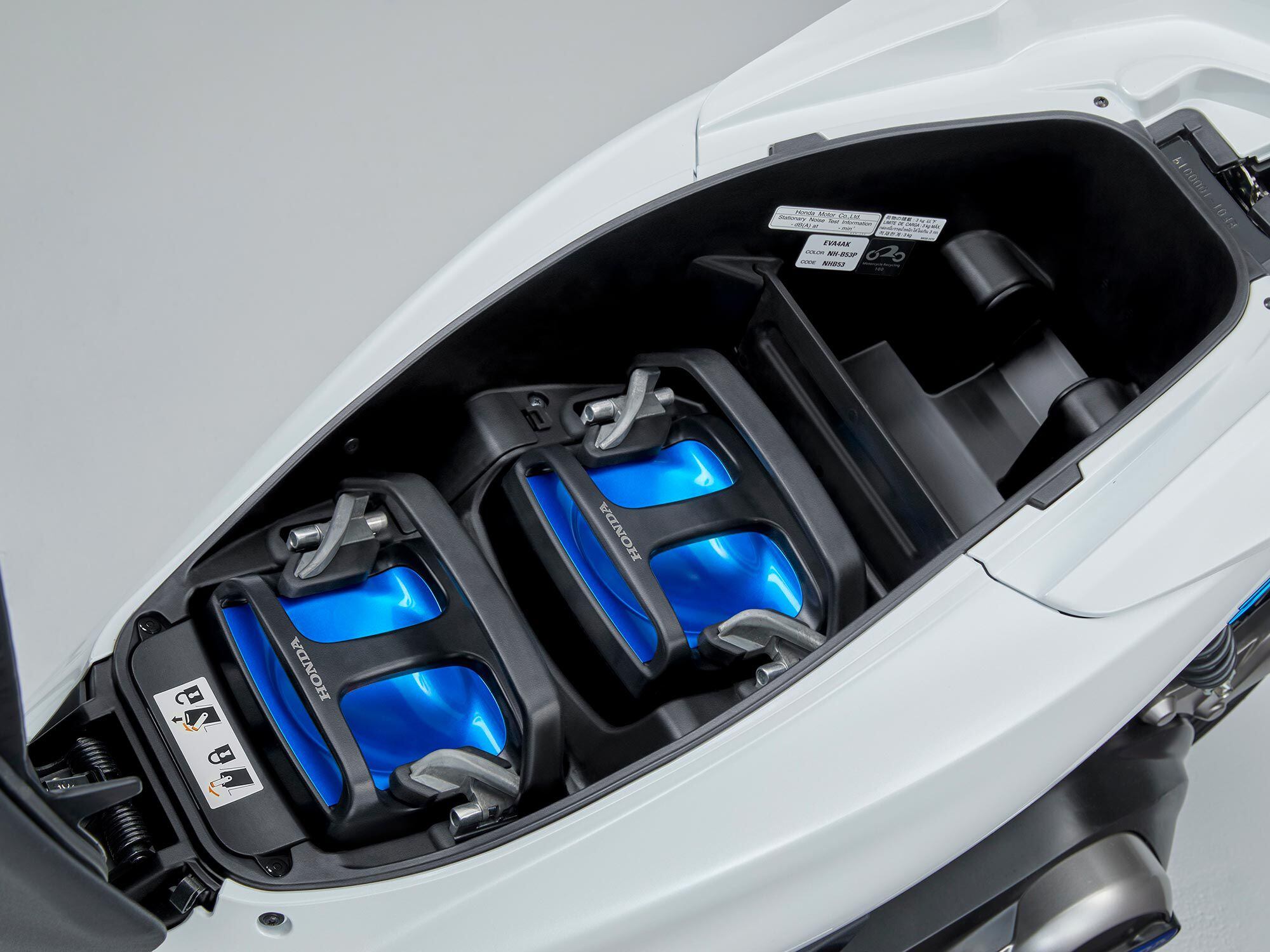 An expansion of the swappable battery system already in use on its PCX Electric scooter in Japan is also on tap. (Honda/)
Mibe explained that swappable batteries are vital to the plan, saying: "The key to successful electrification of motorcycle products is to consider the battery, which is still expensive, separately from the motorcycle. In developed countries, where electrification is in strong demand, we will pursue electrification utilizing the Mobile Power Pack."
That's a battery swap system Honda revealed a couple of years ago, and which is already used in the firm's low-volume PCX Electric scooter and business-oriented Gyro e and Benly e models in Japan.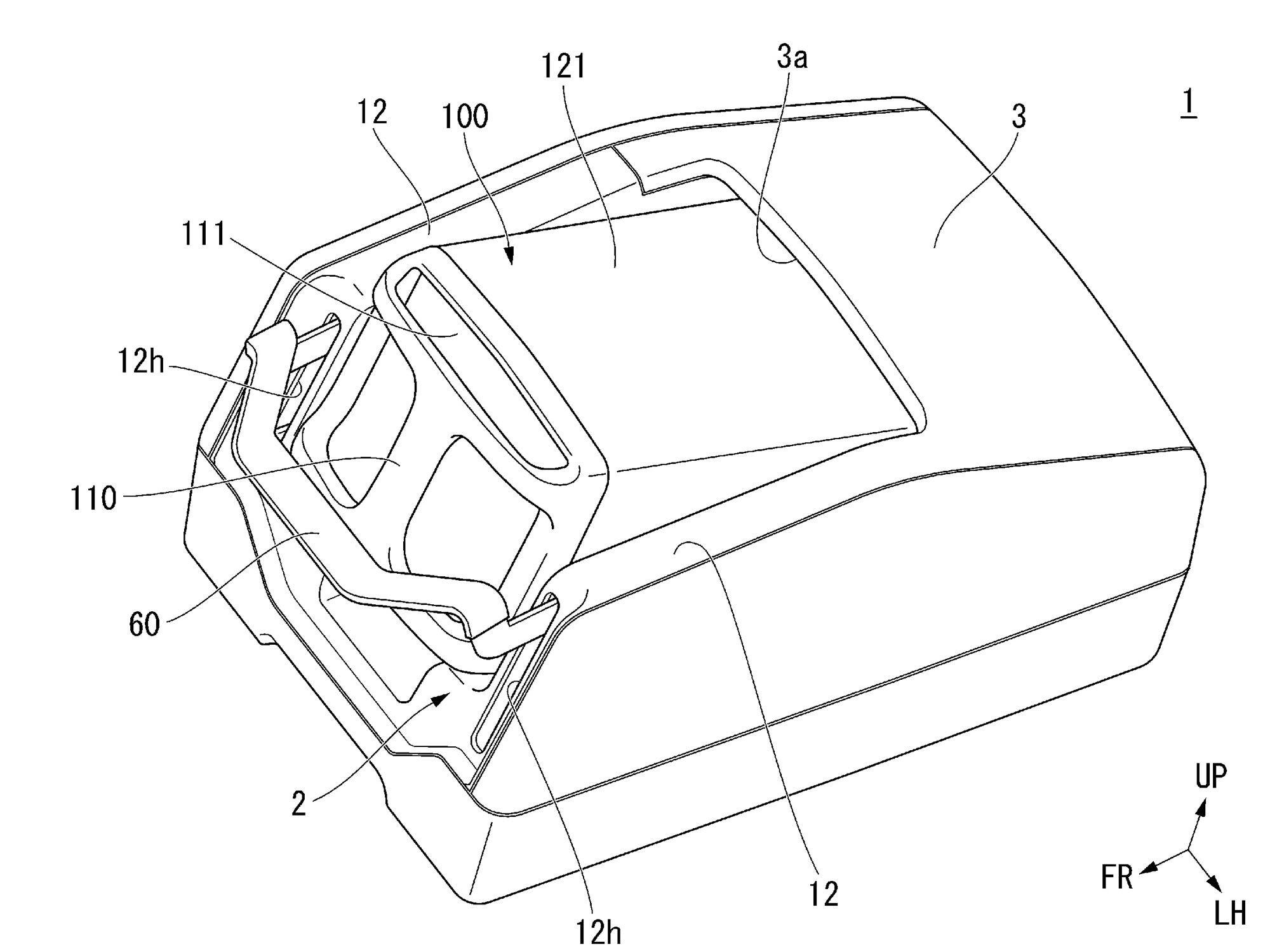 A new patent shows Honda's development of a home charger for its Mobile Power Pack battery system. (Honda/)
Mibe added: "For personal-use customers, we must not only enhance our product lineup but also make a large number of battery-swapping stations available and ensure convenience to users by making them compatible with EVs of other makers. To this end Honda has established a consortium with other motorcycles OEMs in Japan and Europe, respectively, to develop technology standards for swappable batteries. Honda has a vision to expand Mobile Power Pack applications beyond motorcycles to power products and micromobility products."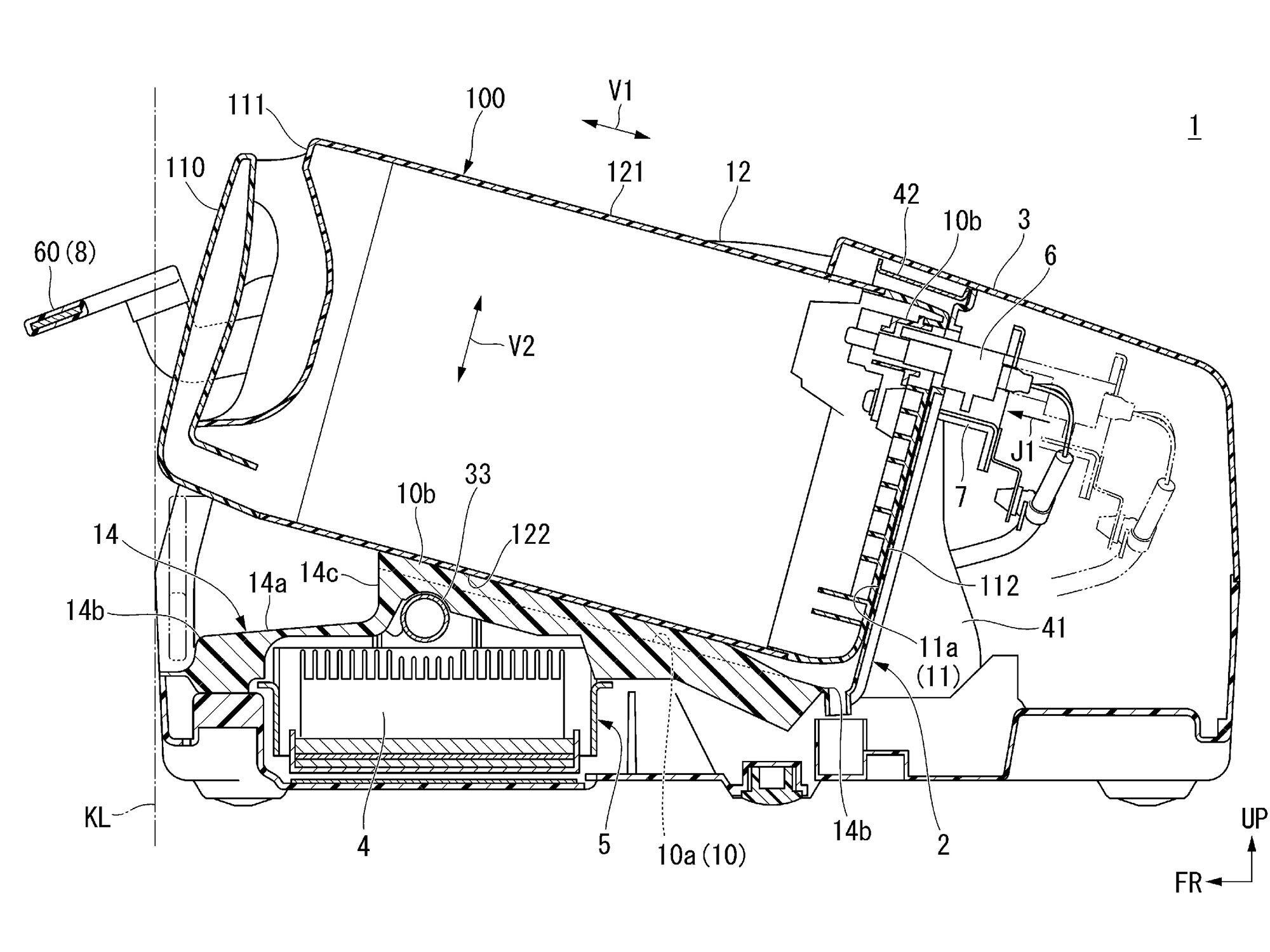 The battery pack slots into the new charger on its side and engages with connectors. (Honda/)
The latest patent from Honda shows how buyers of that new generation of electric bikes will be able to charge their battery packs at home, revealing details of a compact charging unit that accepts one of the packs at a time (Honda has previously shown prototypes of multipack chargers to be used at battery swap stations).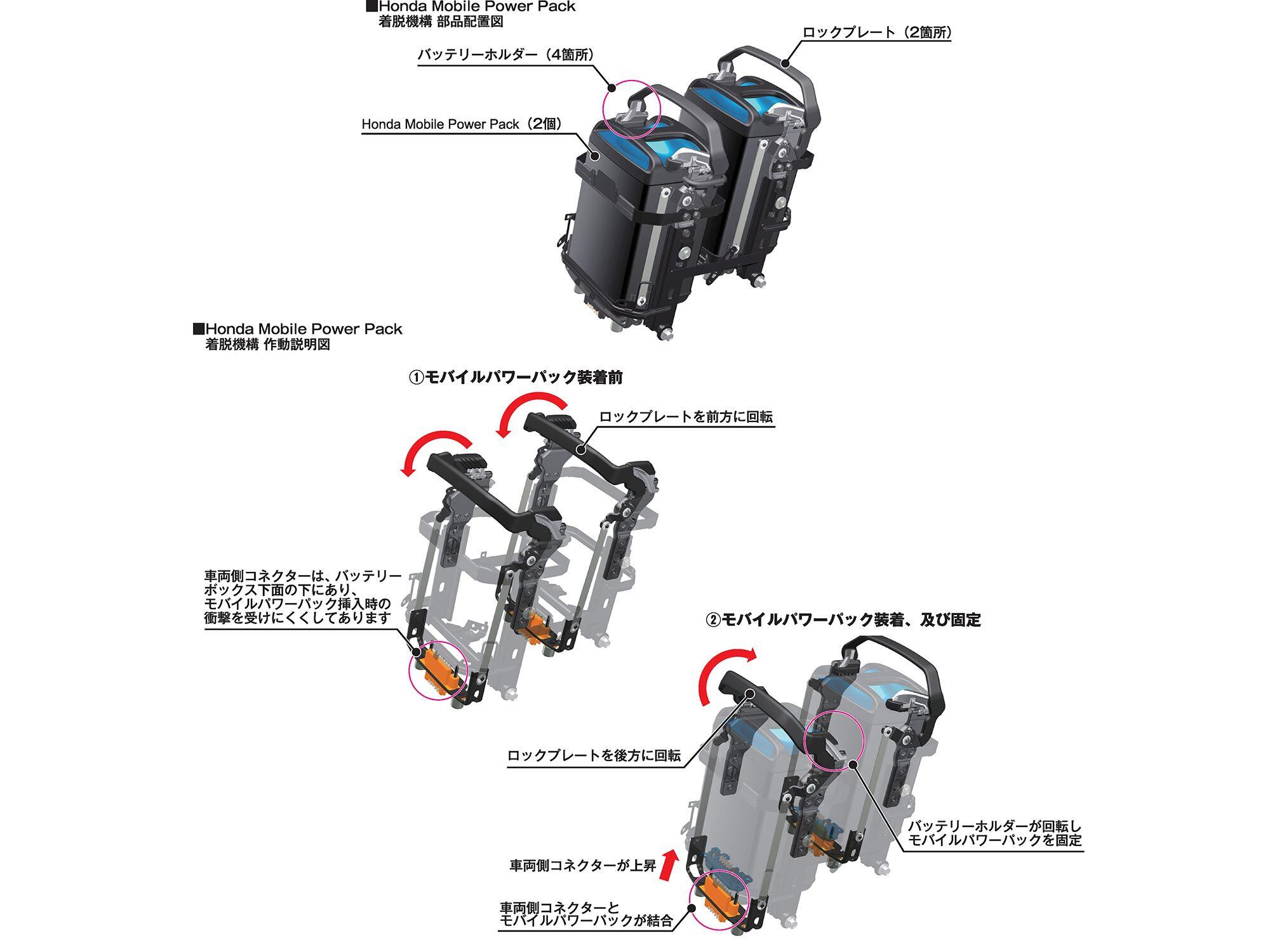 A handle physically holds the battery in place while also pushing connectors forward to engage with the battery to charge it. (Honda/)
The charger itself looks rather like an oversize version of the ones used by power tools, but with some added safety systems to cope with the much larger capacity of the Mobile Power Pack battery. The pack slots in on its side, going onto a sloped set of rails that use the battery's own weight to bring it into position. You then lift a locking handle that physically holds the battery in place and also, via a linkage, brings the charger connections forward and engages them into slots in the base of the battery pack. Bikes using the packs have a similar arrangement to make sure the batteries are disconnected and connected cleanly and correctly each time they're fitted or removed, without the need to wrangle with plugs that come physically close to the connector.
Source link