Will we see an electric Honda fun bike in 2022? If so, it could look something like this concept seen in recent patents. (Japanese Patent Office/)
Electric motorcycles might be the future but at the moment they still account for a tiny proportion of sales and the world's major bike firms are stumbling when it comes to working out how to introduce them into their ranges. Some are going down the scooter route, trying to appeal to young city dwellers attracted to the eco credentials of an electric bike, but otherwise offering little incentive to persuade existing motorcyclists away from their combustion engines. Others, like Harley-Davidson, are aiming their electrics at the other end of the market, with sky-high prices and appeal for early adopters but little in the way of genuine advantages over existing gas-powered machines. The new design from Honda, which has appeared in three patents filed in Japan, shows a third direction, and it's one that might just hit the Goldilocks zone for electric motorcycles by attracting both young, eco-oriented new riders as well as existing motorcyclists intrigued by the idea of battery power.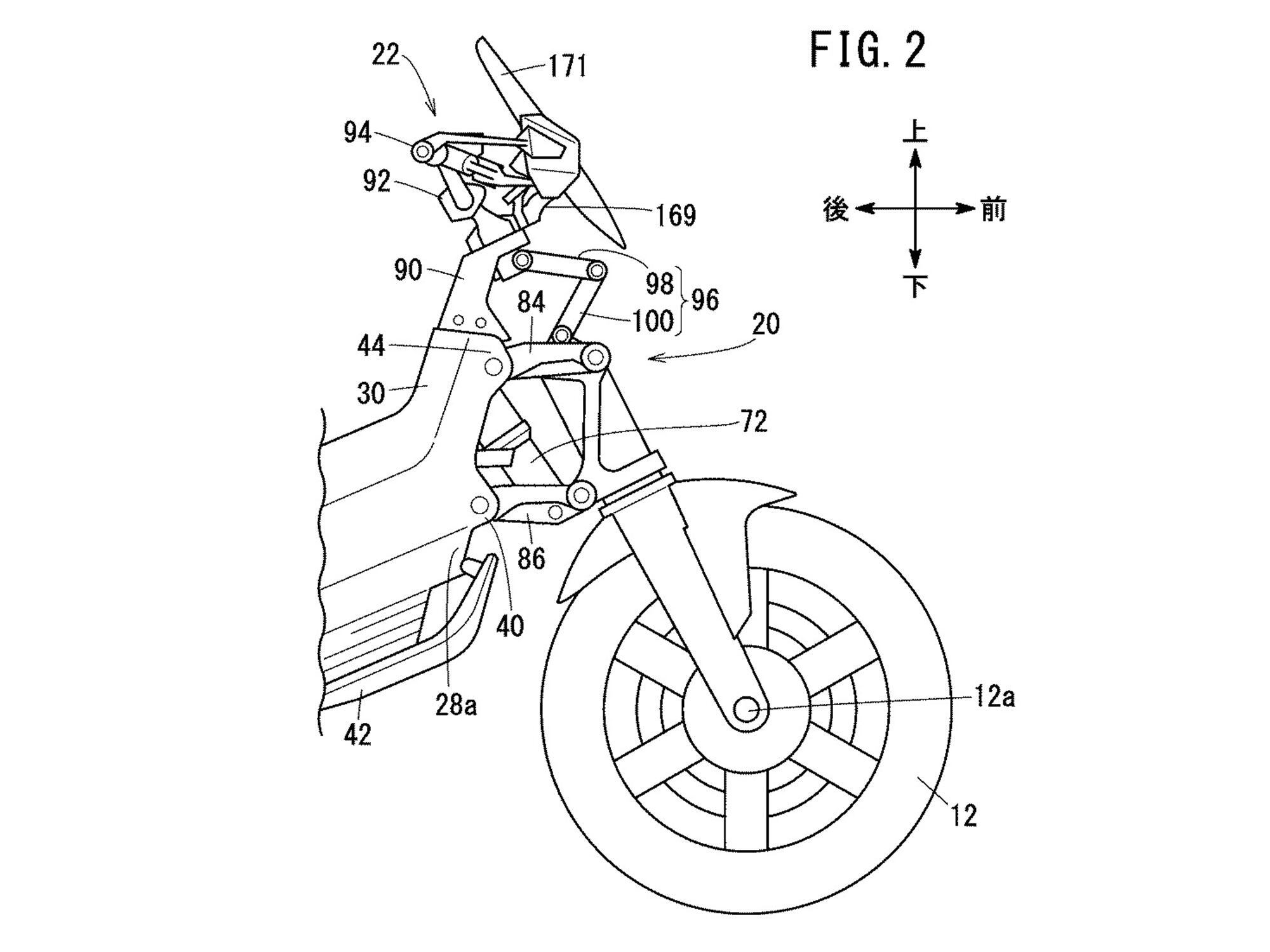 Although it's similar to a Grom, the new concept suggests a ground-up dedicated design featuring a Hossack-style fork arrangement. (Japanese Patent Office/)
In terms of size and style, the bike appears to be positioned in the same space as the Grom; a small bike that's intended to be fun above all else. The existing Grom, which has entered its third generation this year, has already managed to become a favorite among new riders and earned garage space among existing motorcyclists as a second, third, or fourth bike, sitting alongside something larger and more "serious." While the Grom is gas-powered, if it was electric then the appeal would still be much the same. It doesn't rely on performance, practicality, or long-range ability for its appeal, and since those elements are the usual drawbacks for battery-powered motorcycles it becomes the ideal candidate for conversion.
RELATED: Honda CB Electric Preview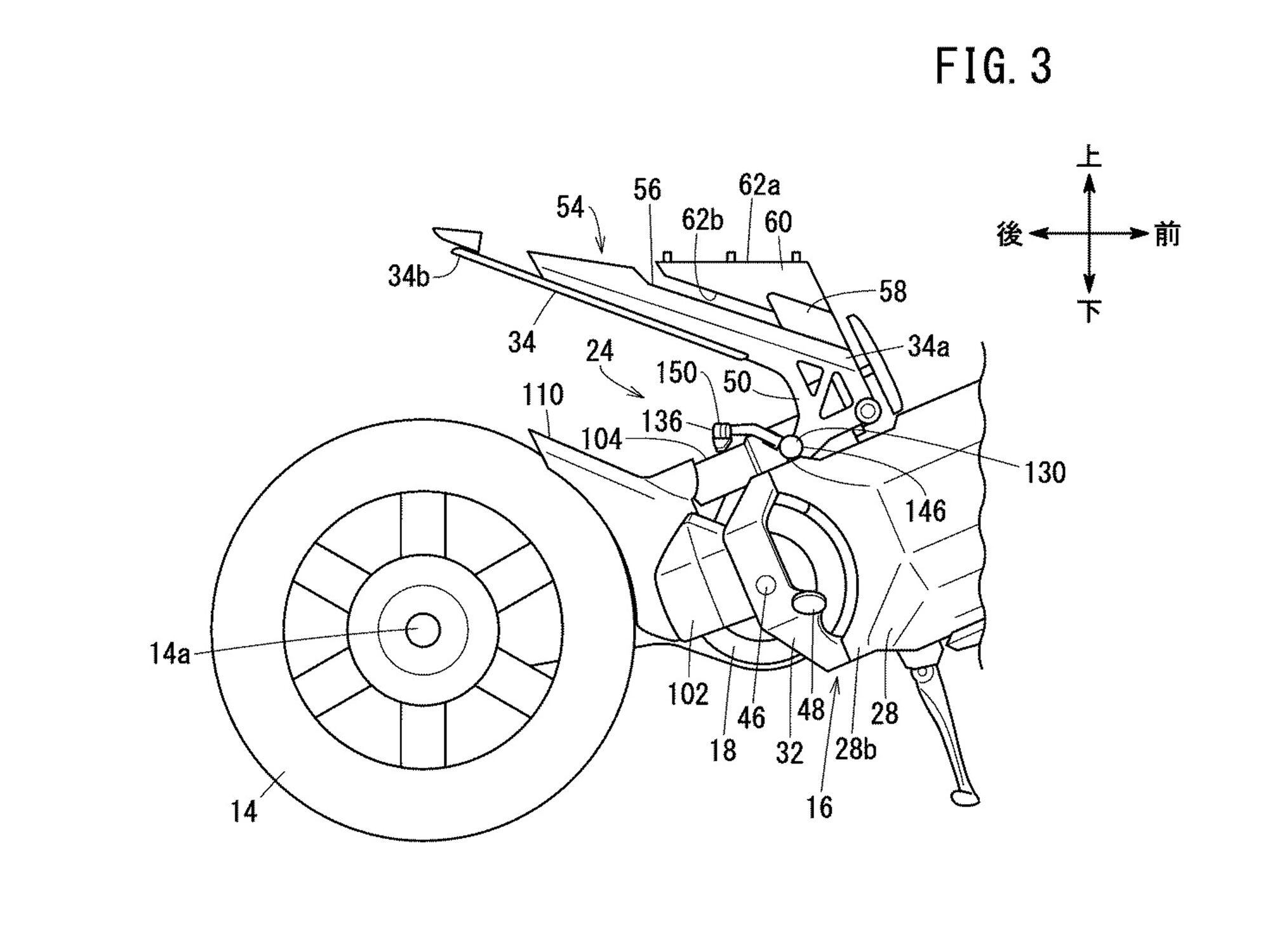 Monocoque-style chassis holds an electric motor at the rear, behind the battery. (Japanese Patent Office/)
While Honda's new patent shows a Grom-size bike, it's not simply a battery-powered version of the existing model. Instead it's a dedicated design, created from the ground up to be electric. The battery is held in a central monocoque-style chassis with the electric motor mounted behind it, while at the front we get a Gold Wing-style Hossack fork arrangement, with double wishbones and a monoshock bolted to the front of the battery case, holding girder-style forks. The bike looks perfectly suited to use the swappable battery system that Honda is already pioneering with its PCX Electric scooter in some Asian markets. Honda has now established a standard for such batteries as part of a consortium with Yamaha, Kawasaki, and Suzuki, as well as joining another consortium to do the same job with Piaggio and KTM, so it seems that's the direction that the electric bike market is going to take.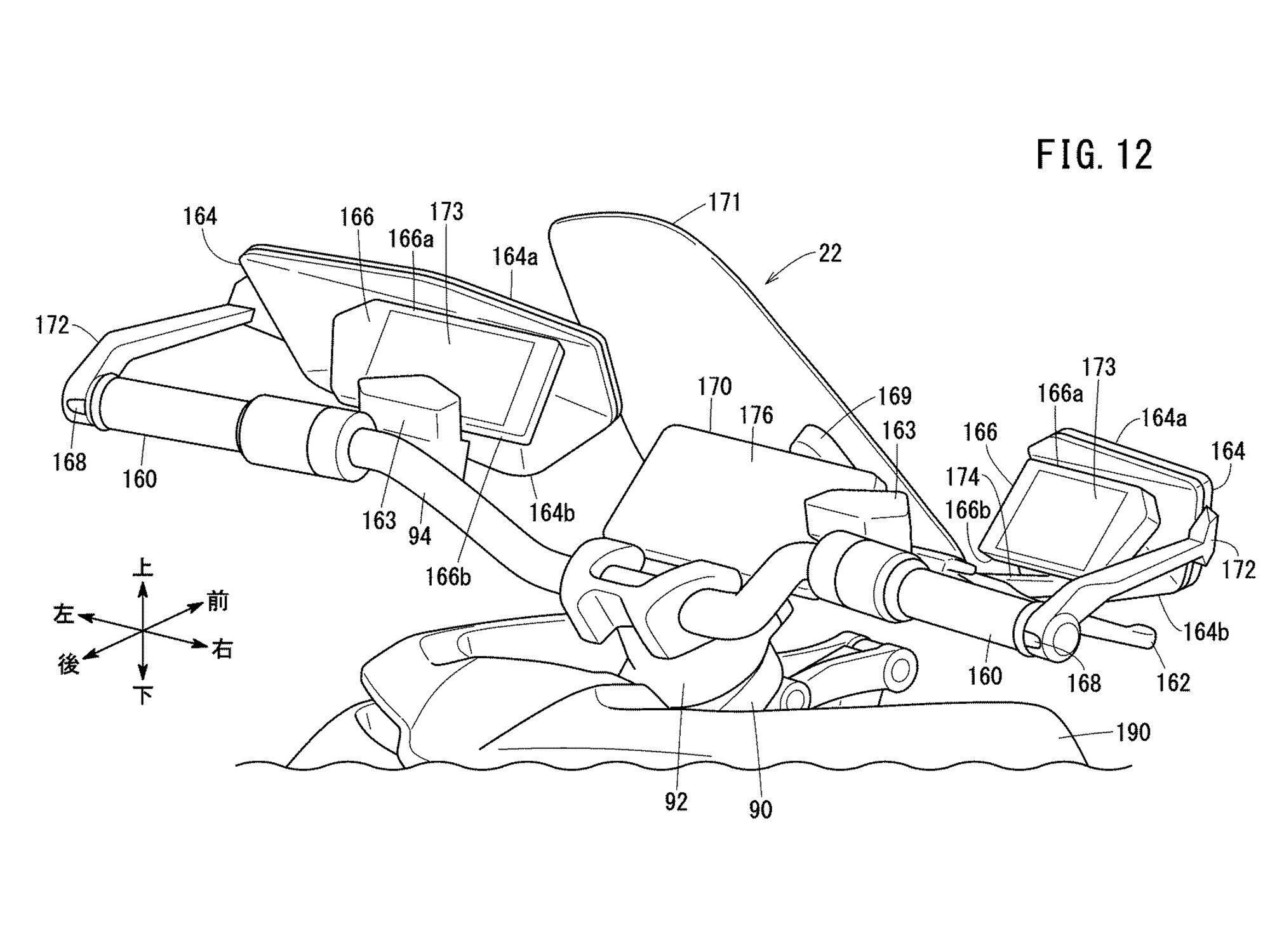 Patents show rear-facing cameras mounted in each bar end, though those likely won't be seen on a production version. (Japanese Patent Office/)
The bike in the patent appears to be a concept machine rather than something that's heading directly to production. Had last year's major international bike shows not been canceled, there's a good chance it might have been officially unveiled at one of them. Concept-style details include a rider's seat made of a flexible plastic mesh, rather like the back of a Herman Miller office chair, while the hand guards house individual TFT screens that replace mirrors. There are tiny rear-facing cameras in each bar end, transmitting pictures to these screens. It's the sort of concept bike element that makes for a talking point on a show stand but offers no tangible advantage over a bit of mirrored glass in the real world.
Another concept-style detail is the flexible plastic rider saddle. ( Japanese Patent Office/)
While there's no guarantee that we'll ever get to see this bike in the metal, and even if we do, it's likely to be a concept rather than a showroom model, these patents are a clear indication that Honda is investigating the potential of electric power for bikes that are purely intended for fun instead of trying to compete with combustion engines on performance or practicality. It might just turn out to be a winning strategy in a world where electric motorcycles are still trying to carve a distinct niche in the market.
Source link