Honda's autopilot patent for motorcycles looks to use self-steering and adaptive cruise control, familiar ideas for the firm. (German Patent Office/)
Radar-assisted adaptive cruise control is looking to be one of the key new motorcycle technologies for 2021, with BMW and Ducati already announcing the feature on the R 1250 RT and Multistrada V4. KTM and Kawasaki are also working on similar setups with launches expected soon, so it's no surprise that Honda has got its eyes on the technology as well.
But where BMW, Ducati, KTM, and Kawasaki have all teamed up with Bosch, resulting in similar systems, Honda's latest patent application, filed in Germany, suggests the firm wants to take the idea to the next level, adding the ability for the on-board computer to steer the bike as well as controlling the throttle and brakes.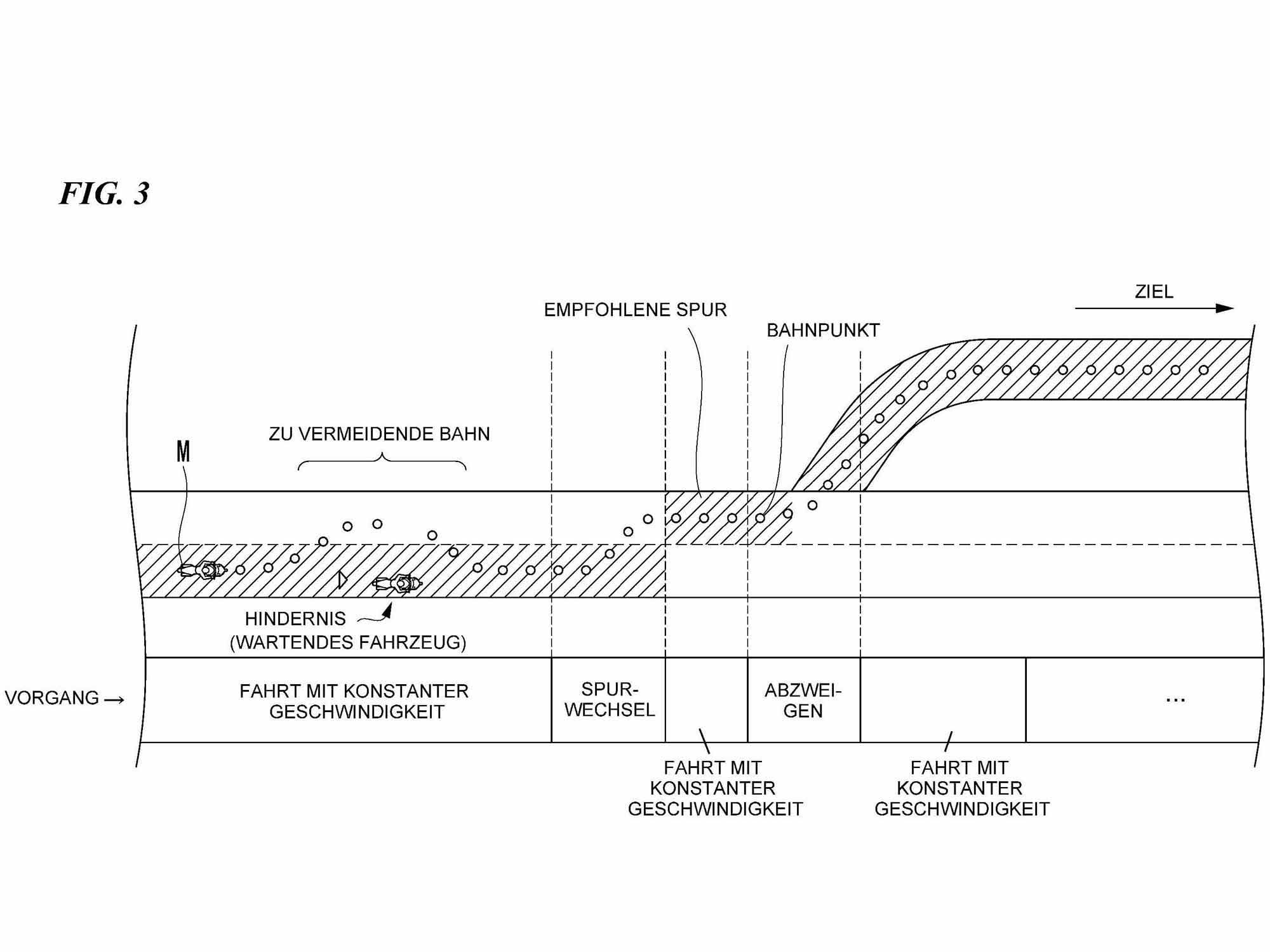 The patent suggests the system's adaptive cruise control will allow for lane changes around slower traffic. (German Patent Office/)
It's a development pattern that's already familiar on four wheels. In cars, radar cruise control systems have been around for two decades and the ability to help drivers steer as well as accelerate and stop is something that an increasing number of vehicles offer. While "self-driving" cars make headlines now, Honda first added self-steering ability to the Inspire sedan back in 2003 in Japan. By 2006, Honda's ADAS (Advanced Driver Assistance System) including adaptive cruise control, lane-keeping assist, and collision-mitigation auto-braking was offered worldwide on the Legend and Accord cars, putting Honda at the vanguard of such systems. So the firm has plenty to draw on in developing the idea for two wheels.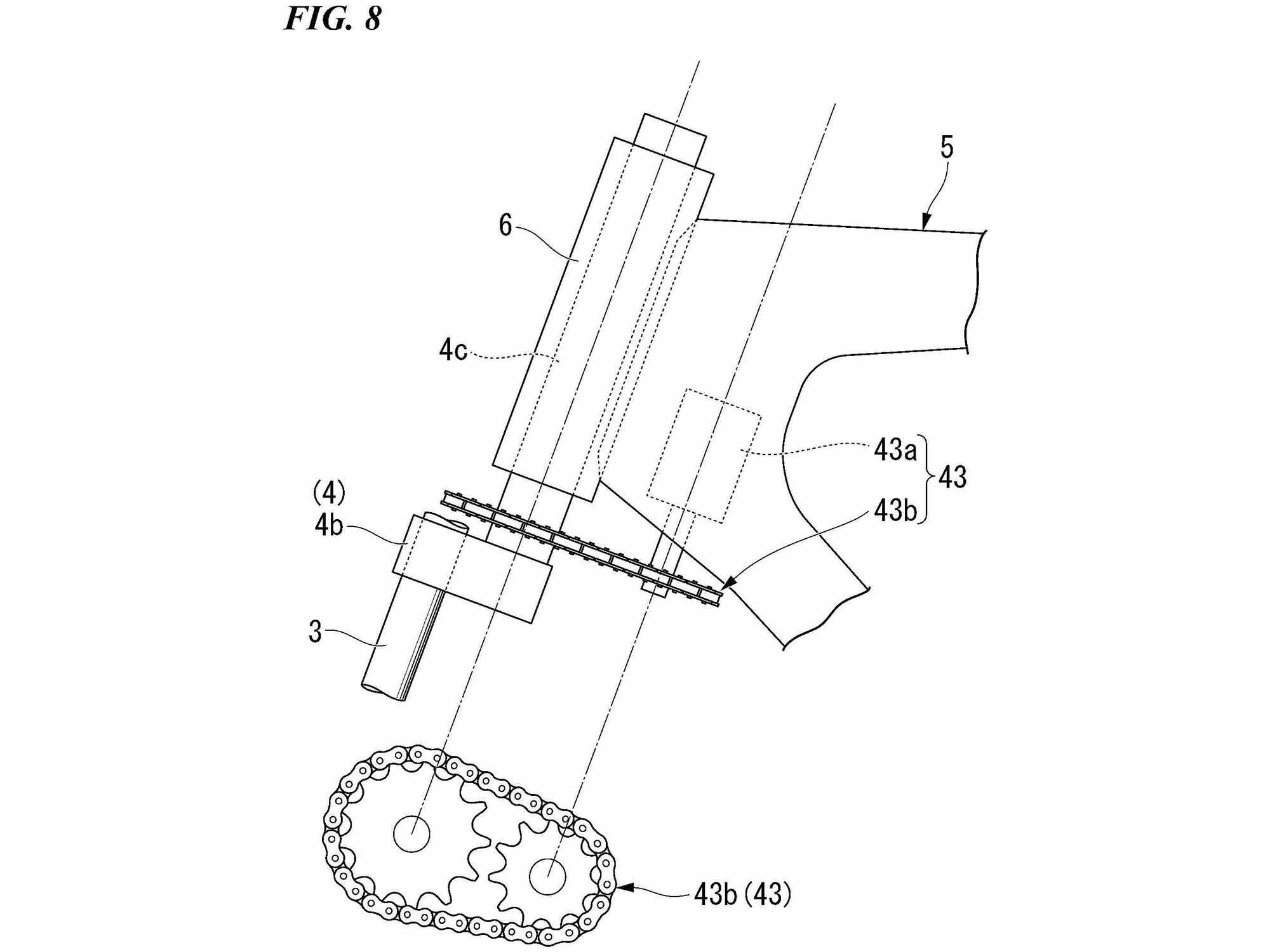 An electric motor behind the headstock can be called upon if steering intervention is necessary. (German Patent Office/)
The company's latest patent shows an adventure-touring-style bike—roughly an approximation of a CB500X—fitted with the setup, which includes an electric motor mounted behind the headstock that can turn the front wheel if it needs to intervene.
RELATED: BMW's Motorcycle Active Cruise Control
A vast number of sensors are needed to make a system like this work. Not only does the patent suggest the bike has acceleration, throttle position, brake pressure, lean-angle, and speed sensors, but also devices to measure how much steering torque is being applied by the rider. Then there are the radars and cameras. The patent suggests both radar and camera sensors pointing forward to monitor the traffic, road markings, guard rails, and a host of other things using object-recognition software. There's also a second camera in the instrument panel that points backward—straight at the rider's head—with a third fitted on the tail of the bike and pointing forward toward the rider.
Whereas Ducati uses front-facing radar to enhance its adaptive cruise control, Honda's patents show cameras that monitor rider positioning as well. (Ducati /)
That's similar to the systems being employed by some of the latest cars in their increasingly advanced semi-autonomous driving systems. Cadillac's Super Cruise hands-free driving system, for instance, has a "driver attention camera" that makes sure you're watching the road even if the car is doing the steering. Honda's setup in its auto-piloted motorcycle is similar, but instead of watching the rider's eyes it pays attention to body position.
It's not just for cruise control either. By watching the rider's position the system is intended to be able to work out whether maneuvers are intentional—in which case it will allow them—or accidental. That means the auto-steering system can work a bit like ABS or traction control, kicking in to make corrections even if the cruise control isn't being used. The patent also mentions using the system to make corrections when the bike is blown off-course by side winds.
RELATED: Kawasaki To Employ Radar-Assisted Safety Systems
When cruise control is in use, Honda's patent suggests the bike will be able to change lanes automatically to move around slower vehicles, and thanks to built-in GPS mapping it can even take off-ramps when a navigation destination is programmed in, though the intention appears to be for the system to be used on freeways rather than back roads.
As with a lot of patents like this, the system isn't likely to be on a production bike any time soon. But given the speed of development, and the fact that semi-autonomous driving systems are already in use in cars, it's very probable that setups like this will appear on motorcycles within the next decade.
We Thank To Our Readers For Your All Contributes. We Still Seek Your Support In Pandemic CoronaVirus.
Donate Bellow For Better Future
Registered before? Log in to use your saved details.
If you registered an account, please enter your details below to login. If this is your first time, proceed to the donation form.