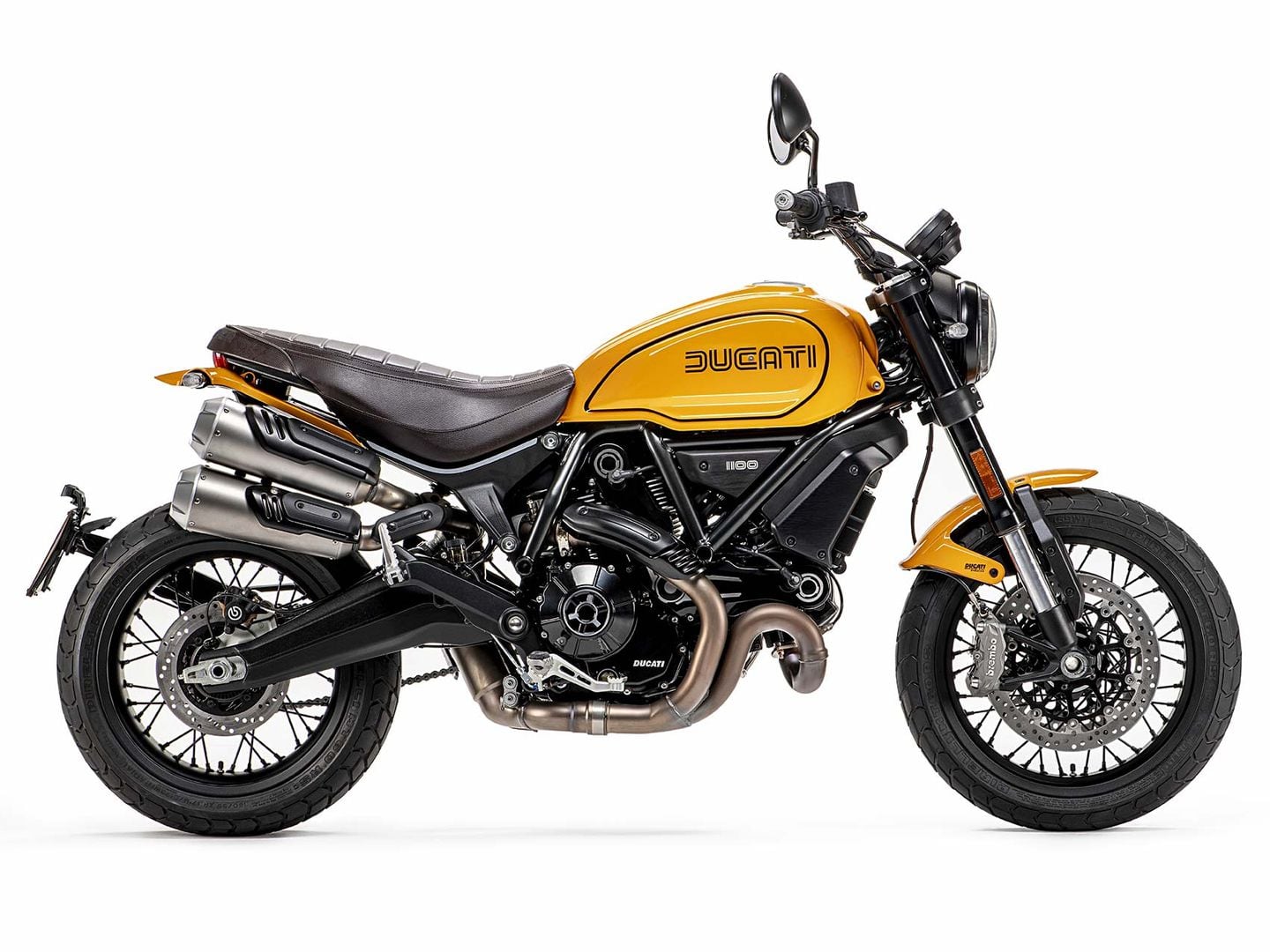 The new Ducati Scrambler 1100 Tribute Pro hits all the right notes: style, function, and attitude, and a pinch of nostalgia. The high, twin-muffler design is a scrambler signature. (Ducati/)
Ducati's original Scrambler is central to the company's pantheon of bikes. Today's riders may forget that the first Scramblers appeared in 1962, but for an entire generation the name brings back memories of a bike that was agile, quick off the mark, and fun. In Europe, where riders of the time had a choice of clip-ons, motocross bars, or machines set up for touring, the slightly arrogant, look-at-me-riding posture made possible by its unique handlebar design and low seat were a breath of fresh air. The Scramblers' superb Ducati 250/350/450 singles made them feel sporty. But above all, in this writer's opinion, the Ducati Scramblers were some of the best-looking bikes ever, lean, mean, and stylish all at once. Massimo Tamburini once said that as a young man he would spend hours admiring the Ducati Scramblers on show at the Rimini Ducati dealer.
When the first Scrambler's Ducati single went out of production, the Scrambler disappeared with it. And while some enthusiastic entrepreneurs have made attempts to revive the original bike and engine, it's never come to pass.
Fast-forward to 2014. Thanks to the domination of its eight-valve 1,098cc desmo V-twin in World Superbike, Ducati was riding high. But for production to crack 50,000 units per year, the company needed a desirable and price-competitive entry model. Thus came the modern Scrambler. Although it wasn't as lithe and narrow as the first bikes with its air-cooled SOHC two-valve V-twin engine, the DNA was still there and the name still had a lot of magic. Thanks to assembly in Thailand, the new Scrambler hit the market at a competitive price. The result was such a success that Ducati spun the Scrambler off into a sort of sub-brand. Continued investment has kept the riding public actively interested.
The Ducati 1100 Tribute Pro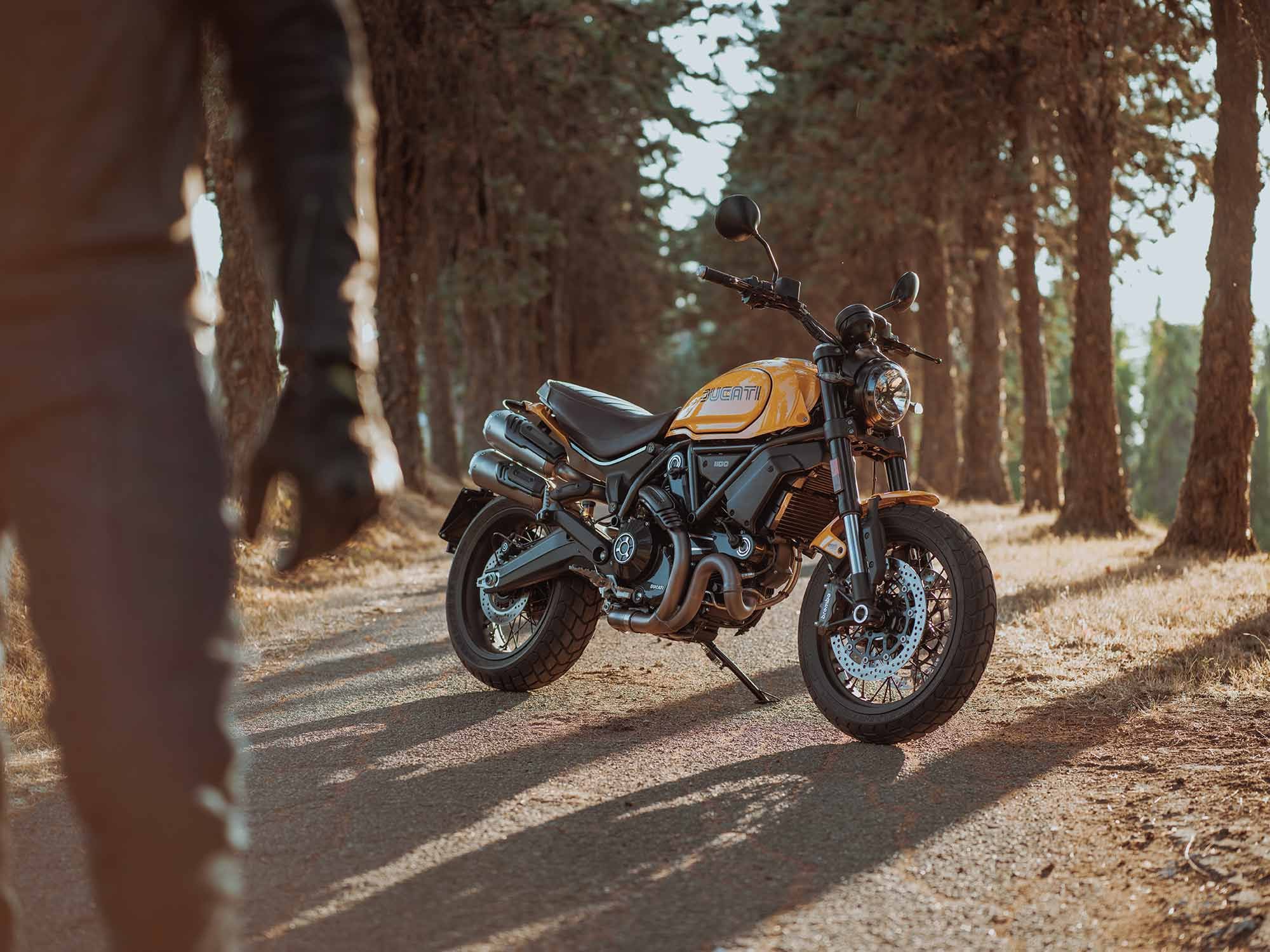 The Scrambler 1100 Tribute Pro is a legit do-it-all bike, at least on pavement and gnarled-up backroads. Ducati's entire Scrambler concept had been a success, a breakout for a marque previously married exclusively to sportbikes. (Ducati/)
Today's Scrambler line offers three engine choices: the immortal air-cooled SOHC V-twin is available in 800cc and 1,100cc, plus a 400cc version mainly reserved for the Far East markets. Now for 2022 the Scrambler sub-brand introduces two new machines. The first is the most nostalgic; the 1100 Tribute Pro comes with fascinating solid ochre-yellow bodywork, recalling the paint scheme of the original 250 Scrambler and the first edition of the 750 Sport, and is powered by the unforgettable bevel-gear 750cc V-twin. Using the old Ducati logo on the tank and fitting black wire wheels are also nice touches.
The engine is the standard air-cooled two-valve 1,079cc desmo V-twin, the final evolution of the original 500cc Pantah unit. Refined to meet Euro 5 emission standards, it uses an 11:1 compression ratio and is fed by a single 55mm throttle body. Producing a respectable 86 hp at a mere 7,500 rpm (and 65 pound-feet of torque at 4,750 rpm), the engine delivers great flexibility and solid response.
A 2-into-1-into-2 exhaust includes twin mufflers and catalytic converters. The chassis is the same basic steel-tubing trellis Scrambler unit, with 24.5 degrees of rake and 111mm of trail on a 59.6-inch wheelbase. A 45mm male-slider Marzocchi fork teams up with a single Kayaba rear shock absorber, both fully adjustable.
The 1100 Scrambler Tribute Pro rolls on Pirelli MT 60 RS radials, a 120/70-18 front and 180/55-17 rear. The front brake is a twin 320mm rotor design with four-piston calipers and a single 245mm rear disc, all Brembo. Bosch provides the cornering ABS. The electronics package includes traction control and three riding modes: Active, Journey, and City. The LCD display instrumentation can also act as an interface for the optional Ducati Multimedia System. Dry weight is an acceptable 428 pounds, and the 31.9-inch seat height makes for easy maneuverability at low speed, complemented by the engine's extra generous torque curve.
The 2022 Ducati 800 Urban Motard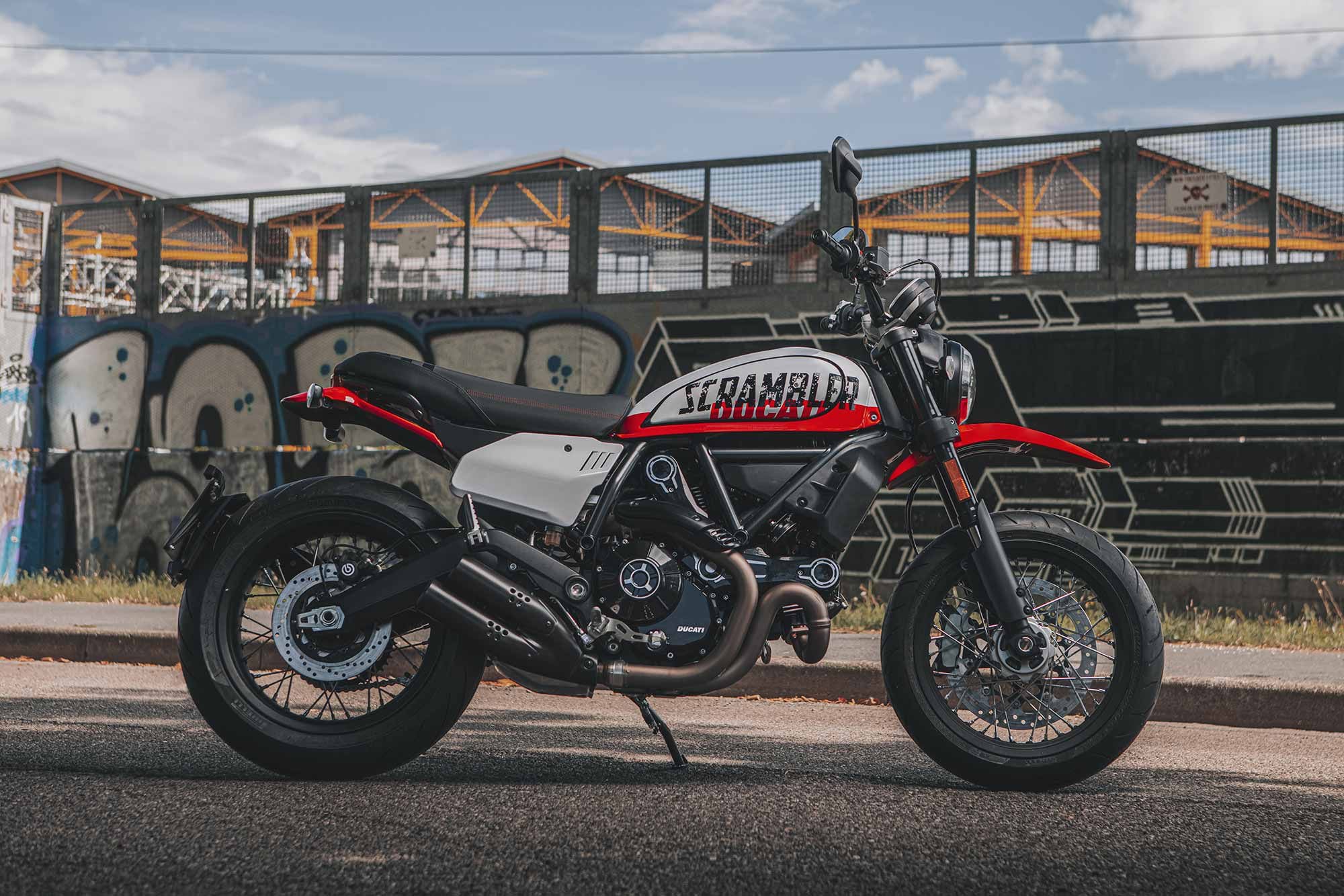 Aptly named, the new 800 Urban Motard is more SuperMotard than pure scrambler. Graffitilike graphics, short, low exhausts, and a blackout treatment give it some street cred visually. (Ducati/)
Ducati's second new offering is its 800 Urban Motard. If you're wondering if this is part of the Scrambler lineup, a look at the graphics should clear that up. The Scrambler family has always had one model that stands out as an extrovert; first we saw the Scrambler Urban Enduro, then the Desert Sled, and now the Urban Motard, looking like a Desert Sled spinoff as it blends a traditional urban commuter with a little off-road vibe. The high front fender and the short, black, twin-muffler exhaust blend with the Scrambler 800 chassis to provide a spirited riding style.
Combining supermoto style with a twin-cylinder 800cc engine sounds like the recipe for a bike that's both practical and (more important) a hoot to ride. (Ducati/)
The Urban Motard uses a 41mm male-slider Kayaba fork and a Kayaba rear shock with adjustable spring preload and rolls on black wire wheels shod with Pirelli Diablo Rosso III tires, a 120/70-17 front and a 180/55-17 rear. The bike's chassis setting is completely different from any other 800 Scrambler versions, though the frame geometry remains unchanged (24 degrees of rake, 94mm of trail, and a 56.5-inch wheelbase). The brakes are different as well; a relatively unusual single 330mm front disc with a four-piston caliper and a 245mm rear disc with a floating caliper and one active piston, all by Brembo and equipped with Bosch cornering ABS. As with the 1100 Scrambler Tribute Pro, the Urban Motard's LCD instrumentation can support the optional Ducati Multimedia System.
The Motard's classic Ducati air-cooled SOHC V-twin is in its 803cc format (88mm x 66mm), rated at 73 hp at 8,250 rpm, and 48.8 pound-feet of torque at 5,750 rpm. The compression ratio is substantial for an air-cooled engine at 11:1. The engine uses a single 50mm throttle body. Dry weight (claimed) is 397 pounds, and the 31.7-inch seat height makes for easy maneuverability at low speeds.
We can hardly wait to get one for an extended test.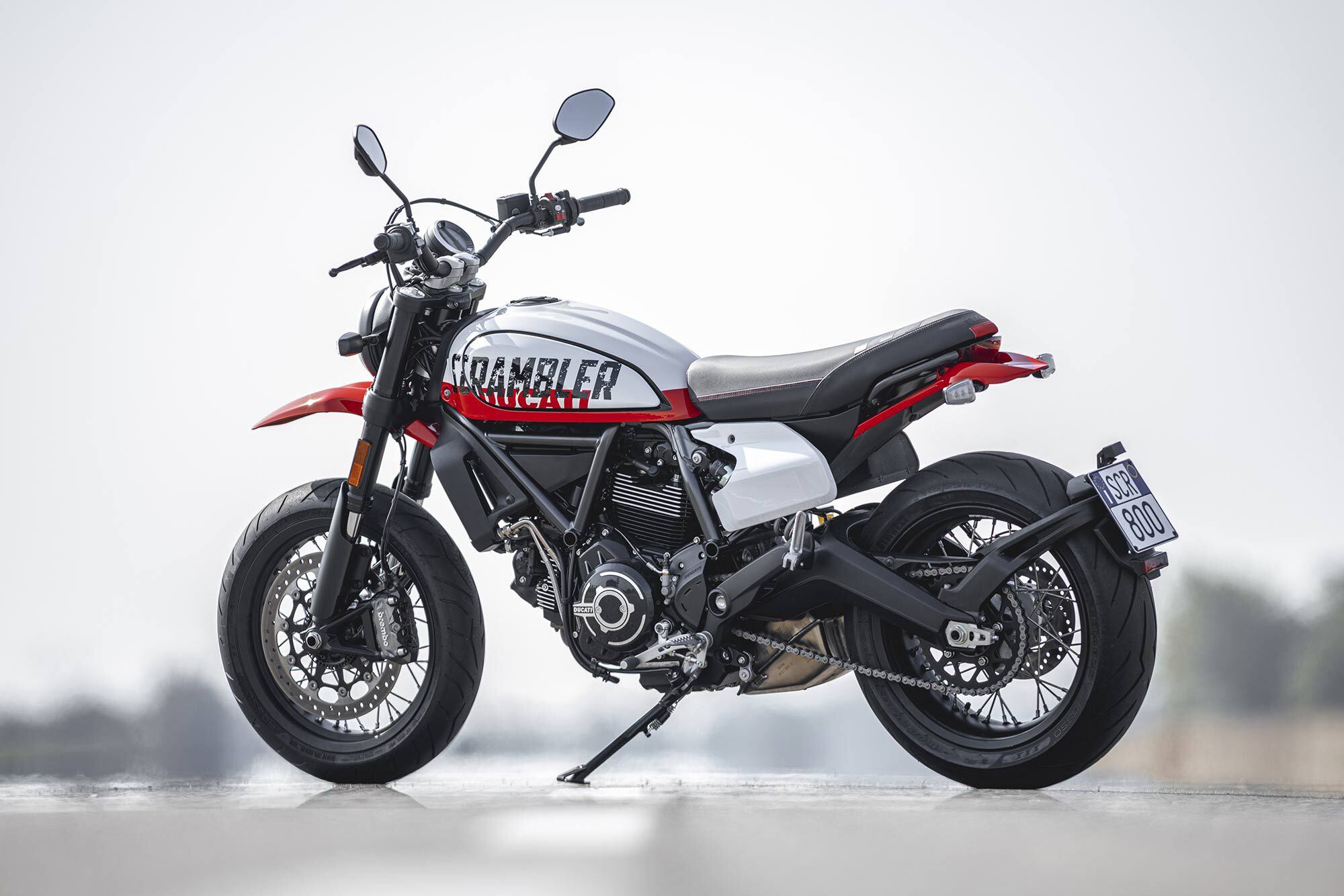 Check out the Urban Motard's single-disc front brake, the polished engine highlights, the overall tidy packaging, the high front fender, and the minimal rear bodywork. (Ducati/)
Source link