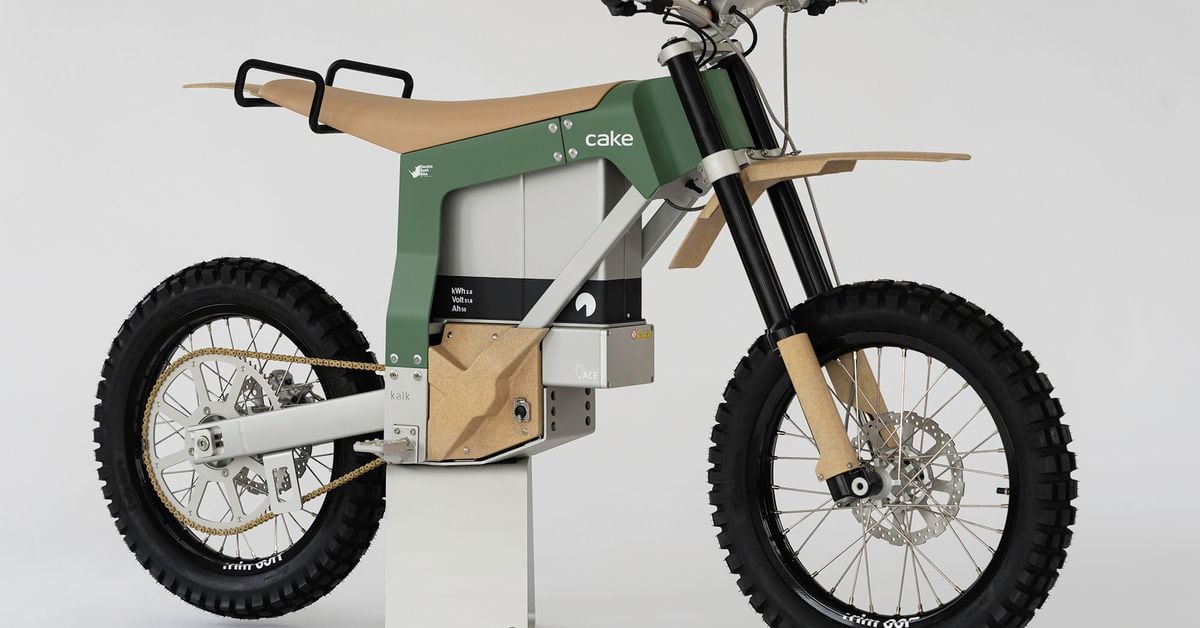 Cake has rolled out the Kalk AP, a limited-edition electric modified to take on poachers in Southern Africa. (Cake/)
If you've ever seen a rhinoceros in the wild, you know just how magnificent the hulking beasts are (ask Executive Editor Justin Dawes, he's had the honor of peeping them up close). For one, they're second only to the African elephant as the largest land mammals on Earth. And yes, they can be punchy, but that hasn't stopped poachers from going after them relentlessly over the last century, decimating their ranks to the point of near extinction. Numbers have since rebounded slightly, but the problem is still huge. As luck would have it, there's a bike brand now looking to tackle the issue with a purpose-built poacher-pursuing model. Cue the new Kalk AP (Anti-Poaching) from Cake.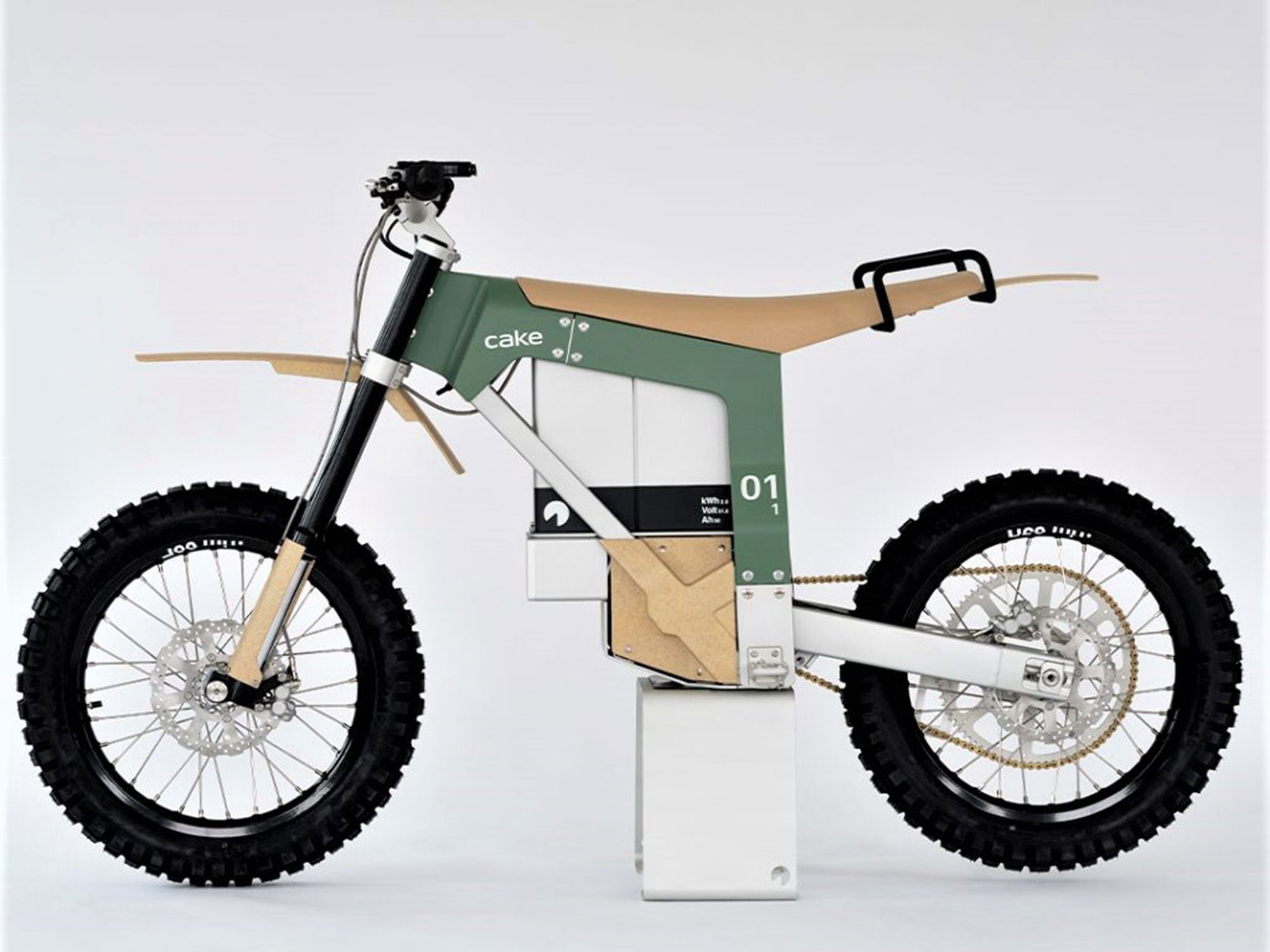 The AP is modified for travel in the bush, with modded suspension, a sealed motor, and solar power to allow for charging in remote areas. (Cake/)
As the name suggests, the Kalk AP is built on the original off-road Kalk platform with the same 6061 aluminum frame carrying an 11kW interior permanent magnet motor (sealed for protection), but modified and optimized for work in Africa's bush country with the help of local rangers. The bike mixes and matches parts from the OR and INK models, with wider 18-inch hoops wearing burly Continental TKC 80 tires (3.5-inchers) to take on the rough topography of the backcountry. To keep maintenance simple, Cake also opted to go with the INK's less-sophisticated (but more robust) inverted MX-style spring fork featuring 7.8 inches of travel, rather than the more complex Öhlins components stuff on the OR. The AP's progressive rear shock is also a direct-mount unit, and Cake specially tuned both ends for the job at hand, while also adding extra sealing to both the drivetrain and suspension.
The AP's onboard software was also modified to compensate for extreme torque and summer heat, and an extra ride mode was added for greater top speeds (max is just 56 mph), with additional tweaks made to prevent overheating; the bike is good for about three hours in Enduro mode. The green and gold fenders and bodywork continue the theme of sustainability and are constructed of a biodegradable polymer, and the Kalk AP was made to work in tandem with Goal Zero solar power kits. The result is a bike that's quiet, sustainable, and more cost-efficient in the field than its noisier, dirtier gas-powered counterpart might be.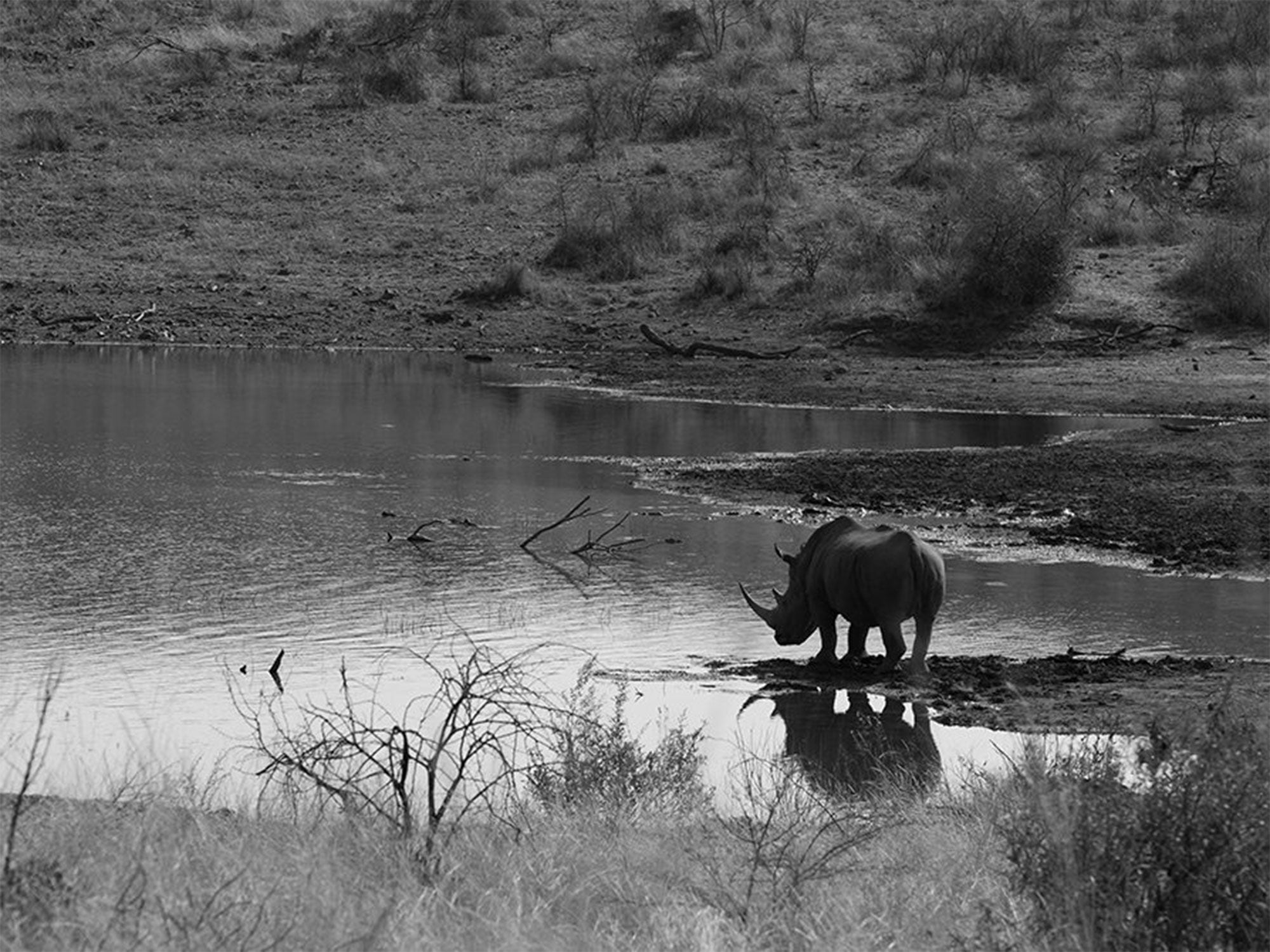 Rhinos have been hunted relentlessly. Our man Justin Dawes was lucky enough to catch a glimpse of them in the wild not too long ago. (Justin Dawes/)
But back to the double-horned beasts: South Africa holds nearly 80 percent of the world's rhinos and has been hit hardest by relentless poachers, with more than 1,000 rhinos killed each year between 2013 and 2017. Ground zero for most of the illegal activity is Kruger National Park on South Africa's northeastern border with Mozambique, which has suffered heavy losses; the total number of rhinos in Kruger National Park has declined by a staggering 59 percent since 2013. The poaching has lessened since 2015, but the long-term impact is taking its toll.
RELATED: 5 Fast Facts About The Cake E-Motorcycle
It's all to cash in on the rhino's horns—but why are they so appealing, anyway? After all, they're made up of nothing but keratin (same stuff as your fingernails), yet the demand for them on the black market remains huge. In some parts of Asia they're believed to hold healing properties, but in reality, chewing your own fingernails has the same effect—none.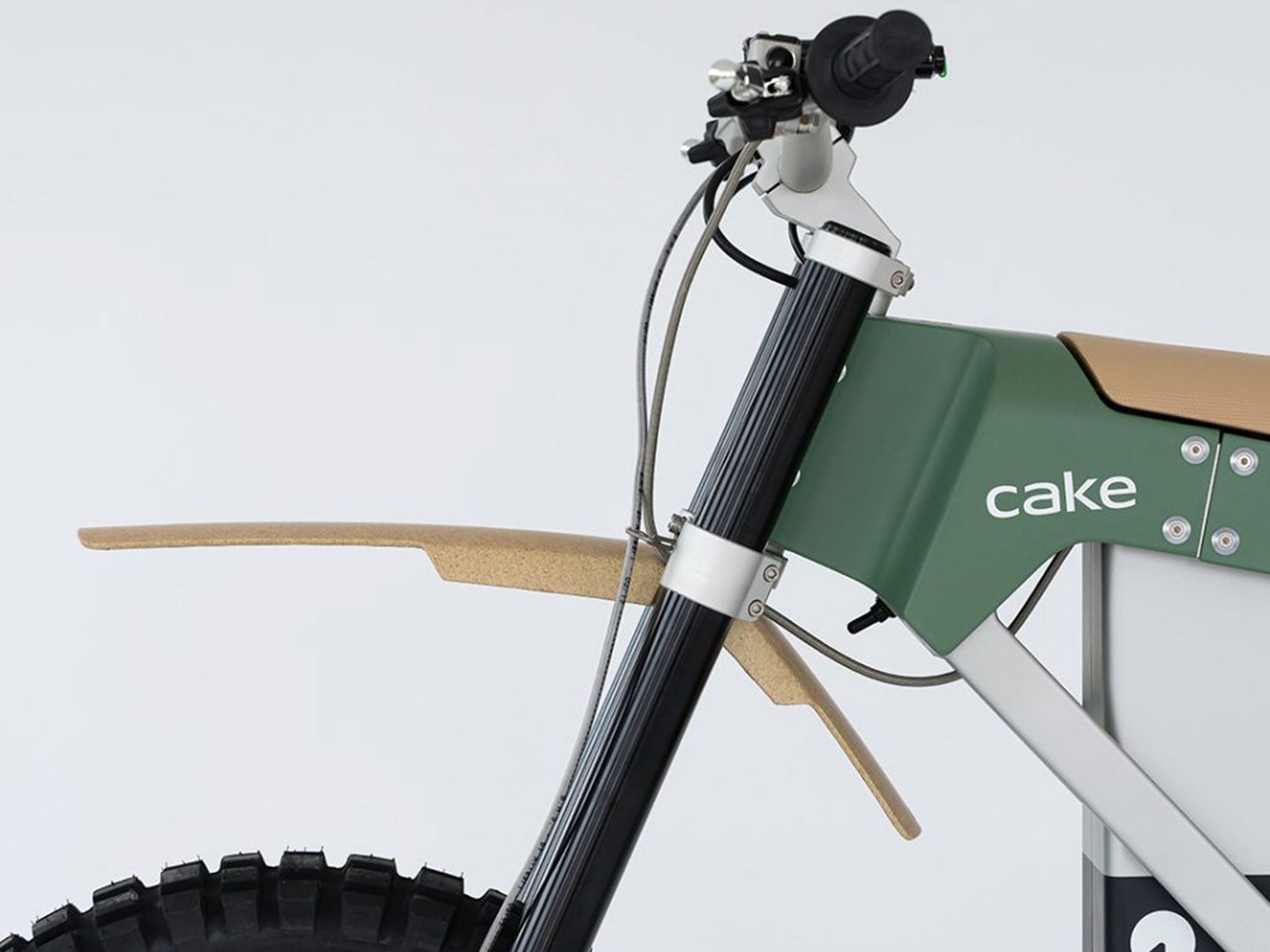 Inverted MX-style spring fork gives the AP 7.8 inches of trail and makes field maintenance easier. (Cake/)
Luckily, Cake isn't going into this fight alone; as mentioned, it has partnered with Goal Zero (maker of off-grid solar products) as well as the Southern African Wildlife College (a private college specializing in conservation and located near Kruger) in South Africa to form the Electric Bush Bike Anti-Poaching Coalition, a collaboration founded to combat that slaughter of endangered species in Southern Africa. The groundwork was laid late last year, and the Kalk AP was developed alongside SAWC with Goal Zero to provide the charging solution (Cake has been working with the company for more than a year on this tech). The new bike represents an important step in the effort to reduce poaching, which until now has been seriously underfunded, with few resources to do the job. Making things worse, the loud off-road motorcycles and airplanes usually tapped for anti-poaching duty require lots of fuel out in the field and make sneaking up on the bad guys almost impossible, and the Kalk AP looks to tackle those issues head-on; the bike is simpler, the need for fuel is reduced thanks to Goal Zero's mobile solar power stations allowing charging in the field, and because they're electric, they're much quieter, a key to stopping poachers in their tracks.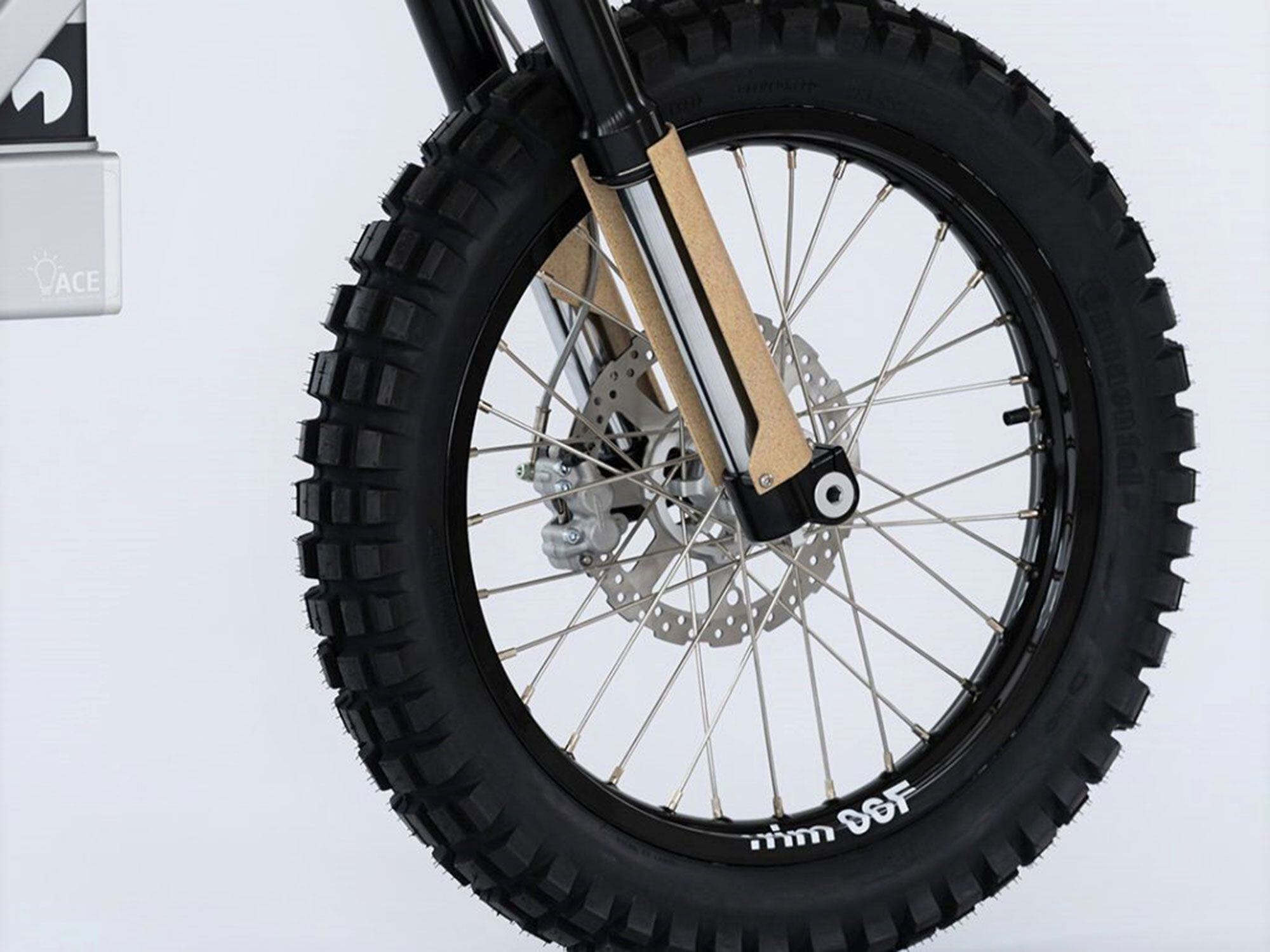 Wide, grippy Continental TKC 80s help tackle hardcore rhino habitat. (Cake/)
Cake CEO Stefan Ytterborn, who was sold on creating the AP after a friend alerted him to the illegal rhino hunts, commented, "It is somewhat unreal how the sun together with the tech of these silent motorbikes can serve the purpose of saving species from extinction."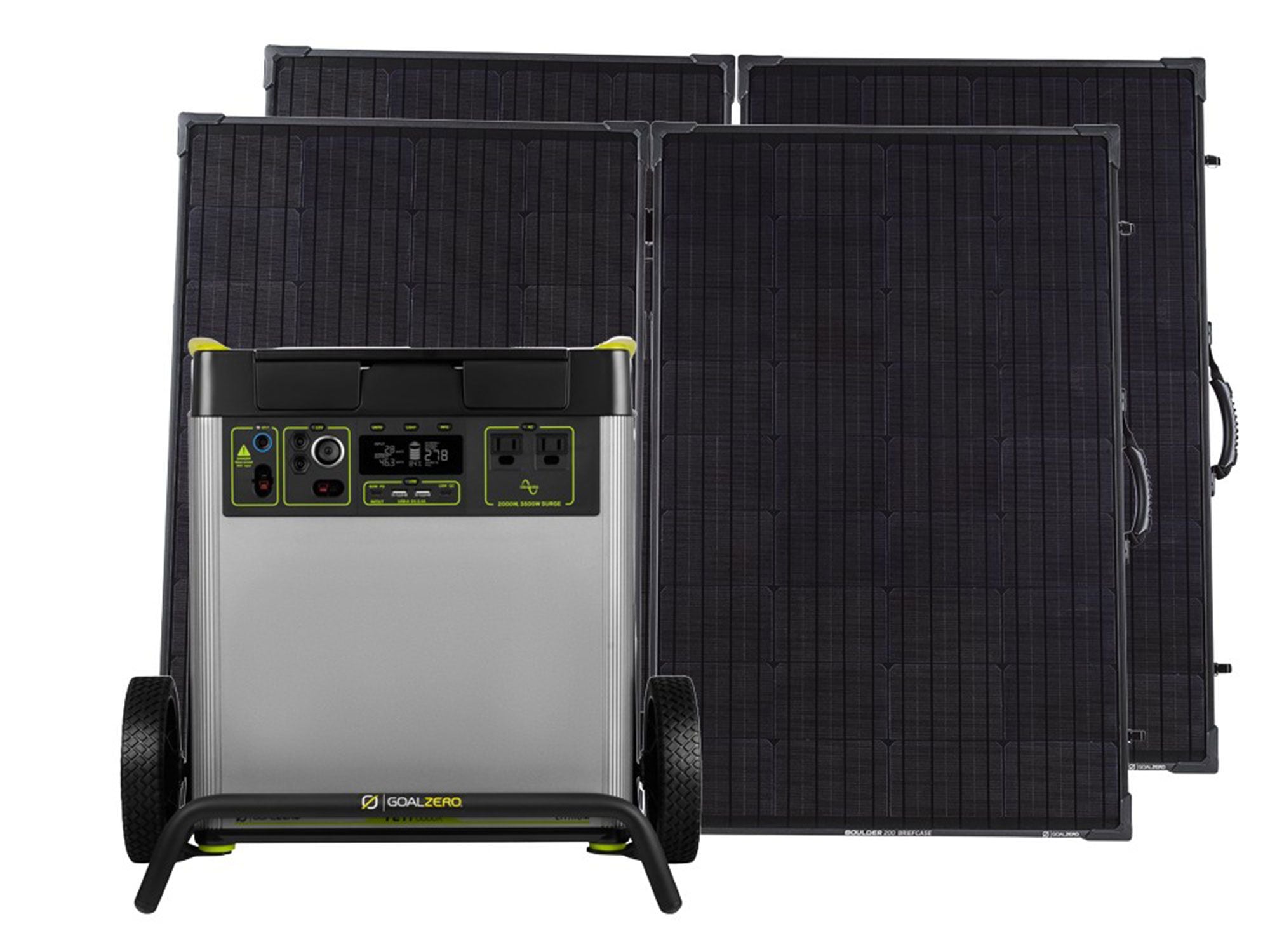 The Electric Bush Bike units need to charge every fourth hour, but in a remote environment, plug-in outlets aren't an option. Goal Zero's powerful solar kit solves the problem. (Goal Zero/)
But the bike isn't just being made for Africa; you can get in on the deal too. To support and help fund the initiative, Cake has launched a charity fundraising campaign, with a limited-edition run of 50 bikes being offered, each marked with a unique ID number. Each $25,000 charity price pays for a bundle of two Cake Kalk APs and a solar-power station (with solar panels) from Goal Zero. The buyer gets one bike, while the other identical bike and the solar power kit get shipped to anti-poaching teams in any one of the 25 national parks where the SAWC manages them. Cake and Goal Zero are also each donating their respective profits from the sale directly to the SAWC, and Cake has made it clear that they are not making any money on this project; it's strictly a goodwill measure. (The normal non-charity price for the AP bundle is $32,000.)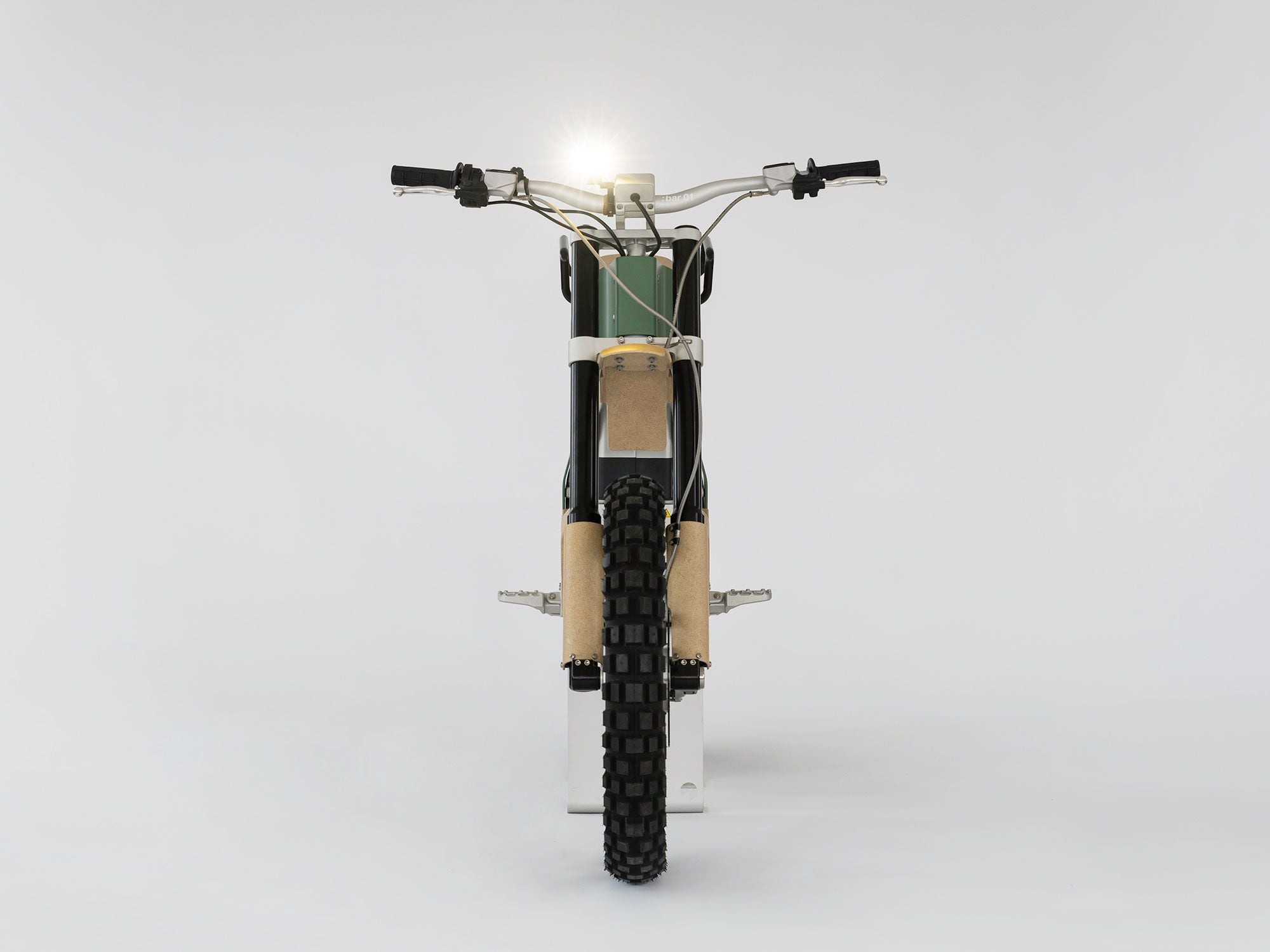 A detachable LED projector headlight blasting out 2,100 lumens also comes in handy to uncover the stealthy criminals. (Cake/)
Twenty-five large isn't exactly pocket change, but put in perspective, not a bad deal considering you're covering the cost of two bikes (though you only get to ride the one delivered to you). You also get updates of the companion bike's exploits in the field, if you so choose, which sounds like a reasonably solid reminder of your good deed. And just think of the good karma you'll reap when the bike ships in September of 2021.
Source link