At last week's CIMA show in China, Benda showed two new V-4 engines, one of which was this 1,198cc version. (Benda Motorcycles/)
Over the years the V-4 engine has become totemic as a pinnacle of motorcycle powertrain design, so the idea of an upstart Chinese brand offering one seems unthinkable, but in 2022 Benda plans to introduce two such machines.
As a brand, Benda has caused a stir over the last year or so. Back in late 2020 it showed its first four-cylinder concept bike, the LF-01, powered by a 680cc inline-four. It looked like a typical flight of fancy, but in July this year the firm launched the production version, the LFC 700, still looking just as crazy as the concept, along with a second model, the LFS 700.
Related: Benda LF-01 Concept Revealed
The company has also been teasing plans for a 300cc turbocharged V-twin sportbike, but there wasn't even an inkling that Benda might be making a V-4 engine until it showed not one but two of them at the recent CIMAMotor show in Chongqing, China.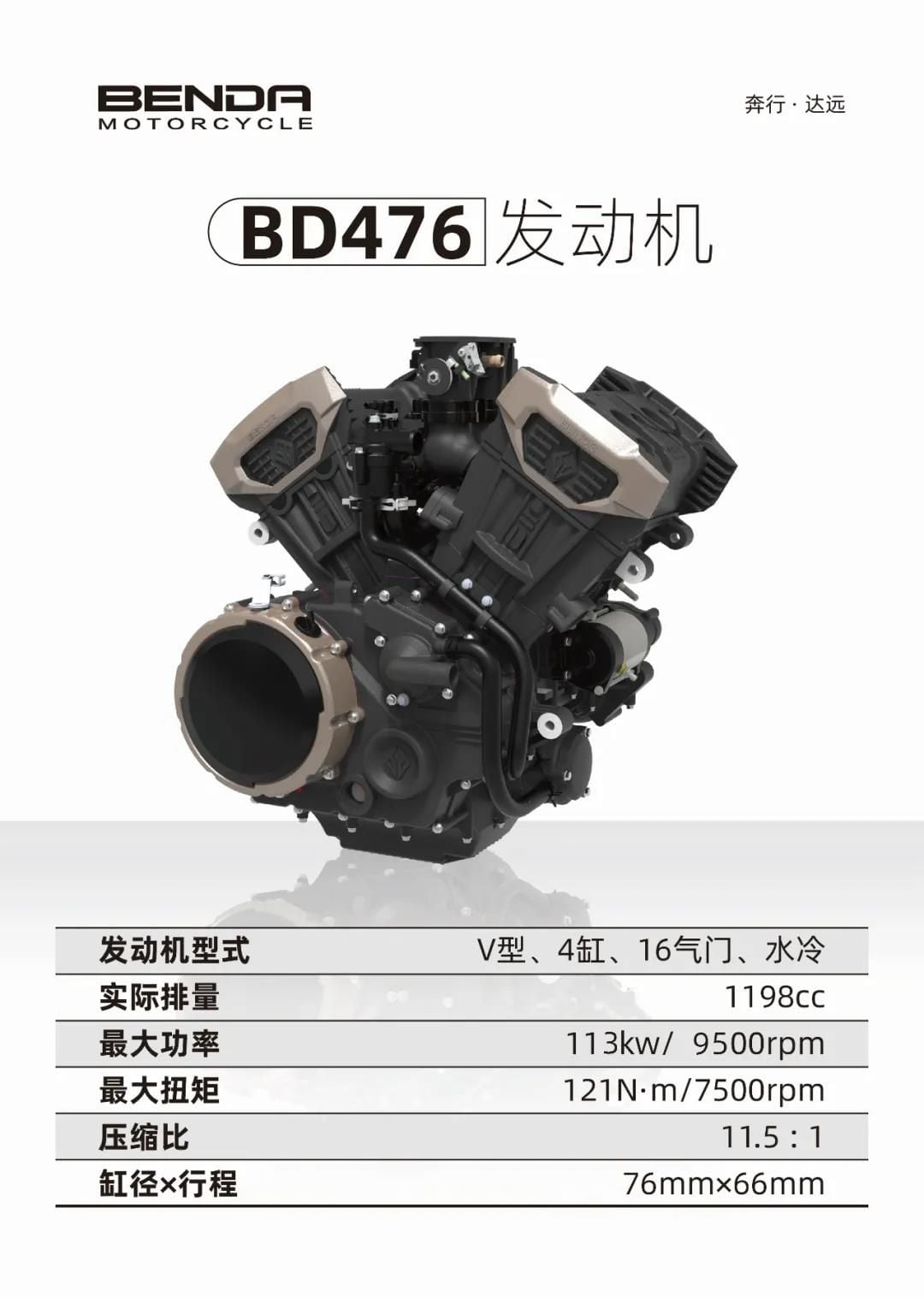 The liquid-cooled DOHC unit is said to produce more than 150 hp, making it the most powerful Chinese-made motorcycle mill yet. (Benda Motorcycles/)
The two motors are based on the same design but feature very different capacities to span a wide performance range. Both engines are water-cooled 70-degree V-4s with DOHC cylinder heads and 16 valves, featuring an inlet manifold connecting the four intake ports to two electronic throttle bodies. That's a hint that these aren't out-and-out performance engines to challenge motors like Ducati's Desmosedici Stradale or Aprilia's RSV4 engine, though they'll still be some of the most impressive four-cylinders to have emerged from China, with the bigger V-4 potentially the most powerful Chinese-made motorcycle engine of all.
The larger version, with the catch name "BD476," comes in at 1,198cc but has a relatively long stroke and narrow bore when compared to the latest superbike engines. The bore is 76mm and the stroke measures 66mm, giving internal dimensions that match the original 1,200 iteration of Yamaha's VMAX. The engine's overall layout is reminiscent of the VMAX motor although this isn't the sort of out-and-out copy that we've seen from some Chinese bikes in the past. Elements like the 11.5:1 compression ratio don't match the Yamaha's specs, showing it's not identical on the inside, either.
The VMAX similarity might also indicate the sort of bike that the engine might end up in. Benda might have plans for a sportbike in the future but its initial offerings have been firmly in the cruiser and street roadster classes. The new 1,198cc V-4 certainly promises plenty of performance for that sort of machine; peak power is 152 bhp at 9,500 rpm, backed up by 89 pound-feet of torque at 7,500 rpm.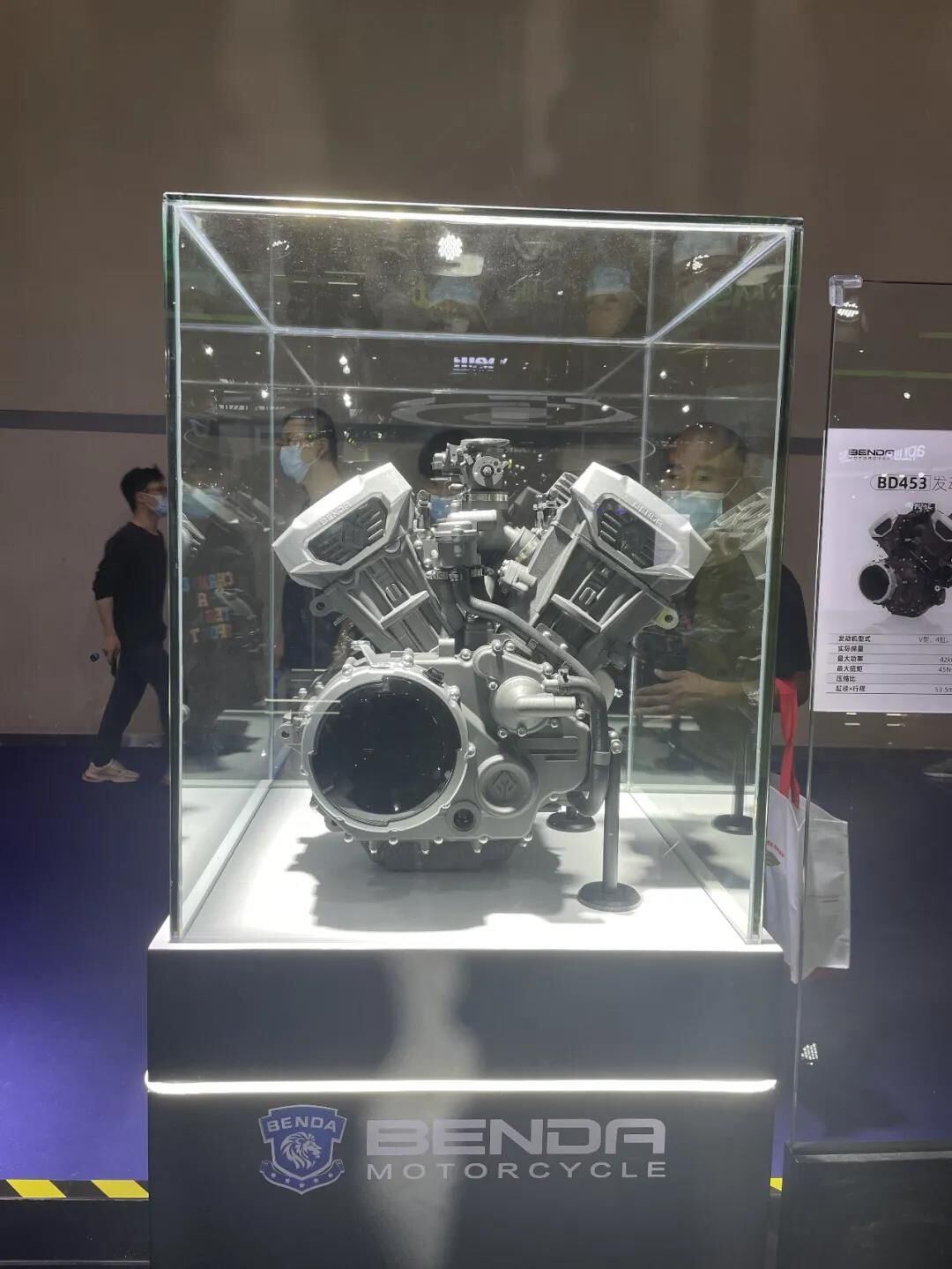 The smaller 496cc unit is externally almost identical to the larger V-4. (Benda Motorcycles/)
The larger engine looks set to be the basis of China's most powerful homegrown motorcycle—though the pace of development from rivals means it could be usurped before the bike is even launched. As it stands, it would beat out the 140 bhp CFMoto 1250TR-G tourer that was launched last year. However, the existence of a smaller V-4 sharing the same overall design comes as more of a surprise.
Benda's "BD453" motor has a smaller 53.5mm bore and a 55.2mm stroke, making it an unusual, undersquare design, with a capacity of just 496cc. Power is, of course, much lower than the 1,198cc engine, coming in at 56 hp and a peak of 10,000 rpm, while torque is rated at 33 pound-feet and 8,000 rpm.
Related: Benda Launches New LFC 700 and LFS 700 Models
Given the external similarity between the two engines—they're virtually indistinguishable—it's clear there will be interchangeable parts, and it's perhaps no coincidence that a combination of the 496cc unit's shorter 55.2mm stroke and the larger 1,198cc motor's larger 76mm bore results in 1,000cc, potentially hinting at a higher-revving, more performance-oriented liter motor in the future.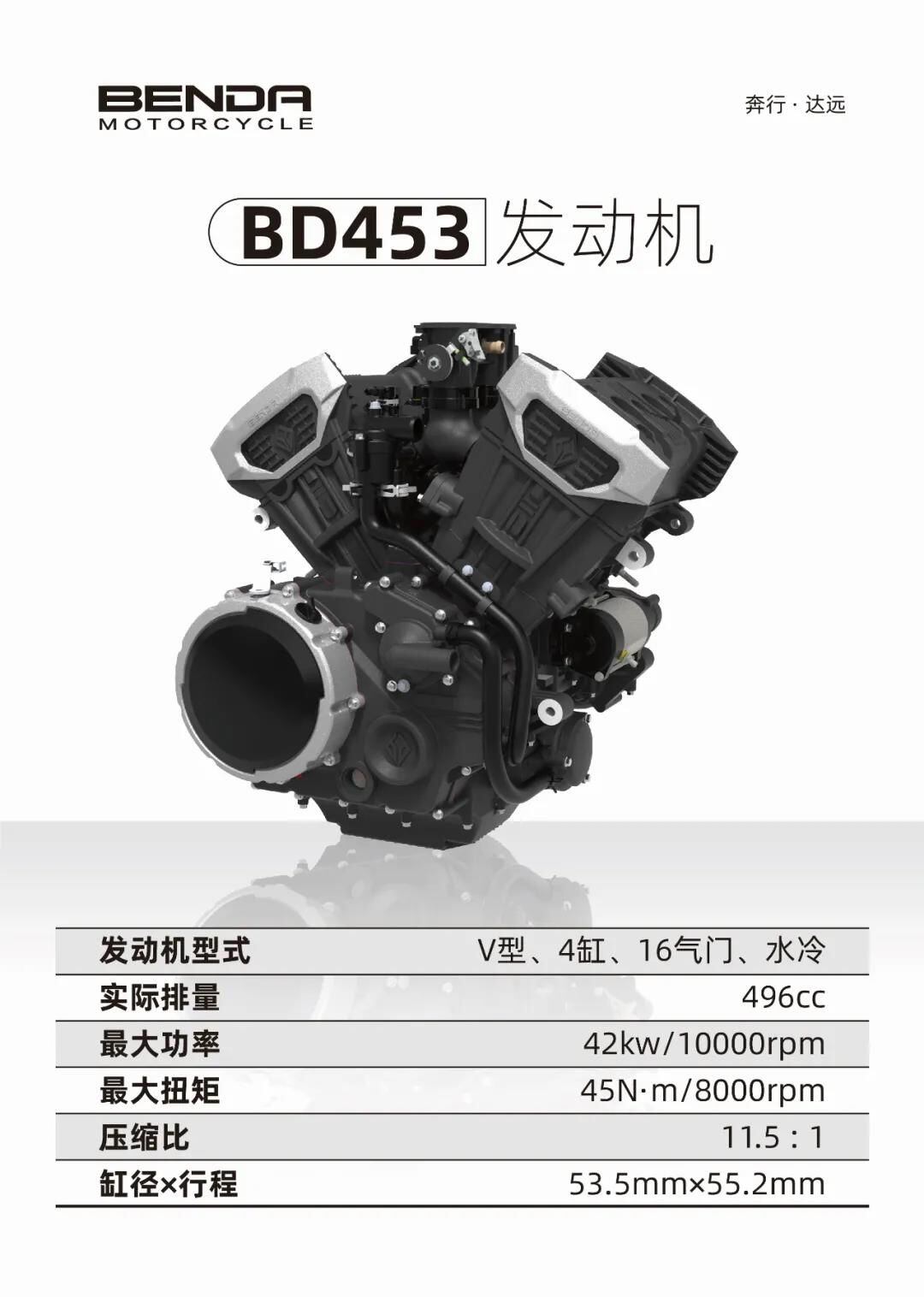 There's a good chance the engines could serve as the basis for a future high-performance liter project. (Benda Motorcycles/)
With production just getting underway on two completely new inline four-cylinder models in the form of the LFC 700 and LFS 700, Benda says it's going to be 2022 before it's ready to show the bikes that the new V-4 engines will be fitted in, but the firm's pace of development has been impressive so far.
Unlike most Chinese brands, Benda is also expanding beyond its homeland in terms of sales, already having the beginnings of a European import and sales network in place, so it looks like the company's offerings are likely to be offered worldwide in years to come.
Source link