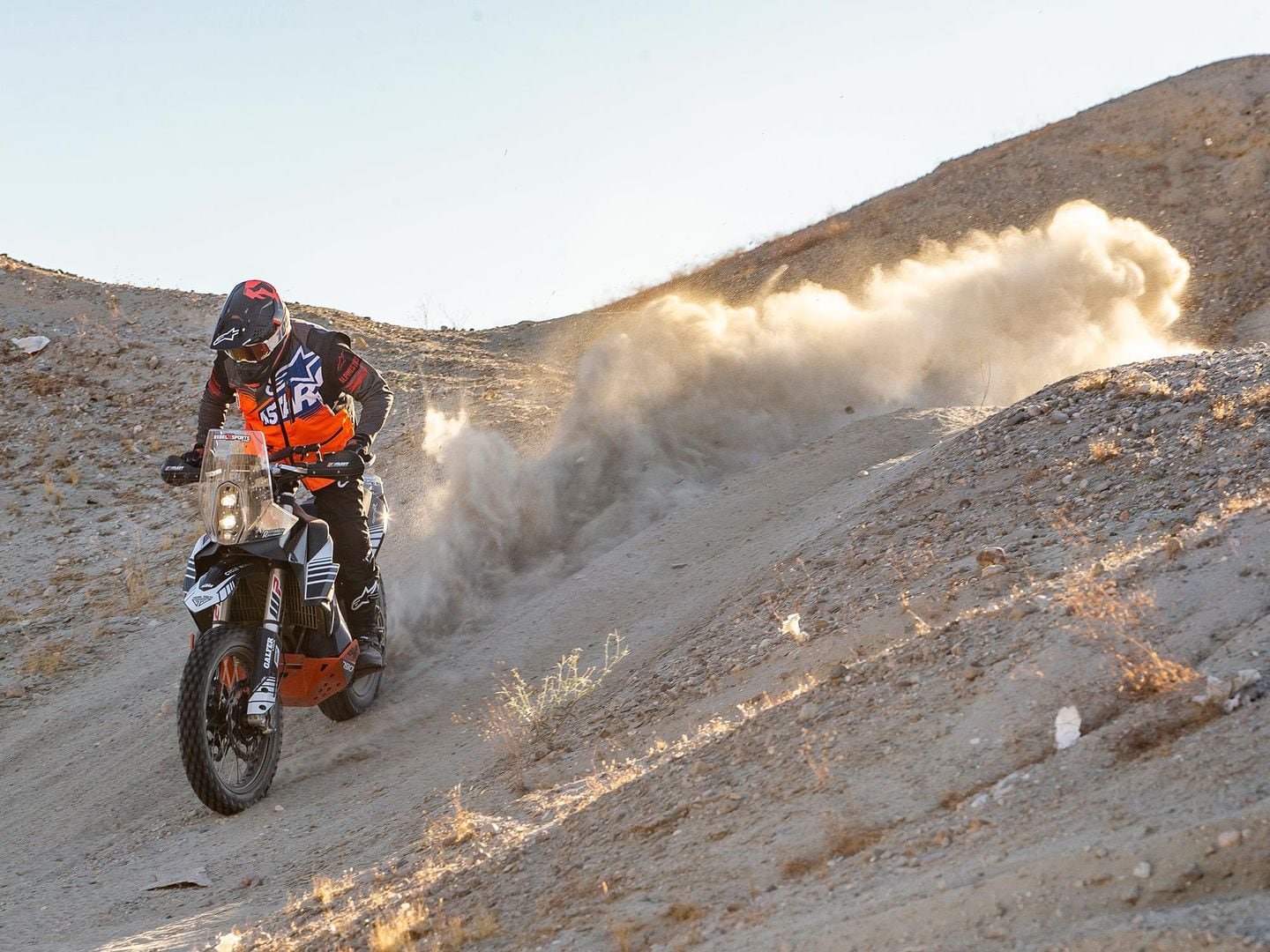 KTM's 790 and 890 Adventure R models are highly capable in the dirt, but we wanted better. (Jeff Allen/)
The ability to get out into the dirt while using paved highways and byways makes adventure and dual sport motorcycles a dream for those looking for the best of both worlds. However, both require compromises; dual sports lack range and comfort for multiday tours, but big adventure bikes become a challenge when the trails tighten and the bumps grow bigger than a breadbox.
To some degree, midsize adventure motorcycles like the KTM 790 Adventure R fill the space between dual sports and large-bore adventure rigs. So is there a way to narrow that gap even further? Is the answer to increase the comfort and range of a single-cylinder dual sport or to make an ADV rig more dirtworthy? In the quest for the ultimate one-bike garage, we chose the latter.
The aforementioned 790 Adventure R, and the new 890 Adventure R alongside it, sits more in the middle than any other adventure motorcycle. Therefore, this would be our ideal base for a project with less compromise and more shred. The 790 R's 798cc parallel twin can gobble up the miles without the drone of a dual sport's single, and its 465-pound curb weight and 240mm (9.4 inches) of suspension travel leaves behemoths like the BMW R 1250 GS and Ducati Multistrada tiptoeing through the dirt far behind. There's some wind protection from its small windshield, but it needs to have more protection without sacrificing style and off-road ergonomics. And in order for the bike to keep pace with today's motocross-inspired dual sports, we would need better suspension and handling.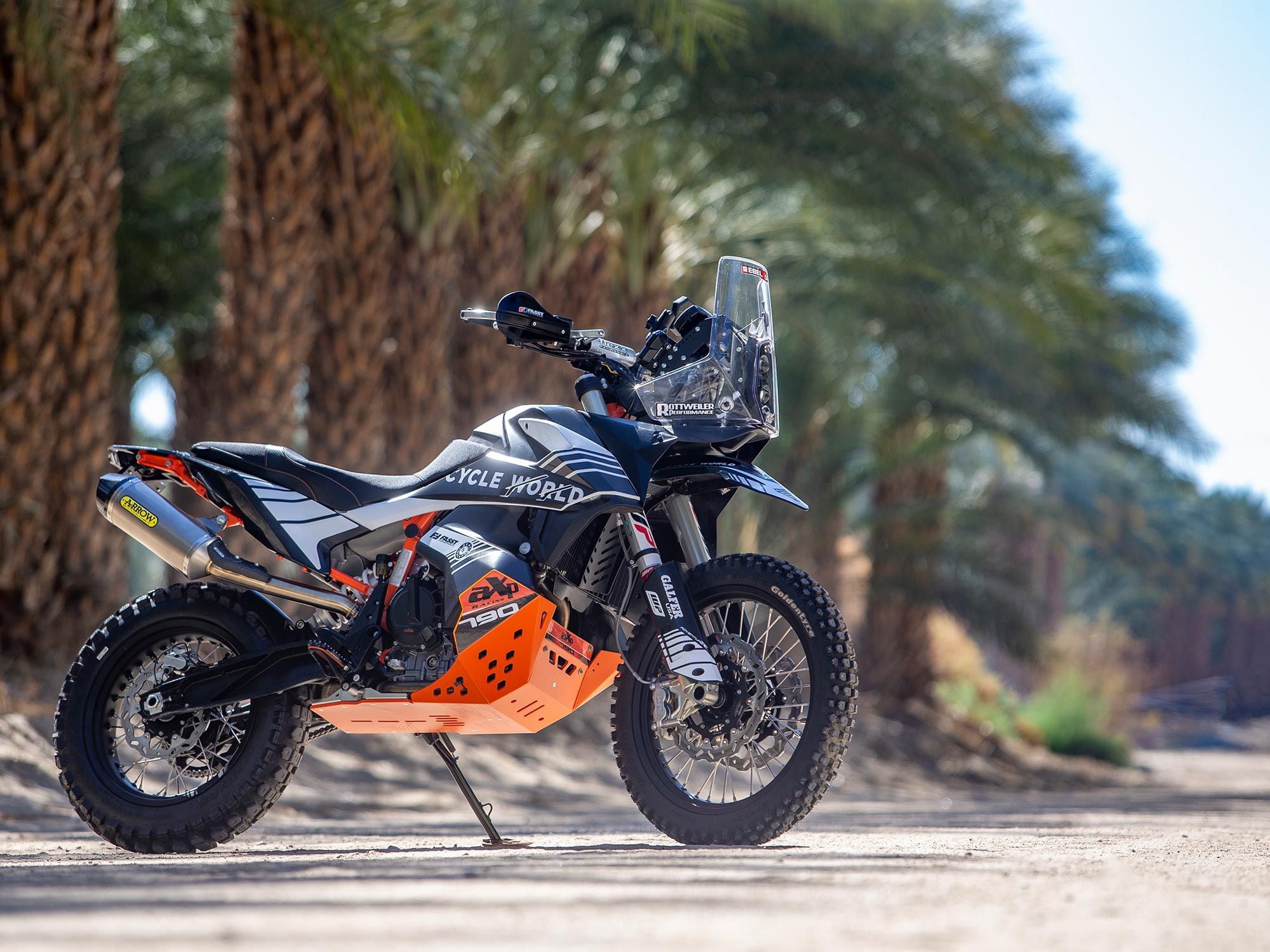 The <em>Cycle World</em> KTM 790 Adventure R project is inspired by the 450RR rally racebikes. (Jeff Allen/)
So we set out with a wish list. We soon realized that for this project, the word "budget" would pretty much go unspoken. To go fast and look good doing it takes cash—and, as we soon found out, lots of it.
Inspiration for our 790 R came from the Dakar Rally, where the heroes of off-road racing put in 5,000 miles over a two-week period. Although their racing machines are single-cylinder beasts weighing nearly 100 pounds less than the 790, their forms follow the function of endurance. And they look <i>amazing</i>. To get that rally look with added wind protection, our first Facebook message was to Rebel X Sports in Italy. Manuel Lucchese, Rebel X's owner, has turned his experience with Dakar Malle Moto (riding and racing the entire rally without mechanics) toward fitting rally towers to adventure and dual sport motorcycles.
A couple of weeks later we took delivery of a box containing the Rebel X Sports Rally Kit ($2,940), which uses the headlight and windscreen from KTM's 450RR rally racing motorcycle. Just days later the kit was installed, transforming the 790 Adventure R from insectoid to racer replica. The aluminum tower behind the KTM's HID lights and 450 rally windscreen was now home to the 790′s stock TFT display and a $599 Trail Tech Voyager Pro GPS dash unit. There are also mounting options for a power rally roadbook, racing transponders, and rally tripmaster unit, if you happen to find yourself actually racing.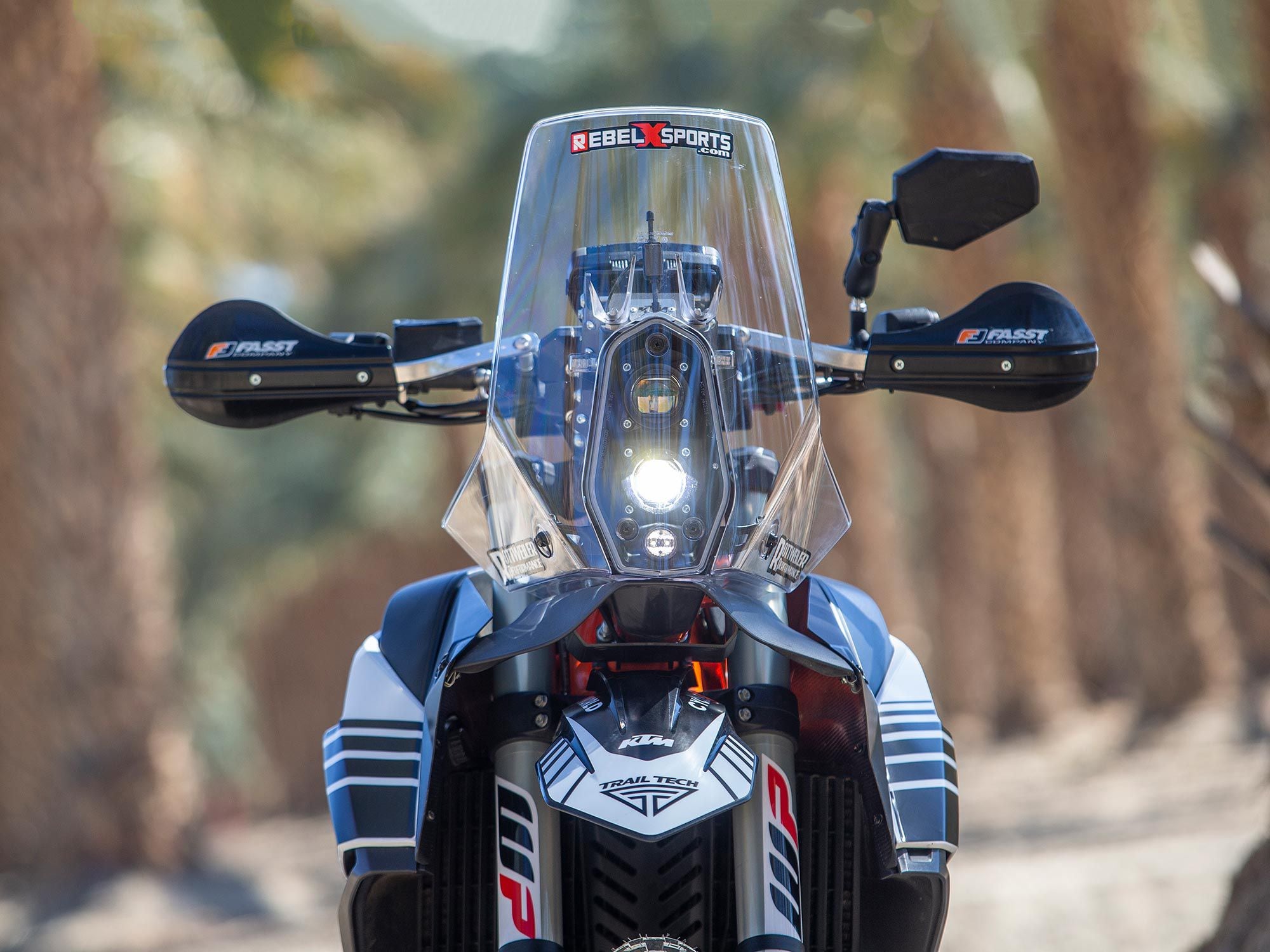 Rebel X Sports' Rally Kit uses the KTM 450RR headlights and windscreen. You can't get any more authentic than that. (Jeff Allen/)
With the rally look on point, the suspension had to cash the checks the new look was writing. While the 9.5 inches (240mm) of travel from the stock WP Xplor fork and PDS shock is excellent, unrivaled by any other production adventure motorcycle, WP Suspension has an upgrade available in the form of its Xplor Pro. With 10.6 inches (270mm) of travel, the Pro fork ($3,599) and shock ($2,199) not only increase the overall travel (and height) of the 790 R, but feature improved bottoming resistance and damping consistency under aggressive use. The fork features WP's Cone valve tech, which replaces a traditional shim stack for damping with a conical valve that allows for stiffer settings without sacrificing initial bump compliance and comfort.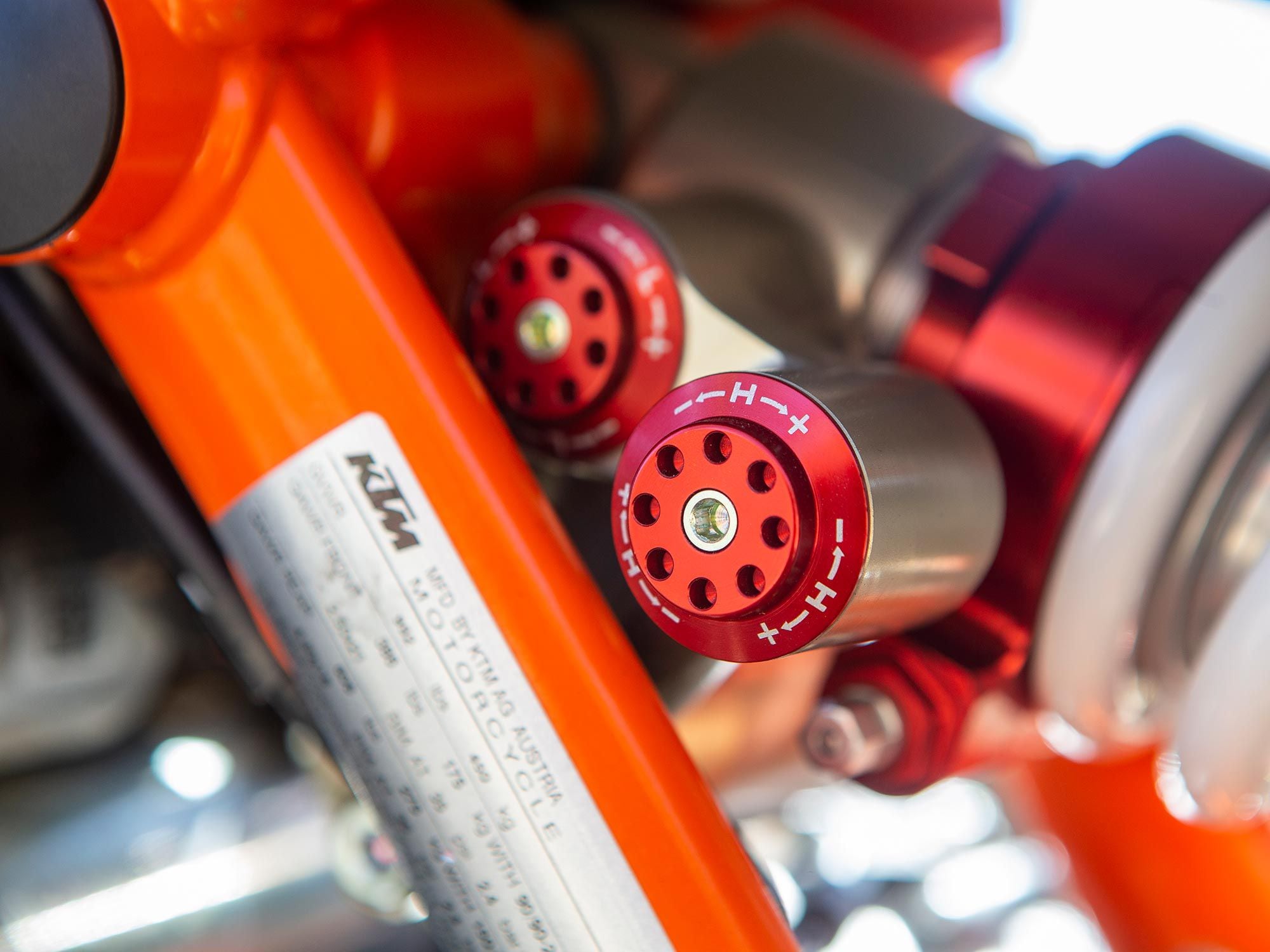 The adjustablity and performance of the WP Xplor Pro suspension is unrivaled in the adventure bike segment. (Jeff Allen/)
The ability to go faster over the big bumps requires proportional improvements in stability, traction, and braking. The 790 Adventure R does come with a strut-type steering damper, but it's not enough for serious off-roading at speed. Luckily, KTM offers a rotary Scotts steering damper ($476) and mounting kit ($85) in its Power Parts catalog. This increases resistance to front wheel deflection; settings can be adjusted to your liking. Some 790 owners have gone to dirt-bike-width wheels and more aggressive DOT knobbies in search of more dirt traction. The issue with this is a serious reduction of street handling. Our answer was to install GoldenTyre GT723R DOT-legal rally tires; the rear ($180) is a 140mm width while the front is the Fatty ($142) model. To improve braking bite, Galfer Wave rotors ($332 each) and sintered pads ($42 each) were installed.
Sitting behind the Fasst Company Flexx handlebars gives you a rally racer feel. (Jeff Allen/)
Protecting the 790 Adventure R from the tremendous abuse we plan to inflict is a must, so a $335 AXP skid plate was bolted on. Its 8mm-thick high-density polythene plastic covers the length of the KTM's LC8 underbelly as well as the sides of the low-slung fuel tanks. Increasing comfort for those long days without taking away from dirt ability took just a few changes to the stock running gear. A Fasst Company Flexx handlebar ($360) removes any wrist shock the WP suspension can't by using elastomers to fine-tune how much flex suits rider needs. We installed the stiffest of the four available elastomers for both compression and rebound. We attached Fasst's Simple Solution hand guards ($136) at the end of the bar, chucked the stock mirrors, and added a Doubletake Adventure mirror ($68) which folds away quickly and easily when off the road. To knock out any vibes on the road, we used Fasst Company's Impact Adventure peg ($260), which has an elastomer sandwiched between the peg and cleats. Finally, our new $299 Seat Concepts Comfort seat gives us plenty of room to move around off-road while being more comfortable on long stretches.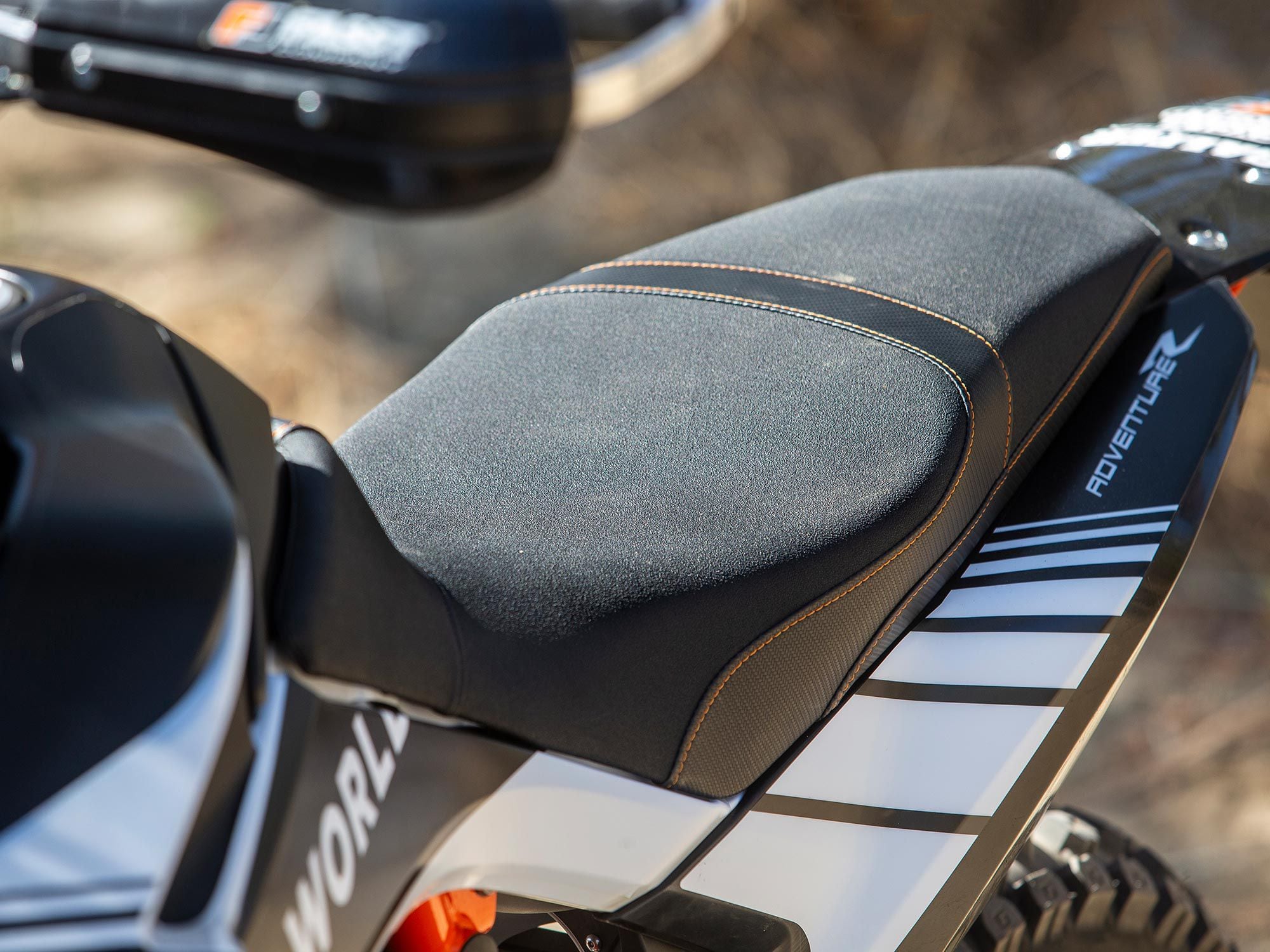 Seat Concepts' Comfort seat improved long-range comfort with a firm and supportive place to sit. (Jeff Allen/)
Finally, we took a run up the 405 freeway to Rottweiler Performance. There we picked up an Arrow RaceTech Titanium slip-on exhaust ($674) to shed some weight; but more importantly, we procured the new Pro Edition Full Intake System ($350). This removes the stock airbox and its flimsy paper filler, replacing it with a free-flowing dirt-bike-style airbox with a large oiled Twin Air foam filter. This not only gives more surface area in dusty conditions; Rottweiler claims a 10 pony gain in horsepower.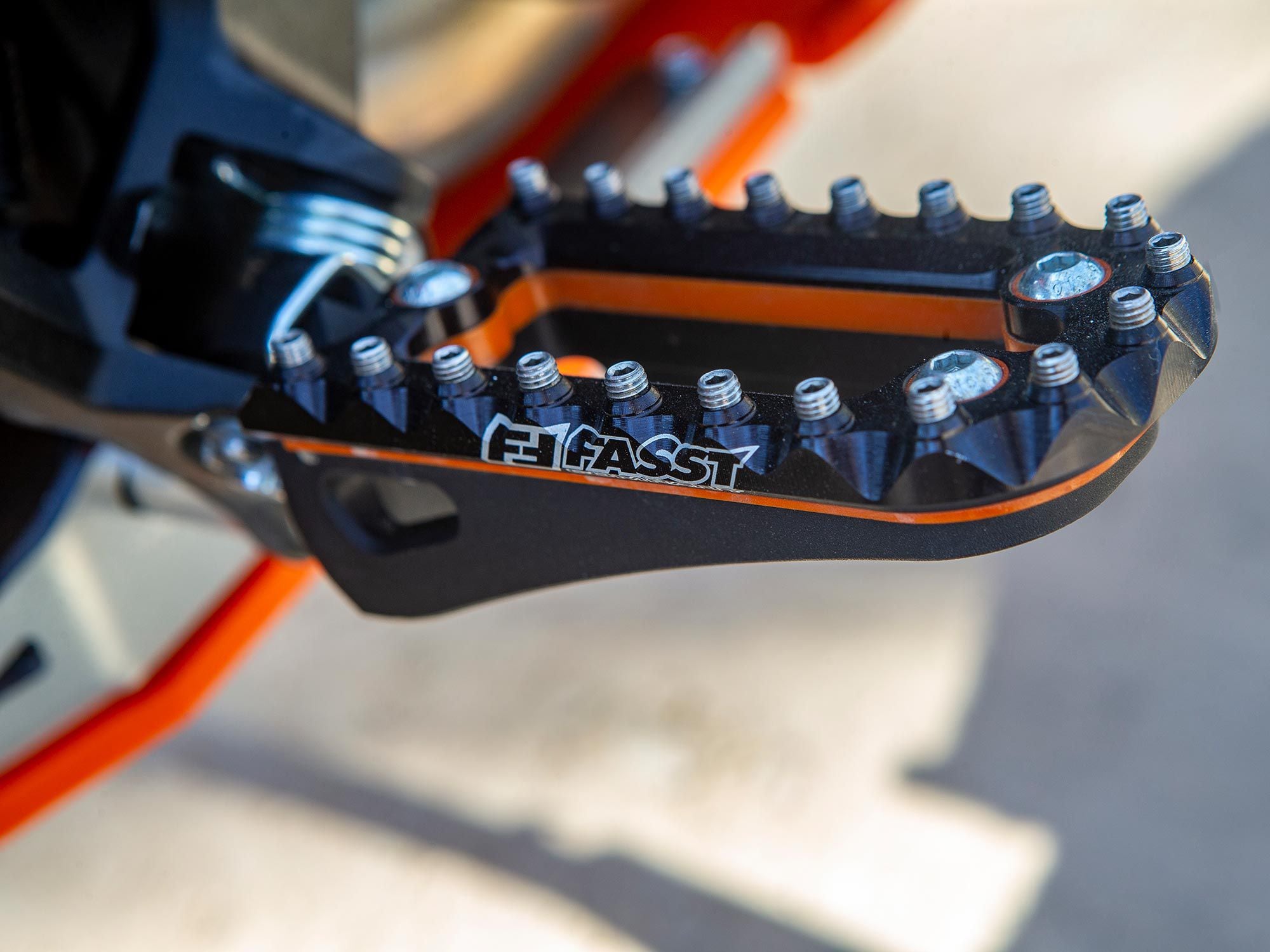 Fasst Company's Impact footpegs quelled any vibrations with elastomer between the peg cleats and the peg base. (Jeff Allen/)
So that's $13,824 in upgrades to the no-compromise 790 Adventure R. That's $125 more than the MSRP when it was new. Ah, wait; we forgot the $70 Rottweiler Transaver shift linkage and $230 Rottweiler Rear Fender Eliminator. Make our tab $14,124, and $425 more than MSRP. Add that bill to the cost of the bike, and you have an all in cost of $27,823. Was it money well spent? As we found out in the California desert, the answer is a resounding yes.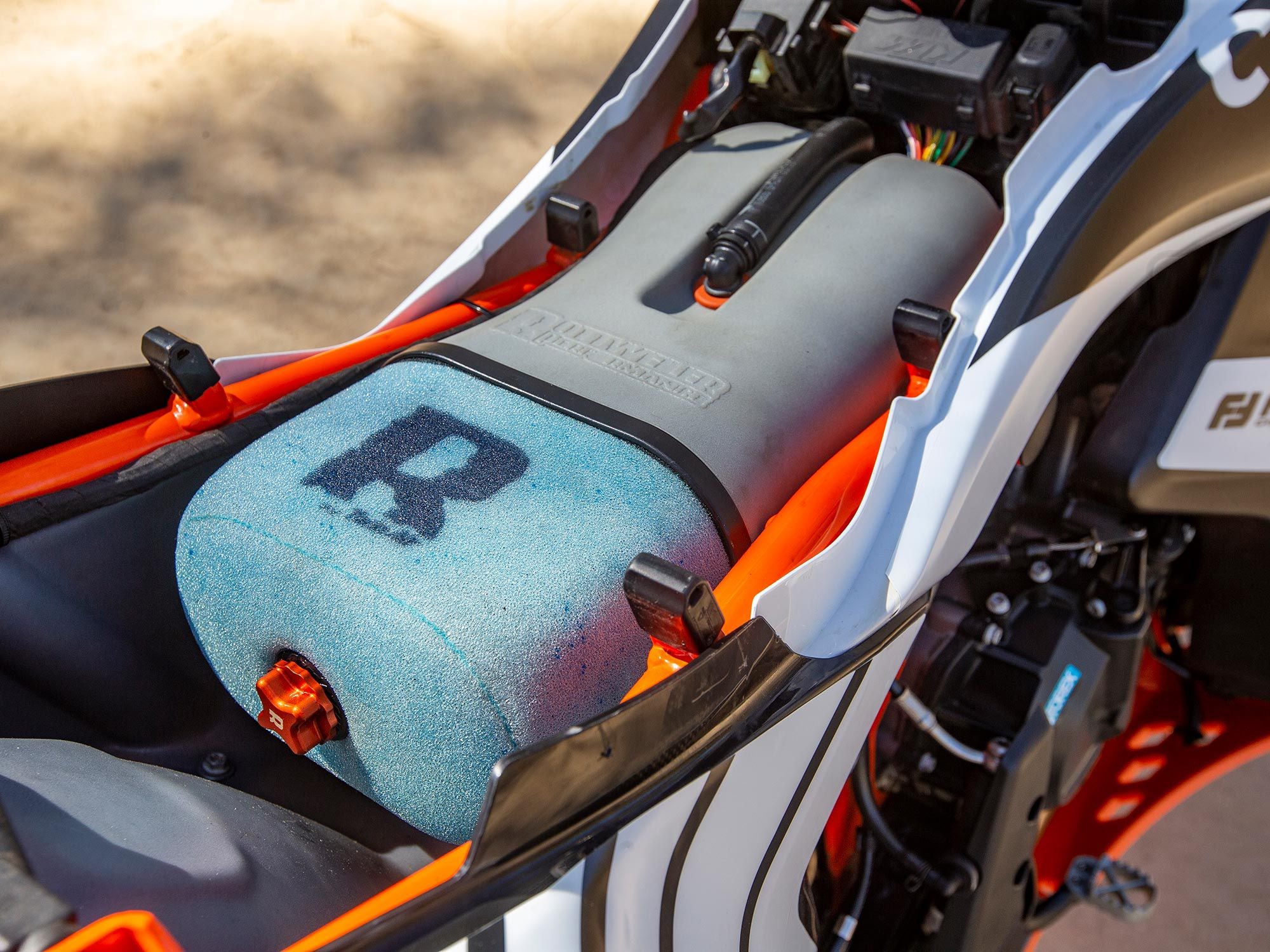 The Rottweiler Performance Pro Edition Full Intake System added more punch to the 790′s midrange and is easier to service. (Jeff Allen/)
On the road the bike is more comfortable, with plenty of wind protection thanks to the Rebel X kit; fatigue from fighting the wind on your upper torso is greatly reduced. And aside from all that, well, just look at it! The Seat Concepts Comfort seat lives up to its name, though it felt firm on initial sit-down; usually I'd be squirming and standing frequently after an hour or so on the stock seat.
Although we set out to build a machine with absolutely no compromises, there are in fact two: the tires. On the street the GoldenTyre GT723Rs do in fact squirm and protest under hard acceleration and braking. Interestingly, they're more consistent and stable while turning than braking. You won't be carving the canyons with these DOT Rally tires, but that said, they will get you to the dirt. And once on the dirt, that street squirm is quickly forgotten. The rear GT732R grabs the earth and rockets the 790 forward; the Fatty front tire is planted and sure-footed, and that confidence leads to speed.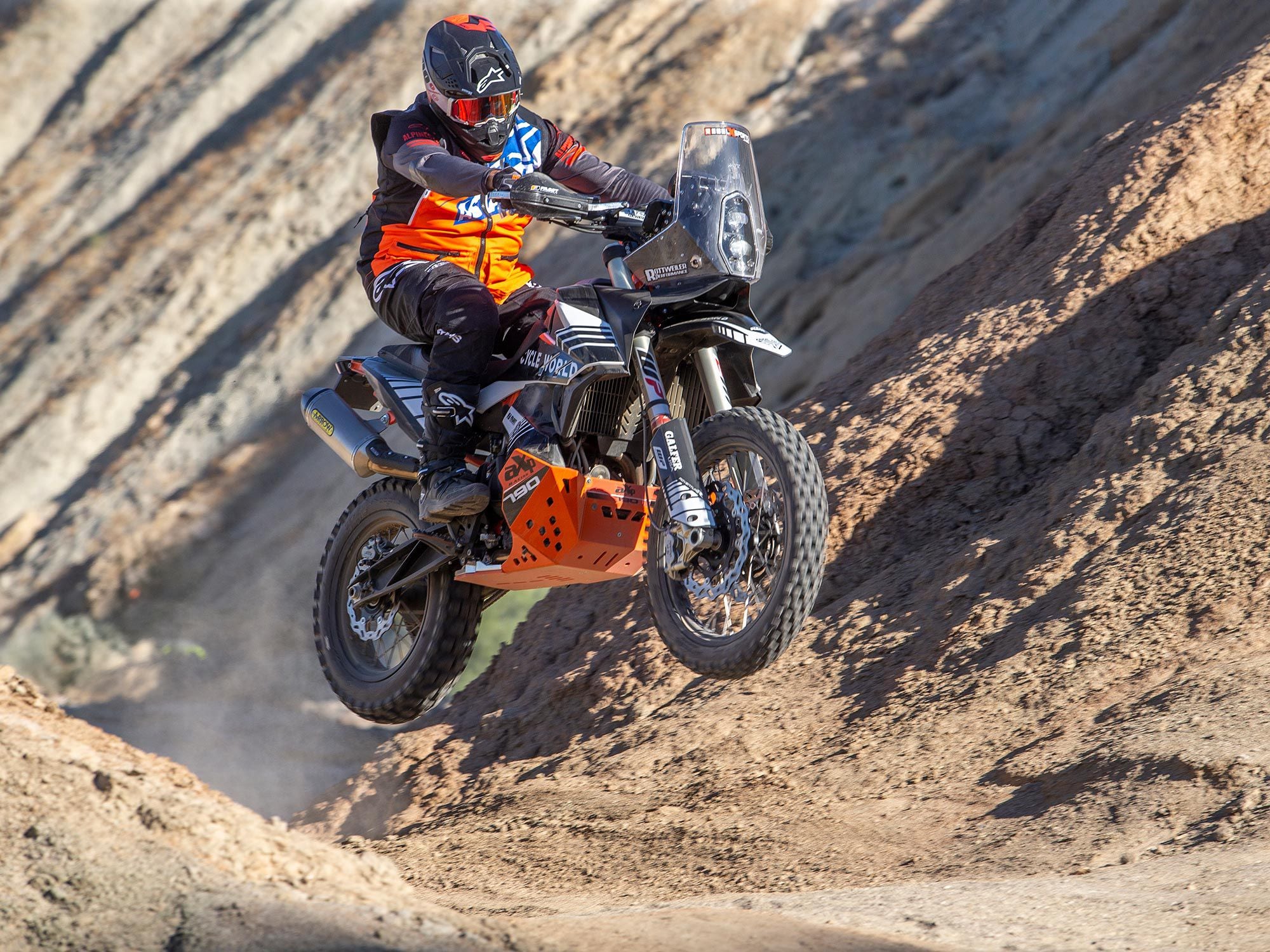 WP Suspension's Xplor Pro suspension is the very best upgrade you can make to a 790 or 890 Adventure R. (Jeff Allen/)
And speed is where that WP Xplor Pro suspension comes into play. Both the front and rear soak up small chop like a lightweight dual sport and eat knee-high whoops like a 450 desert racer. Settings are nearly perfect out of the box; I only needed to adjust the shock preload for my weight and I added two clicks of rebound damping. Up front there was a bit more work to be done for my 225 pounds, so I added three clicks of preload in each fork leg, three clicks of compression damping, and two additional clicks of rebound damping. The WP manual has clear instructions; even better, there are suggestions for every setting based on the type of ride you're looking for. After just half an hour of fettling, the 790 Adventure R project is the best dual sport or adventure motorcycle I've ridden in the dirt, period. The kit does come with the limited-edition 890 Adventure R Rally, so if you can find one of the 700 examples, it's worth the extra cash. If not, squirrel away your lunch money. It may sound like hyperbole, but trust us: The Xplor Pro kit is worth every single cent.
The rest of the kit is just icing on the rich, sweet cake that is our 790 Adventure R. Rottweiler's Pro Edition intake added a mean intake howl, and the bike does have a bit more bark in the midrange. Also, filter service is easy as pie. Fasst Company's bars and pegs work as claimed, soaking up any vibes to my feet and keeping my wrist happy at all times. Trail Tech's Voyager Pro is easy to read, the touchscreen is flawless even with gloves, and its real-time buddy tracking is a feature every off-roader should have.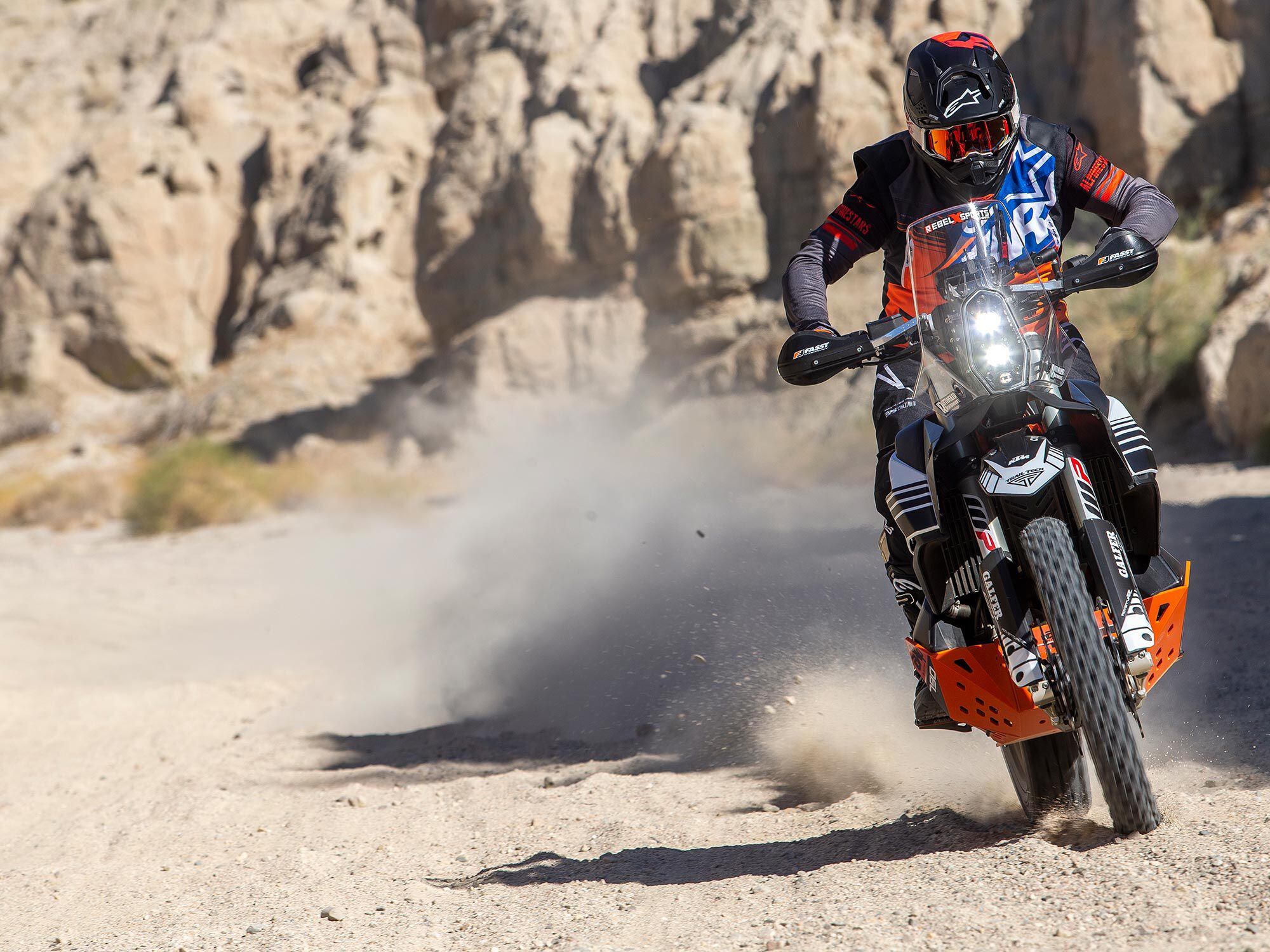 Should we take our no-compromise 790 Adventure R project racing? We think so too. (Jeff Allen/)
OK, yes, it's true: We could have bought two 790 Adventure Rs for the all-in cost of our build. But there is not one part I would want to remove for the sake of cost savings. Each piece was necessary to transform our 790 R from an already excellent adventure motorcycle to a dual sport rally racer. It really is the only bike I need in my garage. Need more proof? I now own this bike, and it is, in fact, the only one in my garage.
Now, I wonder how much a rally roadbook holder costs…
Project Costs
.tg {border-collapse:collapse;border-spacing:0;}
.tg td{border-color:black;border-style:solid;border-width:1px;font-family:Arial, sans-serif;font-size:14px;
overflow:hidden;padding:10px 5px;word-break:normal;}
.tg th{border-color:black;border-style:solid;border-width:1px;font-family:Arial, sans-serif;font-size:14px;
font-weight:normal;overflow:hidden;padding:10px 5px;word-break:normal;}
.tg .tg-lboi{border-color:inherit;text-align:left;vertical-align:middle}
.tg .tg-1wig{font-weight:bold;text-align:left;vertical-align:top}
.tg .tg-0lax{text-align:left;vertical-align:top}
.tg .tg-g7sd{border-color:inherit;font-weight:bold;text-align:left;vertical-align:middle}
| Rebel X Sports Rally Kit | $2,940 |
| --- | --- |
| WP Xplor Pro fork | $3,599 |
| WP Xplor Pro shock | $2,199 |
| Trail Tech Voyager Pro GPS | $599 |
| Scotts steering damper | $476 |
| Steering damper mount | $85 |
| GoldenTyre GT723R tires, F/R | $180/$142 |
| Galfer Wave rotors | $332 x 3 |
| Galfer sintered brake pads | $42 x 3 |
| AXP skid plate | $335 |
| Fasst Company Flexx handlebar | $360 |
| Fasst Company Simple Solution hand guards | $136 |
| Fasst Company Impact Adventure footpeg | $260 |
| Doubletake Adventure mirror | $68 |
| Seat Concepts Comfort seat | $299 |
| Arrow RaceTech Titanium slip-on exhaust | $674 |
| Rottweiler Performance Pro Edition Full Intake | $350 |
| Rottweiler Performance Transaver | $70 |
| Rottweiler Performance Rear Fender Eliminator | $230 |
| Project Total | $14,124 |
Source link