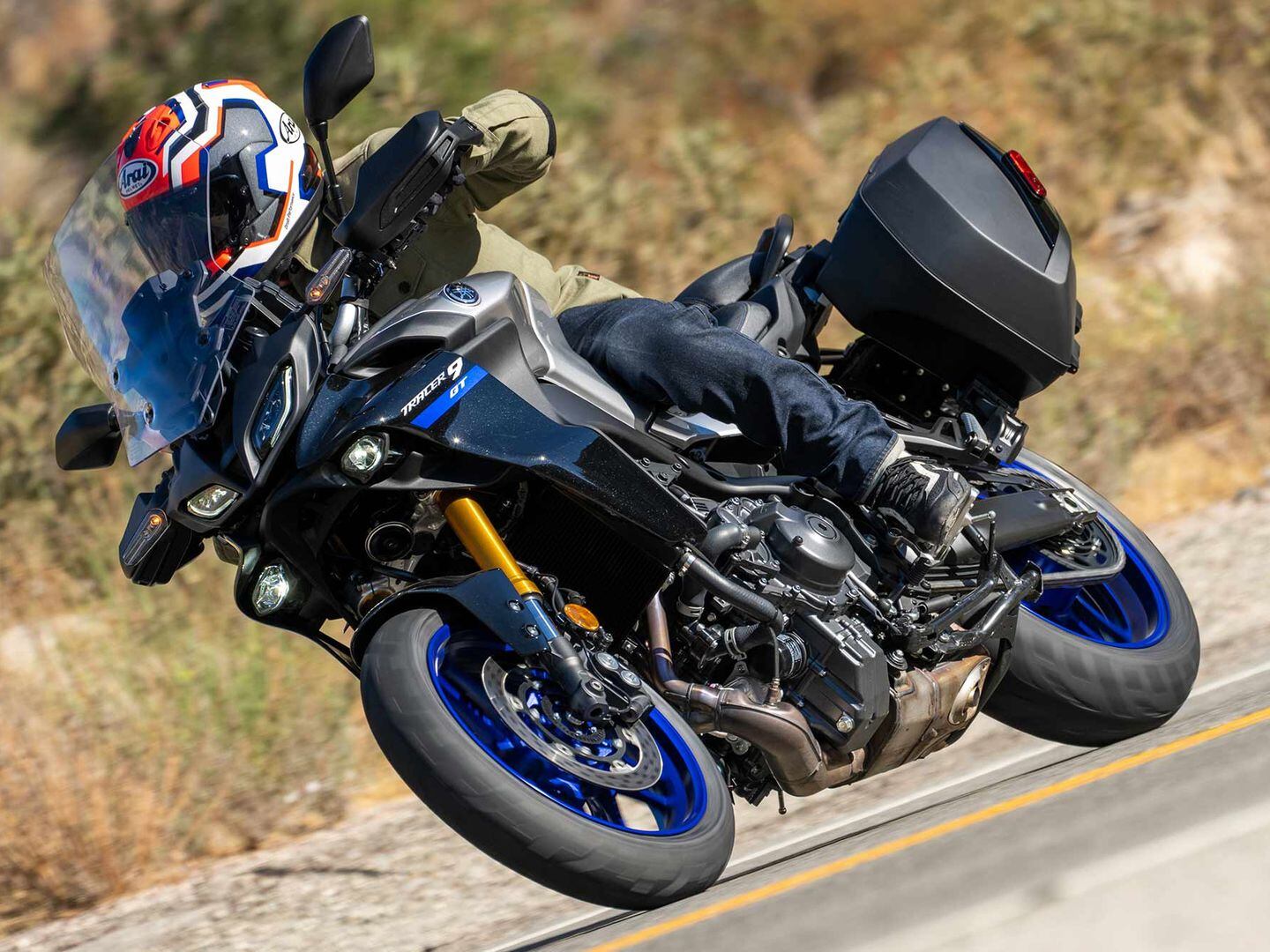 Yamaha's all-new 2021 Tracer 9 GT is an evolution of its successful sport-touring model, now dressed in top-spec components. (Joseph Agustin/)
Yamaha's reputable Tracer 9 GT has enjoyed a long run of success as a bang-for-the-buck sport-tourer since its inception back in 2015. The Tracer is the direct descendant of the Tracer 900 GT, and the FJ-09 before that, and it has always packed a versatile punch. It's a street-focused machine, good for racking up triple-digit backroad miles, braving monotonous urban commutes, or enduring interstate long hauls, a true sport-touring specialist.
With all that capability on tap at a relative bargain, why raise the cost of entry? Yet that's exactly what Yamaha has done. To be fair, it has also extended the all-new 2021 Tracer 9 GT's potential, with a larger-displacement and more flexible CP3 engine package, a chassis shared with the new and improved 2021 MT-09, the very latest IMU-based electronic rider-aid suite, top-shelf components including semi-active suspension, and flashier styling. However, the third-generation Tracer's up-spec overhaul substantially increases its price to $14,899, which is perhaps not drastic but still $1,800 more than the outgoing model.
It's fair to suspect that the MSRP increase might take the Tracer out of consideration for more budget-conscious riders, and the wallet hit will likely wipe out a portion of its trusted following. Still, considering the premium improvements, the all-new Tracer 9 GT continues to represent a remarkable value when compared to similarly spec'd competition.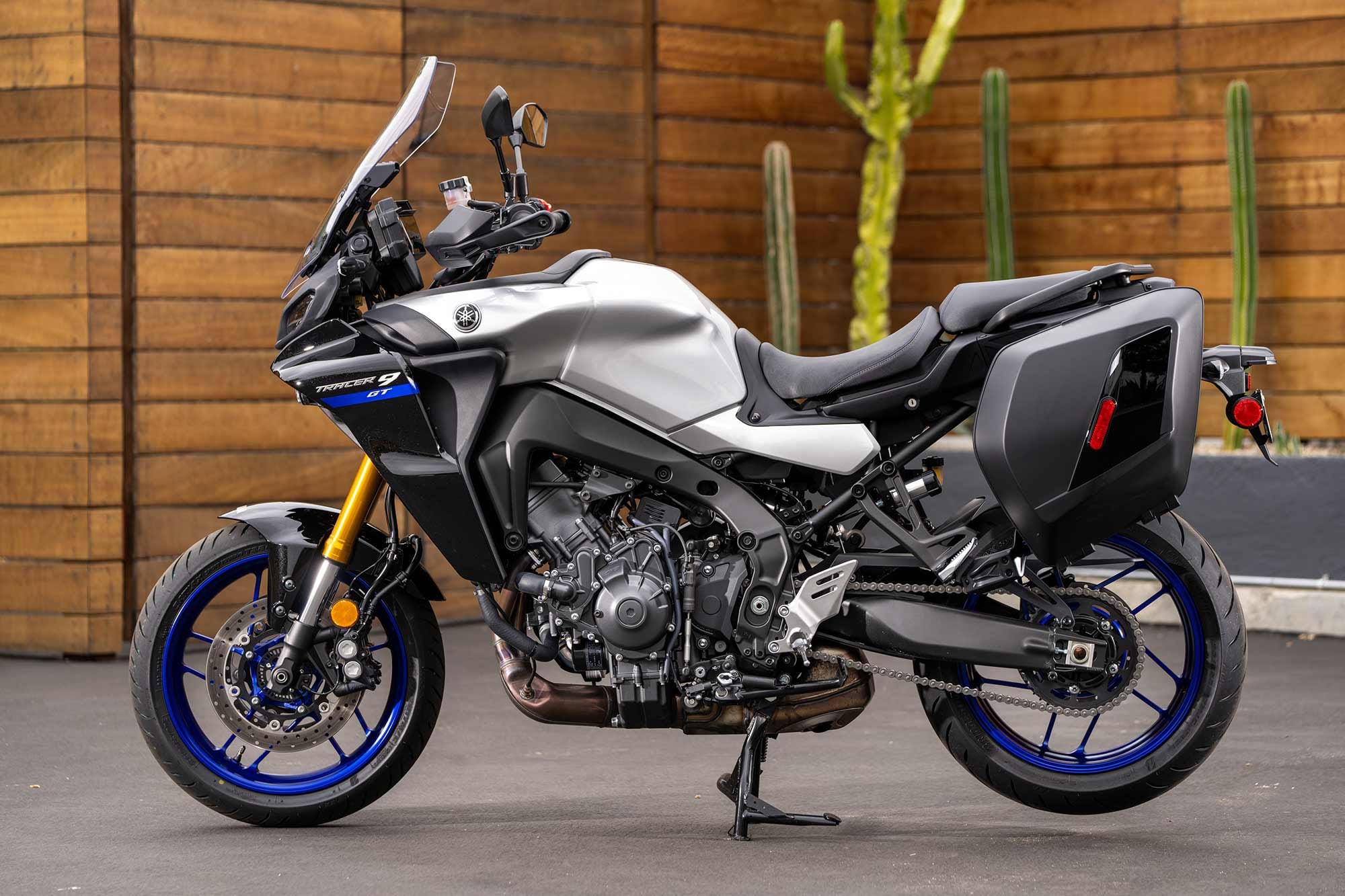 Considering that the 2021 Tracer 9 GT has received a serious overhaul and is fitted with rather expensive technology, the $1,800 MSRP increase to $14,899 is feasible. (Joseph Agustin/)
We recently spent a day putting the Tracer 9 GT through its paces as part of Yamaha's official press introduction of the sport-tourer. Our 170-mile Southern California testing route took us along meandering sections of Angeles Crest Highway to the small ski-resort town of Wrightwood. While deviations were required due to national forest closures, the inconsistent tarmac, long stretches of highway, mountainous backroads, and scenic landscapes made for prime testing conditions.
In every scenario, the Tracer 9 GT's all-new 890cc liquid-cooled DOHC inline-triple CP3 engine package, which we covered extensively in our first ride review of the 2021 Yamaha MT-09, was a highlight of the package. Yamaha has finally achieved a natural feel and silky-smooth initial fueling of the Accelerator Position Sensor Grip (APSG) Yamaha Chip Controlled Throttle (YCC-T) ride-by-wire system, curing the 9 GT of the abrupt lurch found on previous Tracer and MT models. This throttle is precise, with the maps delivering admirably broad and linear power delivery. Yamaha claims the updated CP3 delivers 6 percent more torque, which adds a bit to its flexibility and fun factor, but there's no denying that it has always been a torque monster; yank the throttle in any of the lower three gears and lift the front tire skyward to the accompaniment of that legendary triple exhaust note.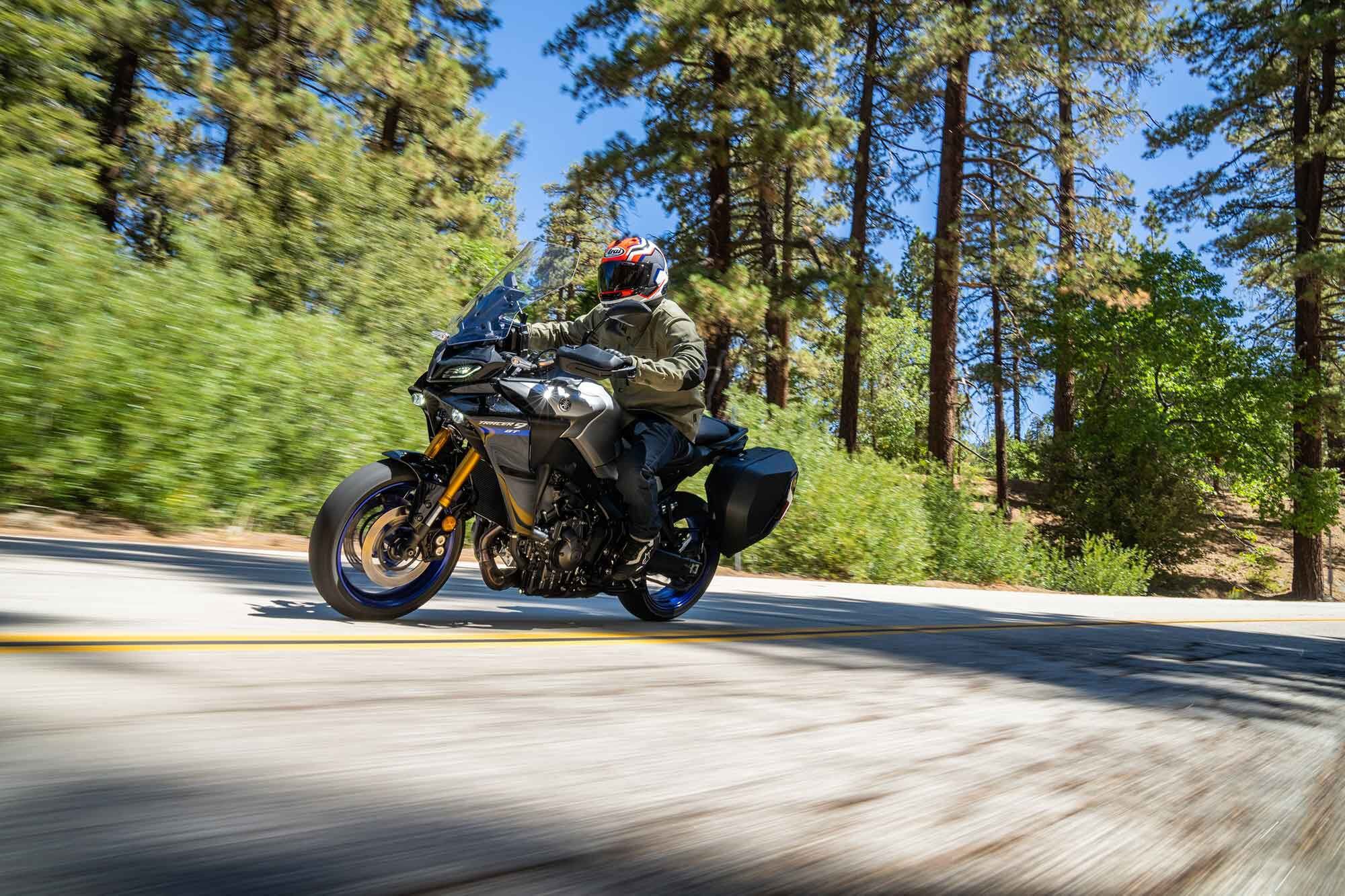 The next-generation 890ccc CP3 engine package is delightful to ride at any speed. Settling into a 75 mph cruising pace, the engine glides along at a comfortable, relatively vibration-free 5,500 rpm. (Joseph Agustin/)
Yamaha has leveraged and adapted the six-axis IMU electronic rider-aid suite from Yamaha's YZF-R1 superbike to tame the Tracer, giving riders four throttle response settings they can select on the fly. Each mapping tailors power delivery at full throttle, with the fourth noticeably reducing outright performance, most likely for use in treacherous road conditions. Various levels of traction control (TCS), slide control (SCS), and wheelie control (LIF) are lumped together in two preset selectable settings while a manual setting is fully customizable to rider preferences. The system works well to extract performance with almost seamless intervention, but also provides peace of mind when your adventure gives you unexpected tarmac conditions. Add to that a new clutchless bidirectional quickshifter to ease the process of ripping through its well-spaced six-speed gearbox, and the Tracer fully meets all premium expectations.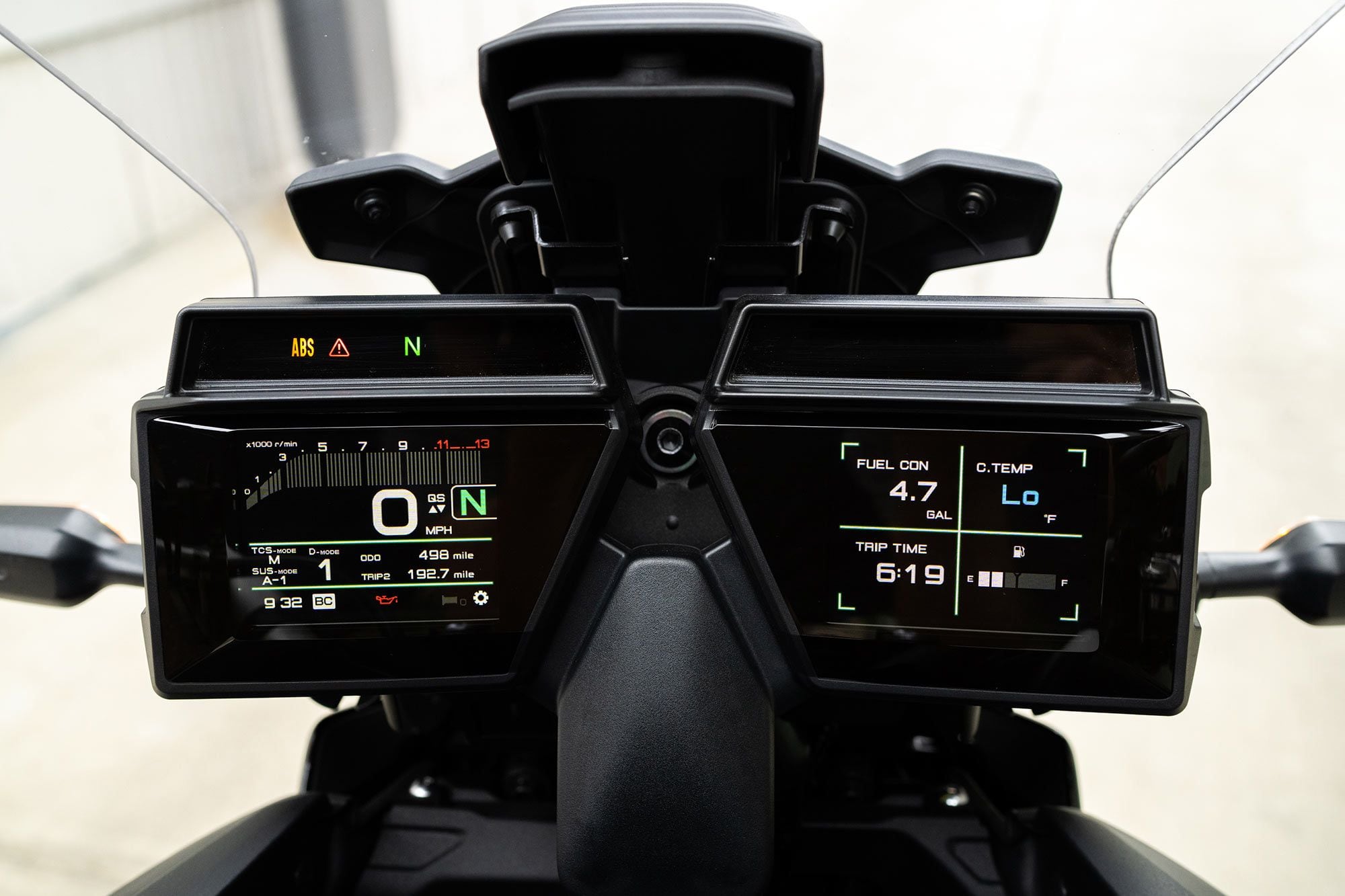 The twin 3.5-inch TFT displays are an eye-catcher, quite literally. Each displays its own useful information, as seen here. The left display features four customizable quadrants to display the information you feel is important. The only gripe? Poor brightness makes it difficult to read in hard light. (Joseph Agustin/)
The rider-aid system is accessed via a dual 3.5-inch TFT display cluster in front of the Tracer's one-piece handlebar. The left display is home to basic riding information: tachometer, speedometer, trip readings, and selected motorcycle settings; on the right, the second display features four customizable quadrants to show the bike's running orders. It's a modern setup that further elevates the Tracer's premium feel. If it weren't for a dim display that struggles in direct sunlight even on its brightest setting, it might be the best dashboard on the market.
The Tracer's chassis also gets that high-end feel along with more performance. Like the MT-09 on which the Tracer is based, there's an all-new die-cast aluminum chassis with optimized geometry and rigidity in a lighter package. Distinct to the 9 GT, however, is a swingarm 60mm longer than the MT's and a designated steel subframe for increased payload capacity. Midcorner chassis feel and stability is vastly improved without losing any steering sharpness. Overall, it's better balanced in every area and inspires confidence where the on-edge outgoing Tracer model didn't.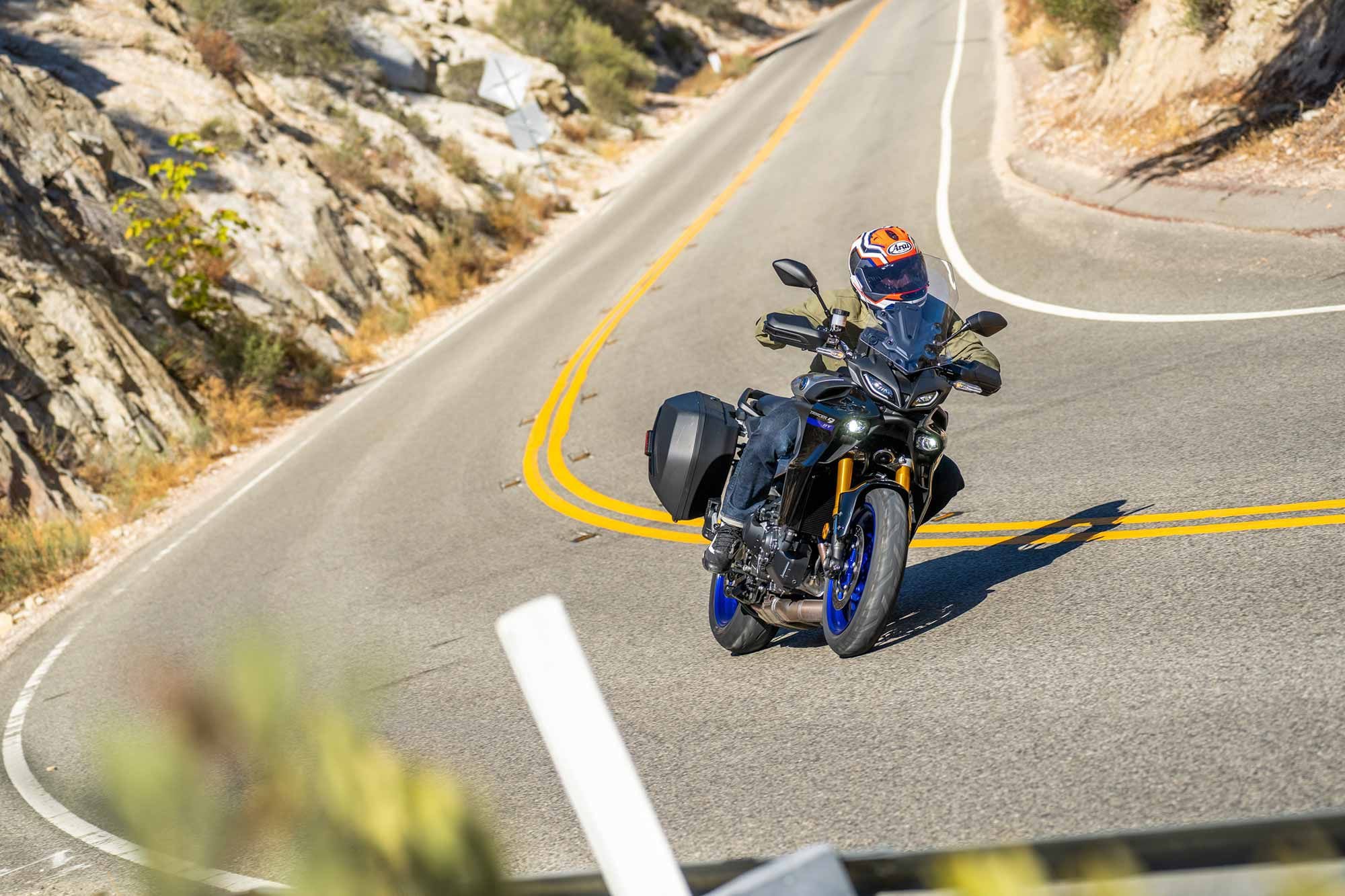 The Tracer 9 GT's updated chassis and Bridgestone Battlax T32 GT tires lend themselves to a newfound sure-footed feel at maximum lean angle, even when the road conditions are less than ideal. (Joseph Agustin/)
Even better is the semi-active KYB suspension, which Yamaha calls the KYB Actimatic Damping System (KADS). This uses information gathered from a dedicated Suspension Control Unit (SCU) to electronically adjust damping characteristics in near-real time; only compression at the fork, but both compression and rebound at the shock. There are two selectable baseline settings (SUS-Mode): A-1 is the stiffer, sport-minded option, and A-2 the softer, more comfortable setup for rougher roads, but these offer no further adjustment other than manually adjustable spring preload fore and aft. The simplicity of the system is noteworthy, but the lack of adjustment may be disappointing to those fond of tinkering in search of the magical setting.
KYB's semi-active fork and shock, or the KYB Actimatic Damping System (KADS), are tasked with handling the Tracer 9 GT's damping duties. While compression and rebound damping are electronically adjusted, spring preload is manually adjustable front and rear. (Joseph Agustin/)
Still, Yamaha and KYB crushed the calibration. For 90 percent of testing, the bike was set on the soft suspension compliance of A-2. The softer setting helped maintain chassis composure in offering big-hit support, but better coped with the road's imperfections and chatter bumps for more comfort. Should you be blessed with endless glassy tarmac, ripping sweepers, and no speed limits, the stiffer A-1 setting is ready and waiting for you. Also worth noting is the way in which the system delivers seamless, almost unnoticeable changes to damping characteristics, instilling confidence and helping with corner-to-corner consistency even when the Tracer is ridden aggressively.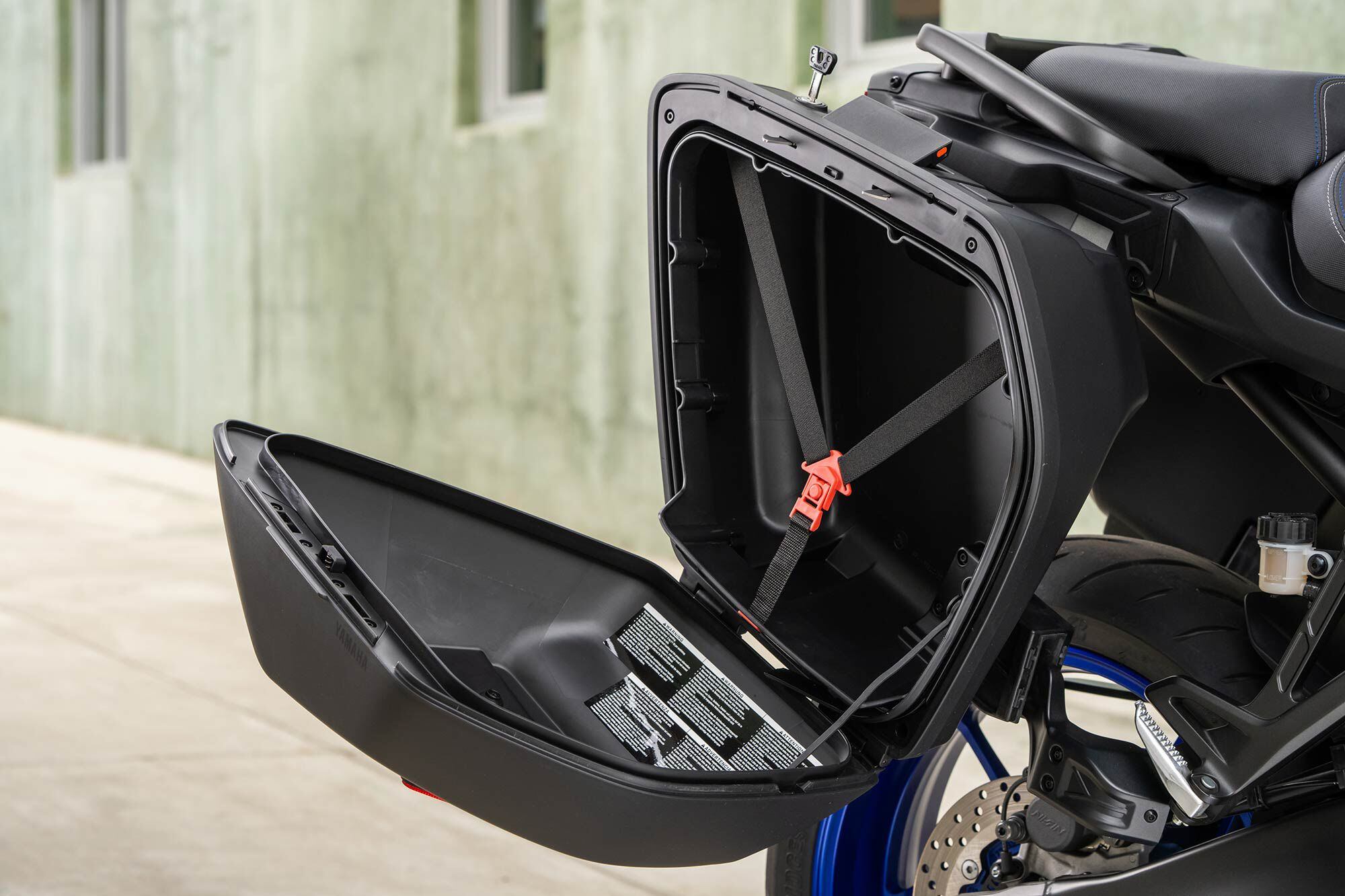 A set of 30-liter saddlebags are standard with the Tracer. The best part? They have an option to leave them unlocked but latched, so it isn't a pain to open every time you stop. (Joseph Agustin/)
The intelligence built into the new Tracer doesn't stop, unless you count the four-piston calipers and Nissin radial master cylinder up front and single two-piston caliper at the rear. These are paired with Yamaha's new Brake Control (BC) system, simply called cornering ABS. Two settings offer selectable levels of ABS sensitivity: Mode 1 is a traditional fixed antilock setting, while Mode 2 adjusts ABS sensitivity with information from the motorcycle's IMU, front and rear wheel speed sensors, and brake pressure. In testing, even applying serious brake pressure with a notable amount of lean angle in Mode 2 didn't cause front-wheel lockup or tuck, but rather immediate, usable stopping power.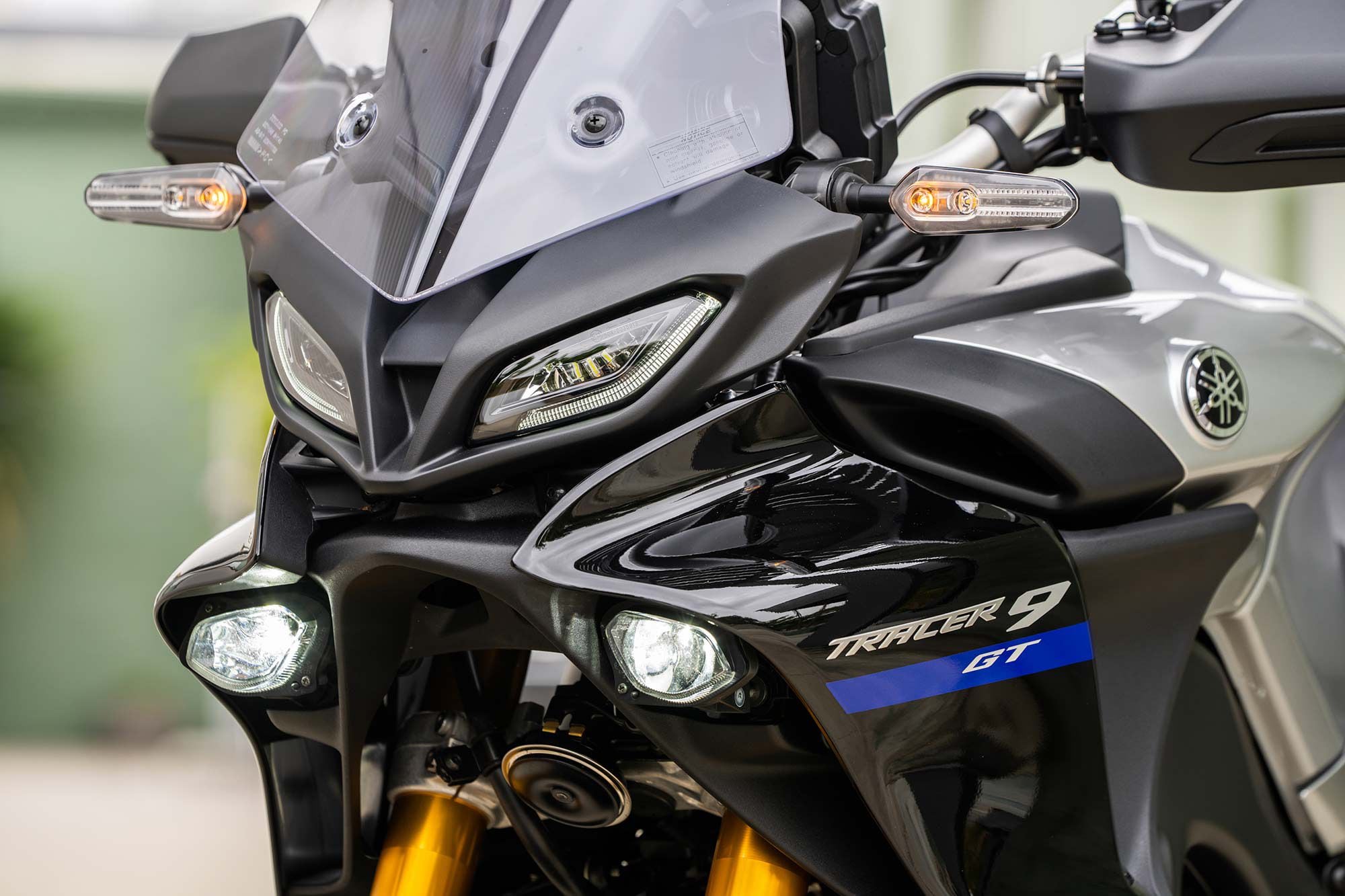 The Tracer 9 GT features full-LED lighting, including lean-angle-sensitive cornering lights for improved illumination at night. Other creature comforts include a cruise control function and 10-stage heated grips. All standard. (Joseph Agustin/)
During our touring stint, the Tracer proved to be impressively comfortable right through to the ride's end. Credit goes to the Tracer's supportive saddle and relaxed upright ergos, as well as improved aerodynamics from redesigned fairings and adjustable, though somewhat minimal, windscreen. The Tracer offers three-point ergonomic adjustability through the seat, footpegs, and handlebar for a high degree of personalized comfort. Notably, the standard seat height is 31.9 inches, which fits my 5-foot-7-inch stature well; this can quickly adjust to 32.5 inches with no tools required.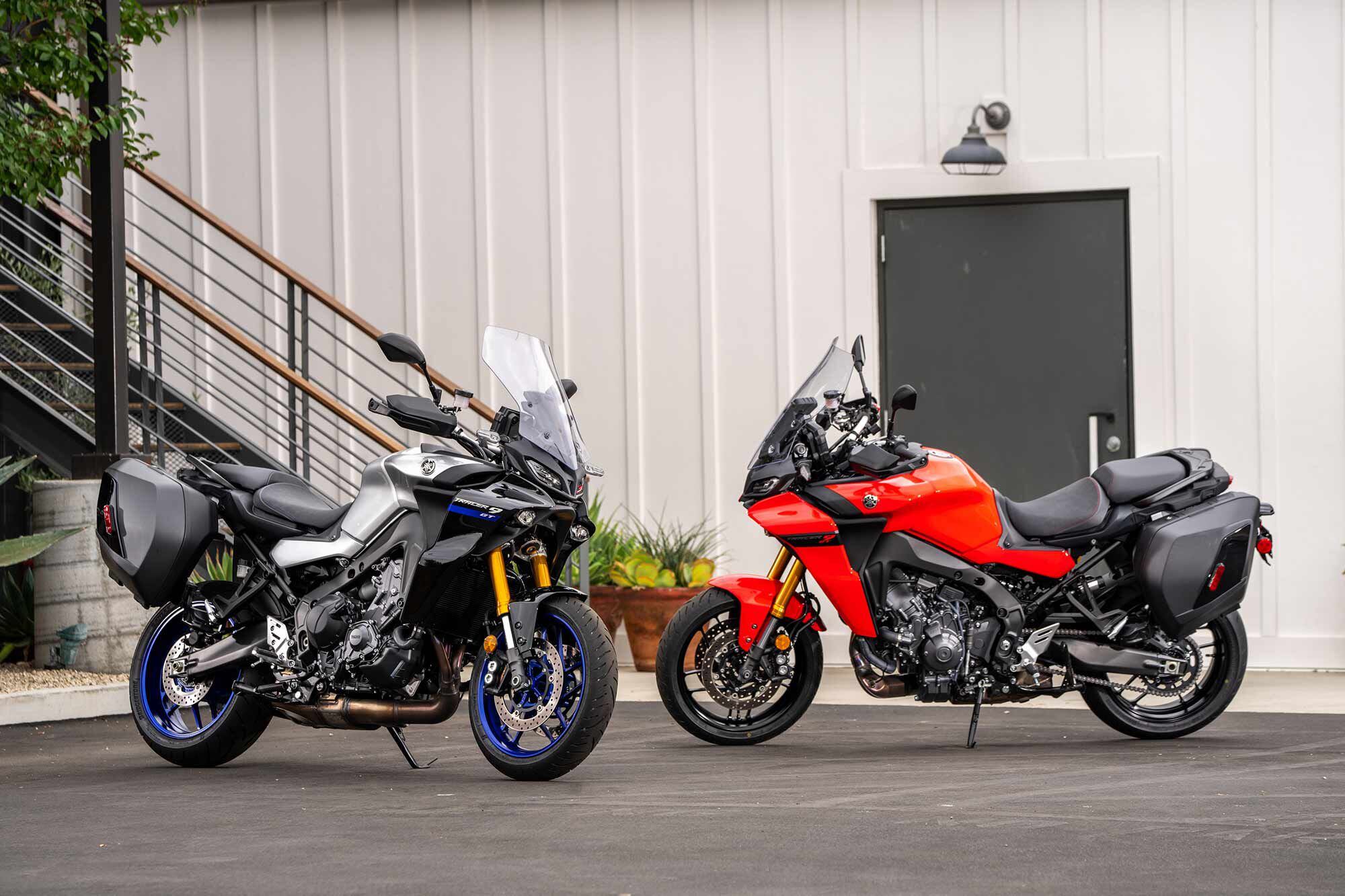 The 2021 Tracer 9 GT is available now in dealerships in two colors—Liquid Metal and Redline. (Joseph Agustin/)
There's no question that the Tracer 9 GT provides refined power delivery, improved handling in any conditions, premium componentry, and several creature comforts that make its ride that much more satisfying. The only remaining question is whether buyers will accept the higher MSRP for those improvements.
2021 Yamaha Tracer 9 GT Specs
| | |
| --- | --- |
| MSRP: | $14,899 |
| Engine: | DOHC, liquid-cooled inline 3-cylinder; 4 valves/ cyl. |
| Displacement: | 890cc |
| Bore x Stroke: | 78.0 x 62.1mm |
| Compression Ratio: | 11.5:1 |
| Transmission/Final Drive: | 6-speed/chain |
| Fuel System: | Fuel injection w/ YCC-T ride-by-wire |
| Clutch: | Wet, multiplate slipper/assist |
| Engine Management/Ignition: | TCI (Transistor Controlled Ignition) |
| Frame: | Cast aluminum |
| Front Suspension: | KYB 41mm fork, adjustable spring preload, electronically adjustable compression and rebound damping; 5.1 in. travel |
| Rear Suspension: | KYB shock, adjustable spring preload, electronically adjustable rebound damping; 5.4 in. travel |
| Front Brake: | Advics 4-piston calipers, dual 298mm discs w/ cornering ABS |
| Rear Brake: | 1-piston caliper, 245mm disc w/ ABS |
| Tires, Front/Rear: | Bridgestone Battlax T32 GT; 120/70-17 / 180/55-17 |
| Rake/Trail: | 25.0°/4.3 in. |
| Wheelbase: | 59.1 in. |
| Ground Clearance: | 5.3 in. |
| Seat Height: | 31.9 in./32.5 in. |
| Fuel Capacity: | 5.0 gal. |
| Claimed Wet Weight: | 485 lb. |
| Availability: | Now |
| Contact: | yamahamotorsports.com |
Source link