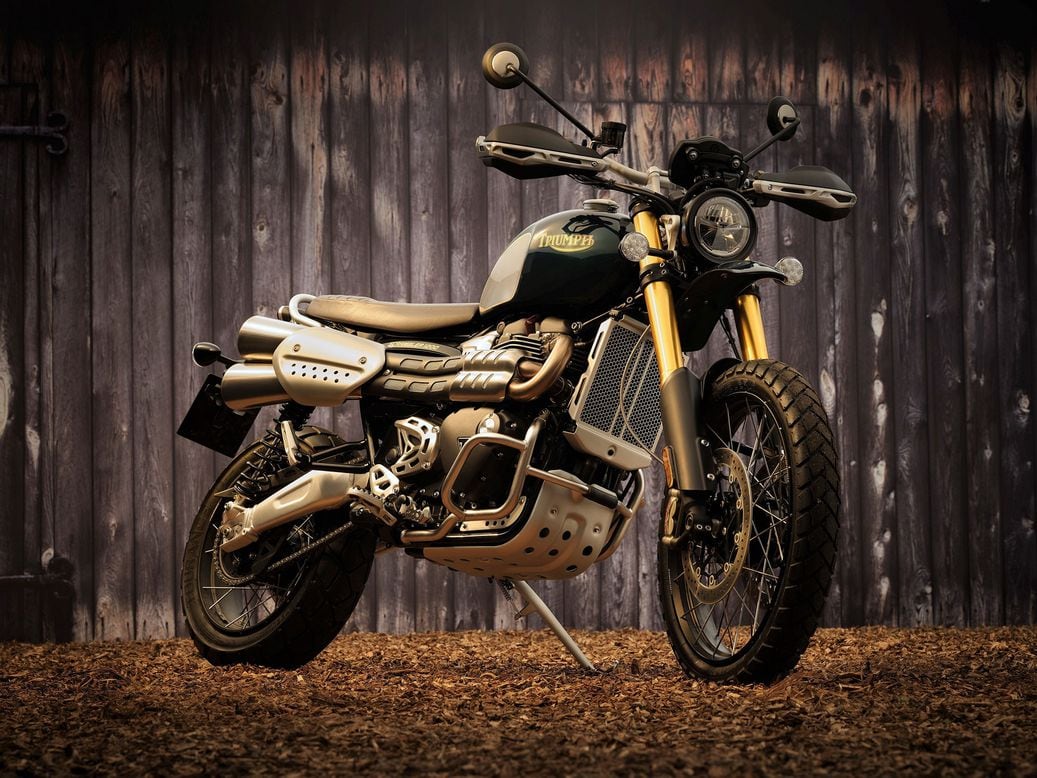 Triumph has mildly updated the Scrambler 1200 series for 2022, which now offers three models, including this Steve McQueen Limited Edition. (Triumph Motorcycles/)
When Triumph debuted its Scrambler 1200 bikes back in 2019, they earned kudos from critics (just ask Justin Dawes) and consumers alike as legitimate adventure bikes with classic retro scrambler profiles. To some folks the firm's base Scrambler model was just a Bonneville with knobby tires and a high pipe anyway, while the Scrambler 1200s—aside from the bigger powerful engine—were purpose-built adventure machines with a higher level of specification and design, including a robust electronics suite featuring five riding modes and other clever bits like Triumph's own turn-by-turn nav system and native support for GoPro cameras right from the dash.
That was a mere two years ago, but looming Euro 5 regulations demanded some tweaks, so rather than a full-on overhaul for the 2022 model year (yeah, we know, a bit early), Triumph opted to grace the two 1200s—both the street-focused XC and the more off-road oriented XE—with a series of subtle updates instead. And alongside the two updated Scramblers, Hinckley also decided to introduce a new, limited Scrambler 1200 Steve McQueen Edition for 2022.
All three models get modest engine revisions to meet Euro 5 emissions standards. (Triumph Motorcycles/)
Scrambler 1200 XC
For 2022, Triumph pretty much left well enough alone, leaving the Scramblers' overall classic silhouettes and retaining recognizable elements like the 21-inch front wheel, wide handlebar, and twin high-mount pipes intact, with all three 2022 bikes still based around Triumph's high-power 1,200cc parallel-twin engine with Scrambler-specific tune. According to Triumph, it still puts out a claimed torque reading of 81 pound-feet at 4,500 rpm and 90 hp at 7,250 rpm—relatively unchanged peak numbers from last year's models, though maximum torque arrives 550 rpm later (the peak arrived at 3,950 rpm last year), and peak horsepower can now be tapped 150 rpm earlier (it was at 7,400 rpm last year), all the more impressive when you consider that engine underwent tweaks to meet the more stringent Euro 5 requirements.
To meet those new standards, the catalyst was moved farther back and a number of the nearby accompanying panels and side covers were also revised. A side benefit of moving the cat, Triumph says, is also a reduction in the amount of heat reaching the rider, so a win-win on that front. Engineers also fiddled with the air injection and combustion on the 2022 models, giving them a new tune to get to the desired lower emissions goal, which also gave them the happy bonus of marginally improved fuel consumption.The not-so-great news is that even though there was no loss of power from the engine updates, the bikes gain 13 pounds as a result of the catalyst changes as well as the addition of a new purge valve.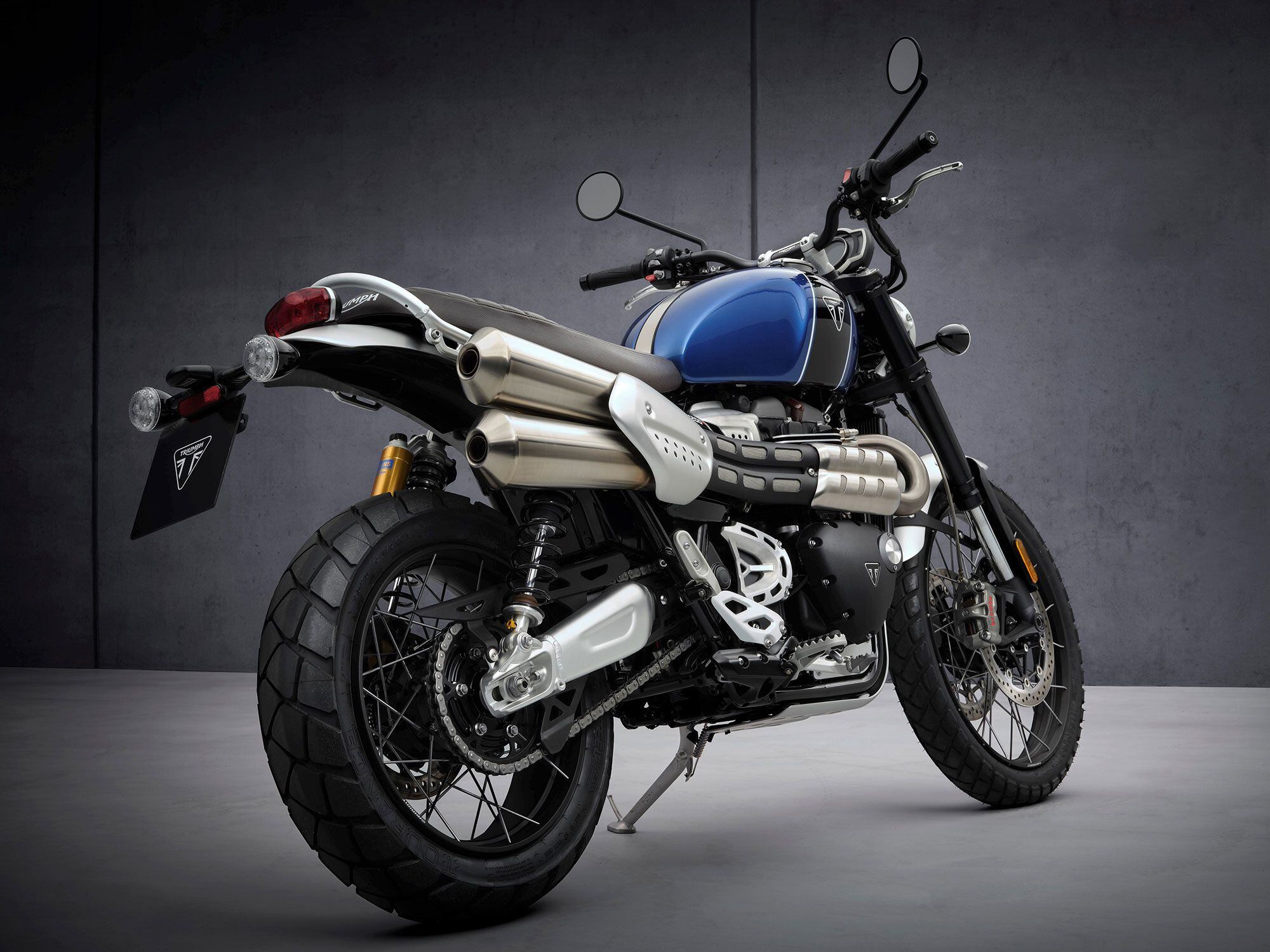 The updates include revisions to the cat and exhaust system, which also helps move heat away from the rider. (Triumph Motorcycles/)
A quick glance at the rest of the spec sheet reveals that most of the other bits have been unmolested however, with the XC's 45mm inverted Showa fork and Öhlins twin spring rear shocks both providing 7.9 inches of wheel travel, Brembo calipers acting on dual 320mm discs, and full-color TFT instruments offering three display layout options, each adjustable to rider preferences. All the 2022 Scrambler 1200 models also bring a torque-assist clutch, cruise control, keyless ignition, all-LED lighting and an underseat USB charging socket as standard features. It's still a nicely equipped package; it just hasn't changed all that much from 2020.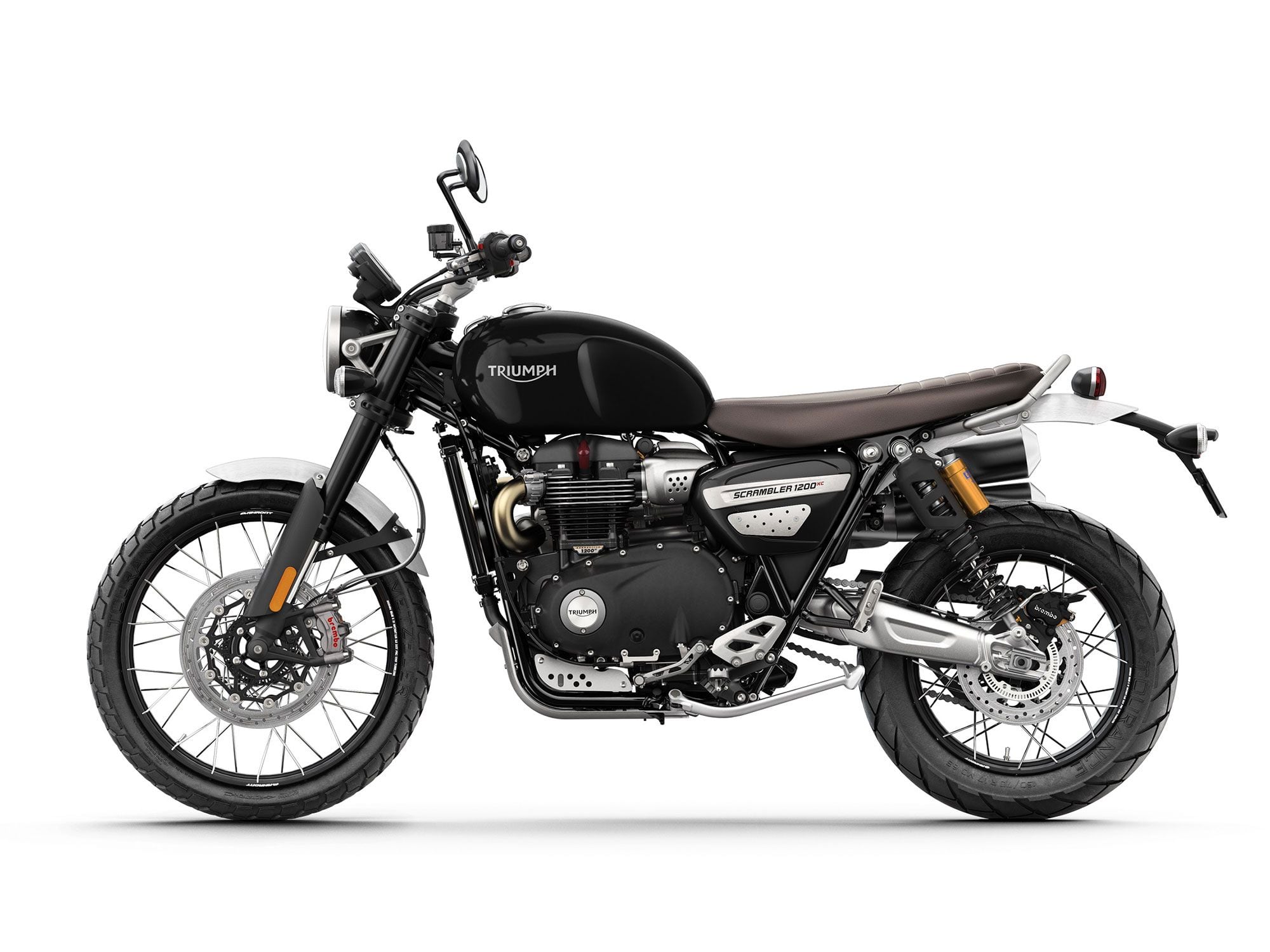 The 2022 Scrambler 1200 XC will also be available in Black. (Triumph Motorcycles/)
The Scrambler 1200 XC will also get fresh color options for the new model year, including Cobalt Blue with a Jet Black stripe, Matte Khaki Green with a Jet Black stripe, and a single-tone Sapphire Black option; the bike is slated to hit the US in June 2021. The good news is that there's no penalty for the engine update either, as MSRP will still start at $14,000, the same as last year's model.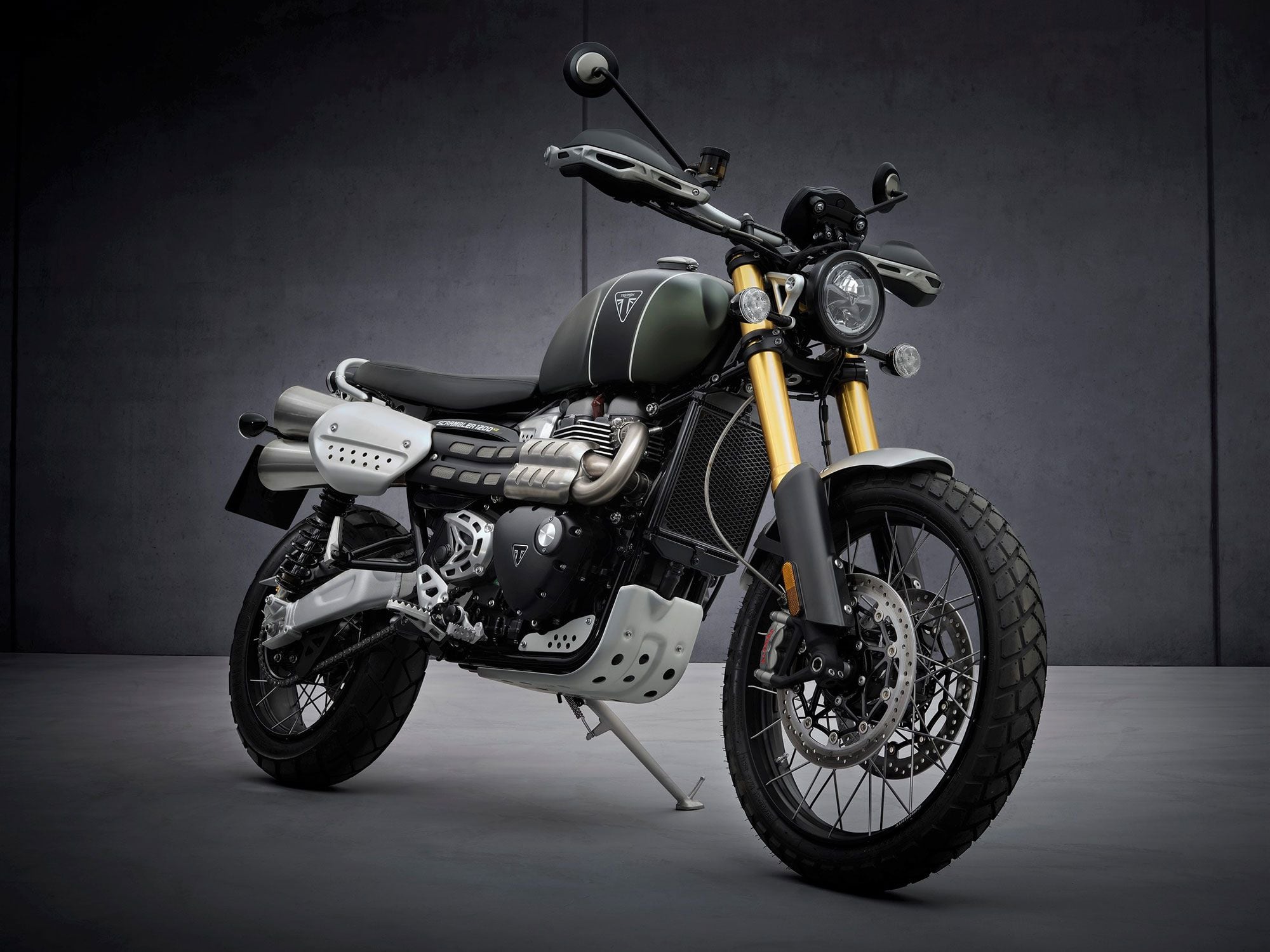 The 2022 Scrambler 1200 XE ups the spec level with longer-travel suspension, additional ride modes, and a higher price tag than the XC. (Triumph Motorcycles/)
Scrambler 1200 XE
Even though it shares the same powerplant, the Scrambler 1200 XE is the beefier, more dirtworthy brother to the XC—and as such receives the benefit of higher-specification components. Those bits haven't changed for 2022 either; as before, you get optimized-cornering ABS and optimized-cornering traction control, both of which automatically adapt the level of intervention to maintain the optimum ride. It's all managed by an inertial measurement unit which measures the roll, pitch, yaw, and acceleration rates of the bike in order to calculate the lean angle and optimize braking and traction control, accordingly, ensuring greater rider stability. The XE also adds another riding mode, Off-Road Pro, for more advanced riders to choose once they venture into looser stuff.
Backing up the electronics are the longer-travel suspension components, with the larger 47mm high-spec fully adjustable Showa USD fork offering close to 10 inches of wheel travel and the Öhlins twin spring rear shocks providing the same. For 2022, the XE model is distinguished from the XC model by its hand guards, gold fork, and longer-travel aluminum swingarm, same as on last year's bike.
Other than the emissions revisions, the XE model also sees no big changes for 2022; price and performance figures also remain unchanged (and weight increases). (Triumph Motorcycles/)
The 2022 Scrambler 1200 XE will be available as of June 2021, in the same color options as the XC—blue with a black stripe, green with a black stripe, or single-tone black. The starting price is $15,400—also unchanged from last year.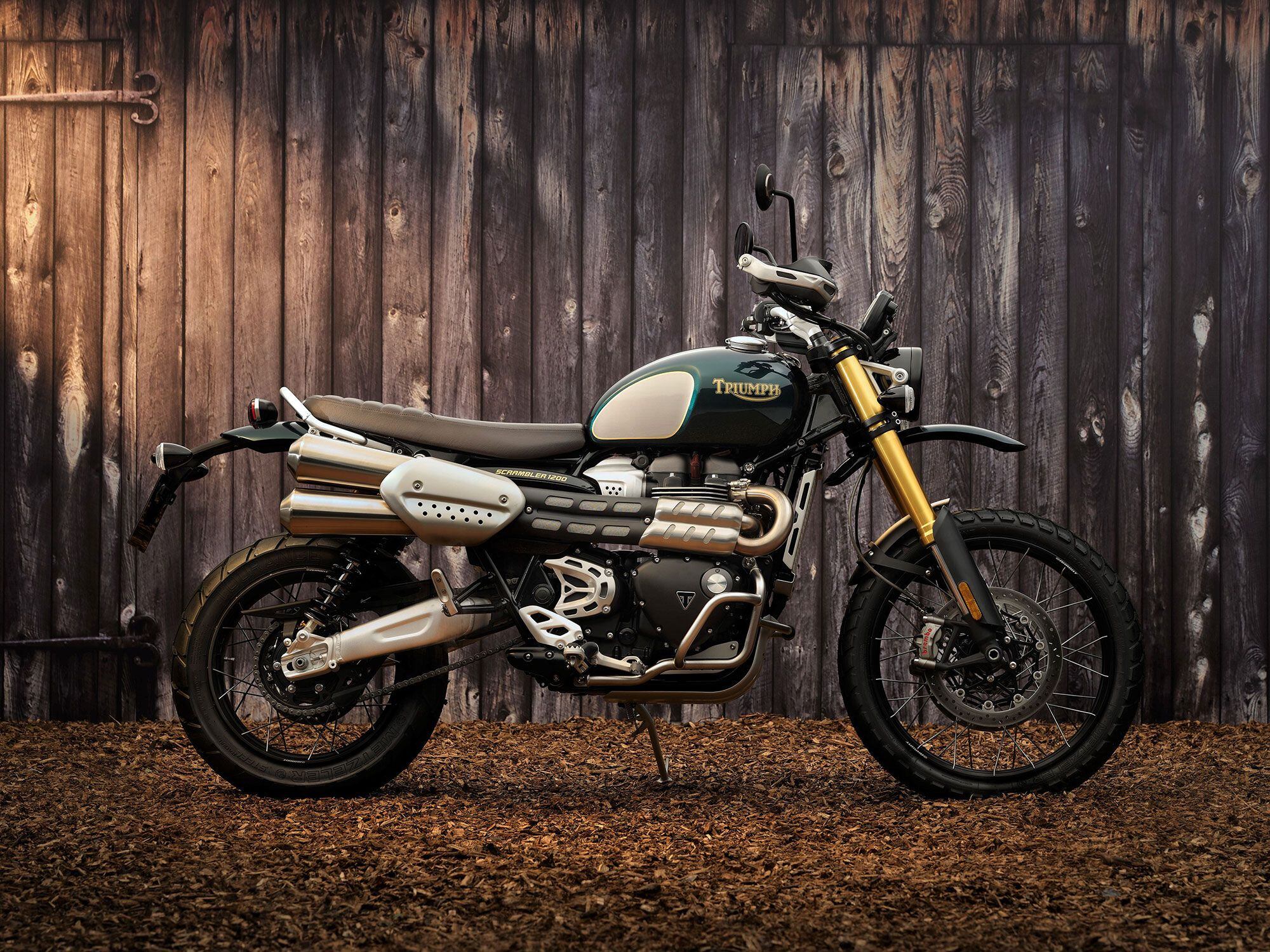 The Scrambler 1200 Steve McQueen Edition, based on the Scrambler 1200 XE model, will have a run of just 1,000 units worldwide. (Triumph Motorcycles/)
New 2022 Scrambler 1200 Steve McQueen Edition
The one fresh face in the lineup for 2022 is the Scrambler 1200 Steve McQueen Edition, a special model Triumph says was inspired by "the original competition-spec Triumph TR6, made famous by the legendary barbed wire jump in the iconic 1963 World War II classic The Great Escape," and developed in partnership with the McQueen family. The McQueen Edition will have a limited run of just 1,000 units worldwide, each one individually numbered and featuring unique Steve McQueen branding.
With permission from the movie star's estate, Triumph went ahead and tapped into McQueen's connection to the scramblers he rode during his desert racing escapades in the 1960s. Using the 1200 XE as a base (including all the new engine and exhaust updates), the McQueen model adds on an exclusive Competition Green custom paint scheme with hand-painted gold lines to frame it, along with unique details like a Steve McQueen tank graphic, aluminum Monza cap, and stainless steel engine protection bars. The bike also comes standard with other premium Scrambler accessories like a laser-cut aluminum radiator guard, a fancier bench seat with stitched ribbing and Triumph branding, and an aluminum high-mount front fender, which, along with the rear fender, also gets the Competition Green treatment. The McQueen model also comes ready for the accessory My Triumph Connectivity System, which allows riders to access phone calls, music, and use turn-by-turn navigation.
Each bike will be individually numbered and feature unique tank graphics, distinctive Competition Green custom paint, and premium accessories. (Triumph Motorcycles/)
And as Triumph likes to do with many of its limited-edition models, each Steve McQueen Edition will also come with an accompanying certificate of authenticity featuring the signatures of Triumph's CEO, Nick Bloor, and Chad McQueen, the son of Steve McQueen.
The McQueen Edition will be priced at $16,400—or a fair bit less than the $18,500 Bond Edition model (which is sold out anyway) but still seems like a hefty premium for a unique paint job and exclusivity bragging rights. But if you're so inclined, it'll be available, like the other 2022 Scramblers, in June of 2021.
The McQueen bike also gets the same Euro 5 engine and exhaust updates as the other Scrambler 1200s. (Triumph Motorcycles/)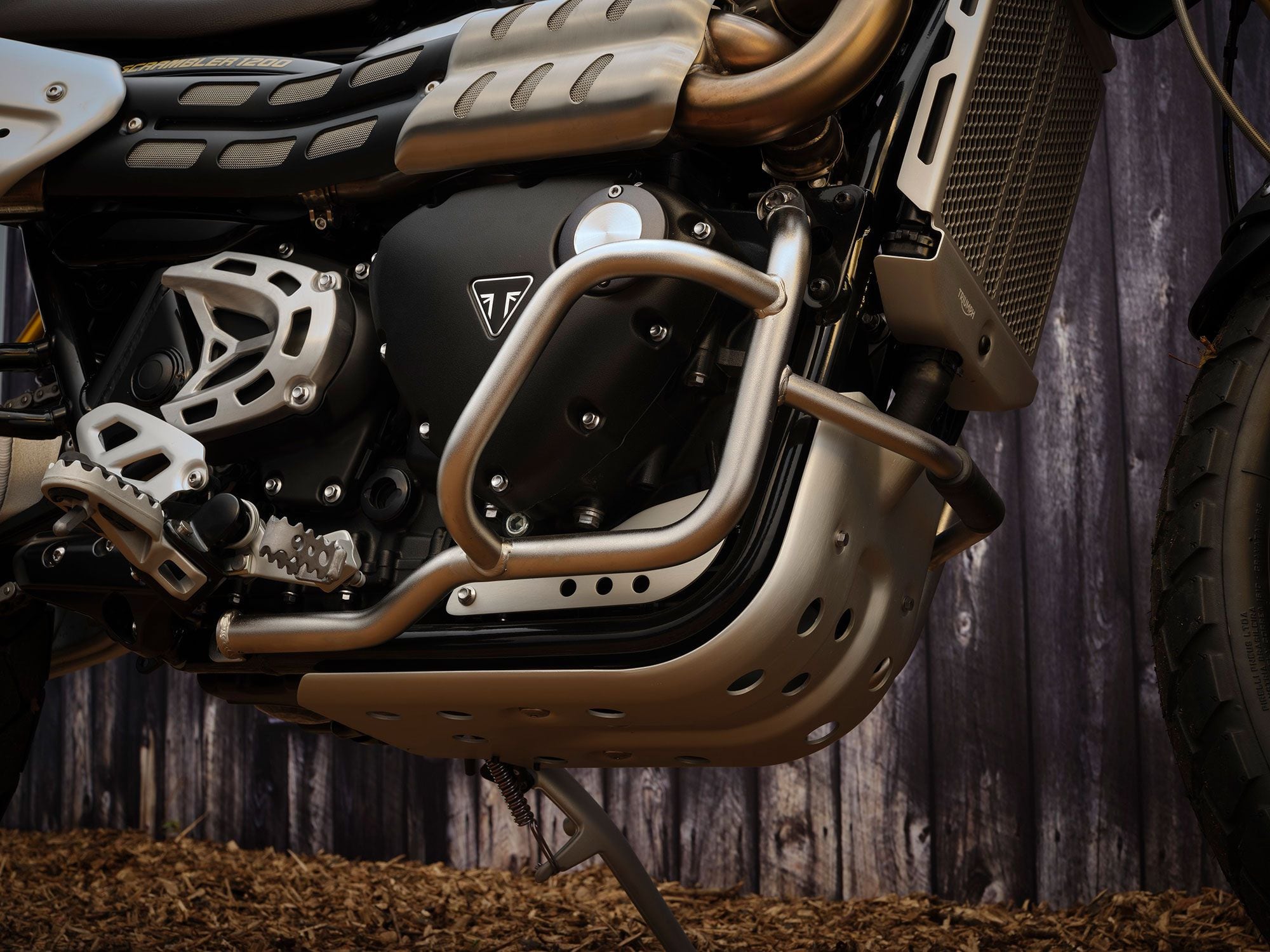 Stainless steel engine guards and aluminum radiator guard are also standard issue on the limited-edition model. (Triumph Motorcycles/)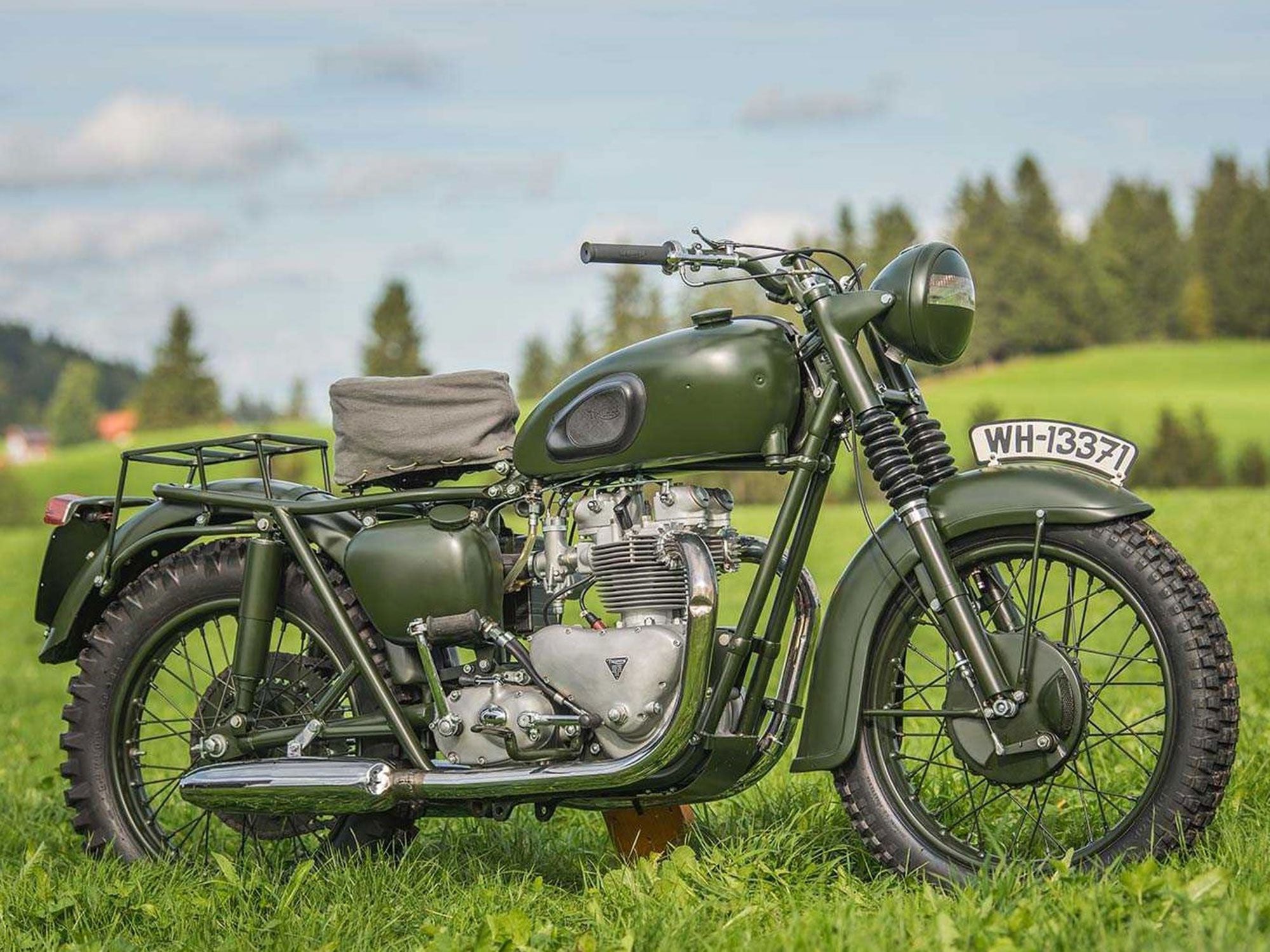 The McQueen Edition was "inspired" by the competition-spec Triumph TR6 used in <em>The Great Escape</em>, which featured an ISDT suspension setup designed for stunt work. (Triumph Motorcycles/)
2022 Triumph Scrambler 1200 XC Specifications
.tg {border-collapse:collapse;border-spacing:0;}
.tg td{border-color:black;border-style:solid;border-width:1px;font-family:Arial, sans-serif;font-size:14px;
overflow:hidden;padding:10px 5px;word-break:normal;}
.tg th{border-color:black;border-style:solid;border-width:1px;font-family:Arial, sans-serif;font-size:14px;
font-weight:normal;overflow:hidden;padding:10px 5px;word-break:normal;}
.tg .tg-0lax{text-align:left;vertical-align:top}
| Price: | $14,000 |
| --- | --- |
| Engine: | 1,200cc, SOHC, liquid-cooled, parallel twin; 4 valves/cyl. |
| Bore x Stroke: | 97.6 x 80.0mm |
| Transmission/Final Drive: | 6-speed/chain |
| Claimed Horsepower: | 90 hp @ 7,250 rpm |
| Claimed Torque: | 81.1 lb.-ft. @ 4,500 rpm |
| Fuel System: | Multipoint sequential electronic fuel injection |
| Clutch: | Wet, multiplate, assist |
| Frame: | Tubular mild steel, aluminum double cradle |
| Front Suspension: | 45mm inverted Showa fork, preload, compression, and rebound adjustable, 7.9 in. travel |
| Rear Suspension: | Coilover twin Öhlins shocks, preload, compression, and rebound adjustable, 7.9 in. travel |
| Front Brake: | 4-piston Brembo M50 Monoblock calipers, dual 320mm discs w/ ABS |
| Rear Brake: | 2-piston floating caliper, 255mm disc w/ ABS |
| Wheels, Front/Rear: | Spoked; 21 x 2.15 in. / 17 x 4.25 in. |
| Tires, Front/Rear: | 90/90-21 / 150/70-17 |
| Rake/Trail: | 25.8°/4.8 in. |
| Wheelbase: | 60.2 in. |
| Seat Height: | 33.1 in. |
| Fuel capacity: | 4.2 gal. |
| Claimed Wet Weight: | 507 lb. |
| Available: | June 2021 |
| Contact: | triumphmotorcycles.com |
2022 Triumph Scrambler 1200 XE
.tg {border-collapse:collapse;border-spacing:0;}
.tg td{border-color:black;border-style:solid;border-width:1px;font-family:Arial, sans-serif;font-size:14px;
overflow:hidden;padding:10px 5px;word-break:normal;}
.tg th{border-color:black;border-style:solid;border-width:1px;font-family:Arial, sans-serif;font-size:14px;
font-weight:normal;overflow:hidden;padding:10px 5px;word-break:normal;}
.tg .tg-0lax{text-align:left;vertical-align:top}
| Price: | $15,400 |
| --- | --- |
| Engine: | 1,200cc, SOHC, liquid-cooled, parallel twin, 4 valves/cyl. |
| Bore x Stroke: | 97.6 x 80.0mm |
| Transmission/Final Drive: | 6-speed/chain |
| Claimed Horsepower: | 90 hp @ 7,250 rpm |
| Claimed Torque: | 81.1 lb.-ft. @ 4,500 rpm |
| Fuel System: | Multipoint sequential electronic fuel injection |
| Clutch: | Wet, multiplate, assist |
| Frame: | Tubular mild steel, aluminum double cradle |
| Front Suspension: | 47mm inverted Showa fork, preload, compression, and rebound adjustable, 9.8 in. travel |
| Rear Suspension: | Coilover twin Öhlins shocks, preload, compression, and rebound adjustable, 9.8 in. travel |
| Front Brake: | 4-piston Brembo M50 Monoblock calipers, dual 320mm disc w/ ABS |
| Rear Brake: | 2-piston floating caliper, 255mm disc w/ ABS |
| Wheels, Front/Rear: | Spoked; 21 x 2.15 in. / 17 x 4.25 in. |
| Tires, Front/Rear: | 90/90-21 / 150/70-17 |
| Rake/Trail: | 26.9°/5.1 in. |
| Wheelbase: | 61.8 in. |
| Seat Height: | 34.2 in. |
| Fuel Capacity: | 4.2 gal. |
| Claimed Wet weight: | 507 lb. |
| Available: | June 2021 |
| Contact: | triumphmotorcycles.com |
Source link