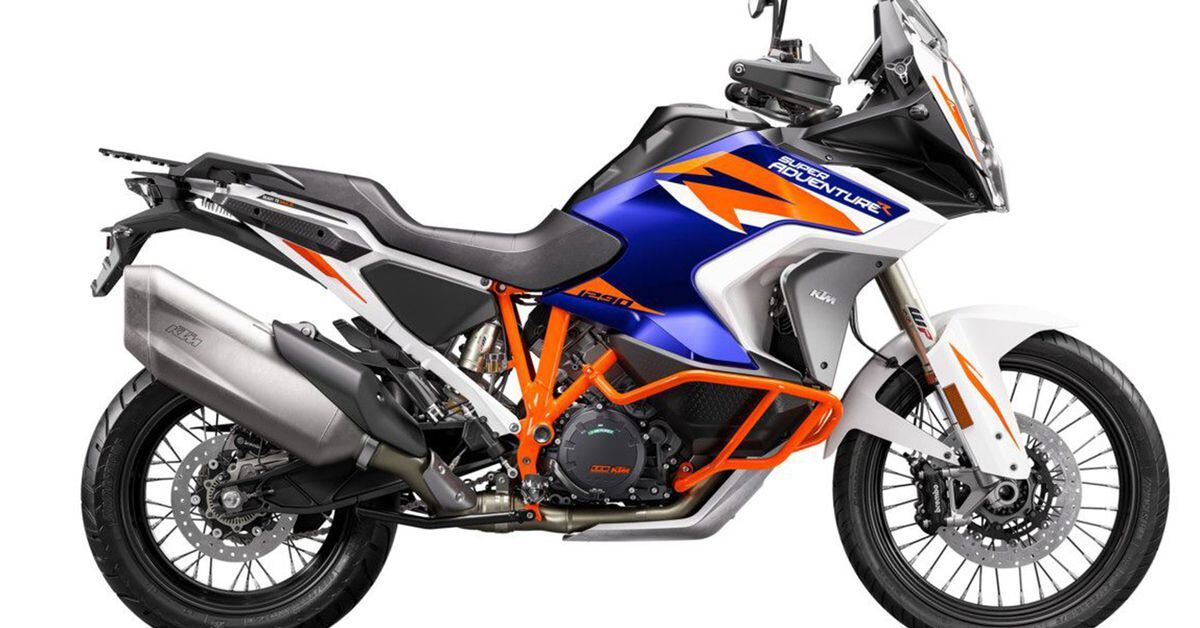 The 2022 KTM 1290 Super Adventure R comes Stateside in fall 2021, and features a new three-part fuel tank, a lower seat height, and chassis tweaks for better performance. (KTM/)
These are heady days for adventure motorcyclists, with offerings to fit just about any size and budget. At the larger end of both of those spectrums lies the beastly KTM 1290 Super Adventure R, the more off-road-oriented sibling of the 1290 Super Adventure S, and KTM has just announced a slew of changes for 2021 that include a new three-part fuel tank à la the 790/890 Adventure, a new two-piece radiator, a lighter engine, and other tweaks said to result in a more agile ride.
But wait, the title says 2022, not 2021? Well, that's because while the rest of the world gets the new 1290 Super Adventure R in March as a 2021 model; we won't see it here in North America until later this fall as a 2022 model. Maybe it has to quarantine? In reality, we have seen KTM implement this strategy with its street models for the last few years, usually in response to homologation and supply hurdles.
The Super Adventure R's stubby windscreen isn't touring-friendly (look to the Super Adventure S if that's your preference), but both R and S models get the three-part fuel tank design first seen on the 790 Adventure. On the R it's wrapped in steel crashbars for the inevitable dirt nap. (KTM/)
At any rate, the wait will be worth it, as the list of improvements is substantial, starting with the new 6-gallon fuel tank. The unique horseshoe-shaped, three-part tank carries the fuel much lower, for a lower center of gravity and therefore better handling, especially off-road. KTM also redesigned the stepped one-piece seat, bringing it about half an inch closer to the ground at 34.6 inches.
The 1290 Super Adventure R also gets the same chassis adjustments as its S counterpart, with the steering head moved back 0.6 inch, the 1,301cc LC8 V-twin rotated slightly forward, and the new die-cast swingarm lengthened slightly, all of which is said to improve agility.
Also in the improved handling checklist is the reworked 8.7-inch travel, fully adjustable WP suspension, which KTM says was perfected via testing in the California desert as well as varied landscapes across Europe.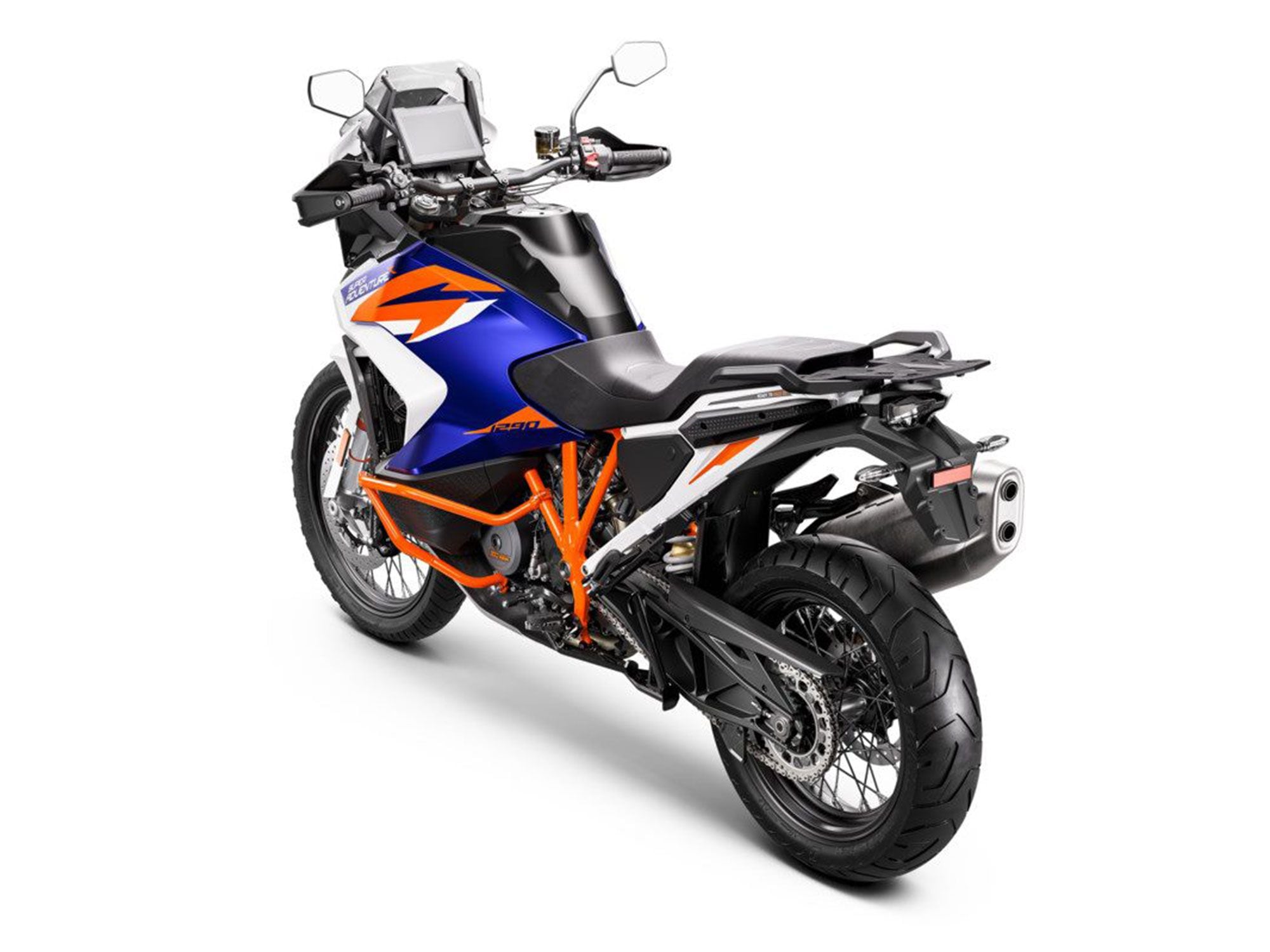 A big new 7-inch TFT display sits front and center over the adjustable handlebar. Windscreen, levers, and footpegs are all also adjustable. (KTM/)
Keeping everything in line is a new six-axis Bosch IMU that controls the 1290 Super Adventure R's plethora of electronic rider aids: Motorcycle Traction Control, Motor Slip Regulation, Motorcycle Stability Control, and the Offroad ABS system. There are four standard ride modes, Rain, Sport, Street, and Offroad, with the optional Rally mode unlocking the most aggressive throttle control and the ability to select from nine levels of rear wheelspin.
Bear in mind that the aggressive throttle will be tethered to 1,301cc of LC8 engine that's now 3.5 pounds lighter, with new pistons and redesigned exhaust headers, and which KTM says is good for 160 hp and 102 pound-feet of torque while still being Euro 5 compliant. Actually, I take back my previous question.
Alpina wheels have sealed spoke nipples, so they can be run with tube-type or tubeless tires. (KTM/)
Rounding out the updates for 2022 is a new two-piece radiator, replacing the previous single unit and promising better heat dissipation that won't toast the rider's legs. The airbox is now much easier to access, requiring the removal of just four screws, and it's been redesigned to direct dirt and sand toward the bottom. I'm guessing these were lessons learned in the California desert.
Overall, KTM appears to be continuing to maintain its position on the hard, sharp tip of the ADV touring spear, and the 2022 1290 Super Adventure R looks you in the eye and asks if you're man (or woman) enough to flog it properly. Only one way to find out…
Source link