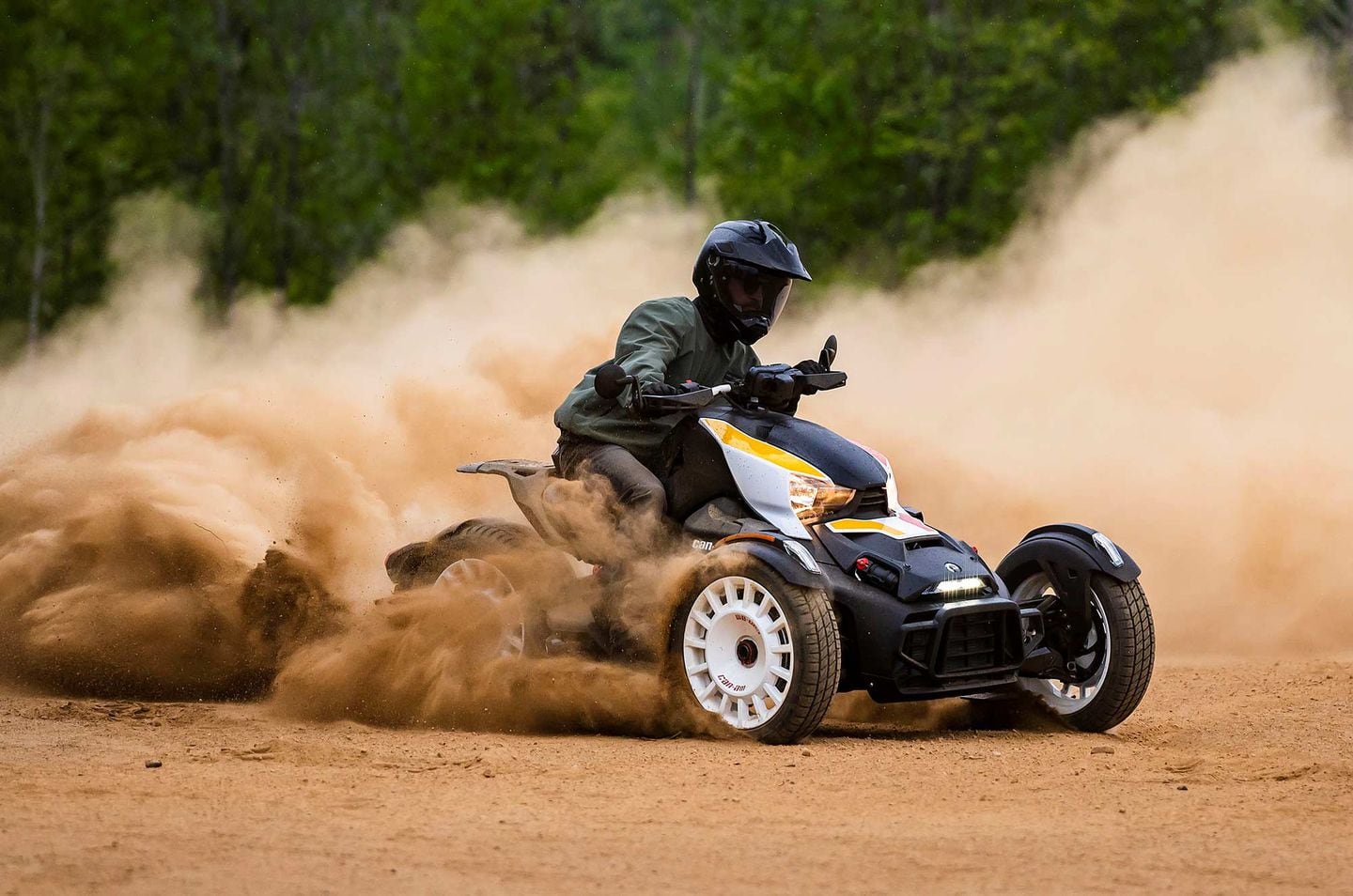 The Ryker Rally leads the charge for Can-Am's 2022 on-road lineup with a host of new upgrades including longer-travel suspension and more ground clearance. (Can-Am/)
By now, we're all familiar with the pandemic-fueled spike in new bike sales our industry has reveled in over the last year. Motorcycle manufacturers—indeed, the powersports industry writ large—got a heady dose of sales increases after navigating the initial lockdowns in 2020, with some companies reporting double-digit sales bumps well into 2021. You can count Can-Am among the fortunate; the Canadian subsidiary of industrial giant BRP confirmed huge growth in its on-road vehicle segment for the year ending December 31.
Which is probably why Can-Am is doubling down on that formula, not opting for any earth-shattering revisions to the 2022 lineup it has just announced, instead continuing with a series of "refreshes." As before, the company's on-road lineup consists of two core models—the Ryker and the Spyder. The slimmer, entry-level Ryker offers easy access to urban riders with its smaller mass, and for 2022 the series offers the base Ryker, the more premium Ryker Sport, and the top-line, all-road-ready Ryker Rally, which gets the bulk of the new updates.
The more powerful Spyder vehicles, meanwhile, offer bigger powerplants, increased comfort and amenities, and for 2022, all six models see revisions. In the main, you'll get new details, accessories, and color options, though the company singles out the new F3-S Special Series and F3 Limited Special Series, and updates to the touring-based RT Sea-to-Sky as particularly notable.
Related: 2021 Can-Am On-Road Lineup First Look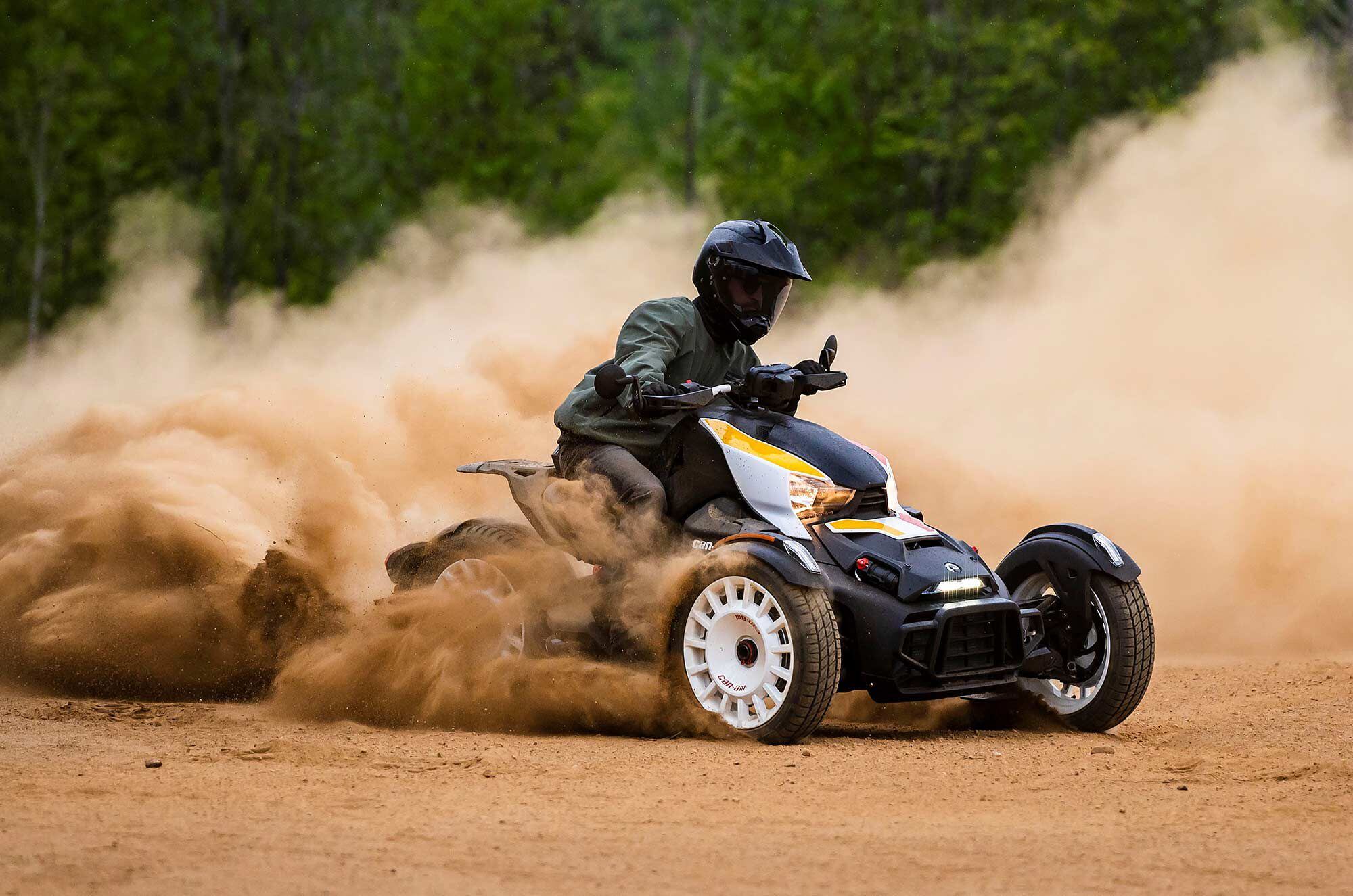 You'll still be able to tap Rally mode for "controlled drifts"; cruise control is new this year on the Rykers. (Can-Am/)
The biggest talking points relate to the Can-Am Ryker Rally, which ticks off a series of upgrades and styling tweaks to make it more suitable for all-road use. Although Can-Am says it's a new model, the 2022 Rally is clearly a lightly redesigned and upgraded version of last year's effort, with the same frame, 900cc Rotax engine (with three ride modes, including Rally), CVT transmission, and wheelbase specs. The additions do merit a closer look, with things like fresh rally wheels and all-road tires, a pre-filter on the air intake, aluminum underbody protection, and suspension with increased travel and ground clearance.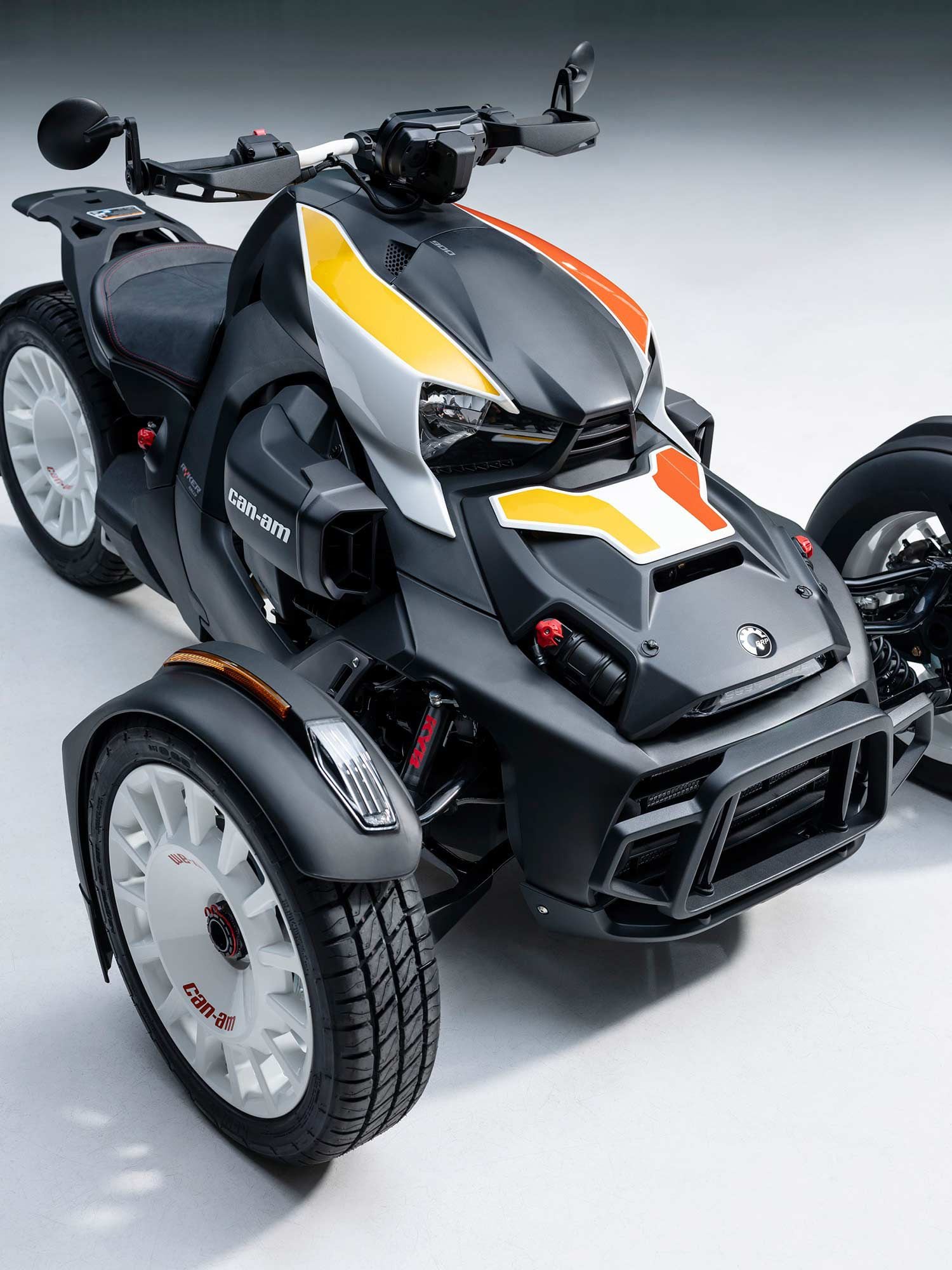 KYB shocks offer remote adjustability; new hood with integrated LED lighting and rally bumper dominate the front end of the Ryker Rally. (Can-Am/)
As on the 2021 Rally model, KYB supplies the compression-and-preload adjustable suspension on the front and rear, but the HPG units are longer travel this year, with 7.3 inches at the front and 7.1 inches out back—nearly an inch more than previously. They're remote adjustable too, says Can-Am. In the same neighborhood, you'll also see A-arm protectors, a beefy rally-style bumper, and a new intake with a pre-filter to keep debris at bay. The riding triangle gets a tweak too—the seat has more padding, the new larger footpegs are lower, and the handlebar is different, to make it easier to move around on the bike. As you'd expect, the seat is taller too—now at 28 inches—thanks to the longer-travel suspenders, while the hood gets a redesign as well as an integrated LED headlight to improve illumination, and out back there's a new Akrapovič exhaust. BRP also touts the new bottle-cap-style "rally rims" but we're not so sure everybody will be that smitten.
The Max Mount structure behind the saddle—sticking out like a vestigial tail—allows you to easily add accessories like a passenger seat or cargo units.
The Ryker Rally starts at $13,499.
Although it gets the same suspension upgrades, the Ryker Sport is tuned differently, with street-biased wheels and tires also differentiating it from its rowdier brother. (Can-Am/)
For a smoother, more street-biased riding experience, there's the Ryker Sport, which gets many of the same mechanical upgrades as the Rally but with slightly sharper styling. The Sport also has adjustable KYB suspension, though it's tuned more for street duty, and the tires are likewise more street-biased, as is the new, more comfortable seat. Additionally, like the Rally's Rally mode, the Sport's Sport mode allows for controlled slides, just on pavement instead of gravel.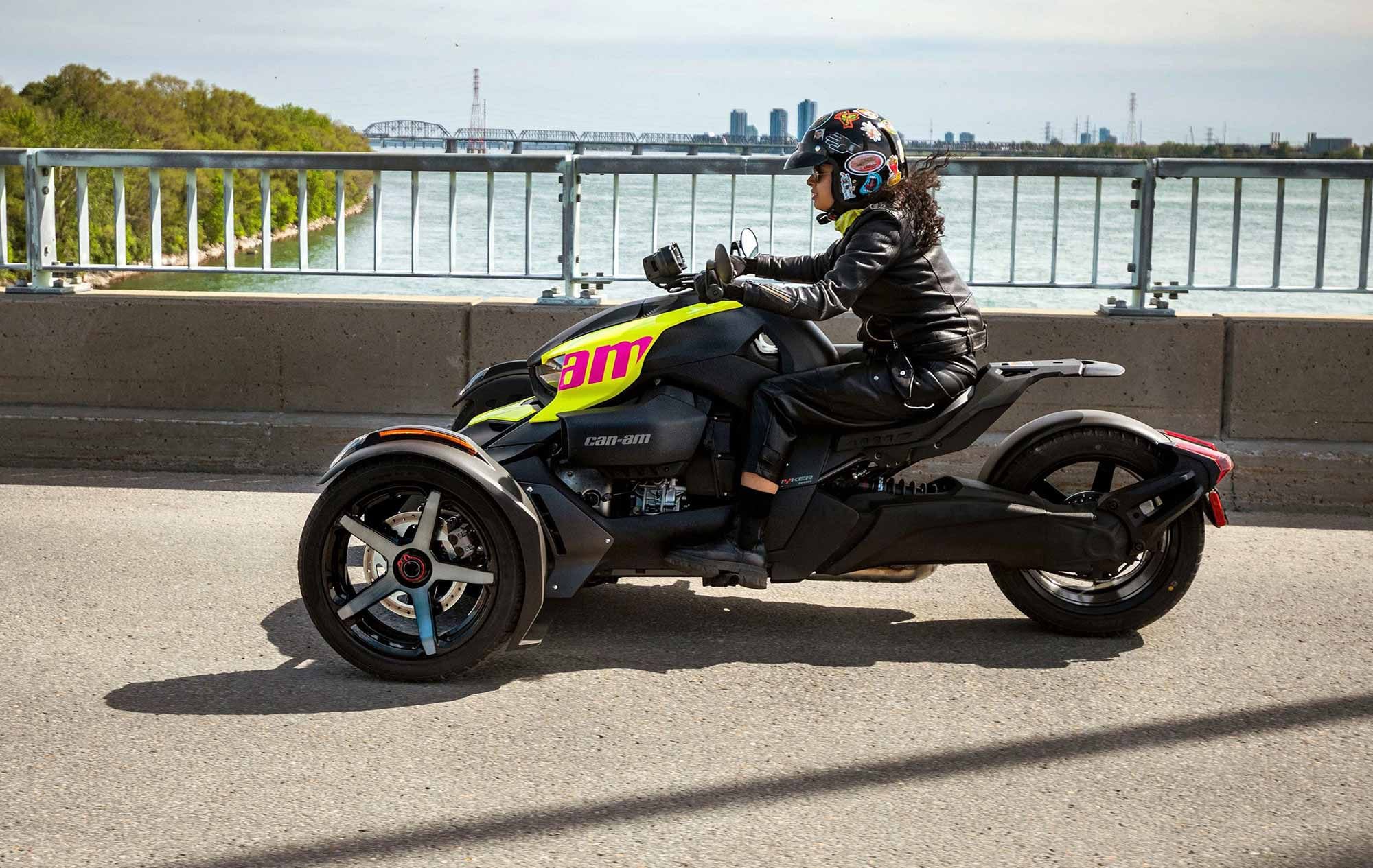 The Ryker Sport also gets unique colors and graphics for 2022. (Can-Am/)
Both the Ryker Rally and the Ryker Sport come standard with the Rotax 900 ACE engine, a 900cc triple good for a claimed 82 hp and 58.5 pound-feet of torque. Both models also now include cruise control, a first time inclusion for 2022 model year Rykers. The Sport retails for $11,599.
The base-model Ryker is available in either 600cc or 900cc engine options, but also gets new details like a gas tank lock and new colors for 2022; MSRP starts at $8,999.
Related: 2020 Can-Am Ryker Buyer's Guide
The Spyder F3 Limited Special Series gets new Viper Red coloration and Carbon Black colored parts; a new seat, new KYB shocks, and top case rack also make the scene. (Can-Am/)
Moving over to the six-bike Spyder F3 range, we see the F3-S Special Series and F3 Limited Special Series trim levels as the main events. The muscular F3-S Special Series gets style points for upgrades like the slick Super Sport grille, mono seat cowl, and gauge spoiler. It also has gas-charged KYB front shocks, Sport mode, unique Manta Green paint, and you can even opt for a specially accessorized package for "sport enthusiasts." The F3 Limited Special Series can be considered the more comfortable alternative to the F3-S Special Series with distinctive Viper Red paint and the Super Sport grille, as well as a cargo top case with integrated rack, comfort seat with detachable backrest, and short-reach bar. All the F3s run a Rotax 1330 ACE engine and six-speed semi-auto tranny, with a claimed output of 115 hp.
The base F3 starts at $17,999, while the range-topping F3 Limited Special Series will run you $27,499.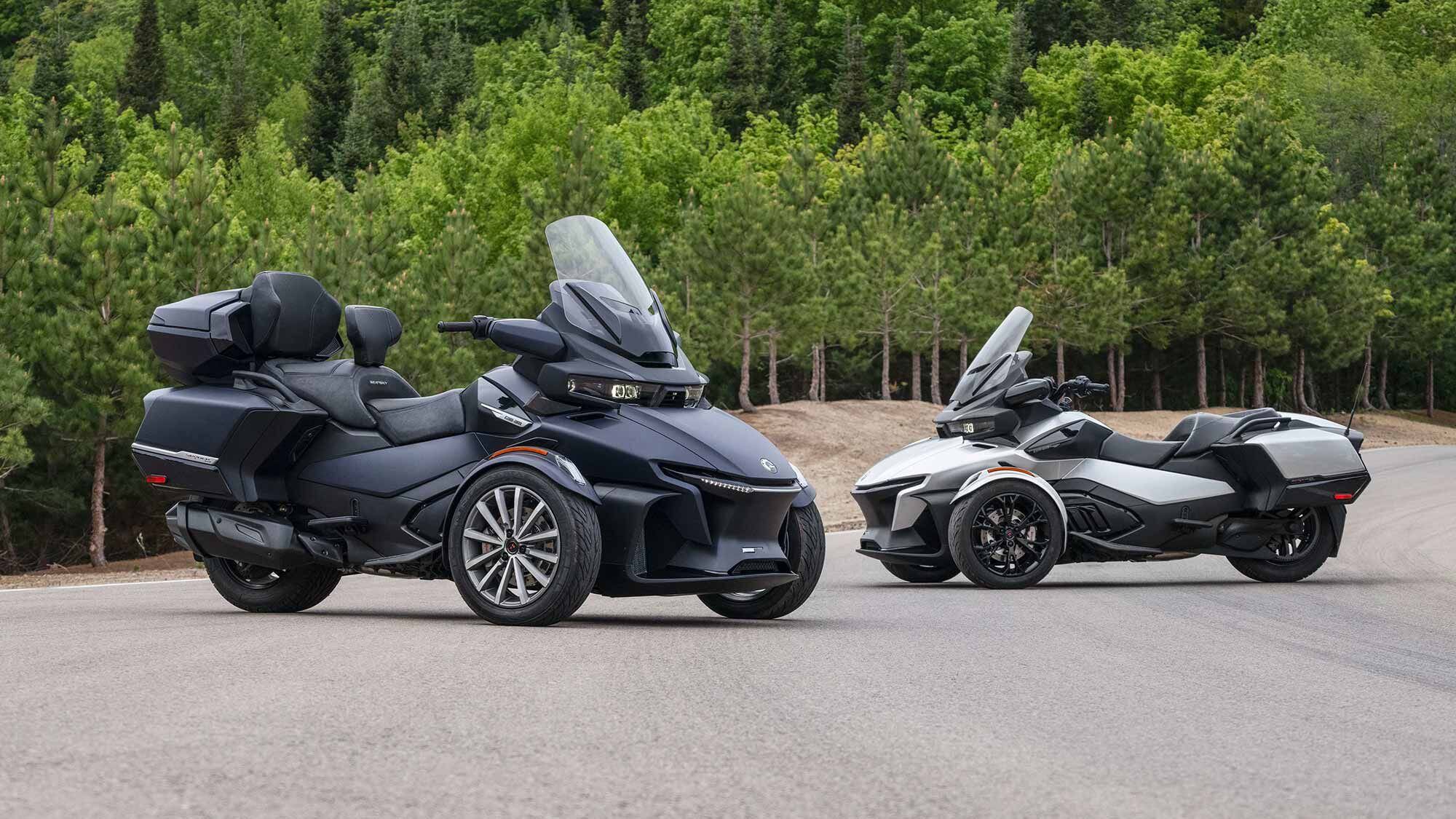 The Spyder RT Sea-to-Sky Edition gets an adjustable backrest, adjustable wind deflectors, and a new Mystery Blue color trim, unique to this model. (Can-Am/)
Lastly, in the three-model Spyder RT touring line, the well-equipped RT Sea-to-Sky is designed to be the most premium three-wheeler Can-Am has to offer. It boasts touring amenities like an adjustable driver backrest, adaptive foam seats with lumbar support, and side wind deflectors, and this year the (not so) big additions include the exclusive Mystery Blue paint, silver 12-spoke wheels, silver trim, and Sea-to-Sky embroidery.
Each of the Spyder RT models fit the liquid-cooled Rotax 1330 ACE engine as standard equipment. The 1,330cc triple makes a claimed 115 hp at 7,250 rpm and 96 pound-feet of torque at 5,000 rpm.
Although Can-Am says it wasn't hugely impacted by COVID-related supply chain issues, there were still some shocks felt in the delivery system and it expects all MY2022 vehicles to be available by February of 2022, while accessories should be available before that.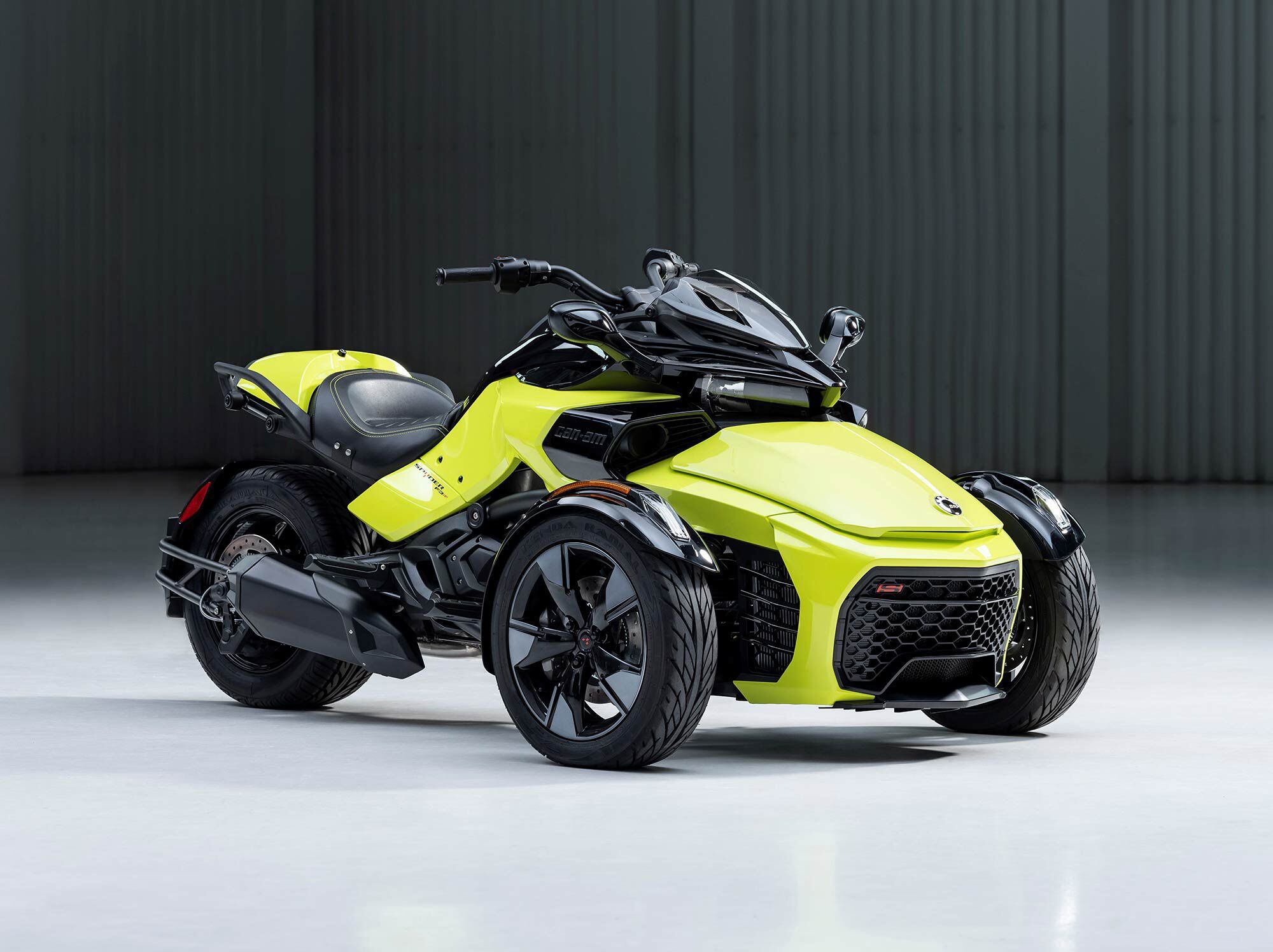 The F3-S Special Series with gas-charged KYB front shocks and cool Manta Green paint. (Can-Am/)
For more information visit: can-am.brp.com/on-road/us/en/.
Source link