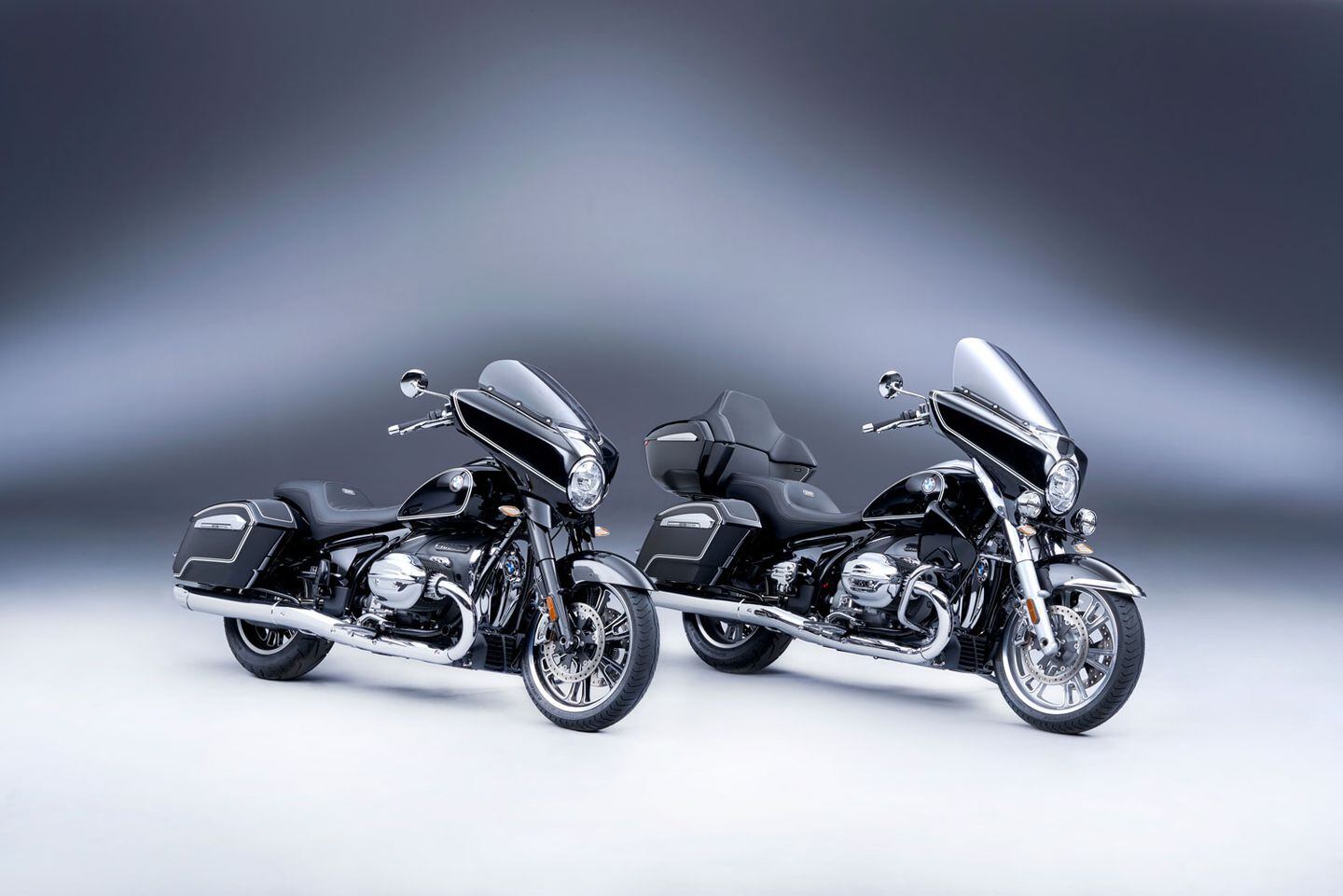 The 2022 BMW R 18 B and R 18 Transcontinental first editions. (BMW Motorrad/)
BMW has just confirmed production of two new R 18-based touring models: the R 18 B and the R 18 Transcontinental.
Both models are equipped with a handlebar-mounted fairing and hard bags, but as the names imply the Transcontinental is a full-dresser designed for Grand American Touring and the B, short for bagger, is a more traditional American-style touring machine and is less adorned. Integrating new technology not previously seen in this segment, BMW's R 18 platform and the Big Boxer engine seem to have found their stride in this application.
Related Content: BMW R 18 B and R 18 Transcontinental Slated For 2022
Chassis on either bike are identical (spare top case mounts), with the R 18′s double loop steel frame modified to fit the larger 6.3-gallon fuel tank and an updated rear suspension that is automatically adjusted, though not adjustable by the rider. A cantilever suspension strut is mounted directly to the swingarm and features travel-dependent damping and automatic load compensation through spring preload adjustment; BMW claims this will help achieve the best possible ride response, even with a passenger. The bikes are equipped with nonadaptive nonadjustable 49mm telescopic forks, and suspension travel is 120mm (4.7 inches) both front and rear. Alloy cast wheels are equipped with a dual-disc brake up front and a single disc at the rear, all with four-piston calipers and BMW's Full Integral ABS.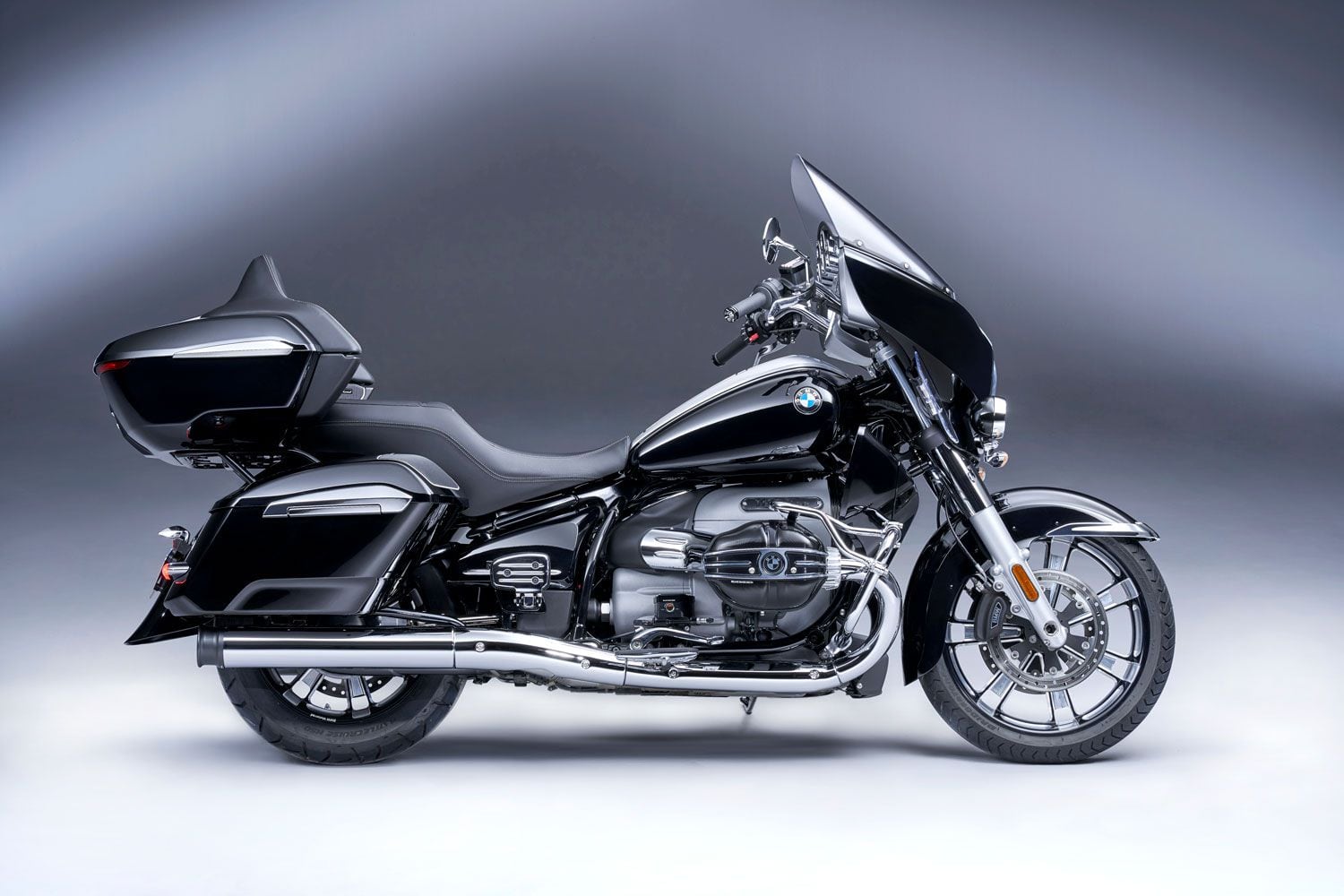 With the 2022 BMW R 18 Transcontinental, BMW continues to move in on what has traditionally been Harley country. (BMW Motorrad/)
As noted with the earlier models of R 18, mid-mounted foot controls seem to be the only option given the boxer's large cylinders. Transcontinental models will come standard with long floorboards, while B models will have footpegs a little larger than those on the R 18. The R 18 Transcontinental comes with a large two-person seat and heating standard; the R 18 B has a slightly slimmer seat while also accommodating a passenger.
Related Content: 2022 BMW R 18 and R 18 Classic First Look
Unique among other bikes we've seen in the American-style touring genre, both the B and Transcontinental models will have the option of Adaptive Cruise Control (ACC) with Dynamic Cruise Control (DCC) as a standard feature. Note that DCC is just a fancy name for what we're used to, a system that maintains the rider's set speed even through elevation changes. Likewise, ACC is similar to that we've seen on the new Ducati Multistrada V4, with forward-facing radar sensors allowing the bike to automatically accelerate or decelerate to maintain distance from a vehicle in front. The new ACC also features a cornering control system, which BMW says will "automatically reduce the speed, giving the rider the right speed for a comfortable and safe banking angle." As the banking angle was a point of criticism on past R 18 models, we're eager to test this in person.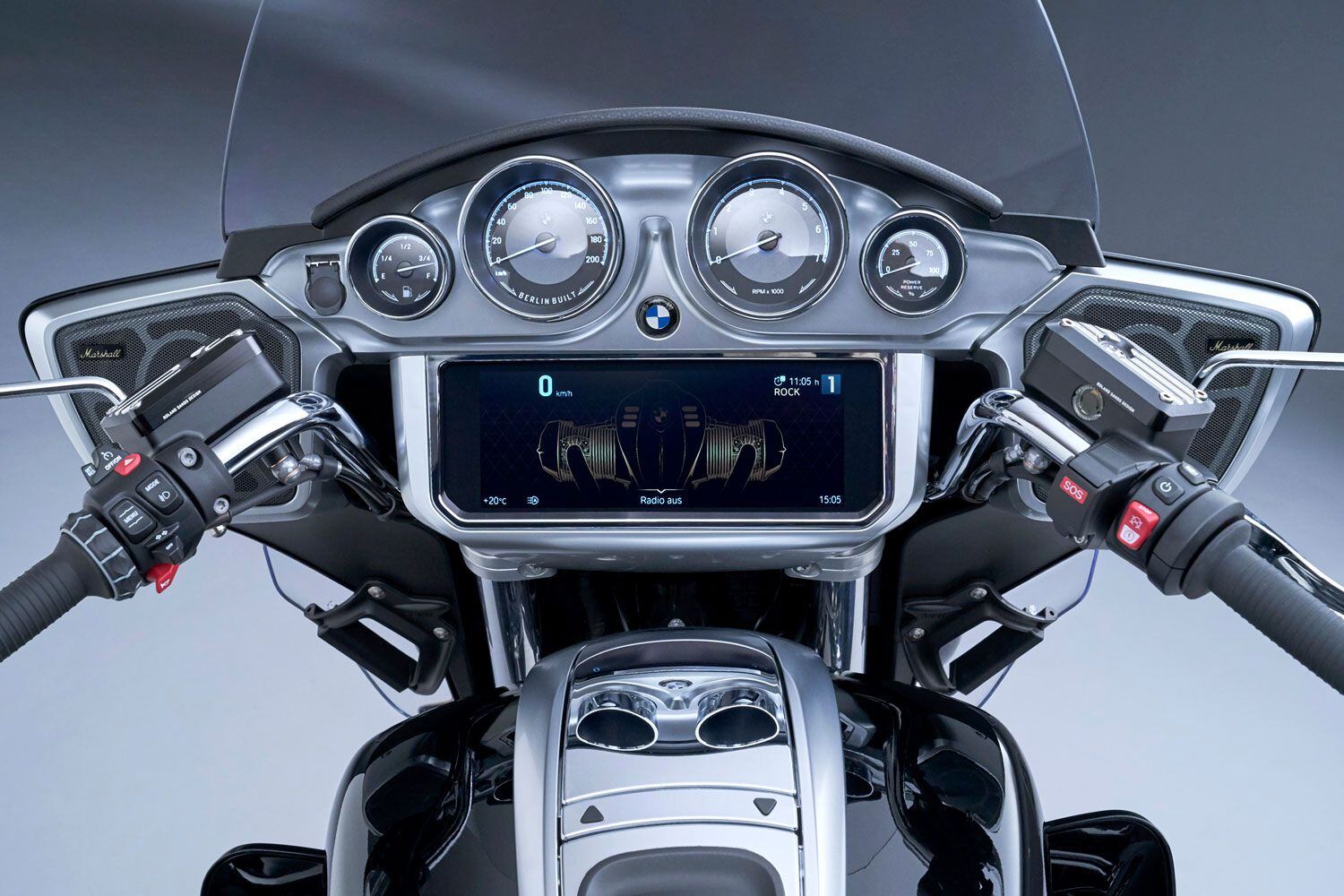 This large 10.25-inch TFT display comes on the new R 18 Transcontinental and R 18 B, as well as four round analog gauges up top. (BMW Motorrad/)
The B and Transcontinental will each come equipped with a 10.25-inch TFT display, larger than any we've ever seen on a motorcycle, and four round analog gauges. The same three ride modes from the original R 18—Rock, Roll, and Rain—carry over. Each bike will also come standard with BMW's Automatic Stability Control (ASC) and engine drag torque control.
Related Content: 2021 BMW R 18 First Ride
Speakers on each model are the result of a new collaboration between British manufacturer Marshall Amplification and BMW. The recognizable white lettering can be seen on the speakers of both the B and the Transcontinental, with Gold Series Stage 1 and 2 upgrade options already available.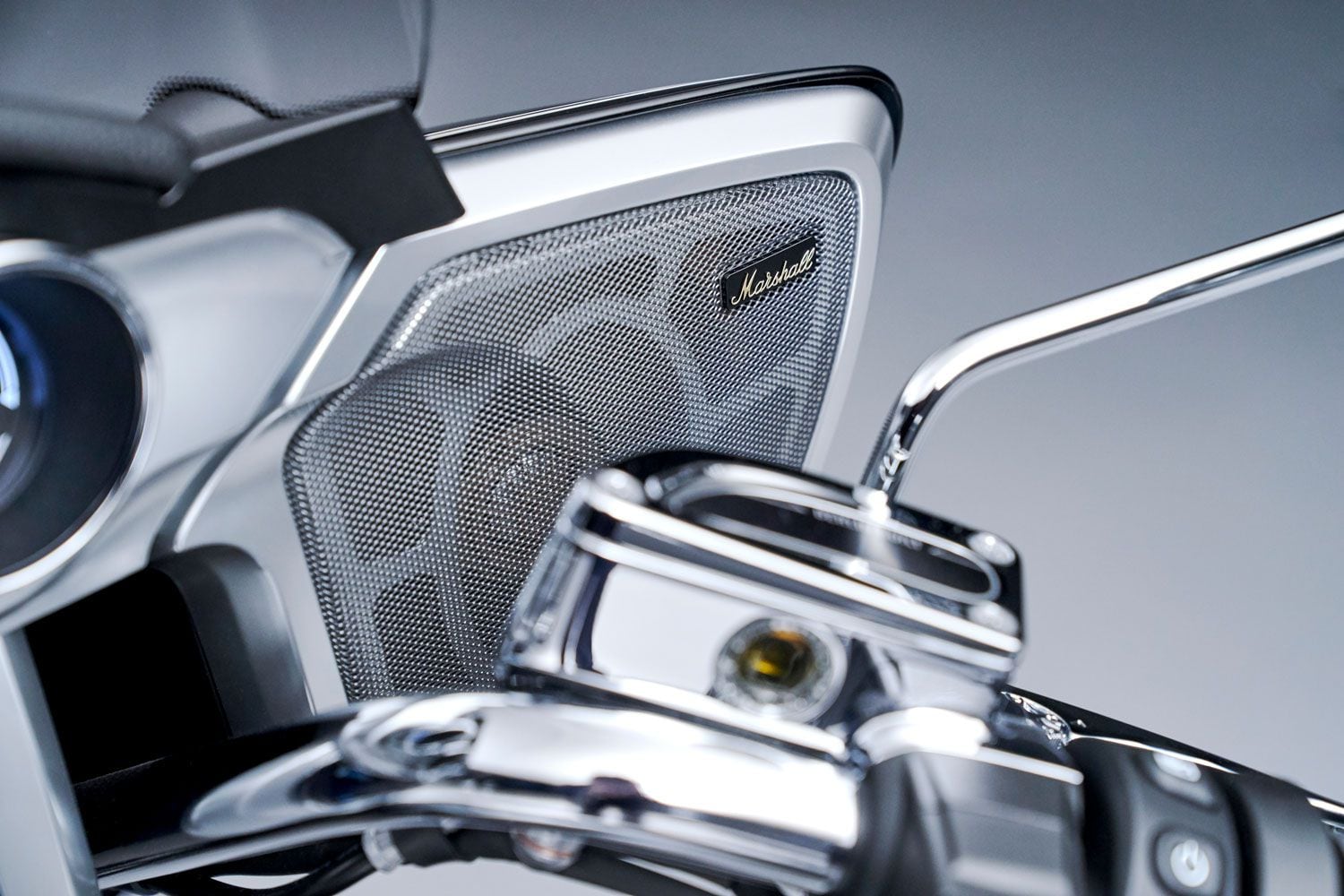 Marshall-branded speakers are the result of a new collaboration between BMW and Marshall Amplification. (BMW Motorrad/)
While we saw the R 18 First Edition fall out of production in its second year, as expected given the name, BMW is now introducing a First Edition R 18 B and R 18 Transcontinental bearing the same trademark black paint scheme with white pinstriping. "First Edition" lettering, a badge on the seat, and chrome trim set are also included with this limited-edition package.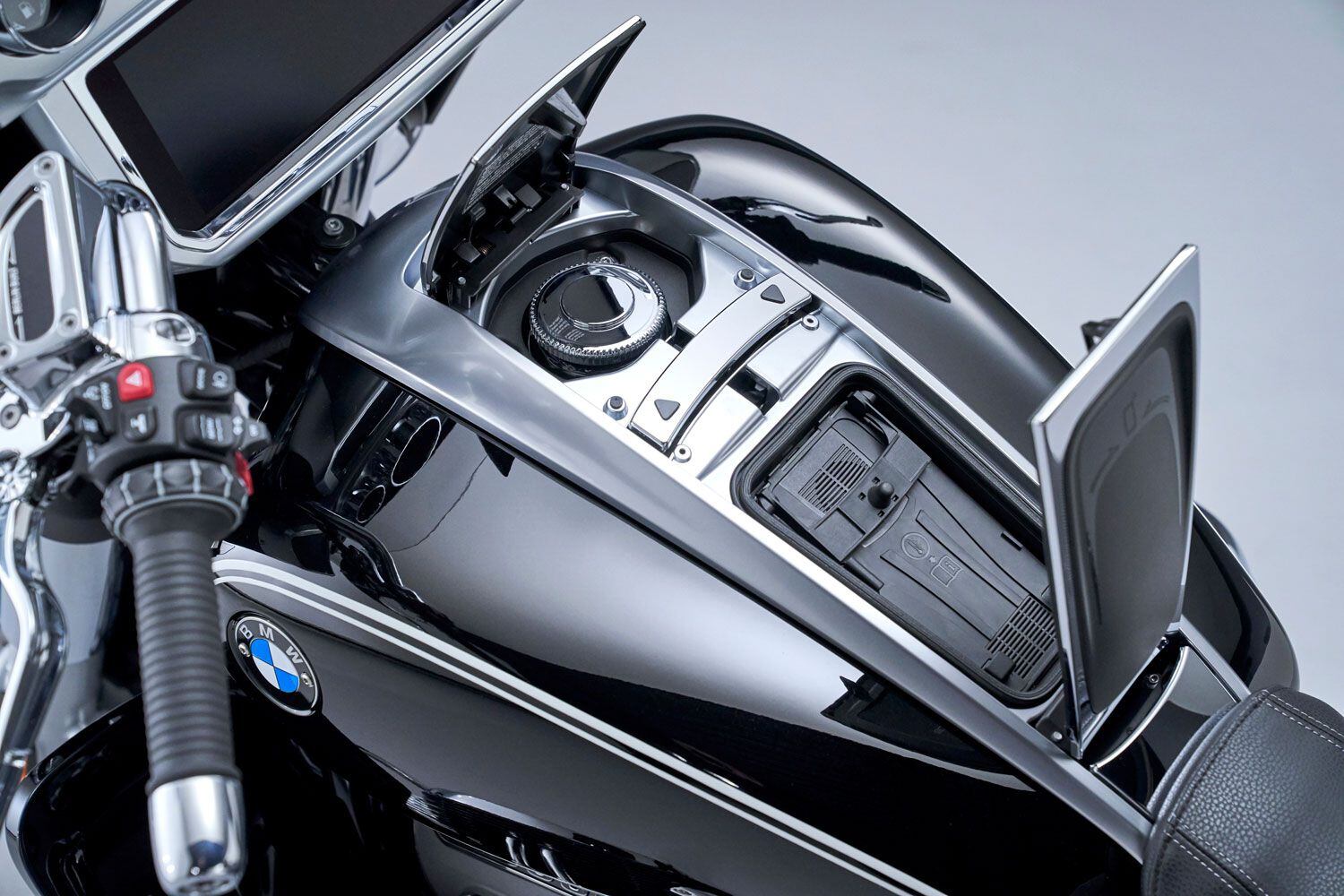 Phone storage and gas cap are located on the R 18 B and Trancontinental's gas tank. (BMW Motorrad/)
We also see BMW introducing its Option 719 line for the R 18, including a collection of milled aluminum parts and the eye-catching Galaxy Dust metallic paint finish.
Details on pricing and availability have not yet been released, but we will be reporting back as soon as more information is available.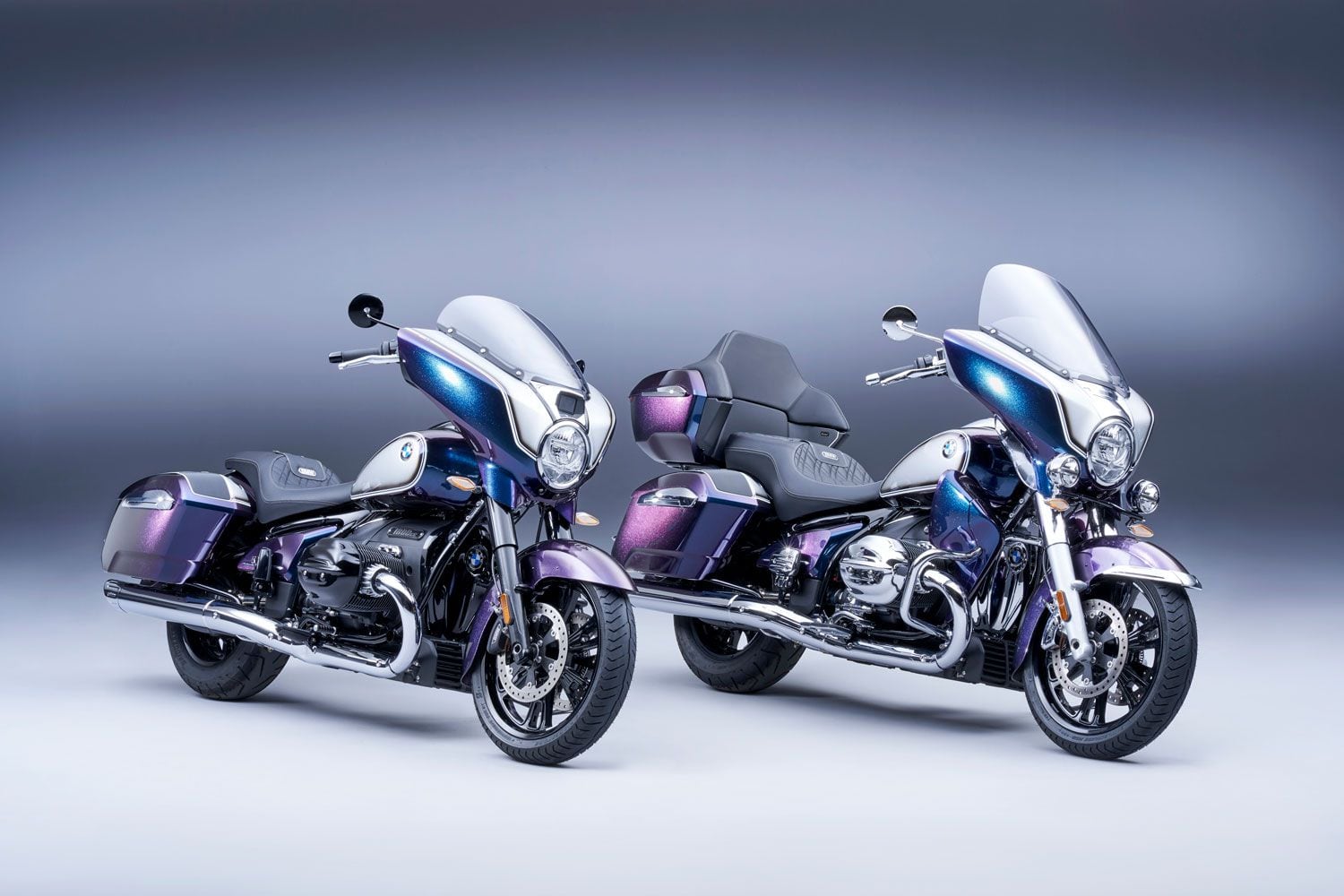 The 2022 BMW R 18 B and R 18 Transcontinental dressed in Option 719 Galaxy Dust metallic paint. (BMW Motorrad/)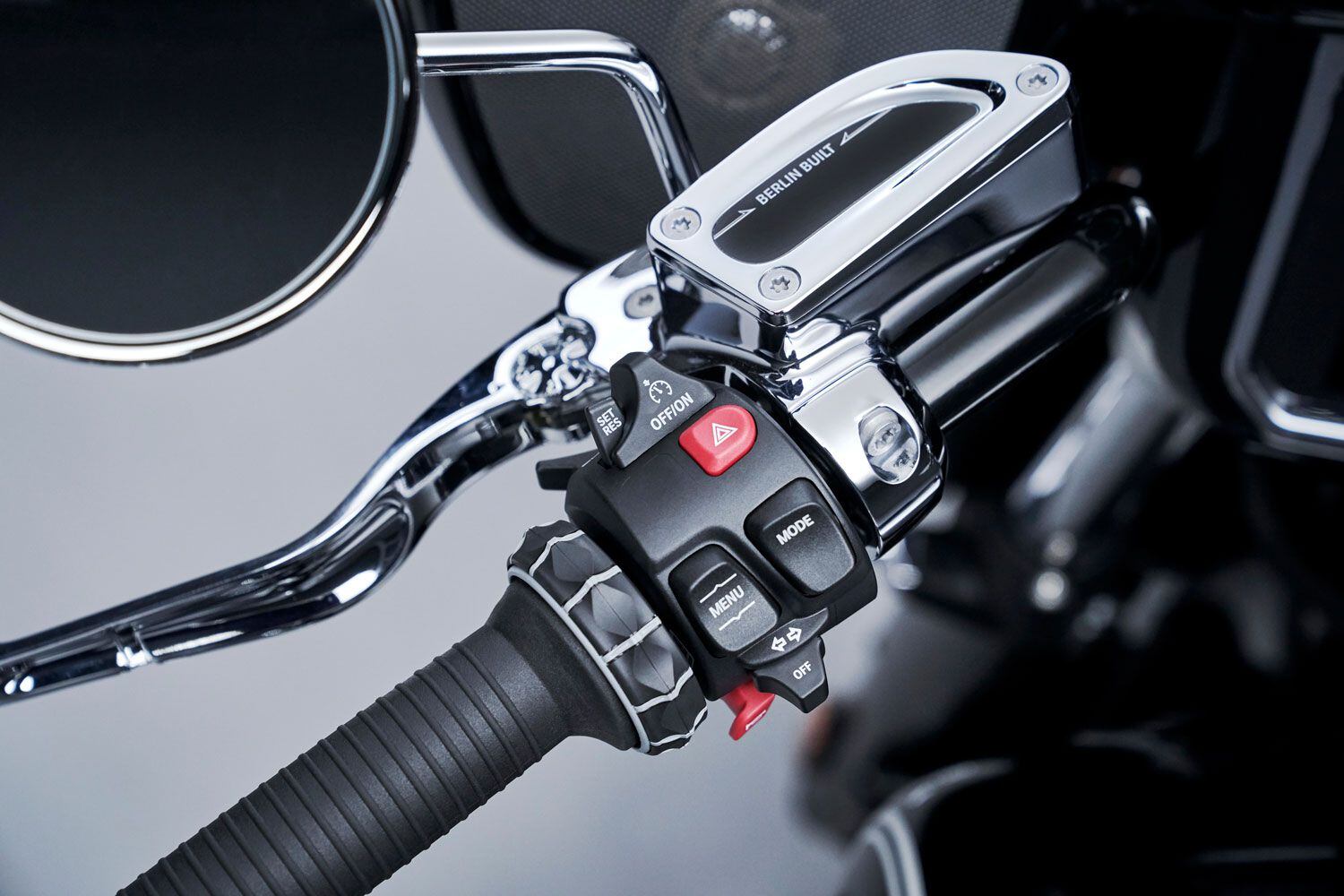 Controls on the left-hand grip are similar to those on previous models, which we know to be easy to use and intuitive. (BMW Motorrad/)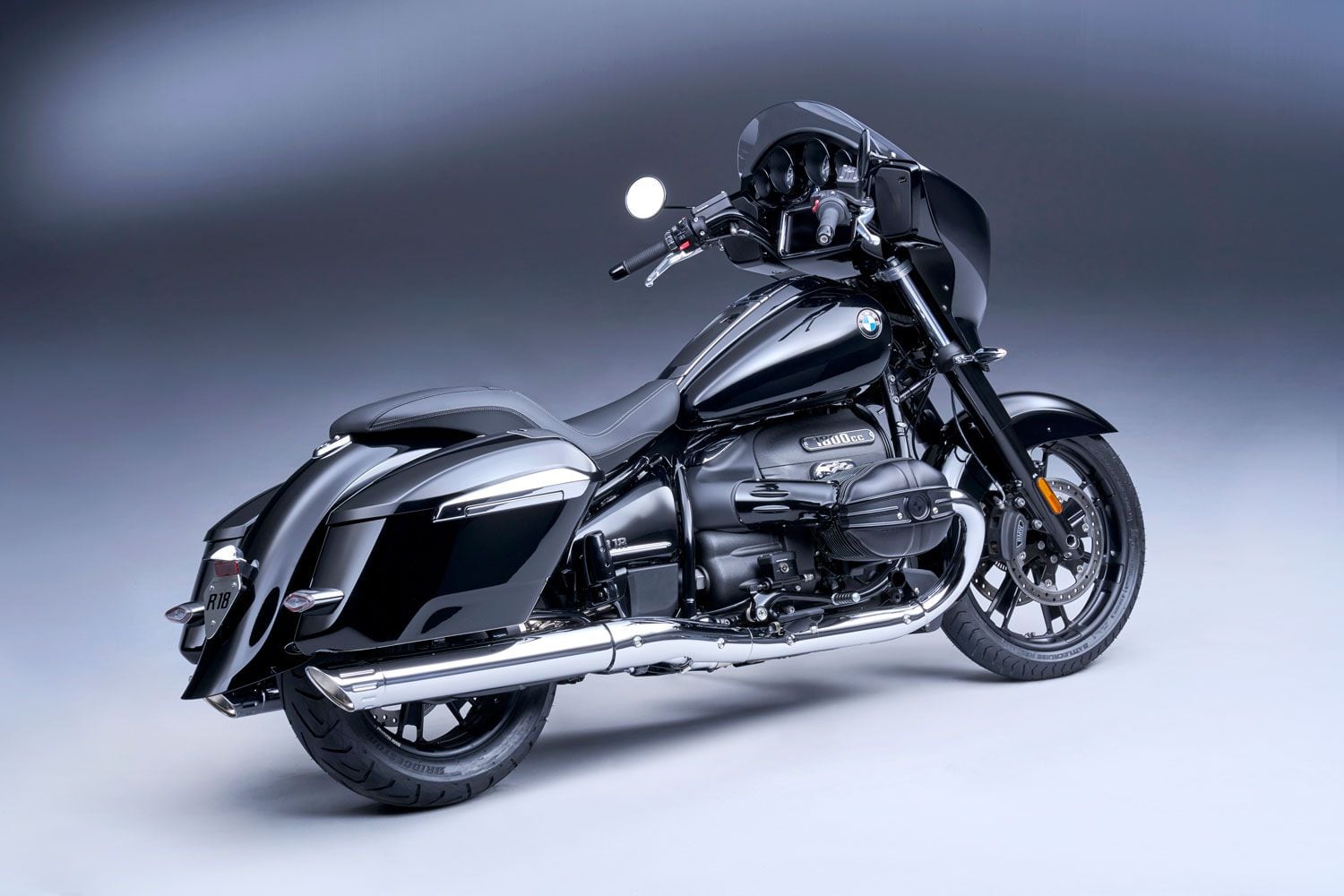 The 2022 BMW R 18 B bagger model in gloss black paint. (BMW Motorrad/)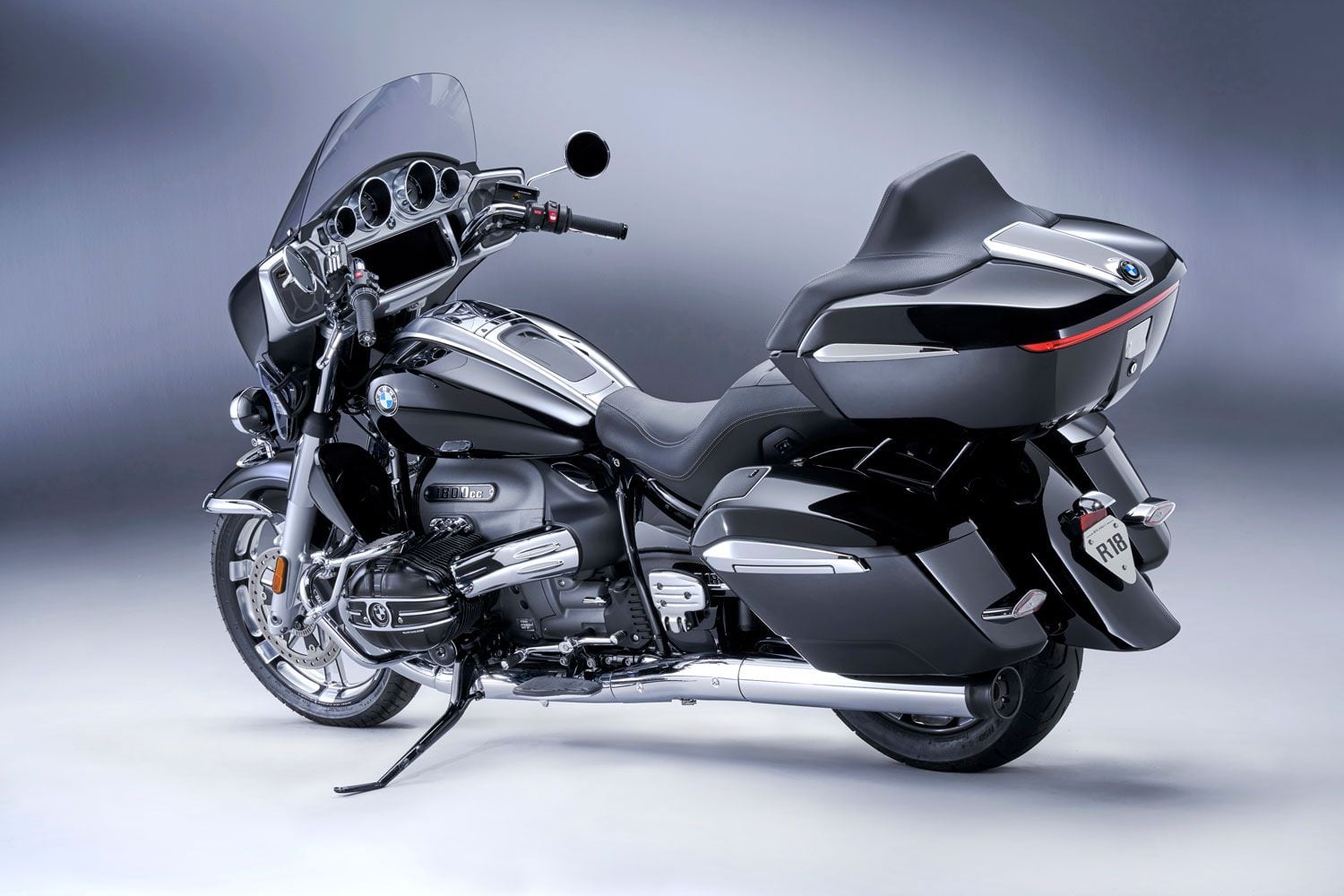 The Transcontinental's top case is decoupled from the rest of the bike to reduce vibration. (BMW Motorrad/)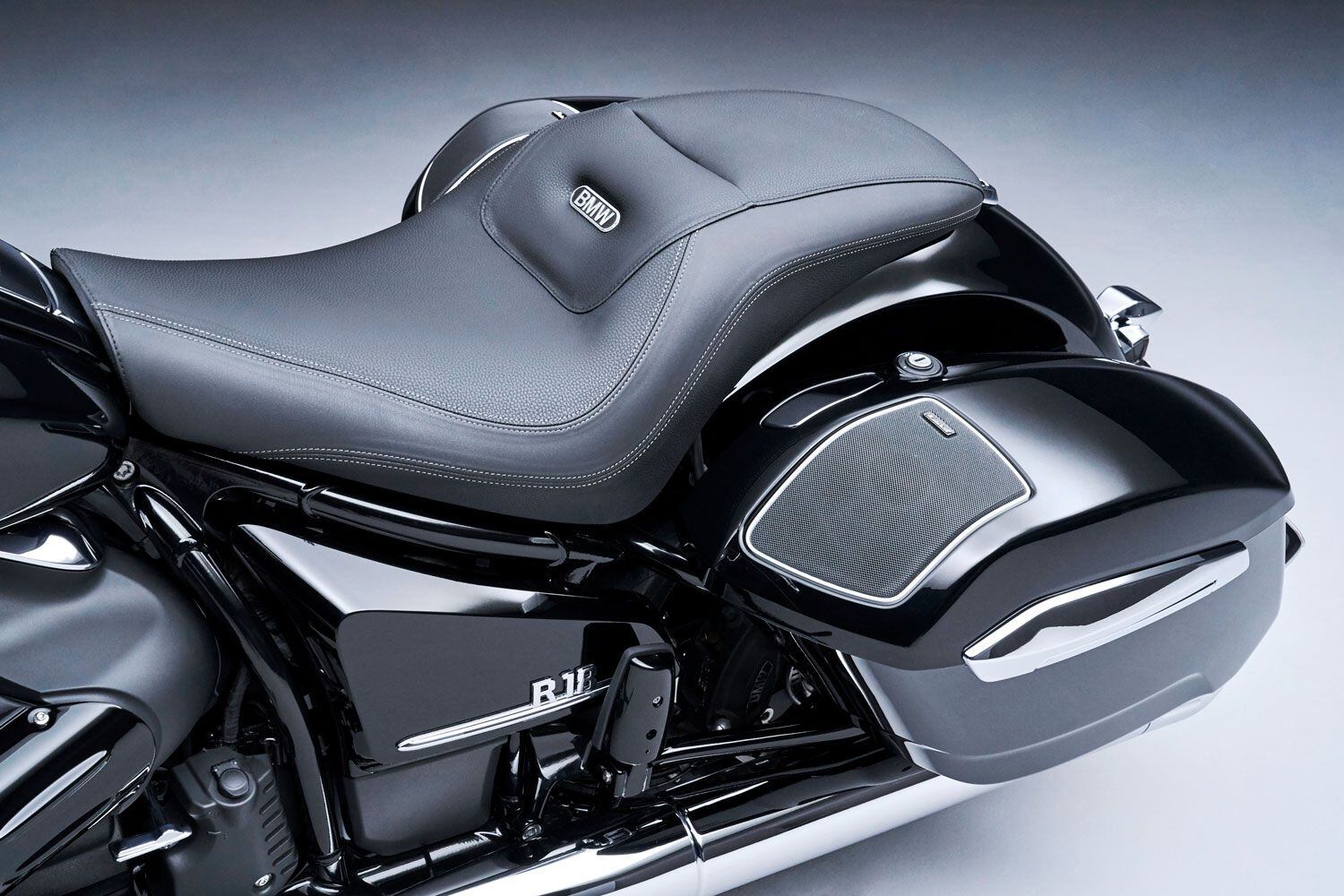 Although a point of criticism on previous models, the R 18 B will come with a badged seat, just like the 2021 R 18 First Edition. (BMW Motorrad/)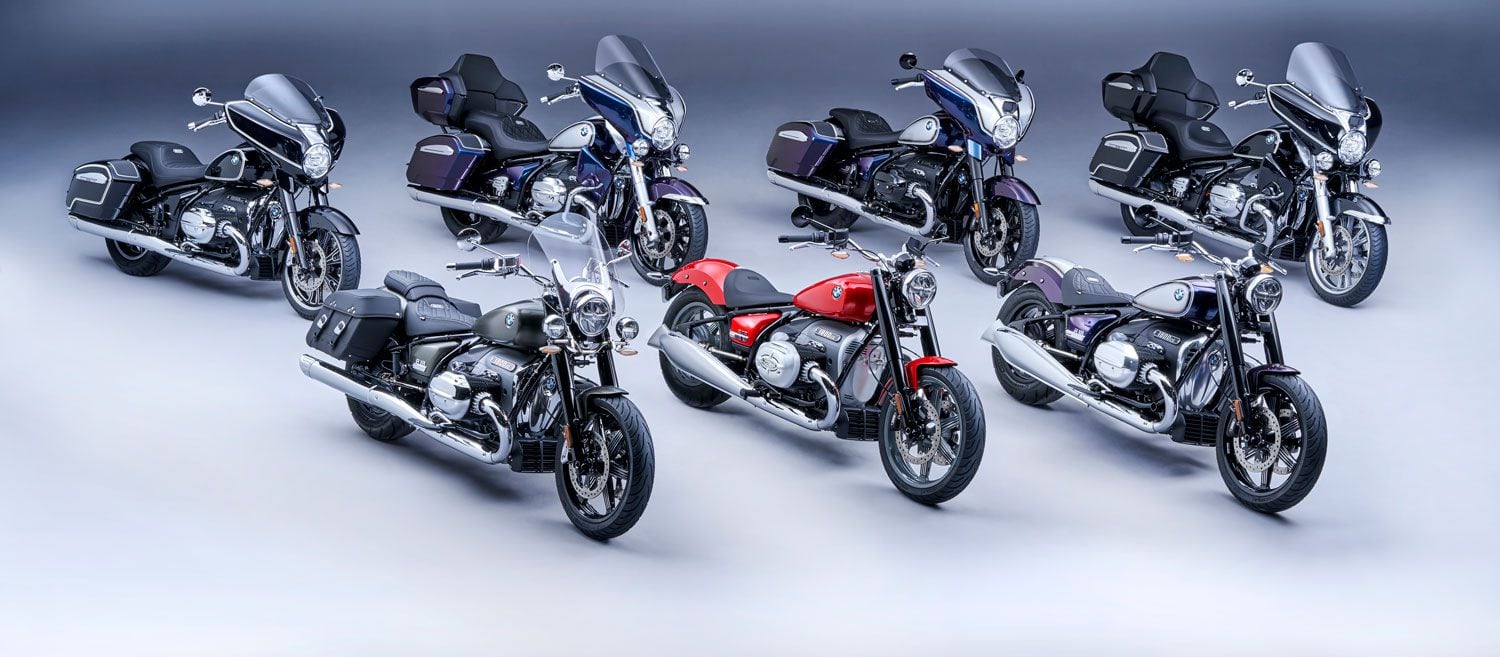 The full lineup of 2022 BMW R 18 models (BMW Motorrad/)
Source link