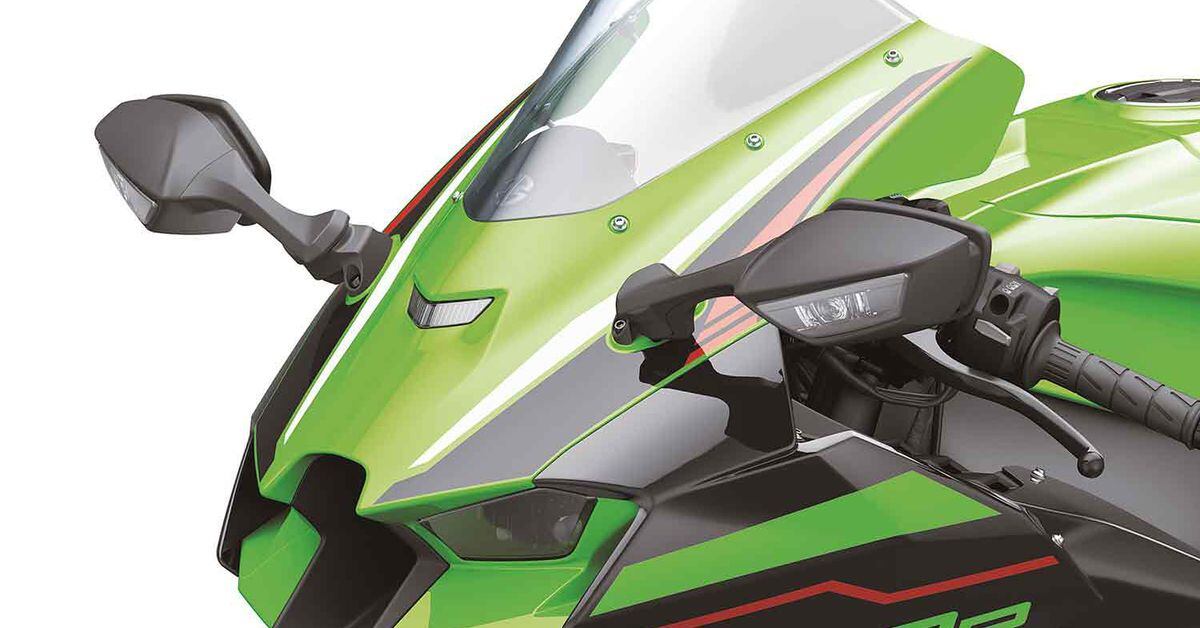 The 2021 Kawasaki ZX-10R. (Kawasaki/)
After winning its sixth consecutive WorldSBK world championship, Kawasaki's Ninja ZX-10R and ZX-10RR get minor technical updates and a major face-lift for 2021. The aggressive new look features, you guessed it, integrated winglets on the front fairing, as is the vogue. Kawasaki also made small revisions to the engine, electronics, and chassis. Sure, there's no 215 hp headline grabber here, but we're pretty sure that won't stop Jonathan Rea from continuing to, you know, do "OK" in WorldSBK in 2021.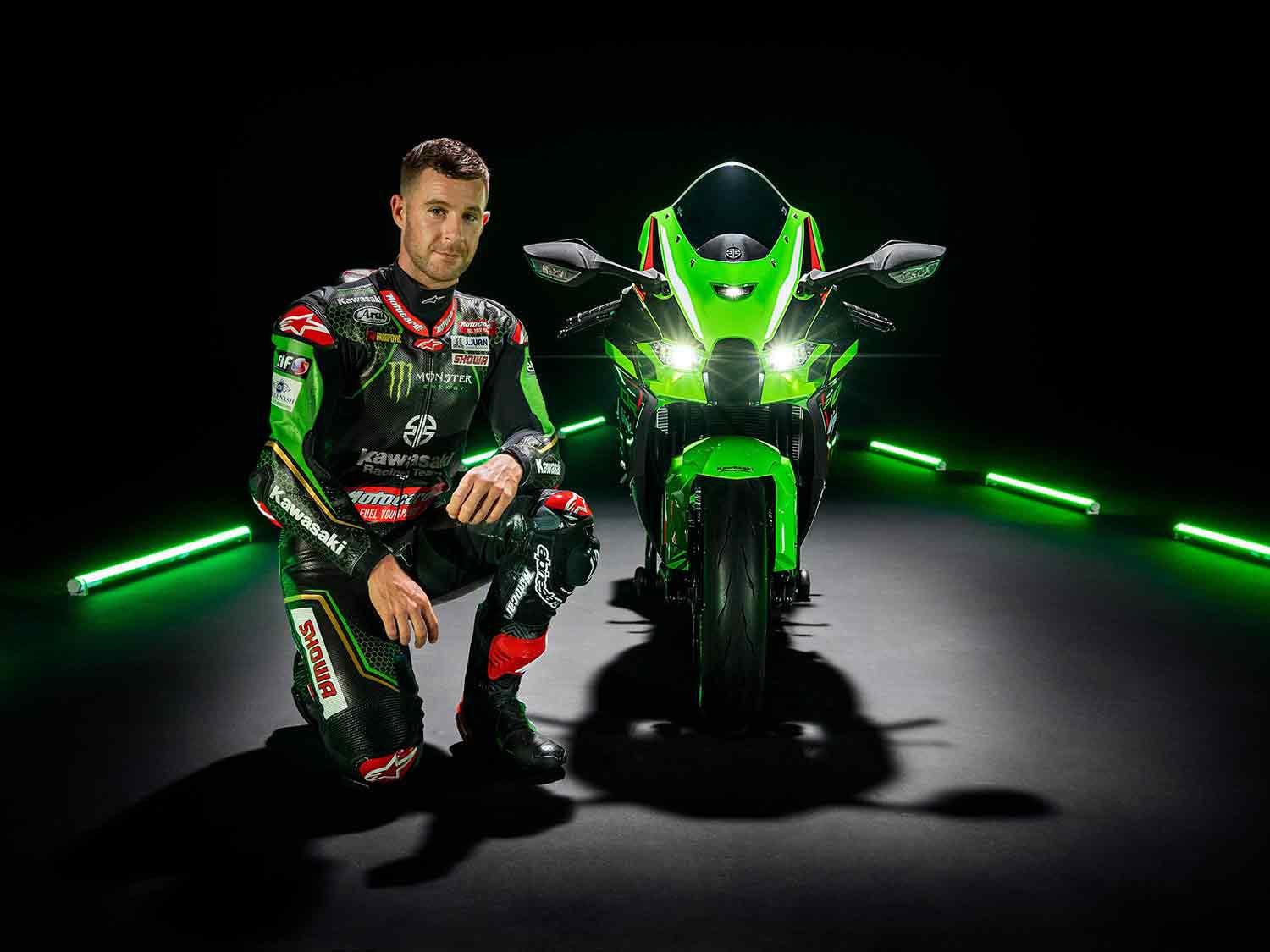 The man himself. We will never cease wondering what damage Jonathan Rea could do in MotoGP. (Kawasaki/)
If you follow Rea and teammate Alex Lowes on social media, you'll have seen the new Ninja debut during winter testing at Jerez, with its edgy new styling, featuring integrated winglets routed through the front fairing. Kawasaki claims a 17-percent improvement in downforce compared to the previous model—no surprise there, considering the 2020 model didn't have wings of any kind. Ergonomically, there's a taller windscreen, 5mm-higher pegs, and clip-ons that are 10mm forward and flatter. The fairings feature large openings designed to dissipate engine heat, but also help direct air through the new air-cooled oil cooler. The oil cooler works independently from the radiator on its own circuit.
Kawasaki revised the throttle position sensor setup, relocating it to the grip to eliminate the cable. The engine has a revised transmission with shorter ratios for first, second, and third gears, and a 41-tooth rear sprocket (two teeth larger than before) to improve acceleration from the bottom. Kawasaki revised the exhaust and catalytic converter layout to achieve Euro 5 compliance.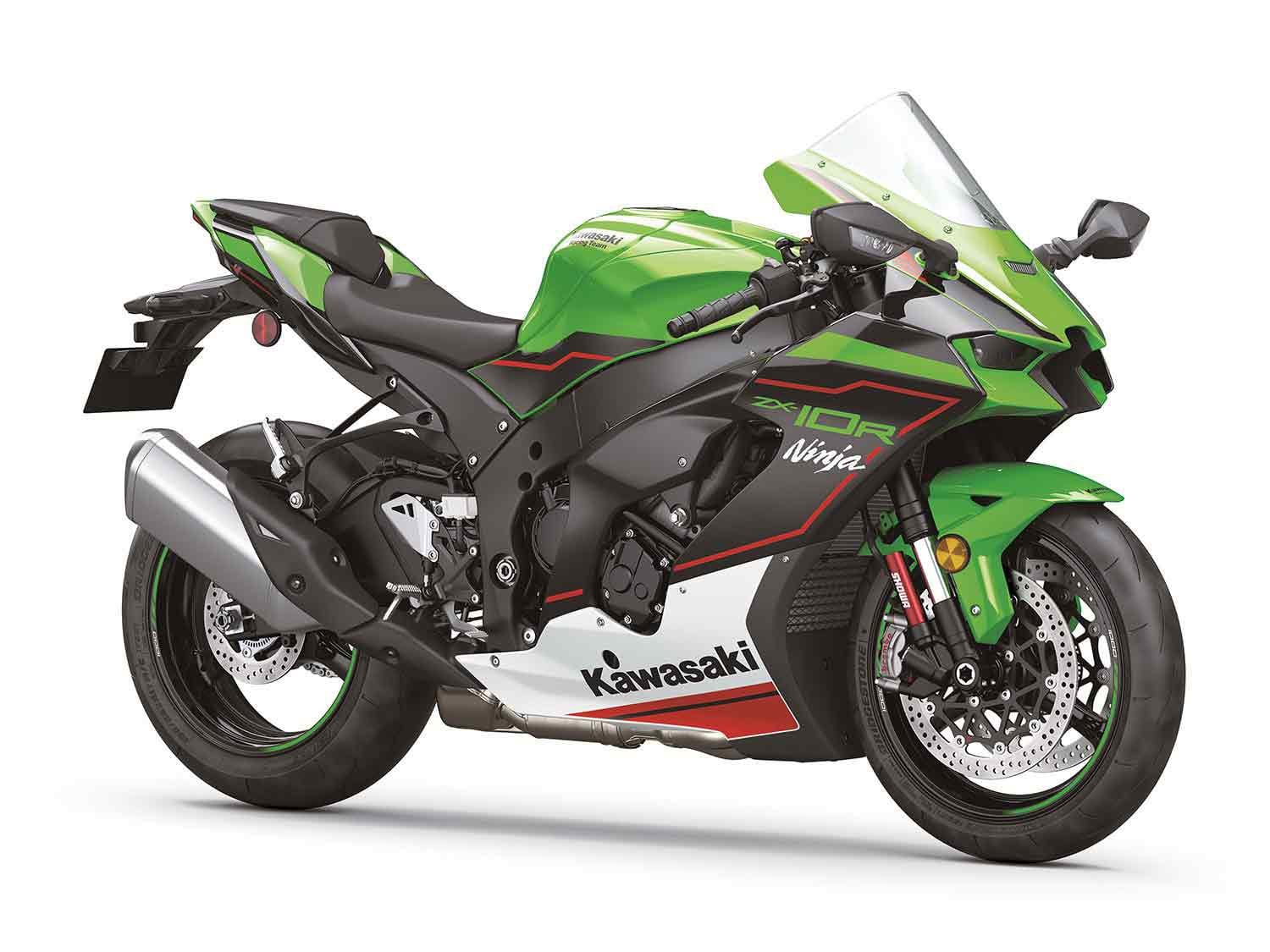 The rider's seat is taller in the rear to allow for better positioning. (Kawasaki/)
On the chassis side, revised geometry moves weight-bias forward by 0.2 percent. There's a 10mm-longer wheelbase, thanks to an 8mm-longer swingarm and greater fork offset. The fork offset, created by a new lower triple clamp, in turn decreases trail. The swingarm pivot is 1mm lower than before. The changes are aimed at improving the motorcycle's flickability. The Showa Balance Free Fork includes a slightly lower spring rate and is more rigidly held by the new lower triple clamp, and the rear shock has a stiffer spring rate, enabling softer damping settings. The changes aren't huge by any means, but keeping the pointy end sharp is often all about minute honing.
As before, the electronics package features a rider aid suite managed by a Bosch six-axis IMU. The setup now has three preset modes (Rain, Road, Sport) and four fully customizable modes, all controlled via a new 4.3-inch TFT display (with smartphone connectivity). Kawasaki revised traction control settings, refining modes 4 and 5 (the most intrusive levels) to make intervention smoother. As before, the acronym-rich electronics package includes traction control, cornering ABS, engine-braking control, launch control, and power modes. A quickshifter and electronic Öhlins steering damper are standard.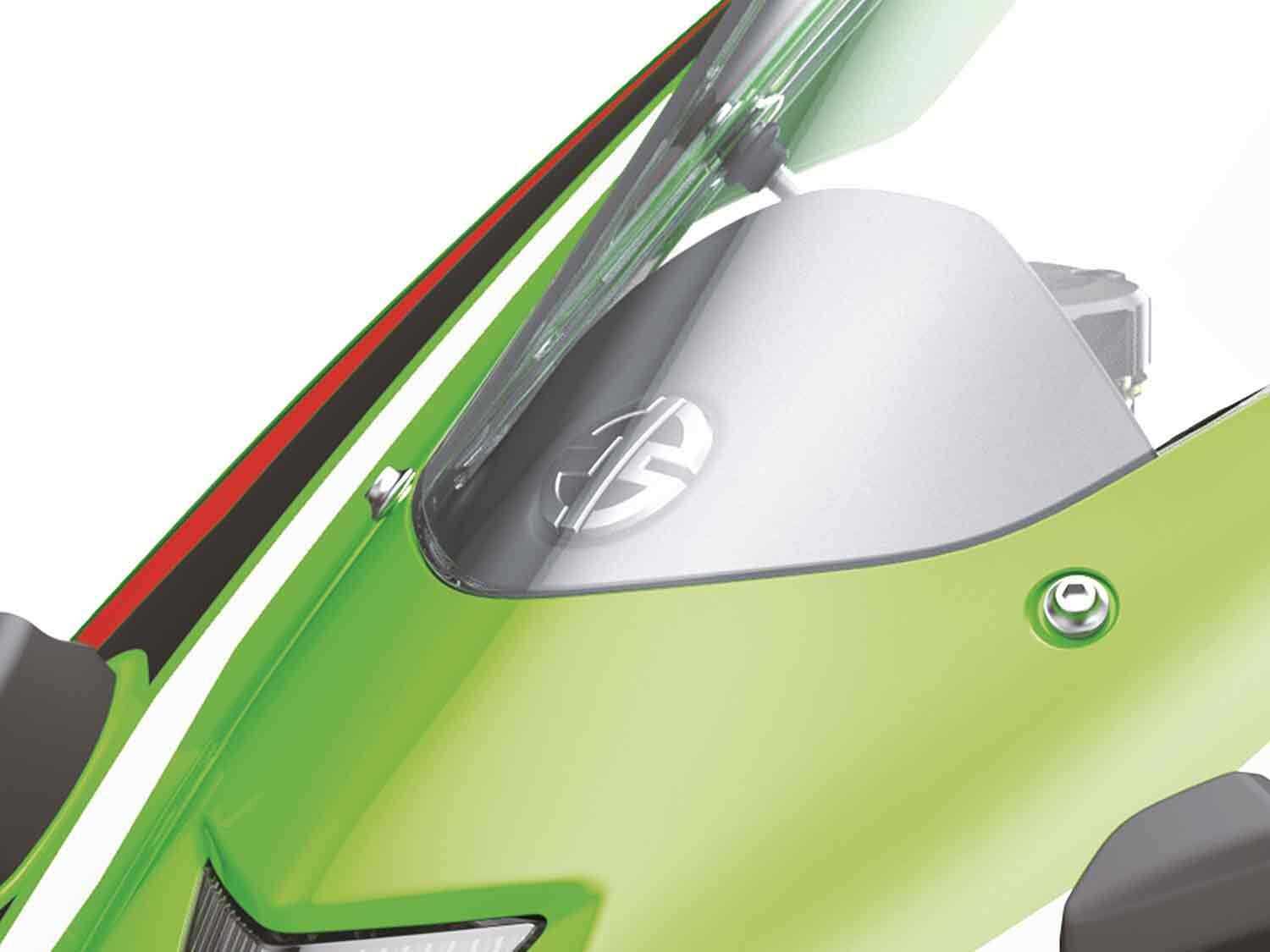 Kawasaki's River Mark logo, as it appears on H2 models, is reserved for motorcycles of significance. (Kawasaki/)
Kawasaki, being a sensible company run by human beings who occasionally ride on freeways and have bodies that experience fatigue, also fitted the Ninja with cruise control as standard. To many of us, if a motorcycle is in a premium category and is road-legal, it just seems like giving it cruise control and heated grips should be a given. Heated grips are an optional extra—but at least they're an option. So, well done, Kawi.
MSRP is as follows: $16,399 for the base-model ZX-10R, $16,699 for the KRT Edition graphics package, $17,399 for the ZX-10R ABS, and $17,699 for the KRT Edition ABS. There's no word yet on availability.
The ZX-10RR ($28,999) gets a few engine updates, including Pankl titanium con-rods, lighter pistons, new camshafts, and new intake/exhaust springs. Kawasaki removed the intake funnels from the airbox. The RR also gets forged Marchesini wheels and Brembo Stylema calipers and stainless steel braided brake lines.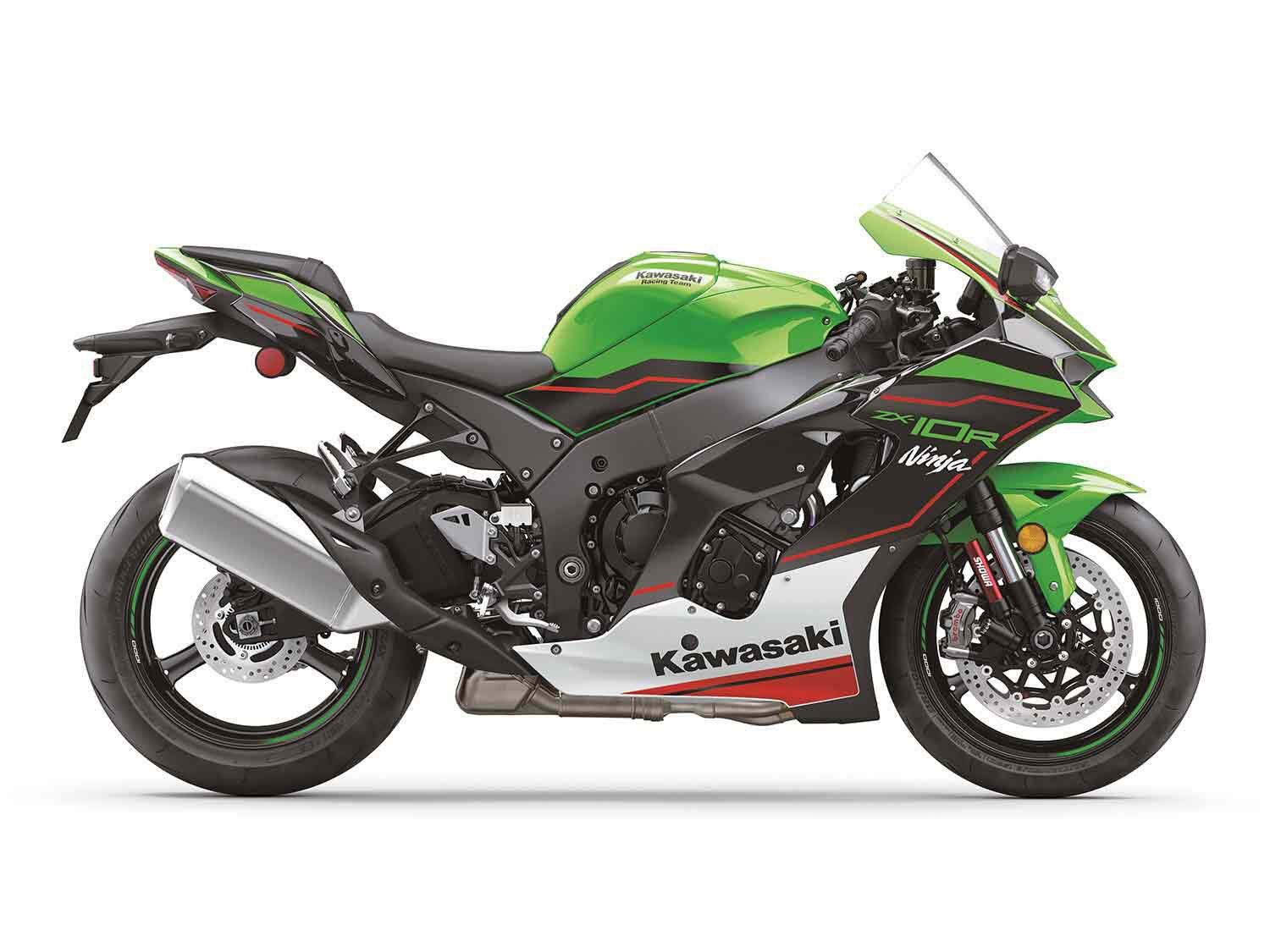 Long live the inline-four. (Kawasaki/)
While it's not a complete model refresh, we're pretty sure it won't matter to Jonathan Rea—which isn't to say a seventh consecutive championship is a foregone conclusion. But it sure feels like it.
Sportbike fans always want new and more: not just faster for faster's sake, but something new and exciting—that then makes a motorcycle faster. It doesn't matter that most riders won't be able to take advantage of increased performance via winglets, refined TC settings, or a 1mm-lower swingarm pivot. It's about captivating the imagination. If Kawasaki's updates, headlined by that new snarky visage captivates you, then that's all that matters—because Rea will probably win regardless.
We Thank To Our Readers For Your All Contributes. We Still Seek Your Support In Pandemic CoronaVirus.
Donate Bellow For Better Future
[charitable_donation_form campaign_id=57167]