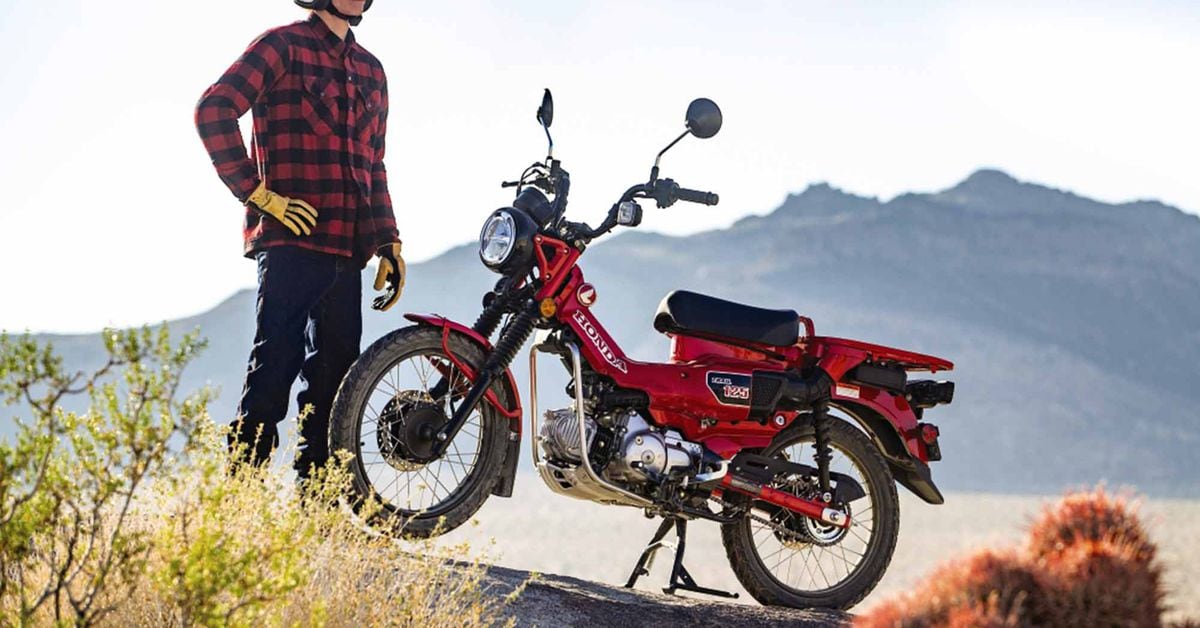 The Honda Trail 125 faces Captain Overkill
and comes out humbly victorious. (Jeff Allen /)
The phenomenon of riding the 2021 Honda Trail 125 ABS off-road is that everyone you see looks like Captain Overkill.
Even that rider I saw on a Yamaha WR250R. "NICE BARGE, BRO! SEE YOU AT STARBUCKS."
I didn't actually get quite that wound up. It's simply that the Trail 125 brings the off-road chill, like, "Why do you need a 5,000-pound lifted Silverado with 37-inch tires and 4 billion LED lumens of light bars?"
You just don't.
I'm not knocking giant trucks (OK, maybe a little), or remarkable dual-sports (I own and enjoy a 2013 WR250R), or adventure bikes. But the simple, light fun of a motorcycle like the Trail 125 makes you feel good in a pure way not matched by many vehicles. It's the combination of its handy, agile chassis, automatic clutch, and a demeanor that says, "Relax and enjoy the scenery."
Which is exactly what I did with our early-access testbike. Sure, I rode around town—to and from the office, on errands, etc. It's fun for that, and a little more rough and ready than the Super Cub (see page 54). But the Trail 125 is the kind of bike you want to wake up to on a Saturday morning, walk out to your yard in a heavy riding flannel, hiking boots, and an open-face helmet, wipe the dew off the seat, fire up the bike, and go exploring.
I am fortunate to live near motor-legal national forest trails that wind their way around and over mountains more than a mile high. It's mostly bumpy fire road with a few short technical single-tracks here and there. Perfect for wandering around, and just technical enough to see what this Trail 125 was up for.
Despite my excitement for climbing mountains, I felt obliged to ride at about 45 to 50 mph on the meandering two-lane that takes me there, and really didn't get much past 55 despite my best efforts. Versus the Super Cub, the Trail has a three-tooth-larger, 39-tooth rear sprocket, plus longer intake and tuned exhaust to boost low-end and midrange power. So, it gets busy if you try to go "fast" on the road. My smile was biggest if I kept it around 40 on tarmac.
That different engine tuning was plain to see on our dyno. The Super Cub laid down 8.1 hp at 7,100 rpm and 7.1 pound-feet at 5,100, while the Trail 125 did 7.9 hp at 5,710 and 7.4 at 4,650. It's always grand to see engineering at work to achieve specific goals and meaningful differences, even in this small-displacement, fun-bike category.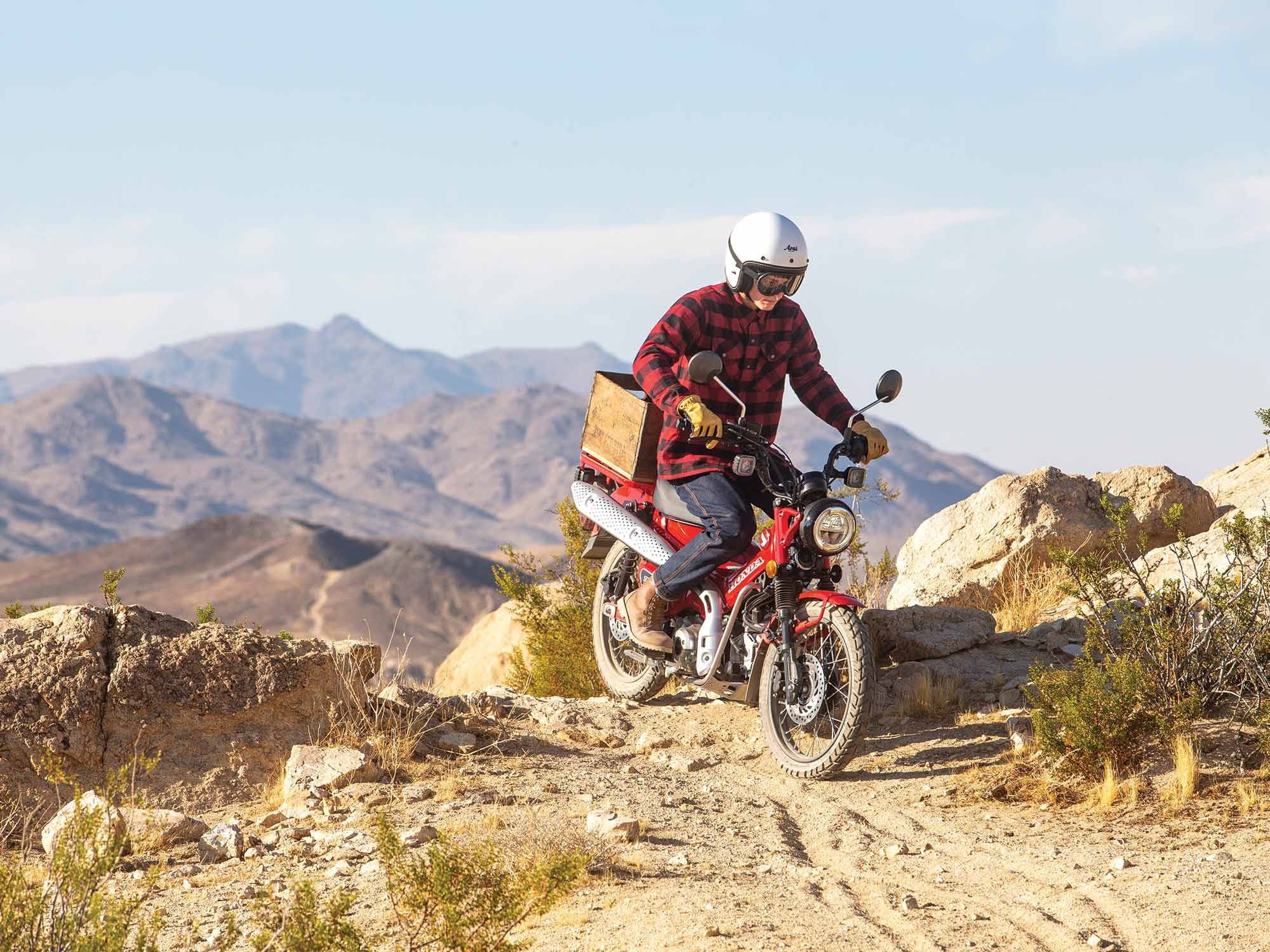 Workboots, a flannel, an open-face helmet, an apple crate, and some time­: This is everything you need on the Trail 125. (Jeff Allen /)
All the better for my first long fire-road climb, taken mostly in first and second gear of the four available. A steady 17 mph in first was just about right for the bumpy, occasionally rocky road. When it smoothed out, a quick click to second and 25 mph or a bit more dusted off the miles a little quicker. The pace matched the suspension damping just fine, and I had a ride free of bottom-out clanks.
The fork has 0.4 inch more travel than the Super Cub, a slightly longer wheelbase, and a taller seat that's ­narrower at the front to help feet reach the ground despite an ­0.8-inch increase to 31.6 inches total. The ergonomics for my 6-foot-2 frame were just spacious enough, though I had to repeatedly remind myself to scoot forward on the solo saddle lest my tailbone hit the luggage rack. Standing on the pegs as a periodic and brief relief from big bumps was workable, but there was no "rally stance" for me on this little bike. Our photo model, at 5-foot-8 and 120 pounds, had a lot more options for moving around.
Adventure is out there, and the Trail 125 is a willing companion. (Jeff Allen /)
These are the same roads I took on my old yellow 1969 Trail 90. You can think of the 125 as the "Dakar" bumper bike in comparison to the 51-year-old model, though I have to give credit to the 90 for having the dual-range transmission. The first time I really got into dirt on my '69, I rode the first 10 miles of trail in the High range, but after struggling to get up a sandy hill, I switched to Low by shifting the lever on the gearbox. Holy moly, did it make a difference. Aside from that, the new 125, not surprisingly, worked better.
That said, the 125′s gearing was good for most of what I was riding, though a few steep uphills taxed the automatic clutch because first gear was a bit tall. The bike benefited from me adding some extra torque of the "pound-feet" variety. I have to admit I am a 225-pound pizza-loving primate; your results may vary. The auto­matic clutch was consistent and, after some miles of practice for coordinating shifts, provided a smooth and easy experience when clicking up or down through the gears. There was just no worry at all about stalling the bike.
It was a nice feature on one not-quite-nasty uphill single-track trail, a rock-strewn tunnel through scrub. The benefit here was not needing to duck due to the bike's compact dimensions. I was so proud of my successful time in this single-track, I stopped to take some selfies. What is an adventure without proof? Anyway, as I clicked off a few shots and enjoyed mountain air redolent of sage and manzanita, a fellow on a KTM 500 came ripping up the trail and stopped behind me, as there was no place to pass.
"Hey, sorry I'm blocking the trail," I said.
"No problem, man," he said. "Wait, did you ride that here?"
I just smiled, hit the starter button, and putt-putted up the last part of the narrow trail, my way back onto the rocky fire road that would take me to the 5,500-foot peak I was looking to conquer.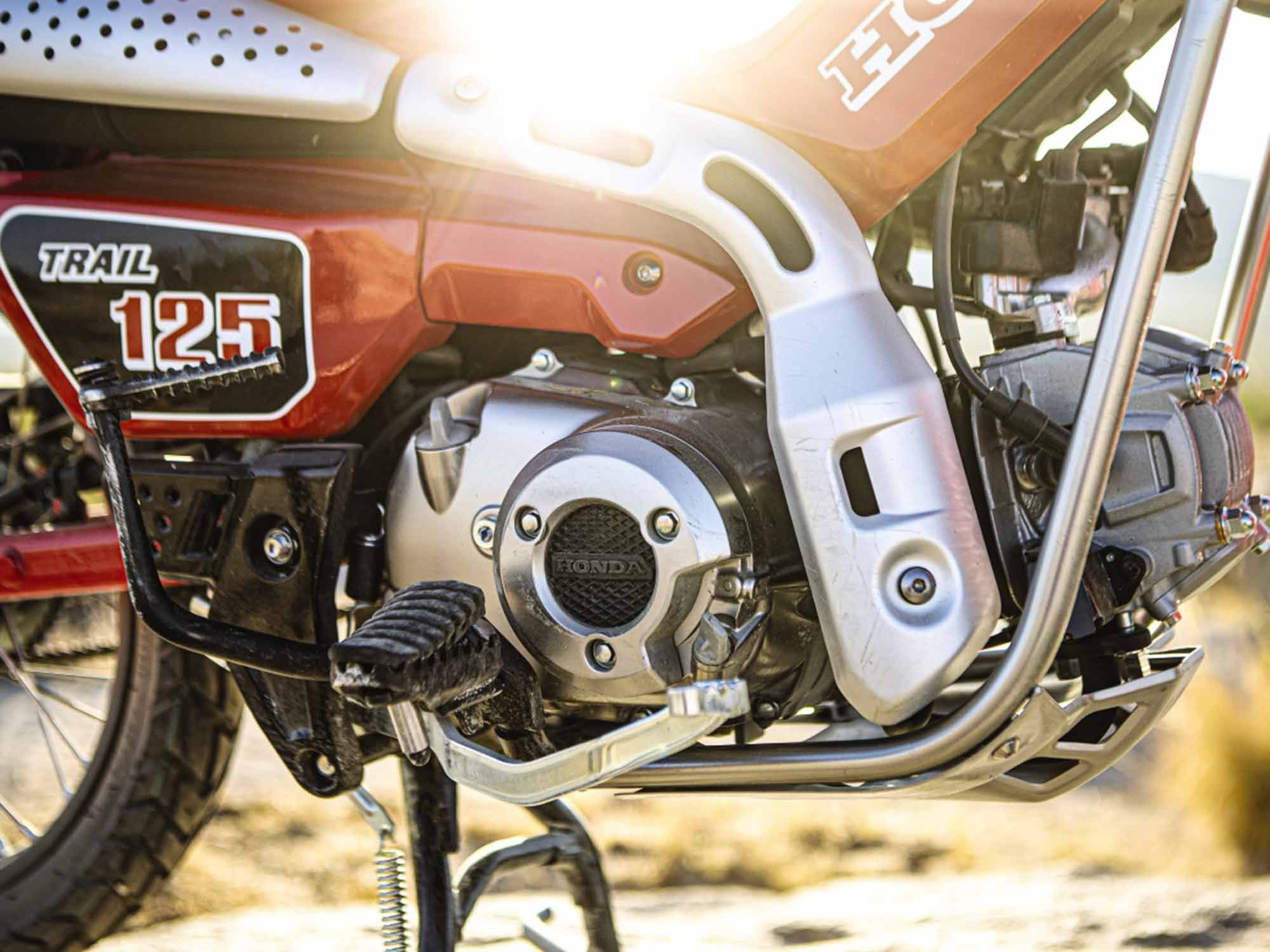 One-eighth of a liter returns a 112 mpg fuel econ­omy. (Jeff Allen /)
His question was certainly valid, even if it should have been obvious that I didn't carry the 125 there. But in our current moto-world context of 600-plus-pound adventure bikes and race-ready dual-sports with shockingly short major-service intervals, it's not a crazy question. We often think we need these bikes to really go anywhere exciting. The 259-pound Trail 125 makes a compelling argument to the contrary.
After parking at my conquered peak and gazing east to the desert, and west to the ocean and Catalina Island, it came time to revel in the speed-enhancing effects of gravity as we shed more than 4,000 feet in something like 20 miles.
I decided to play the rugged individualist role here and kickstart the Trail 125, since the option was available and the bike was poised on its centerstand. It was almost too easy; you barely had to breathe on the lever and away the two-valve OHC single went. I'm just kidding about it being "too easy." Cripes, I wish I could get a Velocette to start this easily. Or to start at all. But then again, no Velo I've owned has had EFI or a 190-watt alternator. Or a 190-watt anything, in fact.
The 17-inch wheels (with stainless spokes) rolled over most obstacles just fine, and the chunky sort-of street ADV tread never "broke" "traction," unless asked to. As on the Super Cub, the single front disc brake (220mm, two-piston caliper) has ABS, while the rear (190mm, single piston) does not. The front ABS would at first offer a hard lever on initial application as I bounced my way down, but would settle into normal-feeling operation.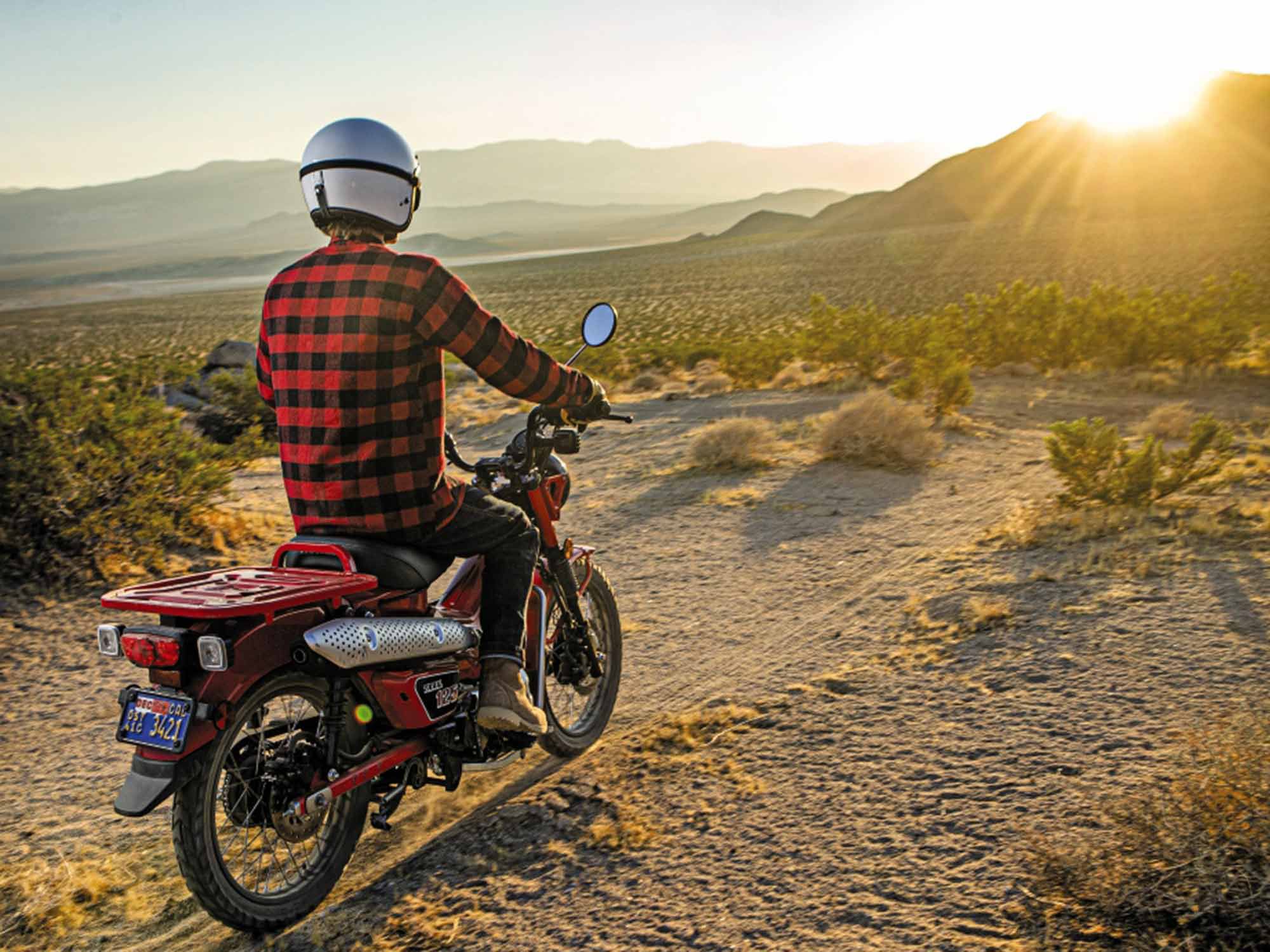 The Trail 125's easy operation and capable off-road manners will keep you chasing the sun over that next hill. (Jeff Allen /)
This particular road-to-mountain adventure clocked up 60.5 miles, during which the Trail 125 burned all of 0.541 gallon of gas. Yes, a few molecules over a half-gallon. With its 1.4-gallon tank and 112 mpg, range to empty is 159 miles, or about three hours and 25 minutes at a constant 45 mph. What's worth remarking on here is the six-segment fuel gauge on the round LCD speedo/info screen. The BMW R 18, just $18,366 more (as tested) than the $3,899 Trail 125, doesn't have a fuel gauge, and it only gets 35 mpg. In any case, with the Trail 125′s range and easygoing personality, I've been having visions of strapping a tent and hiking stove to its large cargo rack, along with a couple of extra bottles of fuel, and getting lost in Death Valley and Panamint for days on end. The weather is just cooling off…
Like the original Trail models dating back to 1961, the 125 is one of those bikes that everyone seems to have room for. It costs about as much as a midgrade mountain bike and hardly takes up more room in the garage. Speeds are moderate and handling docile, and yet it has the ability to ride over just about anything resembling a road. No wonder, then, that during the 30-year run of the original Trail series, from the 50cc CA100T to the final Trail 110 of the 1980s, Honda sold more than 725,000 units.
The essential charm of the old CT90 and 110 remain, but re-envisioned for the EFI era.
The Trail 125 will never replace your adventure bike or enduro-ready dual-sport. It simply asks you to come as you are, gives you the simplest tool for riding where you want to go, and makes you smile the entire way.
Honda Trail 125 Specifications
.tg {border-collapse:collapse;border-spacing:0;}
.tg td{border-color:black;border-style:solid;border-width:1px;font-family:Arial, sans-serif;font-size:14px;
overflow:hidden;padding:10px 5px;word-break:normal;}
.tg th{border-color:black;border-style:solid;border-width:1px;font-family:Arial, sans-serif;font-size:14px;
font-weight:normal;overflow:hidden;padding:10px 5px;word-break:normal;}
.tg .tg-0pky{border-color:inherit;text-align:left;vertical-align:top}
| Price: | $3,899 |
| --- | --- |
| Displacement: | 125CC |
| Seat Height: | 31.6 IN. |
| Fuel Capacity: | 1.4 GAL. |
| Wet Weight: | 259 LB. |
We Thank To Our Readers For Your All Contributes. We Still Seek Your Support In Pandemic CoronaVirus.
Donate Bellow For Better Future
[charitable_donation_form campaign_id=57167]