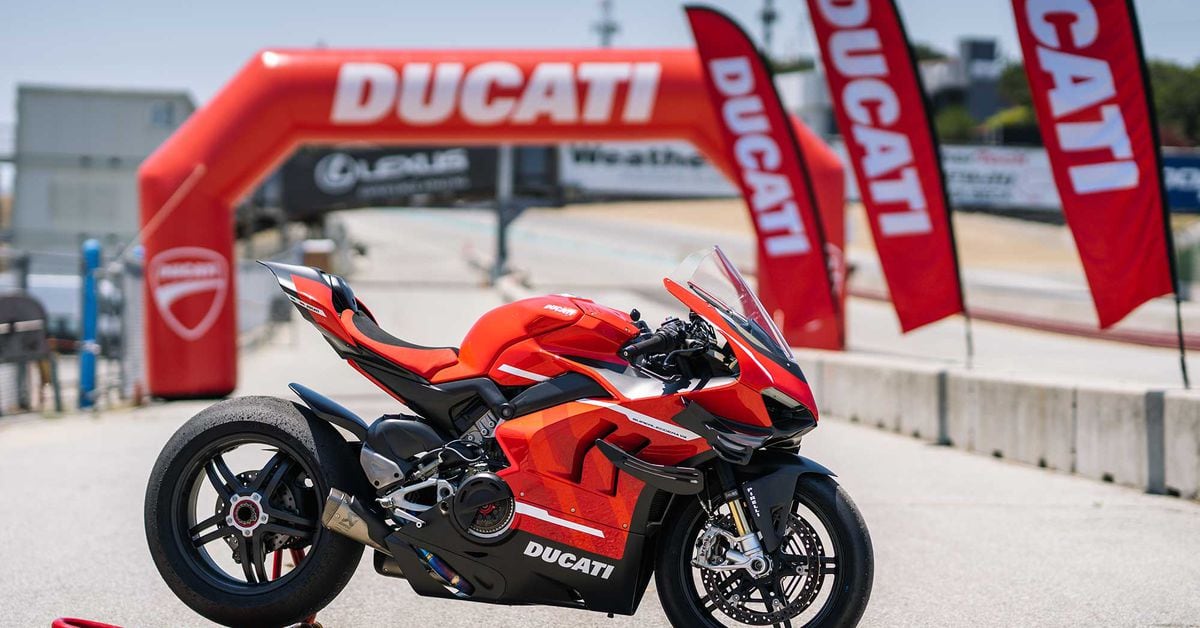 The Ducati Superleggera V4 enters the market as a 2021 model for a premium $100,000, but is arriving to select VIP customers now. (Ducati /)
The walls lining Laguna Seca's short-but-tricky front straight are like a bounce board for the 2021 Ducati Superleggera V4′s exhaust note. The echoes are a nod to the motorcycle's racing roots, and the MotoGP comparisons grow stronger with every rev. And this isn't MotoGP driven. This is Ducati making a production bike without boundaries. And it's amazing.
The Superleggera V4 isn't a factory grand prix bike, nor is it built as a homologation-special model aimed at asserting superbike racing dominance. It's purely a demonstration of Ducati's engineering capabilities, unencumbered by the need to conform to racing regulations. Nothing held back. It's built solely with an eye on perfection and uses a massive amount of exotic materials and technologies found only at the highest level of racing. But what's most impressive? That the Superleggera is a street-legal motorcycle—and even you could own one, should you be one of the fortunate few to reserve one of these limited-run machines.
What you get is a motorcycle the Bologna-based manufacturer touts as the most powerful, fastest, and most technologically advanced production Ducati that has ever been produced. And it's pretty damn lightweight too. In fact, the Italian word superleggera translates to "super light." No wonder; every bit of this bike is aimed at weight reduction without compromising performance. You can see Ducati's intent just by looking at all the exotic materials.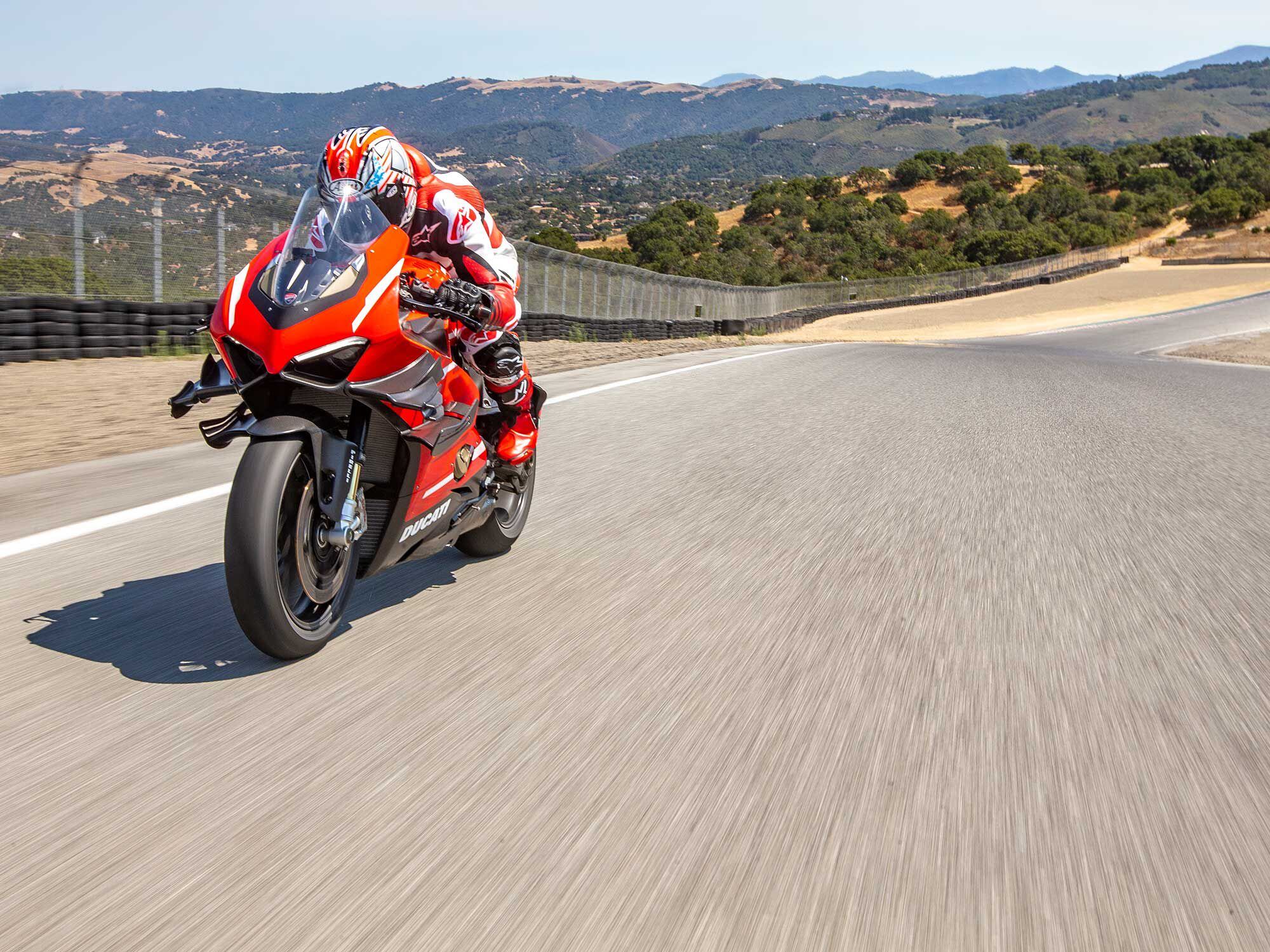 Laguna Seca's dramatic elevation changes and challenging layout is a true test of the Superleggera's performance and rideability. (Jeff Allen /)
The majority of the Superleggera's weight reduction is found in its chassis; the main front frame, subframe, and single-sided swingarm are all constructed of lightweight carbon fiber and collectively save 7.2 pounds in comparison to the already bonkers Panigale V4 R while achieving optimized rigidity. Even the wheels are carbon fiber (produced by BST to Ducati's specification), and these shed another 7.5 pounds, vastly reducing rotational inertia, aiding acceleration and agility. Titanium bits are scattered throughout the Superleggera, including the Stradale V-4 engine, where an additional 6.2 pounds are spared. 
Claimed dry weight for the Superleggera, equipped with its provided racing kit, is 335.5 pounds. Quite a number, to be sure, but note that this is with its 4.2-gallon fuel tank empty, engine and other parts drained of oil, and also missing the required battery. Expect it to weigh roughly 370 pounds ready to ride. Impressive, nonetheless. Almost immediately, the Superleggera's relative lightness spoke to me as I weaved out of Laguna Seca's pit lane for the first of my two five-lap sessions.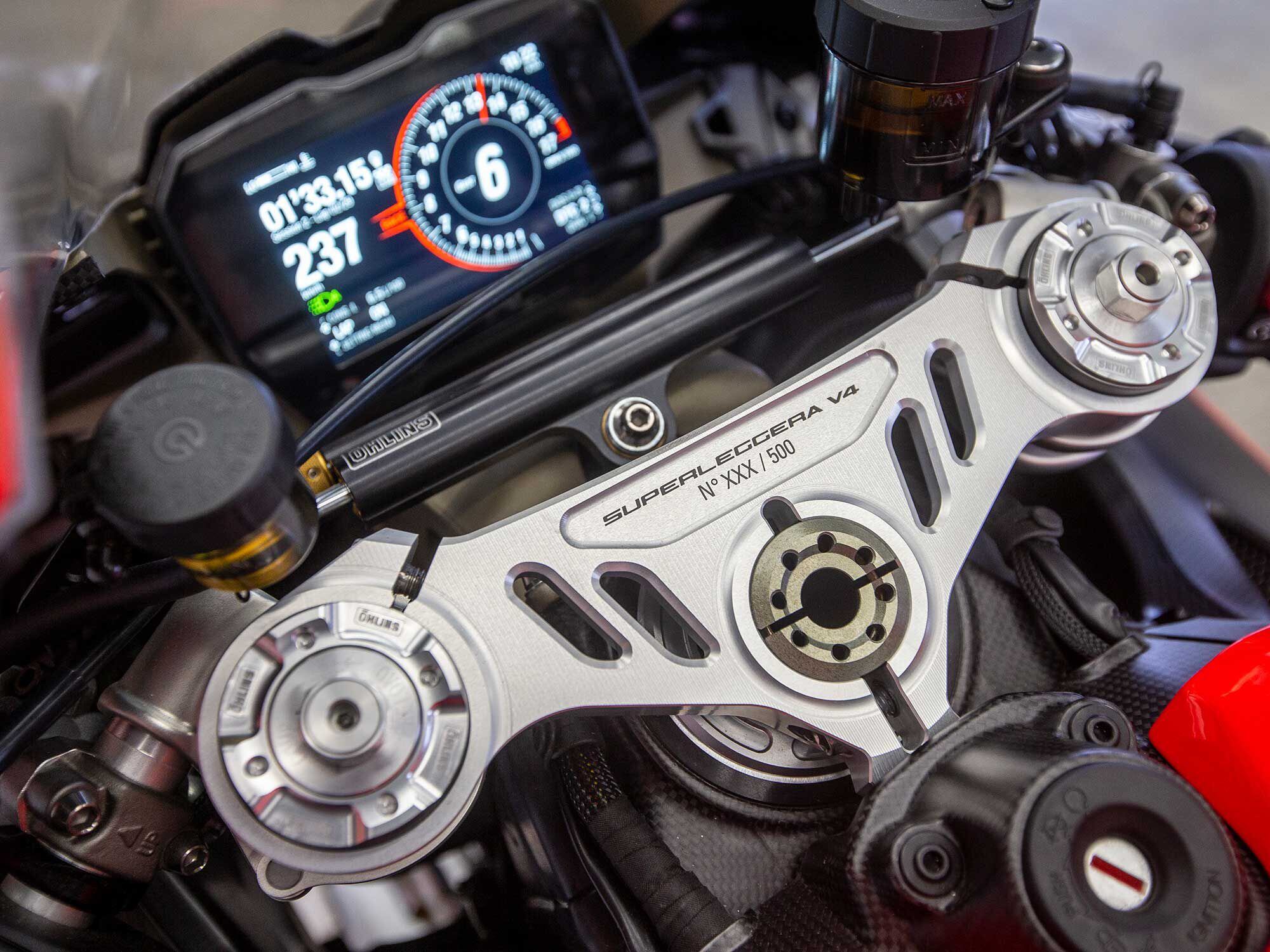 Every Superleggera produced receives an incredible attention to detail, including a laser-etched bike number on the triple clamp and ignition key. (Jeff Allen /)
Turn-in effort and precision are like nothing I have experienced on a Ducati; the chassis and Öhlins NPX 25/30 fork provide a level of feedback that is incomparable to any production bike I have tested. At maximum lean, every ripple and every bump is communicated through the chassis without upsetting the Superleggera's overall balance. It's a feeling I've only previously experienced on fully developed high-level race bikes, but this Ducati hits it spot-on. Plunging five stories down the iconic Corkscrew and into the high-speed Rainey Curve, the Superleggera snaps through side-to-side transitions with little more than a mental decision of when and where you want it to go.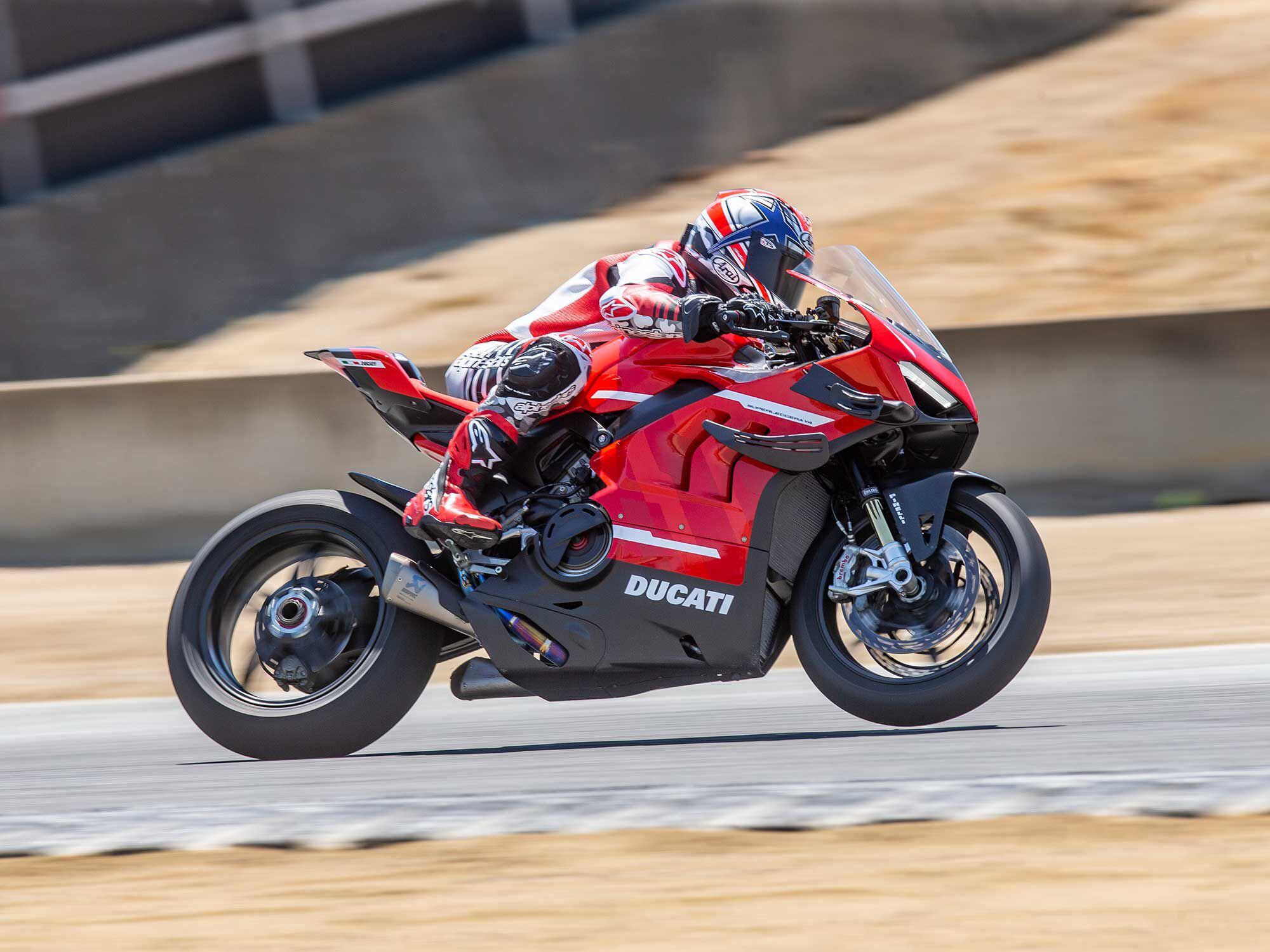 The precision of the Superleggera's electronic package is second to none. Take its low-trajectory wheelies at corner exit for example. (Jeff Allen /)
Power delivery and the Superleggera's relentless corner-exit drives are remarkably impressive, but even more remarkable is the user-friendliness of the engine's claimed 234 hp and 88 pound-feet of torque. The base chassis settings are excellent but there is no doubt that performance benefits strongly from the Pirelli Diablo Superbike racing slicks fitted to our test unit and an ultra-precise electronic rider-aid suite, particularly the "predictive" Ducati Traction Control EVO 2 derived from the GP18 racer. The powerplant's rideability encourages a heavy right wrist, offering complete control with only minor wheelspin and hovering low-trajectory wheelies while unleashing its midrange grunt at corner exit. Of course you still have to ride the bike with skill to extract the performance it offers, but the rider aids offer a level of control only achievable by a few world class riders in the past.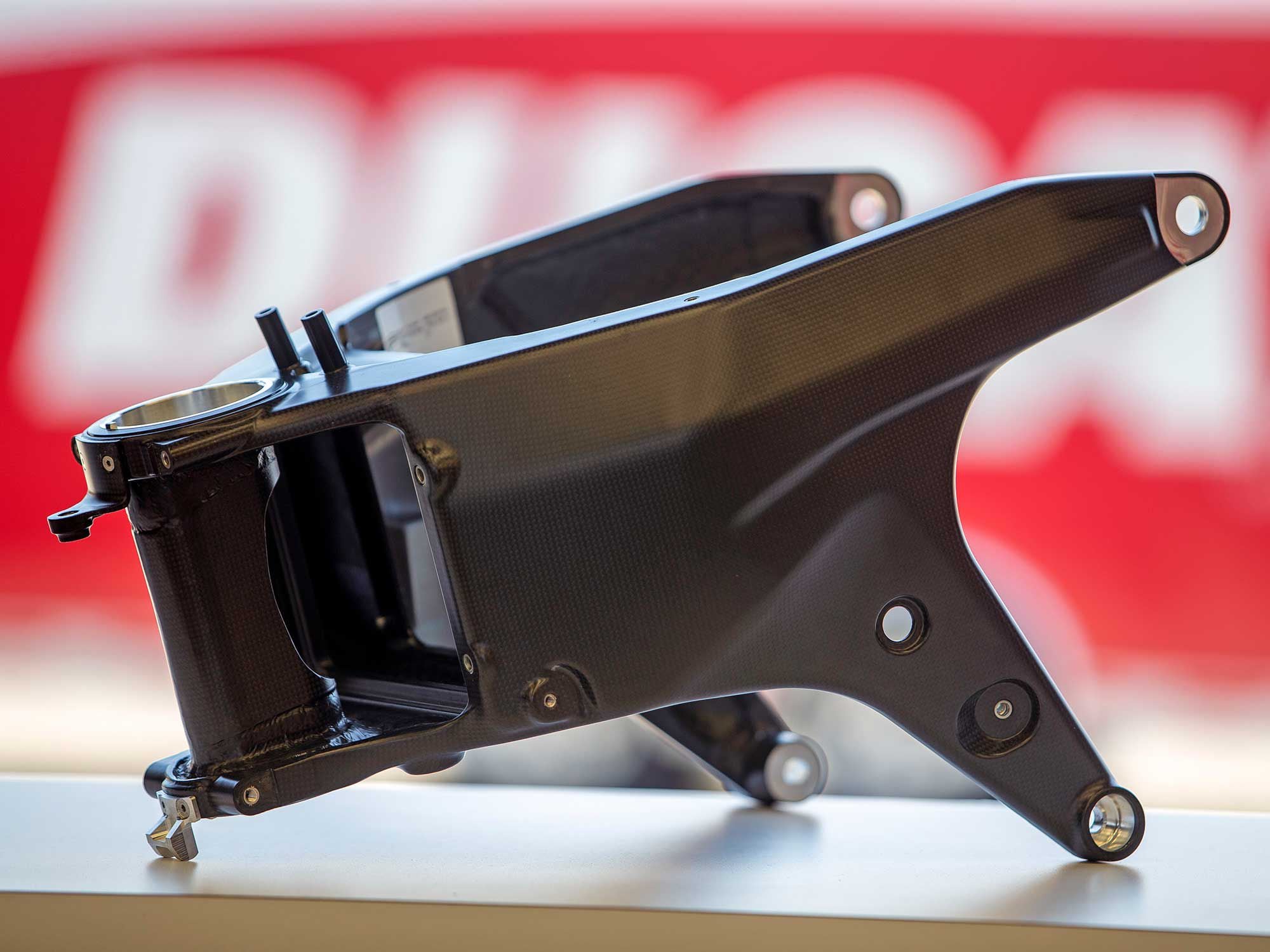 Ducati chose to construct the Superleggera's chassis of carbon fiber for its lightweight and favorable rigidity characteristics. The front frame, for example, saves 2.6 pounds in comparison to the Panigale V4. (Jeff Allen /)
Even with all that, ripping along the short shoot between Laguna's turns 4 and 5 reveals an on-throttle chassis weave that amplifies to a pronounced movement during a full-stick pass. The movement is relatable to the slow pump of the Panigale and never settles until the throttle is released. Thankfully, it's followed by steadfast off-throttle composure and the mighty stopping power of the Brembo Stylema R front calipers.
A flat-out, fifth-gear approach to Laguna's daunting and blind turn 1 sends a wave of gut-wrenching butterflies on any motorcycle, and the Superleggera especially so. Except, it has a pair of downforce-generating winglets derived directly from Ducati's Desmosedici GP16 MotoGP project, boosting stability at the corner's crest when you need it most. At 167 mph, these winglets increase downforce by roughly 40 percent in comparison to the 2020 Panigale V4, or 110 pounds of downforce versus 66 pounds at the same pace. In my brief outing, I can confidently report that Superleggera provides a strong and reassuring front-end-to-asphalt connection while cresting T1 that instills confidence to hold more throttle for longer. The future of superbikes is bright.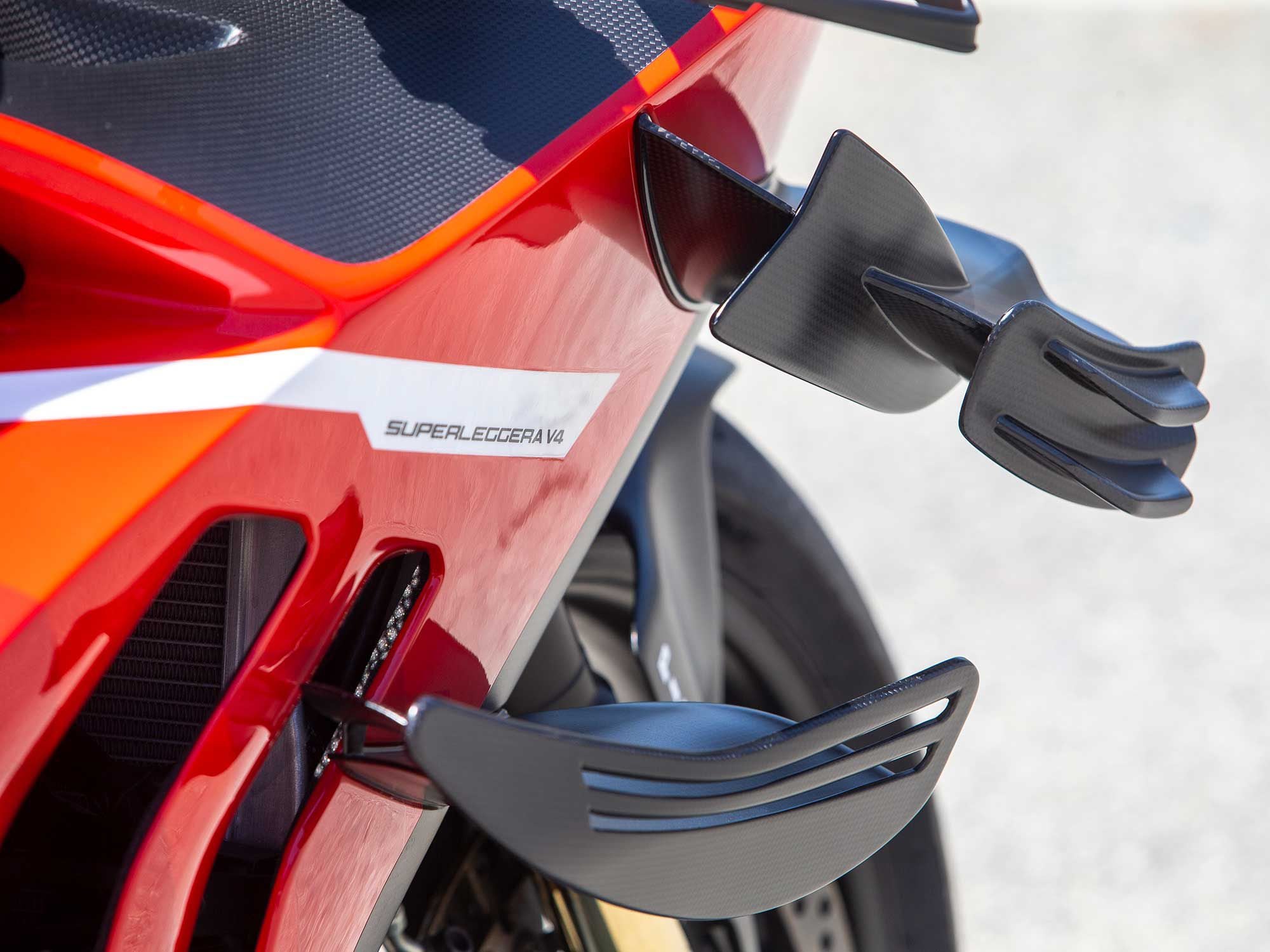 These aerodynamic winglets are said to be identical to those used on Ducati's Desmosedici GP16 MotoGP racer. Why from the 2016 model, you ask? The pair is claimed to be more efficient than the package currently being used due to the harsh development restrictions now enforced. ( Jeff Allen/)
There's no single aspect of the Superleggera that inks it in as a benchmark of production superbike performance. It is rather the supreme blend of raw performance, rideability, and composure at testing pace, even if some non-lethal bar wag is exposed on spirited laps. Still, the Superleggera's communicative handling, friendly-yet-monstrous power, and confidence-inspiring ride are truly wicked. It's the same characteristic that makes factory racing machines so bitchin': the ability to free the rider's mental space to dig deeper each lap and push the limits.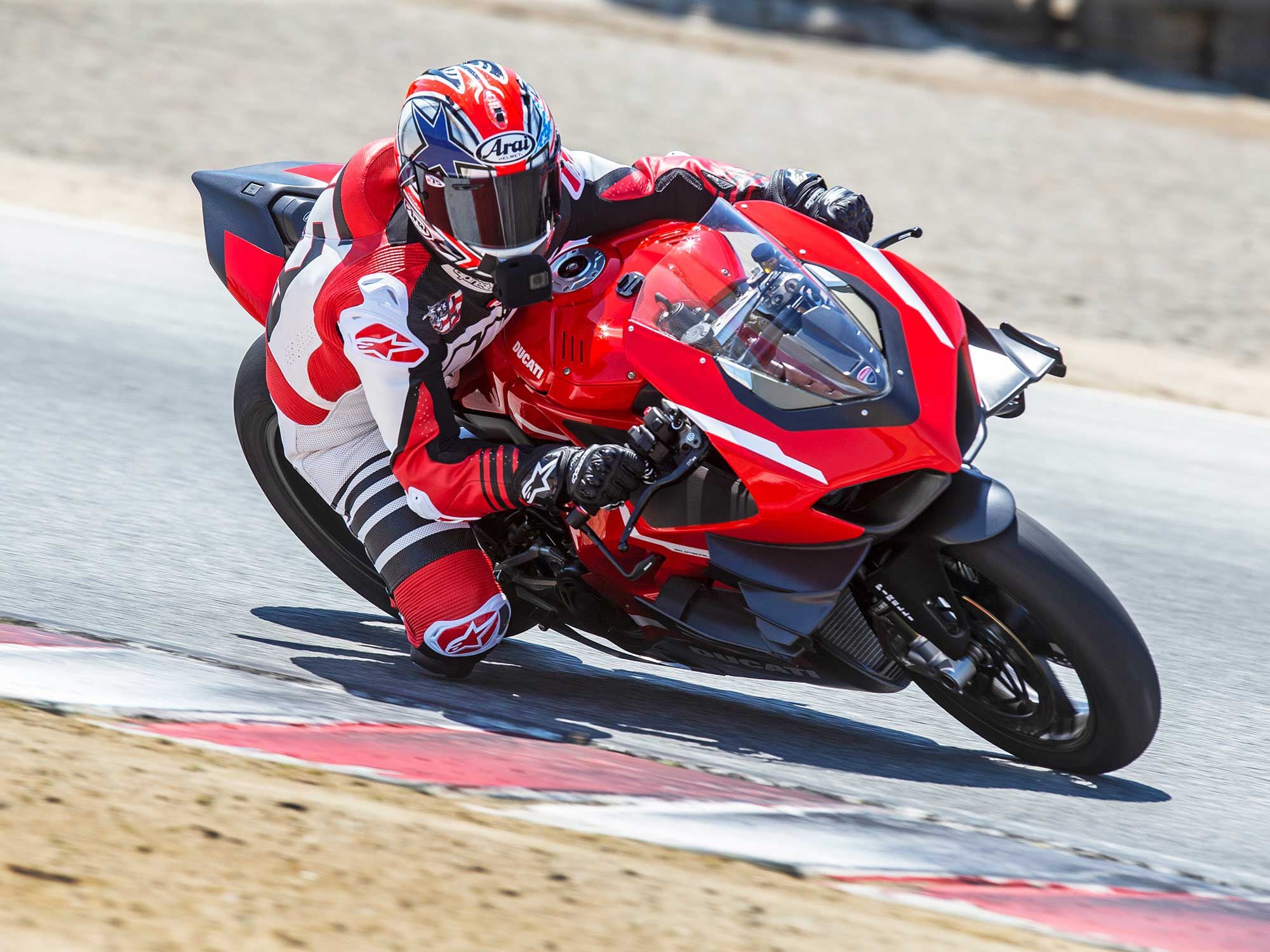 Contrary to the bar wag exhibited on Laguna's short shoot between turns 4 and 5, the Superleggera crushes apexes with pinpoint precision and composure. (Jeff Allen /)
Only 500 Superleggeras will be produced, each with a stratospheric $100,000 price tag. To sweeten the deal, Ducati offers an added bonus to Superleggera purchasers by inviting each to a Ducati Superbike Experience at the Autodromo Internazionale del Mugello grand prix circuit in Italy. The experience includes familiarization laps aboard the Superleggera V4 R followed by a priceless short stint on a World Superbike-spec Panigale V4 R with Ducati Corse's full-factory support.
And if that's not enough, 30 lucky buyers will have the opportunity to sample a true Desmosedici MotoGP racer for a trio of laps for an added $30,000 premium. 
These are all rare, expensive experiences. On its own, the Superleggera gives plain insight into Ducati's mad focus on performance at the highest level, and will give a lucky few owners a piece of the company's legendary racing heritage in a road-legal package.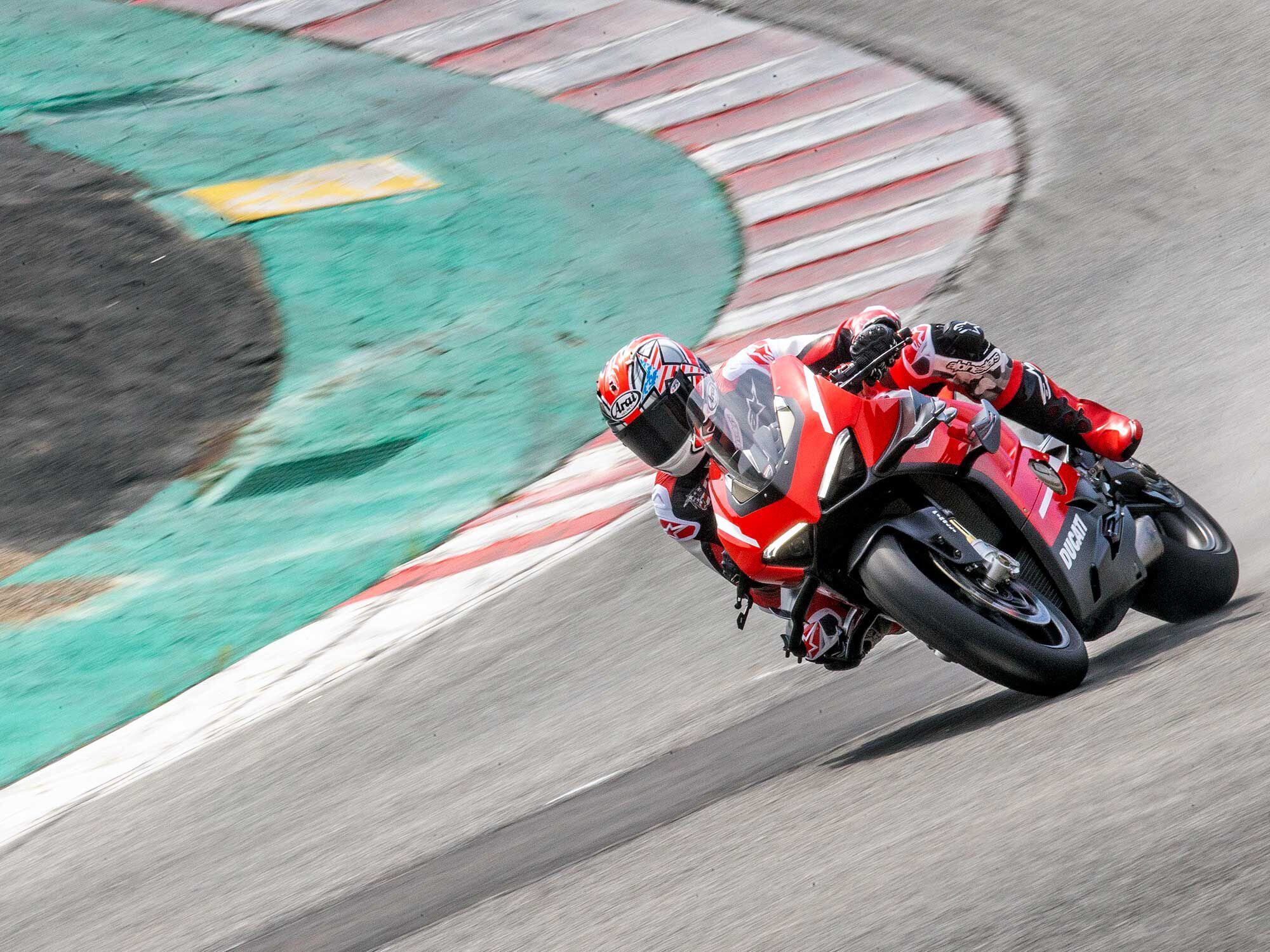 A claimed 234 hp has never felt so rideable, thanks to an impressive electronic rider aids package. (Jeff Allen /)
2021 Ducati Superleggera V4 Specifications
.tg {border-collapse:collapse;border-spacing:0;}
.tg td{border-color:black;border-style:solid;border-width:1px;font-family:Arial, sans-serif;font-size:14px;
overflow:hidden;padding:10px 5px;word-break:normal;}
.tg th{border-color:black;border-style:solid;border-width:1px;font-family:Arial, sans-serif;font-size:14px;
font-weight:normal;overflow:hidden;padding:10px 5px;word-break:normal;}
.tg .tg-0lax{text-align:left;vertical-align:top}
| MSRP: | $100,000 |
| --- | --- |
| Engine: | 998cc, liquid-cooled Desmosedici Stradale V-4; 4 valves/cyl. |
| Bore x Stroke: | 81.0 x 48.4mm |
| Transmission/Final Drive: | 6-speed/chain |
| Claimed Horsepower: | 224 hp @ 15,250 rpm/234 hp @ 15,500 rpm w/ racing kit |
| Claimed Torque: | 85.6 lb.-ft. @ 11,750 rpm/87.7 lb.-ft. @ 11,750 rpm w/ racing kit |
| Fuel System: | Electronic fuel injection w/ ride by wire |
| Clutch: | Hydraulically controlled dry slipper clutch |
| Frame: | Carbon fiber "front frame" |
| Front Suspension: | 43mm Öhlins NPX 25/30 pressurized fork, fully adjustable; 4.7-inch travel |
| Rear Suspension: | Öhlins TTX 36 shock w/ titanium spring, fully adjustable; 5.1-inch travel |
| Front Brake: | Brembo Monoblock Stylema R 4-piston calipers, 330mm discs w/ cornering ABS EVO |
| Rear Brake: | 2-piston caliper, 245mm disc |
| Wheels, Front/Rear: | 5-spoke carbon fiber; 3.50 x 17 in. / 6.00 x17 in. |
| Tires, Front/Rear: | Pirelli Diablo Supercorsa SP; 120/70-17 / 200/60-17 |
| Rake/Trail: | 24.5°/3.9 in. |
| Wheelbase: | 58.3 in. |
| Seat Height: | 32.9 in. |
| Fuel Capacity: | 4.2 gal. |
| Claimed Dry Weight (empty fuel tank, no oil, and no battery): | 336 lb. (w/ racing kit); 350 lb. |
| Availability: | Now |
| Contact: | ducati.com |
Source link