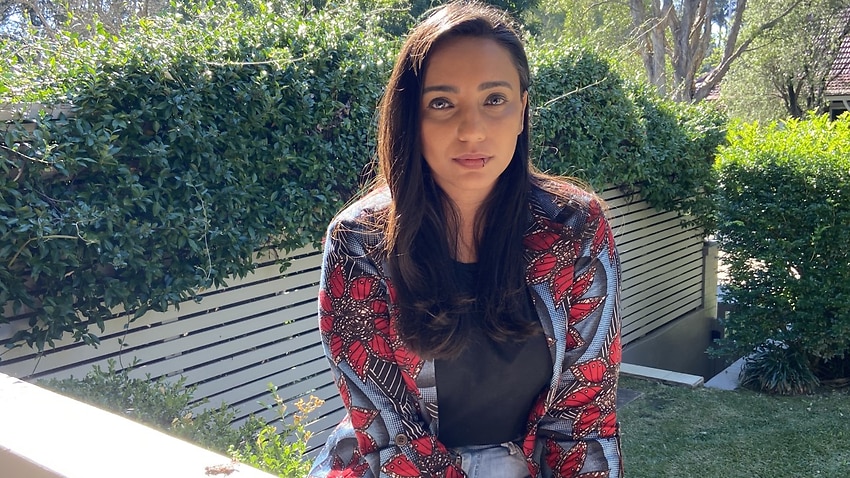 Zara Kay's hands shake as she recalls her ordeal in a police cell in Tanzania. 
"I'm quite traumatised. I keep having recurring nightmares about my family being taken away from me because I was literally on flight or fight after my arrest," the 28-year-old tells SBS News.
It's her first sit-down interview since arriving back in Australia last month.
Zara was born in Tanzania, where she lived until she was 16. She came to Australia to study in 2012 and later became an Australian citizen.  
She left Sydney to take a technology job in the UK in 2019 and in September last year flew to Tanzania for a family emergency. It was the first time she had visited the country since renouncing Islam.
Zara was only planning to stay for three weeks, but because of the COVID-19 lockdowns in the UK, she extended her stay.
But three months after arriving, things started going wrong. 
Arrest
On 28 December, her brother was summoned to the Oysterbay Police Station in Dar es Salaam, Tanzania's largest city, but he wasn't the intended target. 
While Zara was waiting for him in the car, police told her she was wanted for questioning. 
Over the next seven hours, Zara says she was interrogated.
She was told she would be charged over three things: Facebook posts she had made criticising Tanzania's president John Magufuli, not returning her Tanzanian passport after she obtained Australian citizenship in 2018, and using a mobile phone sim card that wasn't registered in her name.
The social media posts, calling the president "dumb" and "a fail", were made in May last year, months before Zara's visit to Tanzania. Mr Magufuli died last month. 
"I was very careful about what I was posting in Tanzania, knowing that the president can be quite unhappy if you post about him," she says.
It's not against the law in Tanzania to criticise the president, but its Cybercrimes Act can restrict free expression online. 
In July last year, Tanzanian comedian Idris Sultan was charged over the ownership of a sim card, but Amnesty International called the charges "politically motivated" because it came after he posted a video laughing at Mr Magufuli.
Zara says she travelled to Tanzania on her Australian passport and Tanzanian citizenship is automatically cancelled when you obtain citizenship elsewhere. The sim card was taken out by her sister, she says, who told authorities Zara would be using it during her stay.
"I realised they were just trying to build up the charges and they were trying to intimidate me and yelling at me for speaking in English," she says. 
Zara can speak Swahili but is now more fluent in English.  
She believes she was being detained due to her beliefs.
After growing up in the Khoja Shia Ithna Asheri faith – a Shia Muslim minority with independent communities around the world – Zara began questioning her beliefs. She officially renounced Islam in 2017 with the support of her family, who remain part of the community in Tanzania.
She became an outspoken critic of Islam online and started a foundation in Australia, Faithless Hijabi, to help other Muslim women around the world who are questioning or wanting to leave the faith.
She says things only got worse at the police station when she tried to outline her rights.
Harassment
"The next thing I know, they've just shoved me in a car and it was like 32 degrees, so it was pretty hot, and I'm like, 'where are we going? I haven't eaten in 22 hours. I have anxiety and I need to have my meds.'"
She was taken from the police station to her brother's house where officers searched her belongings. Her Australian passport was confiscated, as was her medication for an anxiety disorder, and she was returned to the police station. 
It was there she says a male police officer sexually harassed her.
"I've never been in a place where somebody has told me you're provoking him in a sexual way because of the way you were sitting. And then the police officer went on making many other sexual comments," she says.
"I said 'no, look, I have a boyfriend, this is not ok'. But also I was scared."
That night, as she tried to sleep in the windowless police cell with a concrete slab for a bed, she says the same officer, along with two others, woke her up with what she claims were sinister intentions. 
"Around 4am, three male police officers came to my jail cell and I was sleeping. They tried waking me up by groping my face," she says. 
"I screamed and the girls [in her cell] woke up as well, so then they just left."
Three male police officers came to my jail cell and I was sleeping. They tried waking me up by groping my face.

– Zara Kay
Zara was detained for 32 hours before being allowed to leave on bail. 
A few days later, she was called to a meeting in Dar es Salaam with immigration officials where she was detained for a further eight hours.
"I was threatened at immigration saying that if I spoke to anyone about the conversation I had in the [police] interrogation room, they would hurt my dad."
Zara says while she is outspoken, she never thought she would be in danger in her birth country.
"I never thought they were capable of doing that, I'd always thought they're not extremist or radical, but actually they in fact are."
"I never thought I would be a victim because I would be the one saving them, I didn't think I would ever need saving."
Stranded
Zara then faced months of uncertainty in Tanzania. She was forced to report daily to police and couldn't leave the country because her Australian passport hadn't been returned to her.  
Zara continued to post about her ordeal on social media – she now has more than 20,000 followers on Twitter – and a petition was started to have the charges dropped, which gained 17,000 signatures. 
She says since arriving back in Australia she has been told by a contact overseas that her detention was set up by her former community in Tanzania – and it could have been much worse. 
"Leaders from my former community actually paid a bribe to imprison me for a few nights, that's why the bail wasn't processed, and they were also paid to rape me in jail and I didn't know about any of this until I came to Australia," she says. 
They were also paid to rape me in jail and I didn't know about any of this until I came to Australia. 

– Zara Kay
SBS News sent detailed questions to the Oysterbay Police Station and immigration officials about Zara's claims and did not receive a response.   
In a local media report, Azim Dewji, a spokesperson for the Khoja Shia Ithna Asheri community, denied the community in Tanzania was behind her ordeal, calling Zara's claims unfounded.
"I don't have the powers to effect her arrest or give her instructions to utter insulting words against the president," he said.  
Questions
Zara is now coming to terms with how the incident has impacted her life and her connections in two countries.  
"I can never go back home [to Tanzania], can't see my nieces grow up," she says. 
"I lost my job, my partner is in the UK, so my whole life has been displaced right now and it's really hard to get started because every time I'm trying to move forward, I'm reminded of what I lost over somebody disagreeing with me in religion." 
Zara is also disappointed with the lack of assistance she received from the Australian government initially, having already reached out to them months before her arrest. 
In October 2020, while she was in Tanzania, she registered concerns about her safety with the Australian consulate in Nairobi – Australia's key diplomatic base in east Africa – after receiving death threats on social media from people in Tanzania.
In an email to the consulate, seen by SBS News, she wrote: "This email was to notify my embassy that as an activist I've been receiving and have received many threats of either rape, killing me or pinning me down as in opposition to the government in Tanzania. With the elections that just happened and the riots that are predicted to happen, I feel the need to keep my embassy informed on this".
She also attached screenshots of the threats.
Zara says it wasn't taken seriously when she then spoke to a representative from the consulate over the phone. 
"I sent it to them and I'm like 'what do I do if this happens? Is there any support I can get?' And they said 'you have to follow the local laws,' and I said, 'I'm not breaking any laws, they're trying to frame me.'"
A day after she was arrested, she again contacted consular officials in Nairobi while her friends notified Australia's Department of Foreign Affairs and Trade (DFAT). Only one friend received a response which directed them to the Nairobi consulate.
She says she told someone at the consulate over the phone about the sexual harassment by officers and was told it was "an unfortunate situation".  
"I was like, 'you guys have to do something,' and they were like, 'we don't want the government to get involved because then it could be a longer procedure.'"
"I said, 'you knew about the arrest and knew about all this.'" 
As her wait for help continued, Zara says the death threats continued online as her ordeal gained publicity.
"People saying 'behead her', 'it's a good thing she went to jail because she didn't like Islam'. … People were happy that I was arrested."
Zara says she was getting so desperate she started looking to other countries for help. 
"I actually contacted different embassies [saying] 'my government doesn't want to support me.'"
"I spoke to the German embassy and I was like, 'I might need asylum because I don't know how to proceed. I'm an Australian who needs asylum in Tanzania.'" 
The Australian consulate in Nairobi has not responded to requests for comment from SBS News.  
On its website, DFAT says its consular staff around the world are not able to provide legal advice or intervene in legal proceedings but can put an Australian detained in their region in touch with local lawyers. They can also make visits to check on a citizen's wellbeing, and issue replacement passports.
"I consider myself lucky having an Australian passport, but at the same time, the consulate should've provided more support. They should've acted faster when they first knew about the arrest," Zara says. 
"I think the Australian government really needs to act more fiercely to support their citizens."
I think the Australian government really needs to act more fiercely to support their citizens. 

– Zara Kay
Zara says DFAT only helped her get out of Tanzania once a team of international lawyers got involved in her case. One of them was Australian human rights lawyer Jennifer Robinson.
"My colleagues and I from Doughty Street Chambers [in London] got involved in representing Zara because of the horrific ordeal she suffered in Tanzania including harassment by the authorities, which we believe was as a result of her work as an activist and human rights defender," Ms Robinson says.
"The charges that were threatened against her were completely unfounded. We believe that the reason the Tanzanian authorities were persecuting her and pursuing her was because of her work and because of her religious views as a woman who has chosen to leave the Islamic faith and was assisting others."
The lawyers worked on a pro bono basis. 
"She was hassled, she received numerous and credible death and rape threats while she was in Tanzania, and was prevented from leaving the country for some time," Ms Robinson says. 
"We were very concerned when we first got engaged by Zara that the Australian government had dragged their feet on providing her the consular assistance she needed while in Tanzania to ensure her ability to be able to leave the country, and it was only after my meeting with the foreign minister's office that her passport was issued."
Release
Zara's charges were eventually dropped on 3 February this year and her passport was officially declared lost. She was eventually issued an emergency Australian passport in late February, two months after her arrest.
In comments made to local media in March, Tanzania's immigration commissioner of passport and citizenship Gerald Kihinga said based on findings that show Zara never used her Tanzanian passport after acquiring her Australian passport, the department found there was no reason to continue keeping her there. 
"We have released her despite the fact that we will continue probing, and once it is proved that she used the Tanzania travel document after acquiring the Australian citizenship, we will sue the activist," Mr Kihinga said. He also denied law enforcement lost Zara's passport.
Zara managed to find a flight on 26 February to Australia but was again detained at the airport for three hours because police had not taken her off the no-fly list. She subsequently missed her flight.
Her ordeal finally came to an end on 1 March this year when she was allowed to board a flight to Australia.
A DFAT spokesperson told SBS News: "The Australian High Commission in Kenya was pleased to provide consular support to Ms Kay, including assisting her departure from Tanzania and her return to Australia".
"Owing to our privacy obligations we will not provide further comment."
But Ms Robinson says: "Had the Australian government taken action earlier, none of this would have happened."
"We are grateful to the Australian government for ensuring her ability to be able to leave the country but it should not have required the instruction of lawyers to obtain that assistance."
Had the Australian government taken action earlier, none of this would have happened.

– Jennifer Robinson, Lawyer
Zara's legal team made urgent human rights complaints with the UN against Tanzania – action that Zara plans to continue on her own, seeking to sanction Tanzania over her treatment. 
Despite her ordeal and the threats, she vows to continue her activism.
"The only way to move forward with this is to actually go on doing what I do with my work. If it pisses them off, that means I'm making a difference."
"When I left [Tanzania], even my dad and brother said 'go give them hell.'"
Would you like to share your story with SBS News? Email [email protected]
If you or someone you know is impacted by sexual assault or violence, call 1800RESPECT on 1800 737 732 or visit 1800RESPECT.org.au