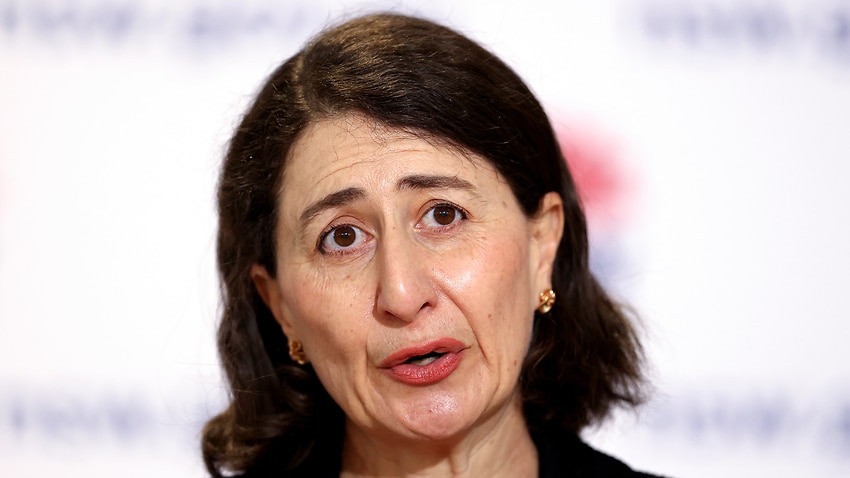 Everyone must wear a face mask in all indoor or outdoor areas other than a place of residence.
The news came hours after NSW announced 1,257 new locally acquired coronavirus cases and seven more deaths.
NSW Premier Gladys Berejiklian fronted the media on Monday, as eased restrictions for outdoor gatherings took effect across Greater Sydney.
"I was always scheduled to do today because of the key milestones we announced – obviously today is the first day many people have freedoms they didn't have before," she told reporters. 
"I want to stress that nothing has changed from my comments from last week. I'm on the job 24/7."
The seven people who died include two men in their 90s, a woman in her 90s, three men in his 80s and a woman in her 60s. 
There have now been 184 deaths in NSW since the beginning of the Delta outbreak in June. 
There are currently 1,189 coronavirus patients in the state's hospitals. Of those, 222 are in intensive care and 94 are on ventilators. 
Of the new cases announced on Monday morning, 427 were from South Western Sydney Local Health District (LHD), 314 were from Western Sydney LHD, 181 were from Sydney LHD, 127 were from South Eastern Sydney LHD, and 78 were from Nepean Blue Mountains LHD.
'Slight slowdown' in vaccination rate
Ms Berejiklian said she was concerned there has been a "slight" slowdown in the state's vaccination rate, following impressive turnouts at GP clinics and vaccination hubs in previous weeks.
Across the state, 46.2 per cent of people over the age of 16 are fully vaccinated, while 78.5 per cent have received their first dose.
The premier warned unvaccinated residents would not necessarily be included in further easing of restrictions when the state reaches the 80 per cent double-dose mark.
"I don't want people to think they can sit back, let everybody else do the hard work and then turn up when it's 80 per cent and get everything else that vaccinated people are," she said.
"That's not the right message. I want to say it clearly – that if you're not vaccinated, you will not have the freedom or the freedoms that vaccinated people have even when we get to 80 per cent double dose."
NSW records 1,257 new local COVID-19 cases
---
Ms Berejiklian said the 12 local government areas (LGAs) of concern were some of the areas with the highest vaccination rates across the state, whilst the City of Sydney and some regional pockets of the state were lagging behind.
"Parts of south-western Sydney went from 19 per cent when the outbreak first started to nearly 90 per cent now," she said.
"For people who got over their fear of getting vaccinated, over their hesitancy, and now they're leading the state, I just say a huge thank you." 
New 'freedoms' for the vaccinated
Meanwhile, groups of up to five fully vaccinated adults who live outside the 12 LGAs concern can now gather outdoors within five kilometres of their home.  
Vaccinated households that live in the LGAs of concern can gather outdoors for recreation for two hours outside curfew hours and within five kilometres of home.
Members of the public exercise along Manly Beach in Sydney. Source: AAP
---
Ms Berejiklian urged people not to let their guard down despite the slight easing of restrictions.
"It's way too early for any of us to get complacent and we are concerned that an unexpected event, a super-spreader event can suddenly have a major setback," she said.
"So, whilst people start enjoying some things they couldn't enjoy last week, I urge the community, please do not get complacent. Do not let your guard down." 
The NSW-Queensland border bubble is also operating again, allowing people in northern NSW who aren't locked down to travel north of the border for essential work, school or medical reasons.
Questions about lockdown timing
Ms Berejiklian also on Monday rebuffed suggestions she waited two days to lock down Greater Sydney after learning a western Sydney COVID-19 "super-spreader" party had not been contained.
In a response on Friday to questions on notice to a parliamentary inquiry, NSW Health said it had learned on 24 June that some attendees of a West Hoxton birthday party – at which dozens caught COVID-19 – had been missed by contact tracers.
The citywide lockdown began on 26 June, one day after Sydney's central and eastern suburbs were locked down.
The response provided by NSW Health does not specify when the department shared its updated knowledge of the West Hoxton party with the government, or what occurred between 26 and 26 June.
Ms Berejiklian denied she had received advice to lock down Sydney sooner than June 26.
"It was within hours of getting advice," she said. "I could have waited an extra hour or extra day but I chose to come back on the same day and hold another press conference because as soon as we got upstairs, (Kerry) Chant provided us with additional advice and we reacted within hours.
"I look back now and think we did remarkably well to suppress the virus with a largely unvaccinated population … I'm hopeful the higher vaccination rates will start kicking in."
With additional reporting from AAP.
Source link