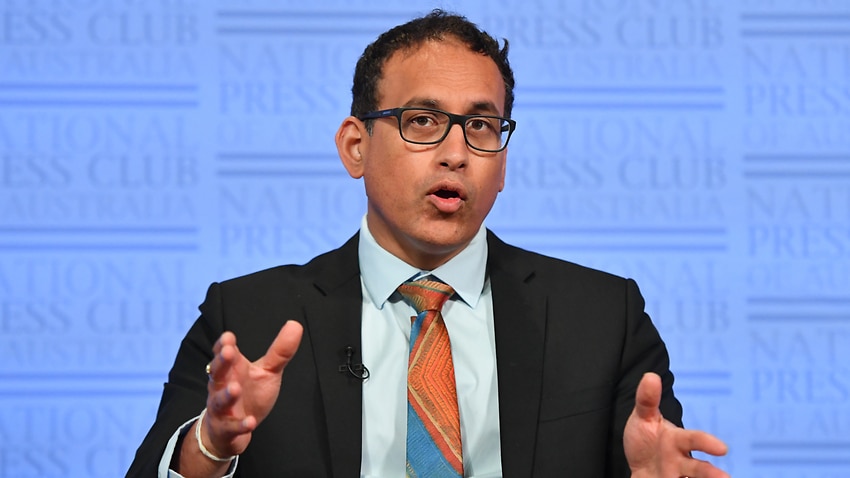 It could take up to six years for the world to be vaccinated against COVID-19, so jabs must be shared with developing countries to ensure "more sinister strains" don't emerge, an infectious diseases expert has said.
An expert trio addressed the National Press Club in Canberra on Wednesday to provide a specialist view on the coronavirus health crisis.
Infectious diseases physician Sanjaya Senanayake said about 70 countries have begun vaccination programs.
"At the current rate of vaccination it is estimated we won't reach global coverage of 75 per cent with vaccines for about six years," Dr Senanayake said.
"Not one or two years, but six.
"If we continue this global vaccine rollout while in other parts of the world infection continues unchecked, then we will see more sinister strains emerge which might have further impacts on vaccine efficacy."
Dr Senanayake, who is also an associate professor at the Australian National University's medical school, said people might end up receiving an annual coronavirus vaccine.
COVID-19 could become a "persistent presence" like the four other coronaviruses that have been around for decades and cause the common cold.
"Leading to intermittent incursions causing some hospitalisations and deaths every year, but largely leaving untouched our vaccinated population," Dr Senanayake said.
But he warned that the world's rising population and increasing encroachment on natural habitats means the next pandemic is not 100 years away.
"It is just around the corner," he said. 
South Africa suspended its rollout of the AstraZeneca vaccine after some data showed it gave minimal protection against mild to moderate illness caused by the country's new variant of the virus.
Infectious diseases paediatrician Robert Booy said the South African study was based on 2000 people and was, in effect, irrelevant for Australia.
"We need better studies in larger numbers over longer periods of time," he said.
"Then we'll have a better understanding whether this vaccine is a problem for the South African variant or not."
Epidemiologist professor Mary-Louise McLaws has urged all Australians to get vaccinated.
A World Health Organisation-led team which spent almost a month in Wuhan has been unable to find exactly how the virus was transmitted to humans.
The team includes Australian infectious disease expert Dominic Dwyer, who has said it would probably take years to fully understand the origins of COVID-19.
Professor McLaws trusts Professor Dwyer to say if the WHO team were able to have proper access to information in China.
"When he comes back, if he says that he has had full cooperation, he has," she said.
The WHO team has dismissed suggestions the pandemic was sparked by a lab leak in Wuhan.
It determined the virus was most likely to have been transmitted through an animal, but exactly which animal remains unclear.
Scientists found no clear link to bats, pangolins or any other wild animals.
The delegation also found the virus may have been spread through frozen food, and could have been active in other regions or countries before the first cases emerged in Wuhan.
The federal government insists Australia's vaccine timeline is still on track to begin later this month.
People in Australia must stay at least 1.5 metres away from others. Check your jurisdiction's restrictions on gathering limits.
If you are experiencing cold or flu symptoms, stay home and arrange a test by calling your doctor or contact the Coronavirus Health Information Hotline on 1800 020 080. News and information is available in 63 languages at sbs.com.au/coronavirus.
Please check the relevant guidelines for your state or territory: NSW, Victoria, Queensland, Western Australia, South Australia, Northern Territory, ACT, Tasmania.