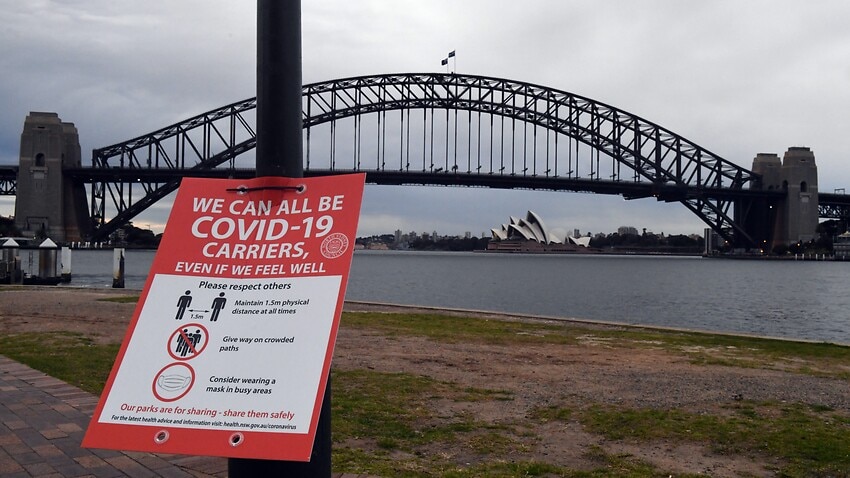 As the Delta crisis cripples Sydney, experts say the zero-COVID concept of 2020 is becoming irrelevant, with the new focus on widespread vaccination and long-term planning.
As Greater Sydney enters its sixth week of lockdown, Premier Gladys Berejiklian has warned things are "likely to get worse before they get better".
With the daily number of new coronavirus cases remaining stubbornly high and the percentage of people infectious in the community continuing to rise, there are growing calls for an effective long-term plan to bring the outbreak under control.
While Ms Berejiklian says she will soon share a roadmap out of the crisis, Phase A – locking down until the state reaches zero cases – seems to many as outdated as it seems impossible.
While lockdown is necessary in the short term to contain cases, people may have to accept a level of COVID-19 in the community once a certain level of vaccination is reached, experts say.
The Grattan Institute on Thursday warned Australia could not afford to abandon its zero-COVID strategy until 80 per cent of the entire population is vaccinated. If children aren't included in the rollout, this could take until March, it said.
But health and policy experts have known "the writing was on the wall for zero-COVID" for some time, says Director of the Sydney Policy Lab at the University of Sydney, Professor Marc Stears.
He says 2021 requires a whole different strategy to 2020, which relied on border closures to eliminate COVID-19 in the community.
"We fastened onto the one thing that had worked in 2020 and imagined that that would continue to work consistently over time and that it was somehow sustainable and that was just a huge error," he told SBS News.
"What we should have been doing is devising a plan for the next stage. That complacency has really come back to bite us."
Now the public – in Greater Sydney at least – seem also to be "shifting away from zero-COVID", he said.
With the arrival of the Delta variant, Prof Stears says residents are starting to accept that COVID-19 will continue to linger in the community and that we need a long-term strategy.
"There's a sense this is going to keep happening again and again until we have a different strategy than the one we had in 2020."
Infectious Diseases Physician Professor Greg Dore at the Kirby Institute of UNSW says Delta "has made sustained elimination an impossible task" in cities like Sydney and Melbourne.
But while getting to zero was central to Melbourne easing its 2020 lockdown, he says the same milestone is no longer necessary now that we have vaccinations in the mix.
"I don't think we will need to be as stringent. We'll have rapid escalation of vaccine uptake and we are already seeing that really improving nicely across all age groups," he told SBS News.
Head of the Melbourne School of Population and Global Health Professor Nancy Baxter agrees zero-COVID has lost its relevance in the current Sydney outbreak.
"Zero-COVID is what you need if you don't have enough people vaccinated," she told SBS News.
Time for Plan B
Beyond short-term lockdowns, experts agree the only long-term way to fight Delta and regain freedoms is through mass vaccination and COVID-safe planning.
NSW is seeing increased uptake of AstraZeneca with increasing supplies of Pfizer on the way. On Friday Ms Berejiklian said the state had administered 3.6 million jabs, a third of the way towards its 10 million target.
"It's really important for us to get as many jabs in arms as possible, because more jabs in arms means more freedom for all of us, in that the quicker we get vaccinated, the quicker we can live more freely," she said.
Prime Minister Scott Morrison has promised all Australian adults will have access to a vaccine by the end of the year.
Australia has given nearly 11.8 million doses, with nearly 18 per cent of people aged 16 and over having received both doses of a coronavirus vaccine.
The urgency of Sydney's current outbreak will continue to fuel the rollout in NSW, which may meet its target before Christmas, Prof Dore says.
"Right now vaccine hesitancy has fallen off a cliff. There's a sense of urgency. You've got younger people coming forward for vaccination. We've got young people in intensive care and that absolutely is motivating people to look at vaccination as the way out of this."
Prof Stears says while Ms Berejiklian says she is still aiming for zero-COVID, she is also now highlighting mass vaccination as Plan B if that doesn't work.
"She's now saying, 'if we don't get to zero, we might be OK'. I think the case numbers will decline, but it probably won't get to zero. And therefore, she's going to have to leave her stated position, which says, 'we don't think the zero is where we need to be anymore'.
Prof Stears says the premier will only be able to take this line when a certain number of people are vaccinated and it will take "political courage".
"That's still not what many people want to hear," he said.
Hopes for summer
Despite a ramped-up vaccine rollout, Prof Dore expects restrictions to remain in place for the remainder of the year – though they may ease over time, become more localised and may apply more to unvaccinated people as time goes on.
"Hopefully we'll get kids back to school. Hopefully there'll be some resumption of sort of business activity in terms of hospitality, even under the stricter sort of guidance. So I think that we won't be in this sort of hard lockdown for the rest of the year," he said.
Prof Baxter believes the warmer summer weather combined with higher rates of vaccination over coming months could turn things around for Sydney.
But before that happens, it's about improving performance in this outbreak. And Sydney still has plenty of tools in its toolbox when it comes to lockdown, she says.
These include closing shops that are able to sell online or through click and collect such as pet supplies stores, mandating masks and better masks, slimming down the categories of essential workers, and halting elective surgery.
"They still haven't done everything that could be done to stop the outbreak. These are things that could potentially have an impact," she said.
Alongside these measures, she says it's about ramping up vaccination levels as quickly as possible, particularly in LGAs of concern and among essential workers. It's also about making vaccinations not just available but easy – and finding creative ways to promote them to different cohorts.
This year and beyond
Prof Stears agrees we're in a holding pattern until vaccination levels are where they need to be. But this is also a time to be planning ahead, he says.
This means looking into rapid antigen testing and how this may work, creating a roadmap for schools returning and how to make them safe, and making a plan for subsequent outbreaks.
"You've got to make sure that even even when you're in the midst of a crisis, you're preparing for the next one, because otherwise we'll find ourselves in the same situation again," he said.
People are less willing to endure long lockdowns now there are vaccines, he says, especially when they turn on the TV and see schools open around the world and countries creating COVID-safe plans.
"People aren't saying we need to stick with zero forever and nothing else will do. They're in fact saying what we want from our political leaders is a new plan," he said.
"It's got to be a good plan. It's got to keep us safe. But it's got to be one which is suitable to where we are now in 2021 and not where we were in 2020."