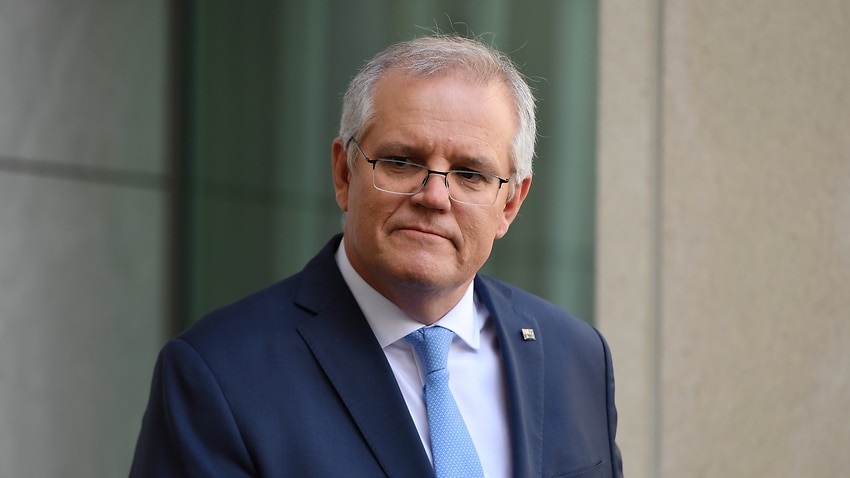 Instead, the US will now provide Australia with technology for nuclear-powered submarines.
The cost of the pivot is unclear.
At a minimum, it's understood to be $2.4 billion in taxpayer funds paid so far, but the compensation to the French has not been made public and may not be fully known yet.
That in itself is a massive story, but the real underlying consequence belongs to Australia's already highly conflicted relationship with China.
References to "stability" in the Indo-Pacific and changing "threat" environment are all pointers to China's growing military strength and concerns about the ramifications.
And the reach of this deal under the new partnership between the three nations – to be known as AUKUS – will go much deeper into joint defence and security ties, also stretching into cybersecurity and space. 
Joe Biden delivers in the White House, joined virtually by Scott Morrison. Source: ABACA
---
The Morrison government is at pains to make clear investing in nuclear-powered submarines is not a pivot towards any watering down of the commitment to Australia's international nuclear non-proliferation agreements.
But the loss of the lucrative submarine contract will upset the French.
It will also raise the hackles of those who've been so focused on ensuring Australia doesn't have any nuclear grey areas.
Now will be the task of explaining this announcement to the Australian people and to the regional neighbourhood, New Zealand and Indonesia in particular.
It will also inflame the tensions with China.
Scott Morrison maintains the phone line to President Xi Jinping in Beijing remains open. But whether this will in any way lead to the Chinese leader dialling Mr Morrison's number remains an open question.
Trade between the two nations, so important to Australia's economic bottom line, is now even more sensitive. 
The tariffs and pauses on the traffic of Australian meat, barley and wine among other commodities have already bitten hard in some industries.
The Prime Minister is also banking on this pivot to defence, including an increase in the spending on defence capability, playing well with a domestic audience.
It will likely trigger months of announcements, more details and more information about the uncertain environment in the Pacific.
And while the decision throws hundreds of jobs into question, promises will be made about new jobs being created and the "portability" of skills.
Australians now head towards an election with a clear message that the nation's defence forces needed to be turbocharged and there are risks on the horizon.
Voters will be mulling these political pronouncements when they return to the ballot box sometime between now and May next year.
Anna Henderson is SBS News's chief political correspondent.
Source link