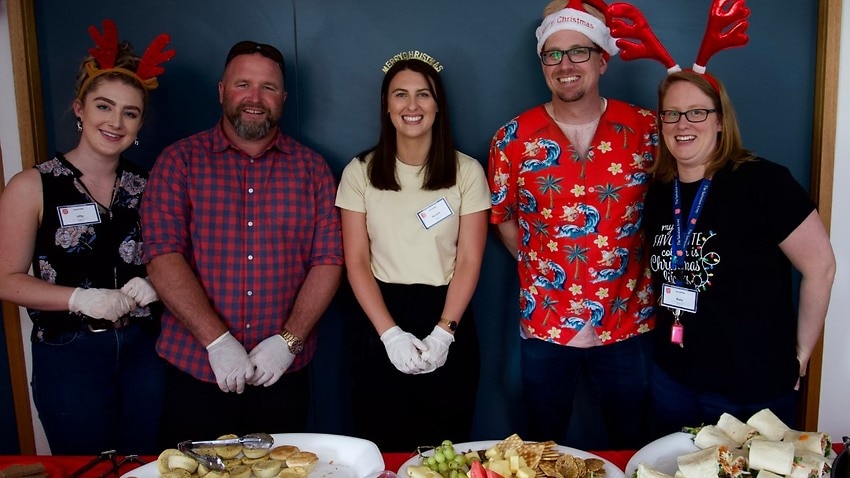 While it's often spruiked as the happiest time of the year, Christmas can also be lonely and stressful.
And during a challenging year upended by the COVID-19 pandemic, charities and services say more Australians have been feeling the strain as they grapple with the emotional and financial fallout of 2020.
The Salvation Army is always busiest at this time of year as it provides hampers, gifts, meals and accommodation for those in need, but the organisation expects Christmas 2020 to be its biggest ever.
"There's lots of new faces, lots of new people coming to the army who quite possibly were donors last year," the organisation's national public relations secretary Bruce Harmer told SBS News. "This year they're needing our support."
More than two million Australians are concerned their children will miss out on food and basic living necessities this Christmas, according to research undertaken for the Salvos, while the 2020 Foodbank Hunger Report says the proportion of food insecure Australians seeking food relief at least once a week has doubled this year to 31 per cent.
At Sydney's Wayside Chapel, chief executive Jon Owen says the nature of the requests they receive for help has changed.
"Sometimes it's around helping people get a present, a few extra presents for their kids, whereas this year it's about the very basics, around food and rent," he told SBS News.
Mission Australia, meanwhile, says more than 116,000 people will be homeless on 25 December and many are teetering on the edge in severe rental stress.
And as they deal with increased needs, charities have also had to adapt as COVID-19 forces some changes to how they provide support and celebrate the season. Some free community Christmas lunches, for example, have been scaled back or cancelled.
But no matter how it's provided, help is available throughout the holiday for those who need it.
Food, companionship and other necessities
Wayside Chapel is still doing its best to ensure no one is left behind, despite the Sydney homeless charity having to scrap its popular Christmas street party.
"There's a whole range of people that would come and celebrate with us, and we can't get them all together, 1,000 people in a street at once …. but what we are doing is trying to reach out to as many people as possible," Mr Owen said.
Over the seven days leading up to Christmas, Wayside Chapel will host free community lunches at its Kings Cross premises for those experiencing homelessness and social isolation.
It will also provide free takeaway meals on Christmas Day, with very limited seating provided, and outreach teams have been delivering food and care packs in vans and on foot. Mr Owen encouraged anyone in need to get in touch.
"We're here to do everything we can to get us through the Christmas period, through what has been one of the most difficult years in living history," he said.
Also in Sydney, The Rev. Bill Crews Foundation will have vans deliver Christmas lunches and will offer ham, turkey and pudding to take away. 
In Perth, Mission Australia will push ahead with its annual Christmas Day lunch at Langley Park, providing a nutritious meal for West Australians dealing with homelessness and disadvantage. About 1,400 people are expected to attend the event, which will have COVID-safe measures in place and will also offer warm showers and hair cuts.
"We are also able to connect people with crucial support services that may be able to help them in the future and provide care packs which include personal care items and non-perishable food," the organisation's state director Jo Sadler said in a statement.
Those interested can visit christmaslunchinthepark.com.au for details. For emergency support from Mission Australia, which offers hundreds of services nationally, visit missionaustralia.com.au/contact-us.
Several of The Salvation Army's Christmas lunches will also proceed and the organisation is providing takeaway meals and hampers around the country.
Lunch locations include Rosny Park in Tasmania, Seymour and Shepparton in Victoria, Alice Springs in the Northern Territory, and Batemans Bay in NSW. For more information about attending, visit salvationarmy.org.au. To access other support from the Salvos, contact the organisation on 1300 371 288.
If you need different support or are based elsewhere, askizzy.org.au is another useful resource for finding help near you – whether it relates to housing, food, the provision of everyday items, addiction health or a range of other issues.
Mental health support
Christmas can be stressful and challenging, but several mental health organisations will be working around the clock to offer support.
Beyond Blue lead clinical adviser Grant Blashki says the organisation has seen a large increase in demand during a tough year, with families separated and people coming under financial pressure.
He recommends people take care of themselves in coming weeks by accepting that 2020 was difficult and managing their expectations for the festive season.
"More broadly, if you are someone that experiences depression or anxiety, keep up your regular routines, like regular exercise, trying to get enough sleep … and don't overdo the alcohol, that's a bit of a trap," Dr Blashki said.
For those who are struggling with their mental health, Beyond Blue will be providing support via its phone line (1300 22 46 36). Online, moderated forums relating to various issues are also available at beyondblue.org.au.
Other services include Lifeline, which will continue offering round-the-clock support over the phone (13 11 14). The organisation also has a text service (0477 13 11 14) available from midday to midnight AEDT, and an online chat service running from 7pm to midnight AEDT at lifeline.org.au.
Young Australians aged between five and 25 have access to Kids Helpline, run by Yourtown, with chief executive Tracy Adams encouraging them to get in touch if they want to talk to someone. The service is operating 24/7 at 1800 55 1800 or online at kidshelpline.com.au.
"You don't have to feel alone. You can connect to a counsellor via phone, email and web counselling with no issue too big or small," Ms Adams said in a statement.
"There is no shame in seeking help from our free service."
Domestic violence support
For those dealing with issues relating to domestic violence and sexual abuse, the 1800 RESPECT national telehealth service will also be operating 24 hours a day.
While anyone in immediate danger should call Triple Zero (000), they can contact 1800 RESPECT over the phone (1800 737 732) or via the online chat (1800respect.org.au) to speak with a qualified counsellor.
"You are not alone," national program manager Melonie Sheehan said. "There is plenty of support available. You can contact 1800 RESPECT wherever you are, at any time.
"We can provide information, support, counselling, safety planning, and direct you to local or state and territory-basic crisis services as required."
Ms Sheehan said 1800 RESPECT could also help those worried that someone they know may be experiencing domestic or family violence, as the counsellors know how best to support a person in that situation.
"The right support from family, friends and neighbours, and colleagues too, can make a huge difference to someone who is experiencing or is at risk of experiencing domestic violence," she said.
The Men's Referral Service also provides advice for men on domestic violence and can be contacted on 1300 766 491.
* If you need an interpreter to help speak with any of the services mentioned in this story, the Translating and Interpreting Service is available 24/7 on 131 450.