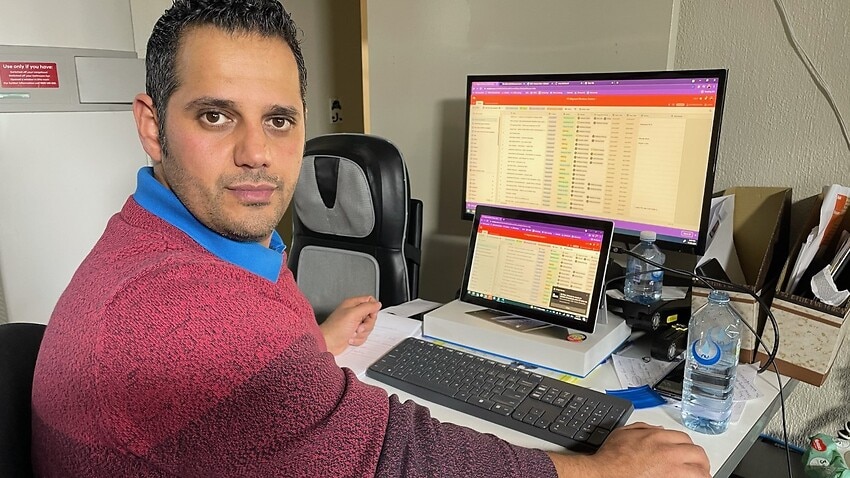 When the coronavirus pandemic first hit and Victoria went into lockdown last year, Hassan Jaber's work as an Uber driver dried up almost overnight.
Like millions of Australians, Mr Jaber was desperate for financial help and went to his tax agent for assistance.
"I asked him if I am eligible for JobKeeper and my tax agency advised me that yes, I am eligible," he told SBS News.
Mr Jaber said the Australian Taxation Office also advised him to apply, and if he didn't qualify for the wage subsidy, he would be refused payments.
"The call with the ATO took 35 minutes and they said to just submit the application," he said.
Mr Jaber's application was accepted, and he was paid the JobKeeper wage subsidy for almost 12 months before receiving a debt letter from the ATO asking for it all back.
"I was very shocked, because this is not like a parking ticket of $50 or $100," he said.
The ATO bill amounted to almost $28,000.
Mr Jaber was still unemployed and unable to afford the bill, so he appealed the debt.
"I said no, I'm not going pay anything, because this is not my mistake, this is not my fault."
After two reviews the ATO agreed to waive the repayments.
Employment Minister Stuart Robert said errors can be rectified.
"Where the department has made a mistake, then the department generally waives these," he told SBS News. "But of course every circumstance is different."
But Wallace Huang from Migrant Workers Centre said in many cases the emotional damage has already been done.
"it's devastating for people," he told SBS News. "It has huge impacts on people's health."
"We're talking about people who have insecure visa status, who have very little in terms of secure income and secure jobs."
Mr Huang said 22 people have approached the Migrant Workers Centre with similar claims, ranging from $8,000 to nearly $18,000.
A total of 17 people have had their matters resolved and five still have debt bills to pay.
"The majority of people seeking help with JobKeeper overpayments are on temporary protection visas," Mr Huang said. "They're often independent contractors like Uber drivers and English is not their first language."
Mr Huang said in many cases workers had already started repaying these bills, without realising they could contest it.
The centre has helped wipe around $130,000 of JobKeeper debt.
In a statement to SBS News, the ATO confirmed it has already recovered almost $140 million in JobKeeper overpayments.
While it's waived more than $60 million in what it has labelled "honest mistakes", it said it is still pursuing another $82 million in funds it claims were wrongly paid.
"To claim the JobKeeper payment, employers and other entities claiming needed to self-assess their eligibility… an overpayment occurs where it was incorrectly self-assessed," it said.
In determining whether repayment will be sought, the ATO said it considers whether the applicant made an honest mistake in applying, and whether or not they retained the financial benefit. 
"Applicants were also able to object to the decision regarding their eligibility as well as the exercise of the discretion to waive the overpayment."
Source link