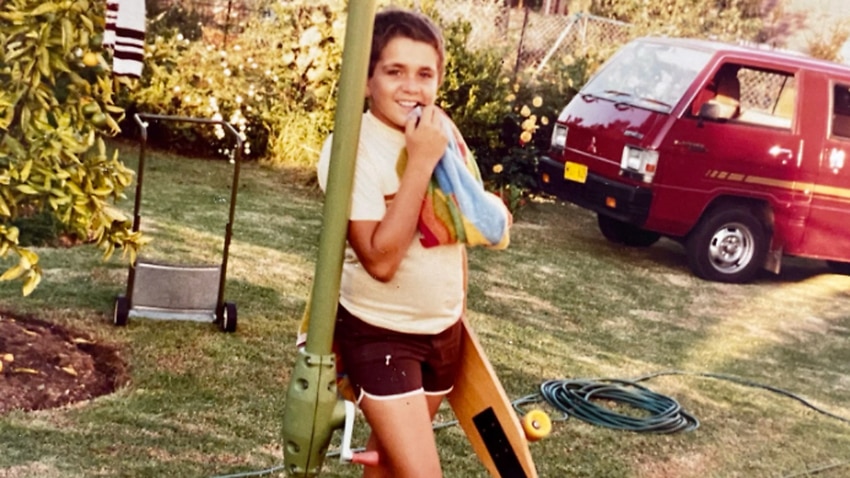 "My mother was five when they literally grabbed her from her mother's arms," Marrawarra and Barkindji man Brendan Kerin tells SBS News.
"From there, they spent two weeks in a jail cell and then they were all shipped to Cootamundra Girls Home."
Aboriginal girls in the New South Wales home were alienated from their families. When they became teenagers, they were sent out as servants to work in white households.
Brendan's mother's story is tragic but it is strikingly similar to his own.
"I was born at Crown Street Women's Hospital in Surry Hills in 1971 and I was taken away from my mother in that hospital and I never saw her again," he says.
"I was illegally adopted into a family where my father was an Aboriginal man from Tennant Creek and a white mother.
"They couldn't have kids, so they adopted me, and they ended up having five of their own."
At the time, Brendan says, illegal adoptions were rife at the hospital, with other removed children having similar stories.
"They didn't have both parents' consent for the adoption," Brendan says.
"The baby was born and taken from their mother, with [some] mothers being told that their baby had died.
"Mothers would sign the papers and away they go, 20 years later to have their child come back."
It's these stories of institutionalised removal that Brendan, a cultural representative of the Aboriginal Land Council, weaves into his Welcome to Country addresses, which he performs in New South Wales.
The Marrawarra and Barkindji's traditional lands are located in the far west of the state, as well as South Australia for the Marrawarra. 
A Welcome to Country is a ceremony performed by local Aboriginal custodians – in most cases, Elders – of the Country on which a meeting or event is held. It follows thousands of years of protocols and is intended to offer safe passage and protection to visitors.
But Brendan says he feels it is "appropriate when you are being welcomed by somebody, that you know a little bit about who they are". 
"My upbringing has sort of fashioned me to be where I am today," Brendan said.
"To stand up in front of non-Indigenous people and welcome them to a Country is a huge honour and it should be from the heart and genuine.
"My history is everyone's history and it needs to be shared and can't be forgotten."
Which is why anyone who has seen him perform is now familiar with his story. 
For Brendan, reunification with his mother never happened. As a result, he spent his childhood grappling with his identity.
"I was sort of on my own, not being black enough to hang with blackfellas and not white enough to hang with whitefellas," he says. 
"I remember growing up playing cowboys and Indians and I always wanted to be the Indian.
"I was told at the age of 12 by my adoptive parents that I was adopted but the cultural learning and identity didn't really start for me until my early 20s – but I've always had it in my blood."
At 14, Brendan was sent to Kinchela Boys Home for alcohol rehabilitation, later known as Benelong's Haven Family Rehabilitation Centre. He spent three years there.
"I was drinking every day and a very angry young person," he says.
"Once I went to Bennelong's Haven and was surrounded by blackfellas from around the state … I had an epiphany moment because so many blackfellas who were also in rehab were similar to me."
For Brendan, his time spent at the centre was critical. 
"Growing up, we had nothing but negative portrayals in the media. Anything to do with Aboriginal people was always the negative stuff … drinking, fighting, domestic violence, sniffing petrol, dole bludgers.
"I grew up thinking, well, that's what I'm supposed to be like because that was the only thing in my life that was sort of directing me on my Aboriginality."
But connecting with his culture gave him a new direction.
"I started playing the didgeridoo, started dancing, started painting and from there it just continued," he says.
"One of the things with Stolen Generation people is we're trying to find out where we belong.
"It's more or less sitting on the outside of the ring of fire while your mob are in the middle and then slowly making that connection – being able to sit closer to the fire, within that ring of people rather than sitting on the outside."
Re-discovering his identity
Brendan embarked on a new path to try and better understand who he was, studying for qualifications in Aboriginal healthcare and trauma counselling, so he could help others.
"It was the only thing I've ever finished in my whole life," he says. 
"Diplomas started to follow on; drug and alcohol and mental health. My roles have always been like a healer, I love working in community, a lot of the trauma I work with, it doesn't discriminate."
Now with a family of his own – as a father of eight – Brendan says it's only been through a lot of trial and error and self-reflection that he has been able to grow out of old habits and deal with my demons"
But a real turning point came six or seven years ago.
"I was able to find Mum," Brendan says.
"I found Mum's grave down at Dareton [in far west New South Wales] and once a year since then I have returned to Country."
Through sharing his experience, he hopes others can be brought a little closer to his story and that of thousands of other Indigenous Australians. 
"Just over 250 years of white settlement – look at the damage that has been done to this country and the history, the evidence is there. 
"Having whitefellas welcomed to Country is more or less saying, 'hey, listen this is the Country you are on, acknowledge that, take that on."
NITV presents a selection of dedicated programming, special events and news highlights with a focus on encouraging greater understanding of Indigenous Australian perspectives on 26 January. Join the conversation #AlwaysWasAlwaysWillBe