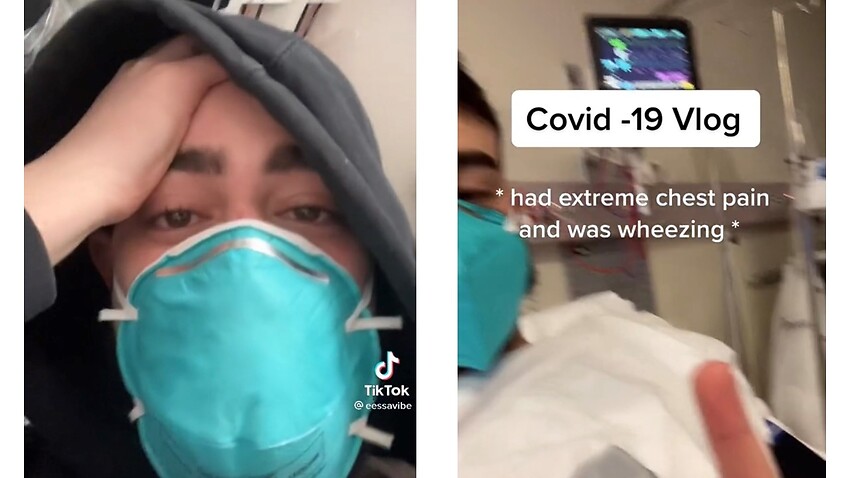 Abdallah has 300,000 followers on TikTok. He told SBS News he posted the video as he wanted his community to "wake up" and start taking the virus seriously.
Western Sydney TikTok star tells community to take COVID seriously after battle with virus
---
"After what I saw my mother go through and with the ambulance coming every second day to either pick me up, pick my 15-year-old sister up, to pick my mum up, it is not just the physical strain, it is the mental strain."
"To literally see family members deteriorate in front of you is a lot to go through, it really is."
The family took their COVID-19 tests together after starting to feel fatigued. They do not know where they contracted the virus. 
Eight days after testing positive, Abdallah said he felt his temperature rise and he ended up in hospital struggling to breathe.
"One day I was normal, the next day my temperature went up, I laid down in bed for like six hours and then I remember texting my sister, 'help me I can't breathe.'"
"I just felt like someone was stabbing a knife into my chest every time I took a breath in and out."
"I begged the hospital to help me. I literally cried to the nurse, 'I can't do this pain anymore'. They calmed me down and I am lucky I bounced back."
Eessa Abdallah is best known for his comedy skits about multicultural family life. Source: TikTok
---
Abdallah, who is best known for his comedy skits about multicultural family life, lost his sense of taste and smell while infected, which he described as a disorientating experience.
"There was a five-day period where every bite of food I would put in my mouth I would cry because I would not enjoy it; it tasted like cardboard." 
Now two weeks on, and after completing a period of isolation, Abdallah has recovered from the virus. His mother is slowly getting better too.
He occasionally gets dizzy spells, which he said are expected to last for up to six months, and his sense of taste and smell has been altered.
"You get them back [your senses] but they're different. Pepsi or cola just tastes like acid, it doesn't taste like cola anymore," he said. 
'Virus is not a hoax'
Abdallah admits that before becoming infected, he was sceptical of the virus, believing it would not affect him as he was young and healthy.
That opinion has now changed. Contracting COVID-19 was the worst he has ever felt, he said. 
Eessa Abdallah has more than 300,000 followers on TikTok. Source: Supplied
---
"I personally know people that don't believe in the virus, they don't believe it is real, they think it is a hoax – at one point back in 2020 I was part of that conspiracy." 
"You never think it's you; you're healthy, you're young."
"After getting it, it really changes your perspective on everything … I am so aware now and more cautious about every step I take after going through it."
Abdallah said he decided to share his experience to educate people around him, but was shocked with the backlash he received.
Some people told him his family deserved to get COVID-19 as they did not get vaccinated straight away.
Abdallah had previously posted about the vaccine saying in one video: "I'm not against the vaccine and I'm also not with the vaccine … whether in the future I take the vaccine or not is still up to me".
Others said he was paid by the government to support the "hoax", which Abdallah said is laughable.
"Let me tell you now, after going through COVID-19, I don't care if you paid me $100,000 to post a video, I don't want to even pretend to have COVID after getting COVID. I don't even want to hear the word COVID anymore," he said.
Source link