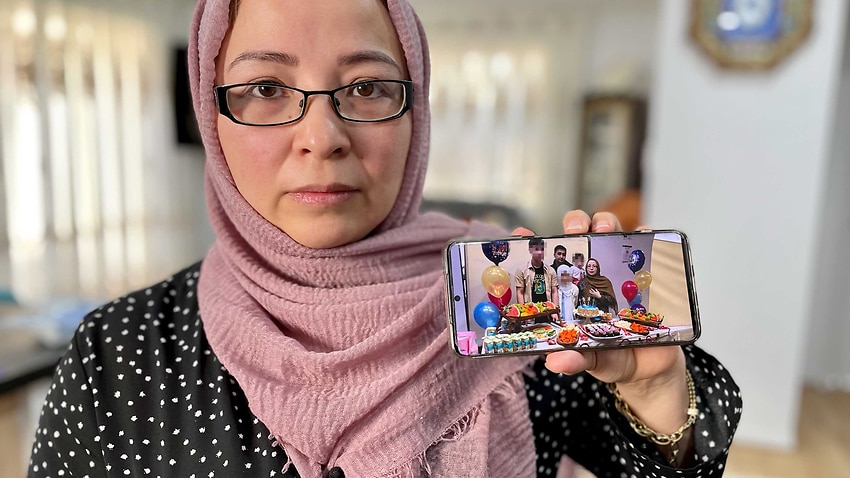 Warning: distressing content
An Australian man who is in hiding after appearing in a viral video with a bloodied face and head has appealed to the federal government to help him get out of Afghanistan.
"My life and my cousins' lives are in danger," he said in a video obtained by Nine News.
"As an Australian, I call on my government to please step in and save my life."
In the video circulating widely online, the man, who SBS News has decided not to identify by name for security reasons, has blood streaming down his face and says to the camera: "They hit me, I'm an Australian citizen".
The Afghan-Australian man had been trying to get to Kabul airport to board an evacuation flight when he was stopped by a member of the Taliban at a checkpoint, a member of the local community told SBS News.
In the video, he is surrounded by a number of men, one of whom has a machine gun in his hand.
One of the men nearby, speaking in Dari, demands the Australian stop filming.
"Turn it off, turn it off!" the man orders him.
"I'm Australian, I'm not an Afghan, and they're hitting me," the Australian man tells the camera in Dari.
"See this happen to me when I was crossing … airport (sic)," he continues in English.
The sound of a gun being cocked can then be heard in the video before the man cries out.
A gunshot and then a woman's cry follows before the video stops.
The man's wife in Australia says she was not aware of the incident until a relative who had seen the video on Facebook alerted her.
She said she only briefly heard from him after he was released from Taliban custody on Thursday morning, hours after the video went viral.
"I'm stressed and highly upset for my husband's safety, I could not sleep last night and I could not eat," she told SBS News.
"He is a father of three children and we want him back and we wish he is in a safe place right now.
"I hope to see him and we can continue our life as a family."
Another family member of the man also said he had been taken by Taliban fighters for questioning, and then later released after appeals from relatives who had been at the airport with him.
Earlier, a member from the Australian Hazara community who said he had been in touch with the man said he was assaulted by Taliban fighters at a checkpoint at the airport.
The man is now in hiding because the viral video means he is clearly identifiable to Taliban fighters if he tries to head to the airport again.
"He is in grave danger," the community member told SBS News on Thursday morning.
"He said to me, "Only my country can save me now'."
The Taliban has told the US it must keep the August 31 deadline to withdraw remaining troops, after 20 years in Afghanistan.
Australia warns Kabul residents to avoid Kabul airport due to security risk
The Australian government has now changed its advice for Australian citizens and visa holders in Kabul, urging them to avoid travelling to Kabul International Airport. 
Australia extracted 1,200 people from Kabul in the last 24 hours, bringing the total number of people evacuated over the past week to 4,000. 
Foreign Minister Marise Payne says the scenes are "extremely distressing" and human rights advocates warn people left behind could die.
"We do understand that this is an extremely distressing situation for Australians, Australian family members still in Kabul, people with visas and for family and friends who are here in Australia," Ms Payne said. 
More than 400 evacuees have made it to Australian soil since August 18, after being airlifted via Dubai.
Home Affairs Minister Karen Andrews said Australia is aiming to get as many people as possible out of Afghanistan.
"The situation there is absolutely diabolical so we will do what we can for as long as we can," she said.
Australia said it would resettle 3,000 Afghan refugees within the humanitarian intake of 13,750.
Refugee and human rights advocates are urging the government to increase the number of places for Afghan refugees to at least 20,000 – on par with the UK and Canada. 
Source link