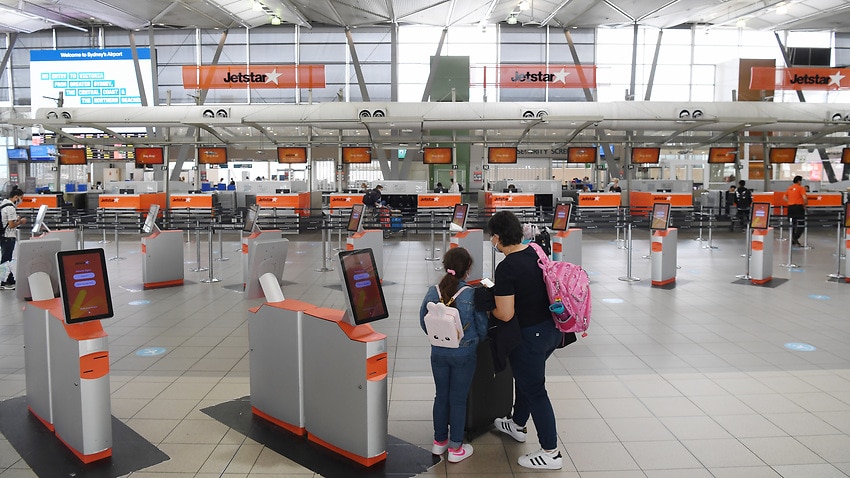 A taskforce bringing together an array of experts in a variety of fields has laid out a roadmap for Australia's reopening to the rest of the world.
The report, A Roadmap to Reopening, argues the current international border closure could be detrimental to the country's international reputation and suggests sector-specific travel bubbles for heavily affected industries such as the arts.
According to the taskforce, the government's insistence on a Covid-elimination approach rather than a strategy to live with the virus is "disappointing", with the national budget forecasting overseas travel to stay at low levels until mid-2022.
"Australia can't have its border closed indefinitely for a very simple reason: it's going to inflict significant economic, social and cultural costs," former race discrimination commissioner and report sponsor Tim Soutphommasane told SBS News.
"We are a trading nation and we are a multicultural nation and our society and culture can't be separated from the rest of the world.
"It's disappointing to see that we have seen a 'fortress Australia' mentality kick in where we have turned our backs on the rest of the world."
The report calls for steps toward international re-engagement based on widespread and rapid vaccination, border testing and immunity requirements for incoming travellers, and enhanced, tailored quarantine systems.
"We have been highly successful in suppressing COVID-19; you might even say we have been winning the war against COVID-19, but if we are not careful we could end up losing the peace," Mr Soutphommasane said.
"Let's remember that about half of the Australian population was born overseas or has a parent that was born overseas so having borders closed doesn't simply mean people are going to be prevented from taking an overseas holiday.
"It also means people have no certainty about when they will see family members overseas."
At risk of becoming a 'hermit nation'
Research conducted by the Sydney Policy lab alongside the report found 55 per cent of poll respondents support travel between countries where people are fully vaccinated and COVID-19 is under control. Another 54 per cent support entry of international students where they are fully vaccinated and subject to university-provided quarantine.
Meanwhile 53 per cent support the entry and quarantine of creative workers where they are fully vaccinated and involved in major projects.
"We are not suggesting we go back to what the case was pre-Covid. We absolutely need to keep the population safe, but we don't believe the whole population needs to be vaccinated," Mr Soutphommasane said.
"We are suggesting that there is a controlled, staged and risk-weighted reopening of Australia's borders."
Launched by former NSW premier Mike Baird on Friday, the report is intended to be formally presented to the NSW Government as a submission to the National Cabinet.
"I think it's really quite transformational in terms of public policy," Mr Baird told the launch.
"Covid is not yet defeated and there's a long way to go, so what is next and how do we prepare ourselves as a nation?"
"Is this the chance in the moment for Australia to take a bold step on the global stage?"
Describing the report as a "psychological runway" to reopening to the world, the team of multi-disciplinary experts says it aims to free the Australian population from the current "holding pattern".
Chaired by  global law expert Mark Rigotti, the taskforce includes experts in architecture, design and planning, the arts, settlement services, economics and law. Among the advisory team was University of Sydney infectious diseases specialist Ben Marais.
"Incidental outbreaks can not detract from the long-term goal of safe re-engagement. This needs to be the number one question we are all asking ourselves every day," Mr Rigotti said.
"The future prospects of thousands of Australians will be determined by our success: small business owners reliant on international tourism and international labour, mid-career academics, people who have given their lives to creative industries, farmers struggling to deliver the harvest."
The report warns the risk of not reopening, especially for younger generations, is facing "a lost decade".
"At the end of last year, we suddenly realised a whole host of sections of Australian society were growing increasingly anxious about the future," University of Sydney policy lab director Professor Marc Stears told SBS News.
"Both the federal and state governments … have responded extremely well to the challenges of the pandemic, much better than democratic countries around the world, but as a consequence of being so consumed by the immediate crisis, there's been less looking at the horizon."
According to Professor Stears, an energised vaccine rollout is an important step of the country's reopening but "we don't want to wait until every last person is vaccinated before you have some sort of re-engagement".
"We've seen the best of Australia during Covid, people coming together to tackle it but we've also seen glimmerings of the worst, in terms of racism and xenophobia and nervousness," he said.
"What you don't want the next stage of the pandemic to be about is people hunkering down in a hermit nation. You want rather to encourage people to look outward again."
Source link