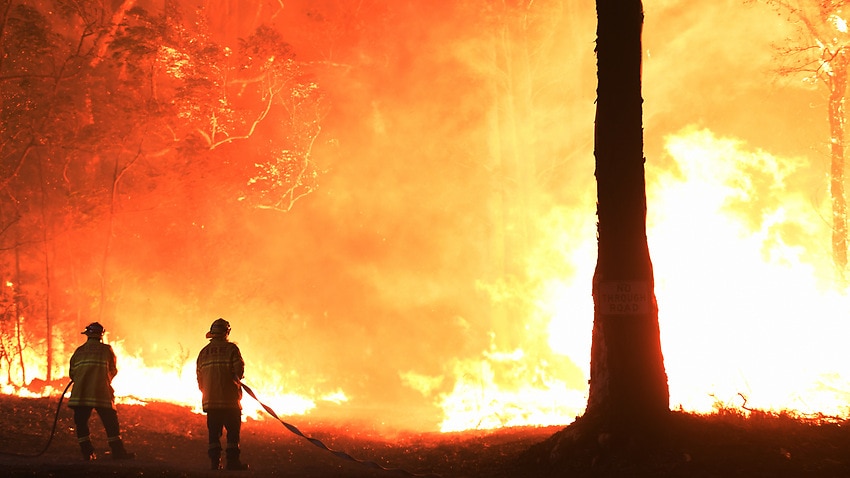 Australia's business and banking sectors are being urged to play a bigger role in rapidly reducing emissions following the release of a landmark report on the impacts of climate change.
A new report, released on Monday by the Melbourne-based Breakthrough – National Centre for Climate Restoration think tank, urges Australia's financial sector to change its approach to climate risks to avoid making the same mistakes that led to the 2008 Global Financial Crisis.
The analysis found there is an urgent need to overhaul the climate risk modelling being used to underpin investment decisions.
The frameworks are based on assumptions of a net zero by 2050 target and an average global warming scenario of between 3 and 4 degrees Celsius above pre-industrial levels.
Report co-author Ian Dunlop said that proposition cannot be accepted. 
"The best analysis around the world – among security analysts – is that 3 degrees Celsius temperature increase will lead to complete social chaos. And 4 degrees Celsius is beyond the ability of human civilisation to survive. It will be a complete breakdown."
It follows the latest report from the Intergovernmental Panel on Climate Change, which found global warming could hit 1.5 degrees Celsius above pre-industrial levels around 2030 – a decade earlier than previously projected.
Push for net zero by 2030
Mr Dunlop, a former CEO of the Australian Institute of Company Directors, said much more drastic action must be taken by the business and banking sectors in Australia.
"We have to take precautionary action, where you say: 'Look, you have got to now ensure that this [3-4 degree Celsius global warming] does not happen at all costs'.
"We have to get real. There is no point fiddling around the edges. Everybody now has to reduce emissions around the world.
Mr Dunlop said the Australian government's technology road map was part of the solution, but momentum needs to gather around a net zero target by 2030.
"Now to get there it means you have to move to something like war-time mobilisation.
"We need a completely apolitical approach to say we have to now focus all of our efforts – whether it be technically, financially, or whatever – to achieve this outcome."
He said the rapid response of governments to threat of COVID-19 showed large-scale action can be achieved.
"If you look at what is happening in NSW right now with COVID. We have moved in the space of 24 hours to a complete shutdown of the state. Why did they do it? On a precautionary basis because they suddenly realise unless they do that, this Delta variant is going to spread like wildfire.
"Climate is in the same situation. But the threat is far far greater. We need to stop playing games with this, and start getting serious with the way we approach it."
He said the work by Australian universities, NGOs and think tanks showed a number of measures could be implemented, including a carbon tax and a shift away from fossil fuels.
"We have to assemble the best possible expertise. Stop denying that climate is a threat. Net zero emissions by 2050 is far too late. We have to achieve as close to 2030 as possible. And if you have only 10 years to do it – then what you have to do is quite different than if you had 30 years."
'Businesses part of the solution'
Mr Dunlop said while financial regulators have in some ways been leading the thinking on climate change risks for the economy, businesses have a key role to play. 
"The business world is absolutely fundamental to solving this problem," said Mr Dunlop.
"What company directors have started to see in the last three or four years is that they now have to face up to the fact that climate change is a material risk to their future survival. And they have a fiduciary responsibility to understand it – and to manage those risks accordingly.
"They haven't been doing that. They have tended to rely and respond to what the regulators are doing."
In guidance to Australian companies issued in April, the Australian Prudential Regulation Authority recommended they stress test their finances against global warming scenarios of up to 4 degrees Celsius.
It also proposed stress testing Australia's financial system with the 3 degrees Celsius global warming scenario.
The Financial Stability Board in 2015 established the Task Force on Climate-related Financial Disclosures.  
The European Central Bank recently conducted risk modelling on the impacts of climate change on the financial system, including in their model approximately four million companies and 2,000 banks over a 30-year timeline.
It found climate change impacts are a "major source of systemic risk, particularly for banks with portfolios concentrated in certain economic sectors and, even more importantly, in specific geographical areas".
Small businesses also have a role in coming up with solutions, Mr Dunlop said. 
"There is going to be massive social change, in addition to the big issue of getting emissions down. It means a complete change in the way society operates – and that is going to result in enormous opportunities for small business – in reframing the way they operate and picking up new ideas."
'Code red'
The IPCC report released last week found global warming of 1.5 degrees Celsius above pre-industrial levels could be reached by the early 2030s – a decade earlier than previously anticipated three years ago.
The Earth's global surface temperature rose around 1.1 degrees Celsius in the last century – since the pre-industrial period of 1850–1900. That level of temperature rise has not been seen since before the last ice age – 125,000 years ago.
The report's authors found that although the window to limit global warming to 1.5 degrees is narrowing, it can be achieved if immediate, rapid and large-scale reductions of emissions are adopted.
It found under the current trajectory, one in 50-year severe weather events would occur with greater frequency and intensity.
Extreme heatwaves that occurred every 50 years without any global warming are now happening every decade. The time between events reduces to every five years with 1.5 degrees of warming, every 3.5 years under 2 degrees, and every 15 months at 4 degrees.
Mr Dunlop said there was a risk of repeating the mistakes of 2008 Global Financial Crisis when risk modelling did not anticipate the true extent of the impacts.
"The thing we risk here is the same sort of problem occurring is: people's failure to imagine the impact of climate change – and the way in which we must deal with it."
United Nations secretary-general Antonio Guterres said the "code red" report "must sound a death knell for coal and fossil fuels before they destroy our planet".
PM defends climate performance
Responding to the IPCC report, Prime Minister Scott Morrison said Australia had performed well in reducing emissions by 20 per cent based on 2005 levels, adding that Australia is "on track" to meet its emissions reduction target of 26 to 28 per cent below 2005 levels by 2030.
Climate change scientists said the conclusion of 20 per cent emissions reduction uses accounting methods that rely on the decline in land use sector emissions arising from state government policies.
Taking the land use sector emissions out of the equation, Australia's emissions increased by seven per cent – even as the UK reduced theirs by 33 per cent, the EU by 20 per cent and the US by 11 per cent.
Labor frontbencher Tony Burke said the federal government needs to commit to a net zero target for 2050.
"We were always critical of it (the goverment's 2030 target)," he told ABC's Insider's program on Sunday. "You can't view the 2050 target as something that you start working towards in 2048."
The federal opposition is still working on its target for 2030, but has said it is committed to a net zero target by 2050.
Meanwhile, other countries have forged ahead with plans to shift away from fossil fuels or adopt a carbon price. 
Costa Rica last week began debating a proposed law that would permanently ban fossil fuel exploration as the nation aims to achieve net zero carbon emissions by 2050.
China last month launched the world's largest carbon-trading market, the Shanghai Environment and Energy Exchange, in a step towards net-zero emissions by 2060.
Source link