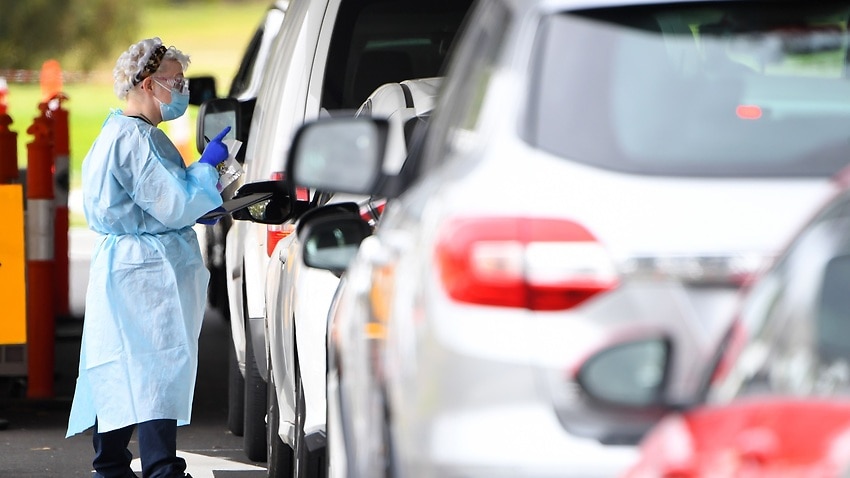 Some Victorians are reporting waiting up to five hours to get a coronavirus test despite authorities promising increased testing capacity, as a wave of arrivals from NSW return home following the closure of the state's border.
Paramedic Shelly Tennant waited six hours to get tested in a drive-through testing site in Darebin, saying lines were as long as three kilometres.
"I did see a lot of people turn and leave, they had a car full of kids…so an hour in, a bunch of people just said: 'this is not enough'," she told SBS News.
Ms Tennant said she was not critical of the situation and many people appeared calm and courteous despite the delay.
Several people took to social media to describe the delays.
Two testing sites, in Chadstone and Springers Leisure Centre, were temporarily closed on Saturday afternoon because they were over-capacity, the Victorian Health Department's website stated.
Estimated wait times were also unavailable on the Victorian health department's website for many testing sites. 
Henry Travers said he waited three hours at a testing site in Monash on Saturday morning, after driving 13 hours the day before to get home before the borders closed.
He said he saw a woman in her 60s faint in the line in front of him, from what appeared to be heat stress.
"She had to go in and get some treatment," Mr Travers, a former Liberal media advisor, told SBS News.
Earlier, Victorian testing manager Jeroen Weimar said testing capacity would be increased on Saturday, with additional testing sites and more health professionals.
"I appreciate some of the waiting times are long," he said.
"We have thousands of staff coming back in, people coming back from holiday, from leave."
He urged anyone who misses out on getting testing to quarantine and try again the next day.
Thousands of holidaymakers have returned from NSW after Victoria shut its borders to stem the spread of the coronavirus.
Victoria reported 10 new cases of community transmission on Saturday, with the genomic sequencing testing confirming the outbreak is linked to the NSW cluster.