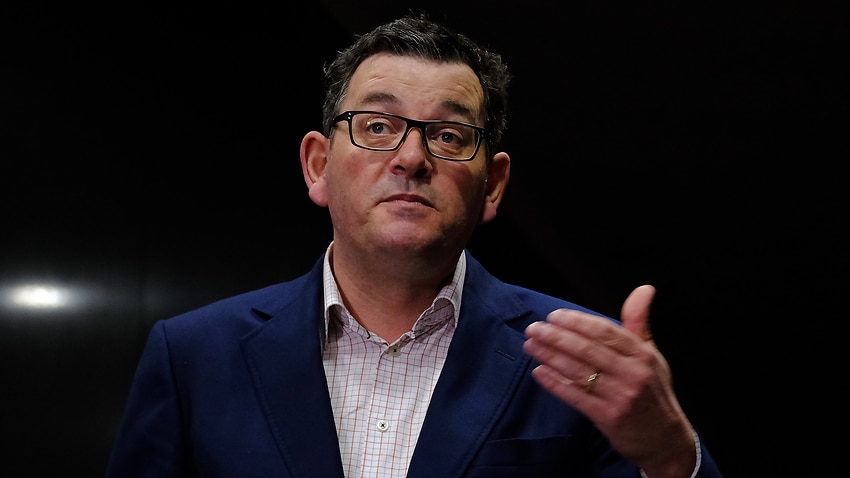 Victorian Premier Daniel Andrews says he is confident his state can get on top of its latest coronavirus outbreak in just five days, despite reporting six new cases on Friday.
Four cases were also reported on Thursday, bringing the state's total number of new cases to 10.
Mr Andrews on Friday announced weekly payments will be available for Victorian businesses and workers, with the cost to be shared by the state and federal governments.
The total number of cases linked to the current outbreak now sits at 24. There are 126 exposure sites, 1,500 close contacts and 5,000 secondary contacts.
The premier said today's numbers proved lockdown was the right decision.
"No one wants to be lockdown, but we had no choice and these additional cases overnight, and particularly some of the context of these cases, I think confirms for all Victorians that we had to make that tough call," Mr Andrews said on Friday afternoon.
"We have been here before, we have done this before, and we have done it with Delta – let's not forget that.
"Just the last time, we were able to bring I believe a more complex series of chains of transmission under control, and I am very confident that our contact tracing team in partnership with every single Victorian are playing their part and will be able to do the same thing again." 
The new cases include a member of the defence force at a Royal Australian Navy base on the Mornington Peninsula.
The member, based at HMAS Cerberus, has been in isolation since they tested positive for the highly infectious Delta variant on Thursday, the Department of Defence has confirmed.
The member visited an exposure site at the weekend.
Live-in navy personnel at HMAS Cerberus have been confined to their barracks and training and leave has been suspended.
Meanwhile, 200 staff at the Royal Melbourne Hospital have been stood down after they were potentially exposed to a patient who is a close contact of a COVID-19 case.
The hospital is still operating on reduced staff but has postponed elective surgery.
The staff have been told to isolate for 48 hours to enable contact tracing efforts.
There are currently no COVID-19 patients in the hospital.
Victoria's COVID-19 Response Commander Jeroen Weimar said more than 33,000 Victorians got tested yesterday.
"Given the importance of getting as much information as we can during lockdown period, we want as many of you as possible, if you have concerns, to get tested now," he said.
"Do not wait for symptoms to get worse. If you have any kind of symptoms we want you to get tested."
The majority of infections are connected to NSW removalists who breached their worker permit conditions and spread the virus during a drop-off at the Ariele Apartments in Maribyrnong late last week.
A Victoria Police spokesman told AAP it was helping to establish the three-person crew's movements as part of a health department investigation.
Of greatest concern to authorities are three cases of suspected "stranger-to-stranger transmission" at an AFL match between Carlton and Geelong at the MCG on Saturday.
A positive case also attended the international rugby clash between the Wallabies and France at AAMI Park on Tuesday night, with stadium management working with health officials to identify close contacts.
Melbourne COVID testing sites were in high demand on Friday, with seven sites no longer accepting people, and dozens more warning of long wait times.
Financial support for businesses and workers
Premier Andrews also announced details of how businesses and workers will be able to claim government payments if they lose income during the lockdown.
The state and federal governments have agreed to share the cost of the scheme, which will provide weekly payments of $375 and $600 for those who have lost work, with no liquid assets test.
Up to 90,000 businesses will be eligible for payments of $2,000 or $3,000, with the grants to start from next week as part of a $200 million state-funded scheme.
The premier said the payments will apply regardless of the length of the lockdown.
"If you lose the hours and you are eligible, the length of the lockdown does not matter," he said.
"You have lost those hours, you have lost those wages and you should be supported."
With AAP.
Source link