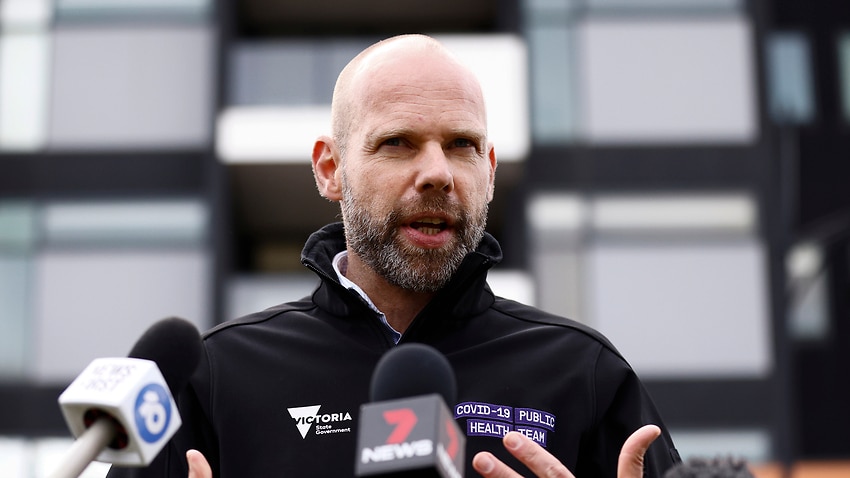 Victoria has recorded two new cases of COVID-19 linked to the Melbourne Cricket Ground.
The latest cases are in addition to the ten local cases in the 24 hours to Thursday morning, all of which were previously reported.
Victorian COVID-19 Commander Jeroen Weimar confirmed the latest two new cases on Thursday afternoon.
They are linked to level two of the MCC member's reserve. One is a minor and the other an adult.
Mr Weimar said the two new cases were sitting apart from each other and there was no obvious relationship between them.
"This is possibly two examples of stranger-to-stranger transmission between the individuals that we know about," he said.
"We do not believe they are known contacts of the other two positive cases we know were there.
"That gives us significant cause for concern."
Mr Weimar said contact tracers had burnt through seven rings of connections, which he described as the fastest response ever seen to an outbreak.
"What we've got is two separate incursions into Victoria over the last three or four days, two chains of transmission, at least one is moving very actively and very aggressively across the state."
The state was now dealing with 75 exposure sites, 1500 primary close contacts and 5000 secondary contacts.
There are now six positive cases associated with the locked down Ariele apartment complex in Maribyrnong, where removalists from NSW, who have since tested positive to COVID-19, were working on July 8.
Four of the six cases in the apartment are residents and two are parents of residents.
Indoor mask wearing mandates have been reimposed a few days after the restriction was lifted.
Anyone aged over 12 will be required to wear a mask in all indoor settings, including schools and workplaces, unless an exception applies.
Mr Weimar said the efficacy of mask-wearing was proven by the fact the man whose furniture was being removed at the Ariele apartment complex had been wearing a mask and had not yet tested positive.
In contrast, four others, including a direct neighbour and another on the same floor, were not wearing masks and have since tested positive.
AAP understands Victorian ministers and public health officials are holding meetings on Thursday morning to discuss reimposing restrictions such as caps on crowd limits and visitors permitted in homes.
On the prospect of a broader lockdown, Mr Weimar said more information would be provided when it was appropriate.
"This situation is moving not so much hour by hour but half hour by half hour. If we have more information to share, we'll share it."
He said the health response was moving as quickly as it's ever moved and the focus was now on the MCG and two schools in Bacchus Marsh Grammar and Barwon Heads Primary.
"We're certainly confident we're right on the heels of this particular outbreak.
"It's this next 24-48 hours that is a critical period to see whether this is a wave that's standing up on us, or whether we're cresting over the top."
– With AAP
Source link