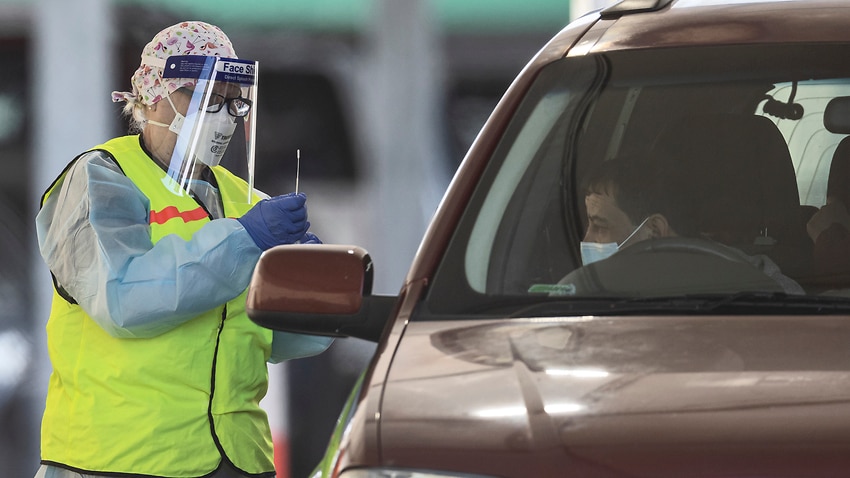 Victoria has recorded 80 new local coronavirus cases – just over half of which were infectious in the community.
Of the new infections, 39 were in quarantine throughout their whole infectious period. Sixty seven have been linked to current outbreaks.

Victoria now has 600 active cases.
Meanwhile, emergency relief is headed to the town of Shepparton, located about 180 kilometres north of Melbourne.
Eighteen of the 80 new infections are linked to the outbreak in Shepparton. None of the 18 were isolating throughout their infectious period.
It brings the total number of cases in Shepparton to 67, while about 17,000 residents in the area, which has a population of 65,000, are believed to be self-isolating.
It's forced many businesses to reduce opening hours, as staff remain in isolation, including supermarkets and pharmacies.
Premier Daniel Andrews on Thursday announced the state's deputy emergency management commissioner, as well as other senior departmental officials, will head to Shepparton to coordinate relief.
"It is no different to a bushfire or flood. The emergency management architecture will be in place but it will be in the main very, very simple things – taking food to people's doorstep, getting scripts filled," Mr Andrews told reporters.
"The focus is on getting everybody in Shepparton things they need when they need them."
Mr Andrews said it was vital all Victorians get tested as soon as they develop even the slightest of COVID-19 symptoms.
"When you register a symptom, you cannot wait seven or eight days, as regrettably, some of the positive cases did wait a long time before going to get tested," he said.
"(It) meant they were in a community, out there unknowingly infecting other people and often the people they love the most."
SBS is providing live translations of daily New South Wales and Victoria COVID-19 press conferences in various languages. Click here for more information.
Source link