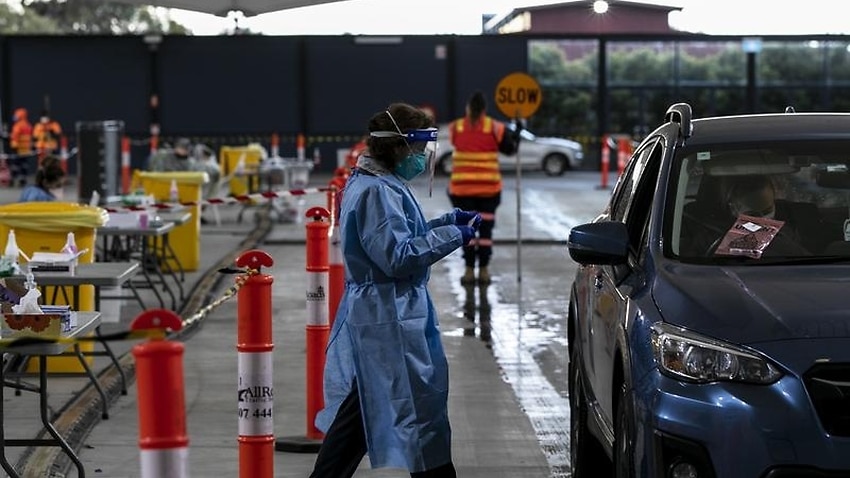 Victoria is facing its biggest COVID-19 battle since the state's second wave, having recorded 55 new local cases, 30 of which have been in the community while infectious.
Premier Daniel Andrews described Friday as a "bad day".
He said government ministers and the public health team will meet on Friday afternoon to determine whether restrictions will need to be tightened further.
"It's not just delicate, it's not a tipping point, we are right on the edge of this getting away from us," he told reporters.
"It's not because contact tracing are not doing everything they can, they are, it's not because we didn't lock down fast enough, we did.
"It's this Delta variant, it's so wildly infectious it will find every breach of every rule and it will potentially spread because of that."
He urged Melburnians to this weekend abide by lockdown restrictions, which include five reasons to leave home, a five-kilometre travel limit for exercise and shopping, a 9pm to 5am curfew and mandatory masks both indoors and outdoors.
Last week saw a spate of breaches including an organised takeaway pub crawl in Richmond and an engagement party in Caulfield North attended by 69 guests.
"I cannot be any clearer with the people of Melbourne and more broadly people of Victoria – if we have a weekend this weekend like last weekend, next week it will be like Sydney. Simple as that," he said.
The health department on Friday confirmed 49 of the locally-acquired cases are linked to known outbreaks, while 25 were self-isolating throughout their infectious period.
Six cases cannot be linked to known outbreaks, which is of great concern to authorities.
Two overseas-acquired cases were also detected in hotel quarantine, taking the total number of infections recorded in the state to 57 for the second day in a row.
It's expected some of the 55 new infections are the result of day-13 testing of some 2000 people who have been self-isolating after coming into contact with a positive case.
Among the new infections is a police officer based at Knox station, in Melbourne's eastern suburbs and resident of the regional city of Shepparton, about 200km north of Melbourne.
Mr Andrews is not ruling out a hard lockdown in regional Victoria.
There are more than 530 exposure sites in Victoria, with a number of new sites added in Ashburton, Altona North and Newport on Thursday evening.
With SBS News.
SBS is providing live translations of daily New South Wales and Victoria COVID-19 press conferences in various languages. Click here for more information.