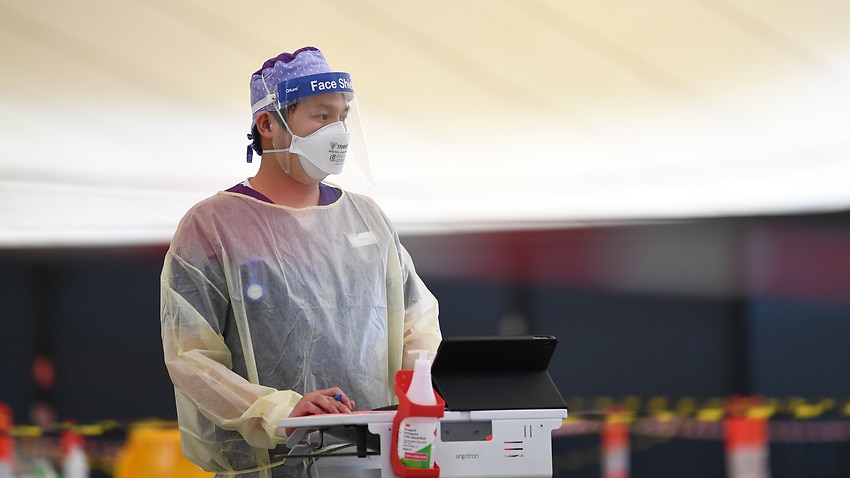 "Eighty-five per cent of the over-16 population have now received their first dose of the COVID-19 vaccine. And 57 per cent have received a second dose which is a fantastic effort," Minister for Government Services Danny Pearson told reporters on Saturday. 
In Melbourne, 735 COVID-19 cases were recorded in the northern suburbs, in particular in the local government areas of Hume and Whittlesea. 
In the city's west, there were 464 new cases, many of those in the Melton area. There were 533 new infections recorded in the south-east. 
Support for Victoria's creative industries 
Mr Pearson announced an extra $15 million in funding for the the state's arts and creative industries on Saturday.
"$10 million of this will target key small to medium creative organisations, much loved arts festivals, and the state's major performing arts companies," he said. 
"It will ensure they can continue to operate and employ people, engage artists and plan a pathway to recovery as restrictions ease."
A further $5 million will go directly to individual artists, creative workers, collectives and micro businesses, many of who Mr Pearson said have "fallen through the gaps" of other support programs. 
"This funding will be delivered through a new streamlined round of the Sustaining Creative Workers Program and it will contain grants of up to $5,000 for practitioners, including freelancers and subcontractor contractors," he said. 
The grants are simular to a program run in 2020 and applications can be made on the Creative Victoria website.
Regional town of Mildura records 20 COVID-19 cases 
Meanwhile, Health Department deputy secretary Kate Matson said authorities were "particularly concerned" about case growth in regional Mildura, where residents have entered a seven-day lockdown.
There were 20 new infections recorded in the town overnight, taking the total number of active cases there to 37. 
She acknowledged the decision to enter lockdown at midnight on Thursday was made "quite late into the evening". 
"But as always, we are making these decisions on the latest advice and the latest data at the time and if there was any inconvenience caused by our late notice, we do apologise for that," she said. 
"But we will never apologise for taking the right public health actions to protect Victoria and Victoria's community, and in this instance, the community in the Mildura area."
Mildura will be under the same stay-at-home rules as Melbourne, excluding the curfew, with a 15-kilometre travel limit and a ban on visitors at people's homes.
Meanwhile, Greater Shepparton and Moorabool Shire exited their lockdowns at 11.59pm on Friday, with rules now matching the rest of regional Victoria including masks indoors and out, and a ban on home gatherings.
Professor Sutton paid tribute to locals for helping to drive case numbers down.
"I really thank everyone in the community for staying safe, staying apart, and doing the right thing," he said.
A small tweak to the mask rules also came into effect at midnight on Friday, with adults now allowed to remove their face mask to consume alcohol while outdoors.
With AAP. 
Source link