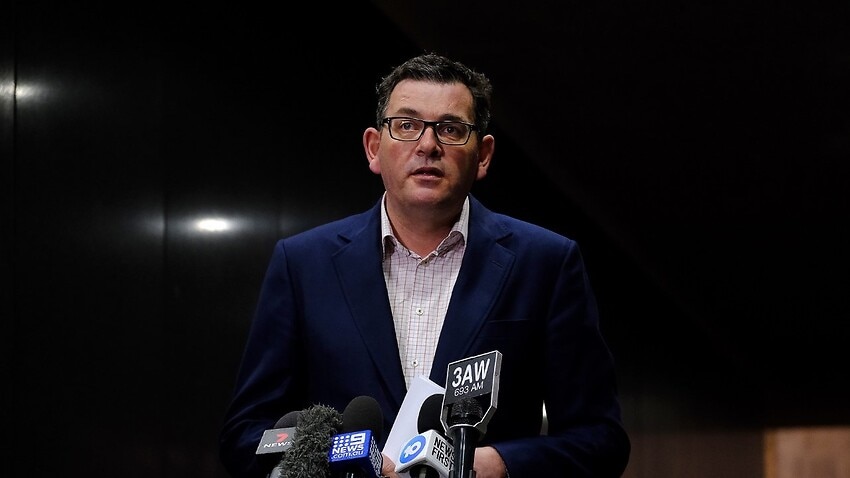 Victoria's lockdown will be extended for another week as the state continues its fight to suppress community transmission of COVID-19.
Victorian Premier Daniel Andrews confirmed the five-day lockdown would be extended until midnight on 27 July at a press conference on Tuesday.
"We need more time. That is why on the advice of the chief health officer we will extend these lockdowns for a further seven days," he told reporters. 
"We can't run the risk that there are cases out there that we don't know about."
The state recorded 13 new local COVID-19 cases on Tuesday, from almost 50,000 tests. 
Twelve of Tuesday's cases are linked to the current outbreaks of the Delta variant in the state, which originated in NSW, while one case remains under investigation. Nine of the cases were in isolation.
The outbreak now totals 85 active cases with 18,000 identified close contacts identified in the community. 
"That shows you how challenging this is – it shows you that we have made good progress but there is still a way to go," Mr Andrews said.   
This includes a third of primary contacts in regional Victoria, which includes sites at Phillip Island in the south of the state, Bacchus Marsh, Barwon Heads and Mildura in the northwest.  
Mr Andrews said there remained "chains of transmission" that must be stamped out to avoid the severity of the outbreak further "flaring up" once a decision has been made to reopen.
Two of the four reported cases are linked to an outbreak at the restaurant Ms Frankie in Cremorne, while two are household contacts of a person who contracted the virus at the Geelong-Carlton game at the MCG on 10 July.
One new case, a woman in her 20s from Roxburgh Park, is believed to be connected to a family from the Hume local government area who tested positive after returning from NSW earlier this month.
Victoria's Chief Health Officer Brett Sutton urged Victorians to continue to comply with lockdown restrictions to ensure their "sacrifices" were not lost.
"Each of us is really going to have to double down to keep our community safe for the next week," he told reporters.
This included thanking members of Victoria's Muslim community for abiding by health orders during Eid al-Fitr. 
"It is a significant sacrifice but a really important one that is going to protect all of us," he said.
Victorians wishing to return home face tougher border restrictions 
Red zone travel permits, needed to get into Victoria from NSW and the ACT, are also being paused for two weeks as the state hardens its border restrictions from midnight on Tuesday.
Mr Andrews said Victorians wanting to return into the state would have to be either an authorised worker or secure an exemption on compassionate grounds.   
He added that the risk of hundreds of people returning posed too great a risk and people had been warned for weeks to come home.
"I know that will cause inconvenience – I know that will cause a real challenge for many people," he said. 
"[But] things are too unstable – too uncertain and frankly out of control from a virus point of view in Sydney."
Mr Andrews has also flagged plans for further payments for businesses hit by the extended lockdown will be announced on Wednesday morning. 
"There will be more pain because the lockdown is longer than we first hope," he said.  
Queensland reports case of Delta variant from Melbourne
It comes as a Queensland woman imported the highly contagious Delta variant of COVID-19 after becoming infected at a Melbourne pub.
Public health alerts have been issued for the Sunshine Coast, Brisbane, and locations in the far north after the woman returned to Queensland to see her family.
She'd been studying in Victoria and went to Melbourne's Young and Jackson Hotel on 10 July, where she caught the virus. Three days later she returned to her home state for a holiday.
She was staying with friends at Maroochydore on the Sunshine Coast on 15 July when she got a text from Victorian authorities advising she'd been at an exposure site and to get tested immediately.
But she returned a negative test and went about her business, going shopping and dining out. The next day she caught an Uber, a bus and a train to Brisbane airport before boarding Virgin Australia flight VA791 to Cairns.
It was while she was staying with family at nearby Mareeba that she noticed symptoms and got tested again, returning a positive result late on Monday night.
Chief Health Officer Jeannette Young believes she was infectious in the community from 15 July and probably until 17 July, and is waiting on test results to understand the level of risk Queensland is facing.
She said the woman, aged in her 20s, was fully vaccinated and wore a mask while she was out and about, and while she was on public transport and the flight to Cairns.
"She's had both doses of the vaccine, which does reduce the risk but it doesn't remove the risk," Dr Young told reporters on Tuesday.
"I'm most concerned about her household contacts in Maroochydore and up in Mareeba.. As soon as we've got those results … that will give me a sense of what the risk is."
Contact tracing is underway for everyone onboard flight VA791 from Brisbane to Cairns on 16 July.
Health Minister Yvette D'Ath linked the woman's infection back to the expanding outbreak in NSW.
"We now have transmission from that NSW cluster in Victoria, South Australia and Queensland," she said.
Ms D'Ath urged people not to leave the state and said Queenslanders who are currently elsewhere should get home quickly, in case the situation deteriorates further.
"We now have a 10-fold increase in cases across Australia in five weeks. We are now at 1360 cases across Australia, where only five weeks ago we were down to 127."
Two new overseas acquired cases were also detected in hotel quarantine.
With AAP.