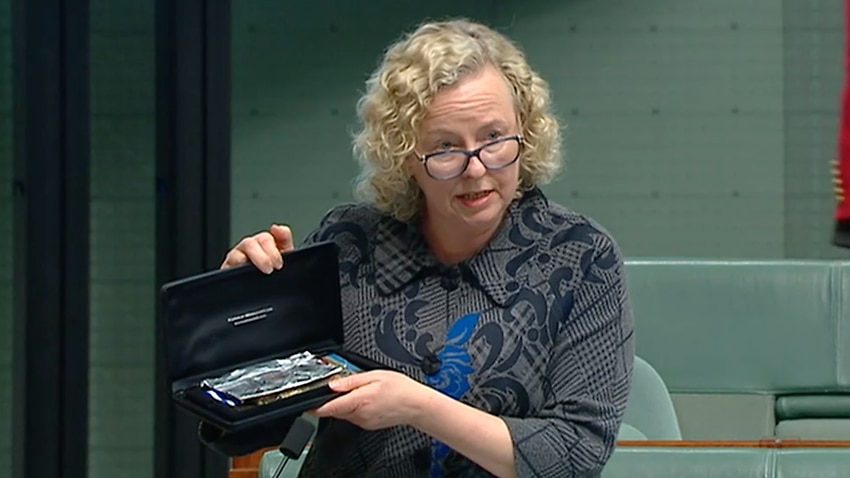 The burnt service medals of Australian veterans have been displayed in parliament in a bid to expedite the protection of Afghan interpreters who served with Australia in Afghanistan.
Labor MP Sharon Claydon presented the medals to Prime Minister Scott Morrison during a speech in the lower house on Wednesday, saying veterans across Australia were "appalled" by his government's failure to act urgently to protect Afghan interpreters.
"We should not underestimate the toil and moral injury this issue has on our veterans," she said.
"Prime Minister, you know the significance of these medals." 
Hundreds of Afghans who worked for Australia have been urgently applying for protection visas to escape reprisal attacks from the resurgent Taliban, which considers those who worked with foreign forces to be traitors.
The United States has organised flights for the country's Afghan interpreters and others who worked alongside US forces in Afghanistan. Britain has also committed to expedite the relocation of Afghan staff.
Ms Claydon said that unlike our allies, Australia had not organised special flights to return Afghans, nor has it committed to fast-track their visas.
"Australians don't leave our mates behind," she said. "Australian soldiers were not trained to do that."
Several Australian veterans across the country have been burning their service medals in protest against the government's treatment of Afghans who served with Australians during the war in Afghanistan.
Among the medals Ms Claydon presented were those of Stuart McCarthy, a retired army major, and Pete Evans, a veteran from her Newcastle electorate who previously served in East Timor.
"Pete Evans felt so strongly about this he burned his medals and asked me to present them to the prime minister in the Australian parliament," she said.
Mr Evans told SBS News Australia had a "moral obligation" to protect people who volunteered to serve with Australia, amid the impending threat posed by the Taliban.
"Those locals did that at great risk to themselves at the time," he said.
He said Australia's treatment of the Afghan personnel would have consequences for the reputation of its defence force and for national security.
"In the future people in areas where we deploy will not work for us if we abandon the Afghan interpreters and contractors," he said.
Mr Morrison has expressed his commitment to providing refuge to those who served with Australia, but many have expressed concerns over Australia's response, including former senior diplomats, prominent academics and veterans. 
The prime minister has indicated his government is considering repatriation flights for Afghan translators and other staff who helped in Australia's mission in Afghanistan.
Last month, he said the government had so far brought 252 Afghans and their families to Australia since April and that the government was "making steady progress" processing visas. 
He has also said he "absolutely agrees" with his Liberal predecessor John Howard that the government bears a moral responsibility to help Afghans who assisted Australia's mission in Afghanistan. 
"I absolutely agree with him, and this has a high level of urgency within the government, and we're moving on that as quickly and as safely as we possibly can," Mr Morrison said last month. 
Swedish veterans have also taken to social media to return their Afghanistan medals in protest against their government's treatment of Afghan interpreters who served with its forces. 
In a statement to SBS News, the Department of Defence said the safety of Afghan workers who supported Australia's mission in Afghanistan remains a "priority".
"Locally Engaged Employees who worked for us, and who have a legitimate case for a visa, are being provided with an opportunity to come to Australia," the statement said. 
"The Australian Government is working to ensure each case is considered swiftly and those at risk of harm who meet visa requirements are resettled to Australia as soon as possible."
In July, Defence Minister Peter Dutton said the government was exploring other avenues to grant more visas to Afghan interpreters.
"There might be more that we can help through the refugee and humanitarian program, and if we need to airlift people we will do that," he said, adding that the government has "already looked at those contingencies".
"If people can come commercially and that's available, that might be the option for them, but if we need to airlift people we will, and already I think Australia's moved ahead of most partners to get those that have helped us into our country."