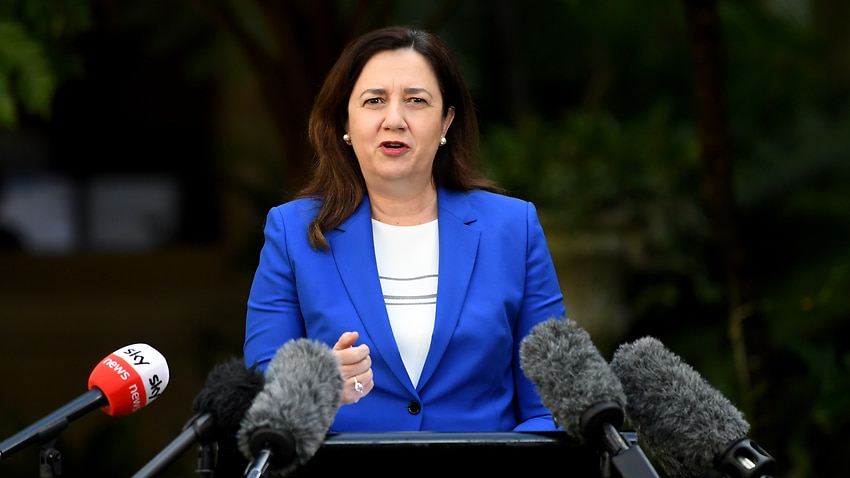 Queensland has recorded two new locally-transmitted cases of COVID-19, taking the total number of cases across two Brisbane clusters to 17.
The two additional cases were reported after 33,408 tests were conducted in the 24 hours to 9am on Wednesday.
One is a nurse from Brisbane's Princess Alexandra Hospital, who was exposed to a COVID-19 patient, and the other is her housemate. The nurse had received her first vaccine dose.
"The signs are very encouraging and I want to thank everybody involved in this," Premier Annastacia Palaszczuk said.
"[But it's] absolutely critical that we rule out any unlinked community transmission of COVID in our community."
Ms Palaszczuk says there's no further known cases of community transmission in the state.
She says a decision on extending the Greater Brisbane lockdown, which is due to end at 5pm on Thursday, will be made in the next 24 hours.
"It depends on the testing rates again, so if we see very good testing rates across Queensland, and we don't see any unlinked community transmission, the signs for Easter are looking positive," Ms Palaszczuk said.
Known COVID-19 cases have visited venues in Greater Brisbane, the Gold Coast, Gladstone, Toowoomba, Hervey Bay and Gin Gin.
The number of exposure sites in Queensland jumped to 81 overnight with alerts for another two venues across the border in the NSW town of Byron Bay.
Chief Health Officer Jeannette Young said well over 1000 people were in self-isolation or quarantine after coming into contact with known cases.
She said a decision on extending or expanded Greater Brisbane's lockdown would depend on what the numbers looked like on Thursday morning.
"This is only one day of encouraging results, (but) we need to get more results from today, so it is absolutely, extremely important that anyone with any symptoms gets tested, so if there's any other trends of transmission we pick them up immediately," she said.
"Then we'll get those results tomorrow morning, and we'll be able then make a decision."
Health Minister Yvette D'Ath did not appear at Wednesday morning's press conference after she woke up with a sore throat and decided to get a COVID-19 test.
She lives in the Moreton Bay region, where a number of exposure sites are located.
"The health minister is following exactly her own advice and I encourage everyone else, if you have any symptoms as well, to please do the same and go and get a test," Ms Palaszczuk said.
Hospital lockdown
The PA Hospital, where one of the latest cases worked as a nurse, was locked down even harder on Tuesday night.
Queensland's second-largest hospital started turning away all but the most critical patients on Wednesday morning.
Like all Brisbane hospitals, it had been turning away visitors since Friday.
"This additional lockdown will enable PA Hospital to put in place processes to manage impacts associated with these linked cases," an official said.
The hospital is testing all staff who've worked in the COVID-19 ward since 19 March, with all known virus cases linked to two unvaccinated staff who tested positive there.
The Greater Brisbane region has been declared a COVID-19 hotspot by Australian Chief Medical Officer Paul Kelly, who warned the situation was escalating and travellers should take note of border closures.
"It may be one thing to go there but coming back might also be difficult," he said.
"I can't predict what's going to happen in the next week or two."
The state now has 71 active cases, including those already in hotel quarantine.
People in Australia must stay at least 1.5 metres away from others. Check your jurisdiction's restrictions on gathering limits. If you are experiencing cold or flu symptoms, stay home and arrange a test by calling your doctor or contact the Coronavirus Health Information Hotline on 1800 020 080. News and information is available in 63 languages at sbs.com.au/coronavirus.
Please check the relevant guidelines for your state or territory: NSW, Victoria, Queensland, Western Australia, South Australia, Northern Territory, ACT, Tasmania.
With AAP.