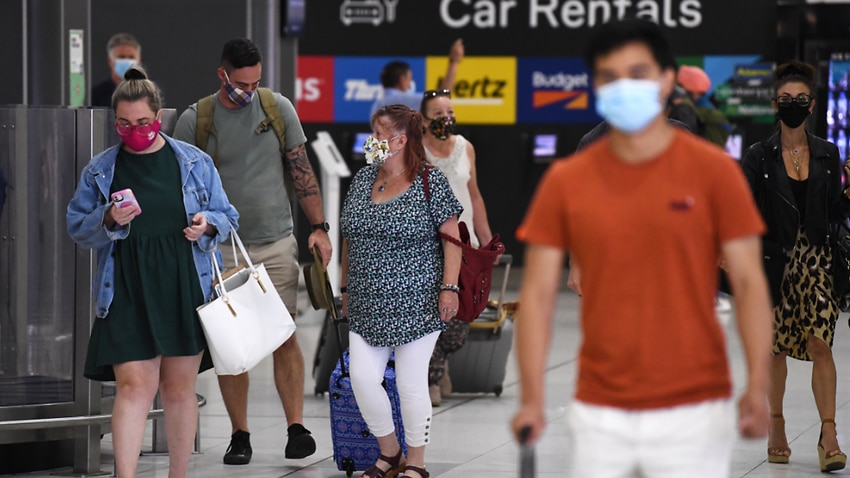 Right now, around 39 per cent of the population in Australia aged over 16 is fully vaccinated. 
All travellers to Australia must undertake a mandatory two-week hotel quarantine period regardless of their vaccination status. 
NSW Premier Gladys Berejiklian said considerations were underway for what quarantine looks like for returning Australians, once vaccine targets are reached.
"There will be a transition in the quarantine system from 70 per cent double dose to 80 per cent double dose," she told reporters. 
"Once we hit 80 per cent double dose we will definitely be opening up Sydney airport to welcome home Australians." 
A home quarantine system is currently being trialled in South Australia, allowing residents arriving from NSW and Victoria to quarantine at their residence. 
Mr Morrison has indicated the shift from hotel quarantine to home quarantine will be central to the return of international travel.
"For international travel to work, we need home quarantine done," he told Sky News on Tuesday.  
"The length of that quarantine [is] also was what we're looking at."
The introduction of the vaccine passports will allow Australians to prove their vaccination status internationally as travel restarts.
In the United States, different travel rules for international arrivals currently apply for the vaccinated and unvaccinated.
People vaccinated with vaccines approved by the World Health Organisation are able to self-monitor for COVID-19 symptoms and get tested three to five days after entering the country.
However, those unvaccinated are required to self-quarantine for seven days after arrival.
Source link