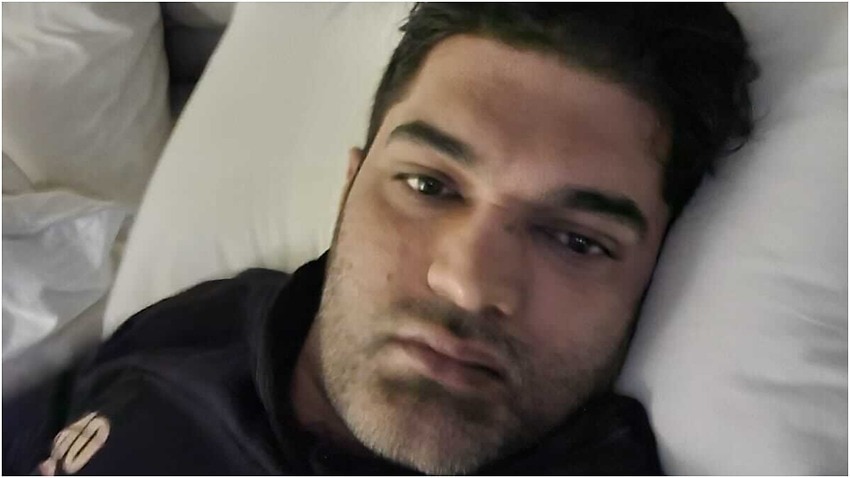 But he said what is playing on his mind most right now is that he's currently unvaccinated.
Mr Sohrabi said he had a bad headache, pain in his eyes and a fever after contracting COVID-19 Source: Supplied
---
Mr Sohrabi was transferred to Melbourne from a detention centre in Adelaide two months ago.
He said when he first arrived at the Park Hotel, he spoke to a nurse and signed papers to get vaccinated. 
"She said 'you're getting your first dose with people who are getting the second dose'," Mr Sohrabi said.
"But then, I wasn't on the list and then they did it another time for some other people and again, I wasn't on the list."
Mr Sohrabi said he first started feeling unwell last Thursday and he was placed into quarantine on Friday after testing positive. 
He said he and others were taken to the hospital on Sunday night to have chest x-rays, heart and liver checks, blood tests and other examinations.
Those who have reported COVID-19 symptoms are currently in quarantine on a separate level of the hotel, he said.
But there are grave concerns that case numbers may accelerate as men who've come into contact with the positive cases await their own results after being tested on Sunday night. 
Refugees inside the Park Hotel in Melbourne gesture to protesters outside. Source: AAP
---
SBS News has also spoken with one Afghan asylum seeker waiting for a test result, who said he was experiencing chest pain and difficulty breathing.
The asylum seeker, who SBS News is not naming, said an ambulance was called on Sunday after he collapsed in the shower.
"Ambulances came and check my temperature, they said maybe you have COVID. They put me in the quarantine, no medicine, nothing," he said.
The man said that it was difficult for the men to socially distance themselves in detention and he's concerned others will test positive. 
"In the hotel, we had six people sitting at one table too close while eating," he said. "The refugees go into lunch and dinner to one room, sit in one room, and see many people sitting, five people six people, to one table."
The Afghan man said he had been offered a vaccine by the Australian Border Force but did not take up the offer due to his own personal choice. 
His lawyer Daniel Taylor said some asylum seekers hadn't been vaccinated in fear that deportation to Nauru would follow the jabs.
"Results should be made available within hours, not days," Mr Taylor said in a statement. "Those who are not infected need to be offered a healthier environment. Without clarity about their futures, few refugees know whether to accept vaccinations."
The ABF has been contacted for comment.
An ABF spokesperson confirmed on Sunday night that three men at the Park Hotel had tested positive to COVID-19.
"As soon as the detainees presented with symptoms they were immediately placed into quarantine," they told SBS News.
"Standard departmental protocols are being followed in relation to a positive diagnosis including contact tracing, quarantining, testing and cleaning, in conjunction with the Victorian public health unit."
The spokesperson said all consenting detainees in immigration detention facilities have been offered COVID-19 vaccination.
"The roll-out of the COVID-19 vaccination program to consenting detainees commenced in early August 2021 and has taken place at all immigration detention facilities across the immigration detention network," they said.
Source link