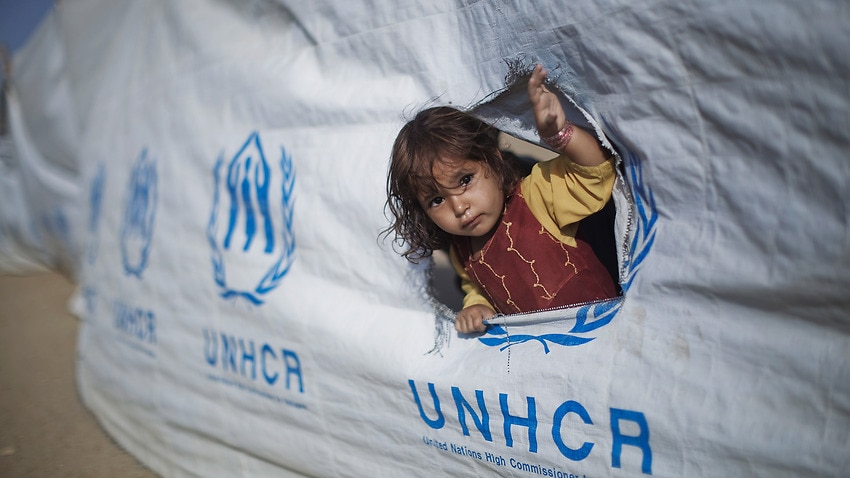 The United Nations has delivered a scathing rebuke of the "discriminatory" restrictions placed by the Australian government on refugees trying to reunite with family members.
Australia's current policy settings are "punitive", "cruel" and contradict obligations under international law, according to the warning from the UN's High Commissioner for Refugees.
The blunt assessment was delivered in a submission to a parliamentary inquiry currently examining the fairness of Australia's family and partner reunion visa system. 
The UN agency's concerns are broad given the complexity of Australia's resettlement policies, which take into account pathways to Australia, place of processing and legal status. 
The agency has delivered a stark message to the Australian government – namely, that it has failed to adequately reunite people with their families after fleeing persecution. 
"UNHCR strongly urges Australia to urgently remove all discriminatory restrictions imposed on refugees accessing family reunification mechanisms," the submission says.
"These policies are punitive, cruel and at variance with Australia's obligations under international law."
The UNHCR recognises that Australia does have processes to facilitate family reunification for those in its refugee program – but notes these individuals also face roadblocks to securing reunions.
It stresses that Australia should expand eligibility for family reunification streams to all refugees and "strengthen such mechanisms" to enable the program to better support displaced families. 
In a statement, a spokesperson for the Department of Home Affairs said: "The Australian Government recognises the importance of family reunion for refugees and humanitarian entrants."
"Permanent humanitarian visa holders (including Permanent Protection visa holders) may propose family members for resettlement in Australia through the offshore Humanitarian Program and the Family Program."
High costs, restrictive eligibility and onerous documentation
The Senate inquiry, which started in February, is examining the processing of family and partner reunion visas over concerns the system is being plagued by lengthy waiting times and exorbitant costs.
In its submission, the UNHCR specifically points to the disproportionate impact of these challenges on refugees trying to bring family into Australia.
In one recommendation, the UN body conveys its concern with Australia's approach – stating that legal requirements should not present "insurmountable obstacles" for refugees trying to reunite with family.
"This involves limitations imposed as a result of the manner of arrival, fees imposed, or status granted," the UNHCR's submission says.
"Other restrictions include the time frame within which applications may be submitted, discriminatory processing priorities, documentation, income, and health requirements that may be imposed."
Who is, and who isn't, eligible for family reunification visas?
Refugees on permanent visas are eligible to sponsor family members through the family stream of Australia's migration system.
But the UNHCR warns that even these individuals continue to face a number of obstacles blocking them from reuniting with family members.
This includes high costs, restrictive eligibility criteria and "onerous" documentation requirements. 
The UNHCR also raises concerns for other refugees who aren't eligible for the program.
"UNHCR has first-hand knowledge of countless families denied reunification in the most compelling of circumstances, such as the case of a refugee father on a temporary visa who was unable to sponsor his vulnerable minor children living in a third country to join him in Australia when their mother died in tragic circumstances," the submission says. 
Refugees arriving in Australia on or after 13 August 2012 without a valid visa are also not eligible to sponsor any family member under Australia's Humanitarian Program, according to UNHCR.
Such refugees – who arrived in Australia via boat before the Coalition implemented Operation Sovereign Borders in late 2013 – are sometimes referred to as the "legacy caseload" of Australian boat arrivals. 
As at March 2021, 31,225 people within this group had submitted a protection visa application – with 26,830 of these finalised, according to the Department of Home Affairs.
More than 18,000 applications for temporary protection among the legacy caseload have been granted, according to government data.
The UNHCR says refugees who arrived before 13 August 2012 can submit family reunion applications – but warns these are given the "lowest priority" for processing unless they are able to prove "compelling reasons" otherwise.
A spokesperson for the Department of Home Affairs said the government has: "measures in place to discourage people from risking their lives on a dangerous boat journey.
"These include giving a lower priority … to process Family visa applications where the applicant's sponsor is a person who entered Australia as an Illegal Maritime Arrival (IMA) and is a permanent resident."
In a separate submission to the inquiry, the Department adds that: "refugees granted temporary Protection visas are not eligible to sponsor family members to migrate to Australia."
"However, Safe Haven Enterprise Visa (SHEV) holders who become eligible to apply for, and are granted, a 'prescribed' permanent visa will become eligible to sponsor their family members." 
The UNHCR also warns that the primary avenue through which refugees can reunite with family members is persistently being overburdened with applications.
It says demand for the so-called Special Humanitarian Program pathway has "far exceeded" the number of visas available each year.
For example, in the 2019-20 fiscal year, there were 40,000 visa applications lodged under the SHP and around 4,600 visas granted.
The UNHCR also takes aim at the impact of Australia's offshore processing regimes in Papua New Guinea and Nauru – and on the separation of families that have faced persecution.
"This has resulted in situations where immediate family members are separated indefinitely between Australia and Nauru or Papua New Guinea and other third countries such as the United States," the submission says.
In the 2020–21 financial year, the government increased the number of family stream visa places to 77,300, which would account for almost half of the migration program. 
The decision comes as the coronavirus pandemic has rocked Australia's migration system forcing the program into negative levels for the first time since World War II.
"Global travel restrictions to manage COVID-19 related health risks have limited the arrival of temporary and permanent migrants to Australia," the Department of Home Affairs' submissions says.
"Processing of family members of Australian citizens or permanent residents continues to be a priority, particularly those who are in Australia or offshore with an urgent need to travel."
Source link