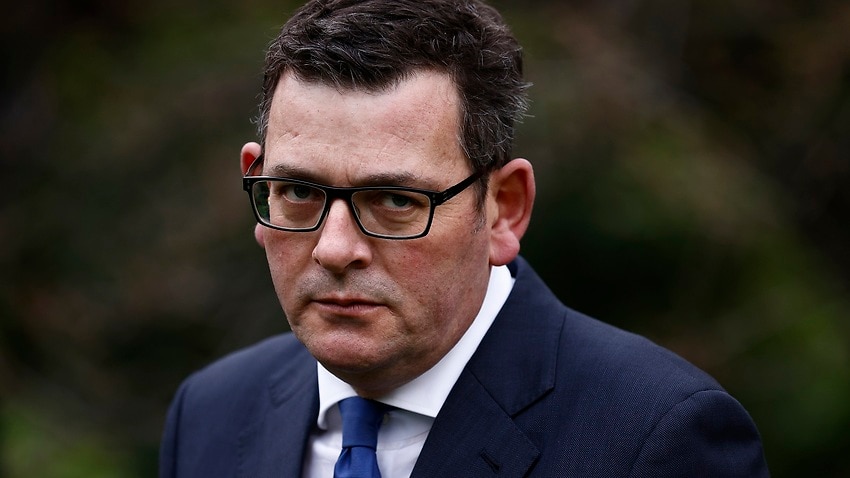 Melbourne's lockdown has been extended by a further two weeks to 2 September after the state reported 22 new local coronavirus cases on Monday.
"Our performance more broadly is not good news. We see too many cases, we see too many mystery cases. We now have 12 or 13 different chains of transmission," Premier Daniel Andrews said on Monday.
"The origins of some are unknown to us. That means that this is spreading in an undetected way across the community. We are at a tipping point. There is simply no option today but to further strengthen this lockdown."
Of the new cases, eight have been active in the community during their infectious period and 17 are linked to known outbreaks.
There are six cases in hospital, one person in ICU.
The sombre announcement was made after video footage emerged online of an engagement party that may have been attended by a COVID-19 case.
Melbourne's Jewish leaders urged community members to follow lockdown rules after dozens gathered for an illegal engagement party over the weekend.
A mother and son from St Kilda East, the heart of the city's Jewish community, tested positive to COVID-19 over the weekend despite having no known links to other cases.
The cases were discovered amid unconfirmed reports on social media of a recent engagement party held by community members, which one case may have attended.
In a video of the alleged lockdown gathering, seen by AAP, a man jokes to the crowded room: "Clearly this is legal as a group therapy session. That's why my father's here."
Former Victorian Labor MP Philip Dalidakis said he recognised people he knew from the video.
"I am speechless. I am genuinely shocked at the brazen disregard for our laws," he wrote on social media.
"Not one person in the video should be there, not one person in the video is using masks, not one person in the video is considering the selfish impact their behaviour is now having."
While noting the event was not representative of the overwhelming majority of the Jewish community, he said small pockets needed to reflect on "just how dangerous and selfish their behaviour has been".
The newly elected president of the Jewish Community Council of Victoria, Daniel Aghion, called for calm and said anyone concerned about exposure should contact authorities.
"We are disappointed to learn that a small group have not been following mandatory lockdown restrictions," he said in a statement.
"We too feel the immense frustration at the current situation, and are focusing our support on significant efforts being made to contain the virus," he said.
COVID response commander Jeroen Weimar told reporters on Sunday he believed the St Kilda East pair had been infectious in the community for a number of days.
He described the developments as part of a tipping point in the latest outbreak, and said health officers had been meeting with community leaders since Saturday.
The council has warned of several exposure sites frequented by Melbourne's Jewish community, including supermarkets and pharmacies in Balaclava, Haymisha Bakery, Daneli's Deli and Doms Balaclava Fruit Mart.
It comes as police crack down on illegal gatherings after dozens congregated for a takeaway-drink pub crawl event in Richmond on Saturday and about 200 people gathered for a street party in Northcote.
On the Mornington Peninsula, one resident had made plans to invite a thousand people to a house party with a DJ and a stage.
There are currently more than 500 exposure sites listed across the state.
With SBS News