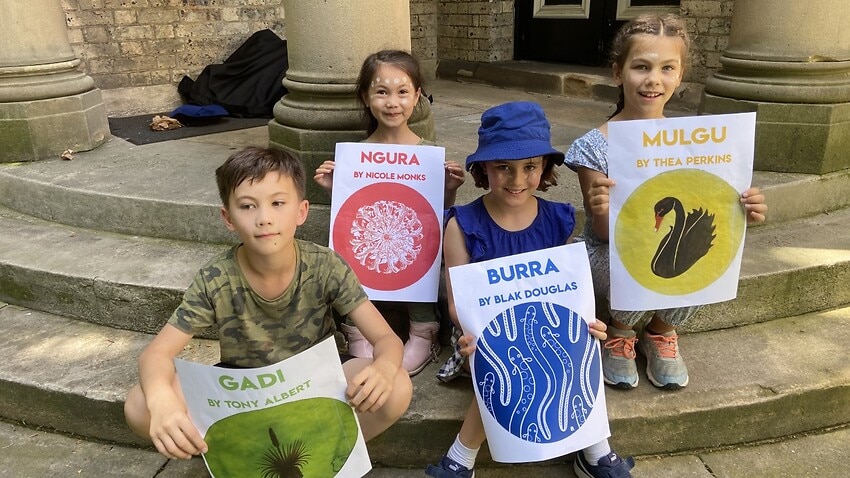 A Sydney primary school has changed the names of its sports houses to reflect Aboriginal words rather than early colonists.
Leading First Nations artists Tony Albert, Blak Douglas, Thea Perkins and Nicole Monks worked with parents at Bourke Street Public School in the inner-city suburb of Redfern to create new Aboriginal school house names and symbols. 
The project coincides with NAIDOC Week, which celebrates Aboriginal and Torres Strait Islander achievements and culture.
The four school houses at the school will be re-named Gadi (Grass tee), Burra (Eel), Mulgu (Black Swan) and Ngurra (Country) – replacing the colonial house names of Macquarie, Phillip, Hunter and Wentworth.
Year three student Lilly Xahab said she was happy with the change.
"We are really excited our school has changed the house names to Aboriginal names," she told SBS News.
The four artists, who all have connections with Redfern, created the symbols for the new houses.
"Banksia has a really interesting connection to country – as in, when the wildfires go through, they actually self propagate so it takes on the country and actually blossoms because of it," Ms Monks told SBS News, explaining her symbol. 
Ms Monk said having the names prominently displayed at the school provides an opportunity for much-needed conversations about Aboriginal culture. 
"Using now Aboriginal culture puts a new narrative out there and allows people to connect with place in a way they haven't been able to before," she said. 
The initiative recognises and celebrates the Eora Nation, with Elders engaged in sharing their cultural knowledge.
The school's engaged educator and Wiradjuri Elder, Jimmy Smith, will run a series of "Indigenous Voices" workshops with Aboriginal students and families. 
"The education system has let the country down, but it's changing and there is still a lot more change to come and we're working on it," he told SBS News.
The project was sparked by parents and teachers feeling it was necessary to recognise and celebrate the land on which they work and learn, to honour the process of truth-telling and to forge deeper understandings of and connections to Aboriginal knowledge and cultures.
With additional reporting by Gavin Fernando. 
National NAIDOC Week (8–15 November 2020) celebrates the history, culture and achievements of Aboriginal and Torres Strait Islander peoples. 
Join SBS and NITV for a full slate of NAIDOC Week content. For more information about NAIDOC Week or this year's theme, head to the official NAIDOC Week website.
#NAIDOC2020 #AlwaysWasAlwaysWillBe
We Thank To Our Readers For Your All Contributes. We Still Seek Your Support In Pandemic CoronaVirus.
Donate Bellow For Better Future
[charitable_donation_form campaign_id=57167]