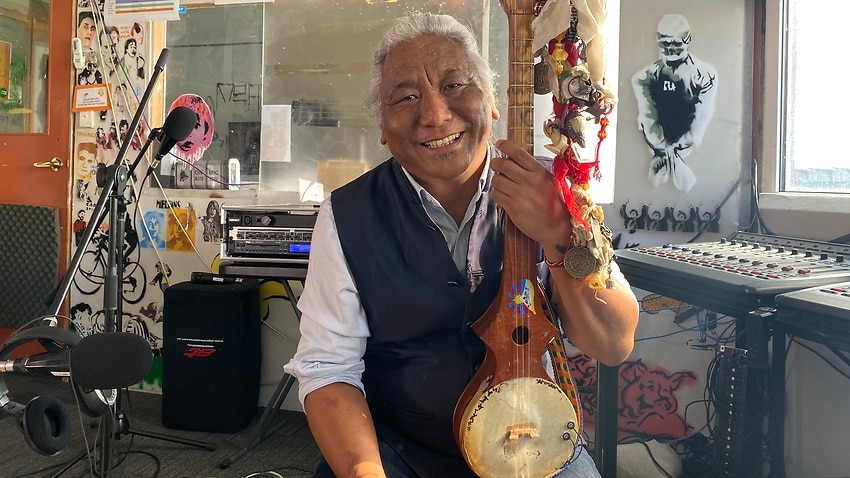 When Tenzin Choegyal's phone started pinging in the middle of the night last November, he put it aside. It was only when he woke up in the morning that he realised his latest album had been nominated for a Grammy in the United States.
The Tibetan refugee is one of four Australian artists in the running for one of the prestigious international music awards, the winners of which will be announced on Monday morning Australian time.
The Brisbane-based musician's album Songs From The Bardo – a contemporary interpretation of the Tibetan 'Book of the Dead' with US collaborator Laurie Anderson and friends – had already made it to the number one on the Billboard New Age music chart for four weeks. But the Grammy nod was still a shock. 
"I was actually very surprised, I think it was 3am when they announced it and I was getting text messages from my friends in America, but just pushed the phone aside," he told SBS News, laughing nervously.
"Then around 8am in the morning I saw 'Songs From The Bardo' is nominated."
The Book of The Dead, or Bardo Thodol, is a classic work of Tibetan Buddhism from the 8th Century. 'Bardo' is a 49-day intermediate state believed to be between death and rebirth, where reciting the Book Of The Dead helps guide the deceased's consciousness through the journey.
Choegyal has been working on its re-interpretation to musical accompaniment for two decades.
"Bardo Thadol means 'liberation through hearing', so when you hear the text, it liberates your mind," he said.
SBS Tibetan: Tibetan-Australian singer gets Grammy nomination
"It is a really beautiful ancient wisdom, so the Songs From The Bardo is a fusion of ancient wisdom with a very contemporary sound."
The 90-minute album is also deeply personal. It is a tribute to Choegyal's beloved mother who died when he was a teenage refugee in India after fleeing Tibet in the 1970s.
"Songs From the Bardo, it's actually a celebration of life, it's not a mourning – mourning doesn't do any good," he said.
"In the West, we don't give thought to death. As I was growing up I would see death quite often, but here I don't encounter death at all, but it really is part of life, as much part of life as life is of death, but we sometimes forget.
"In Tibetan tradition, you read the text to the dead, whisper to the consciousness."
In Tibetan tradition, you read the text to the dead, whisper to the consciousness.

– Tenzin Choegyal
Growing up dislocated and distant from his country and culture, Choegyal found it difficult to read the ancient script, so he translated it into English and put it to music so he could "concentrate on it clearly".
He has performed and evolved the work with artists in Australia, Germany, Japan and the US.
Invited to perform at the Rubin Museum of Art in New York, he asked friend and fellow composer Jesse Paris Smith to suggest collaborators to read his text.
"She said 'Laurie Anderson' [the renowned New York electronic music pioneer and avant-garde artist] and I didn't know who she was," Choegyal said.
After a seamless performance together, they decided to record Bardo, laying it down in a studio in one day.
"After that, I kept it for four years in my hand not knowing what to do with it," he said.
That was until he was approached by the Smithsonian Institution, which released the recording in late 2019 to critical acclaim.
"The music is meant to help you float out of your body, to go into these other realms, and to let yourself do that without boundaries," Anderson says on the album's sleeve notes.
Her deeply resonant voice speaks the words of the Bardo – "Awakened one, listen without distraction" is one of the constant refrains – while Choegyal chants to an accompaniment of strings, flutes, gongs and singing bowls.
"Laurie is a very compassionate collaborator, I think she listens – that's where we probably connected the most," Choegyal said.
"The listening part, and being compassionate, then bringing the best out of the collaborators."
Amid the COVID-19 pandemic, there has been little opportunity to tour or promote the album. But Choegyal remains optimistic. 
"The pandemic time coincided quite well in a way because all the human beings had to live in a state of Bardo, so hopefully it gave them time to actually listen to it and then realised how amazing the text is," he said.
Choegyal has been on a life long musical journey, supported by his Australian wife who he met in India before moving to Brisbane in 1997 with just a small suitcase of belongings and his Tibetan lute.
He draws on his Tibetan nomadic roots and Buddhist tradition, fusing traditional vocals with the dranyen (a traditional stringed instrument, or lute) and lingbu (a type of flute) with an international cast of collaborators.
"I'm super proud to be called a Tibetan-Australian artist, and actually coming to Brisbane, Australia, opened my musical windows," he said.
After an invitation to perform at the Woodford Folk Festival in south-east Queensland when he first arrived, he has gone on to perform at Carnegie Hall in New York and the Sydney Opera House, as well as helping found the Festival of Tibet in Brisbane.
Australian audiences witnessed a rare live performance of Bardo in 2018 when Anderson travelled from New York to the Gold Coast for a one-off show, but since then the work has continued to evolve.
Its most recent improvised incarnation saw Choegyal performing alongside members of Brisbane rock band Regurgitator.
His new project is a collaboration with American composer Philip Glass, considered one of the most influential of the 20th Century, on a project called "Be The Sky".
"It's about developing a mind that is as vast as the sky, as limitless, but at some time bringing it back to yourself," he said.
The Grammy Awards winners will be announced on Monday. 
Source link