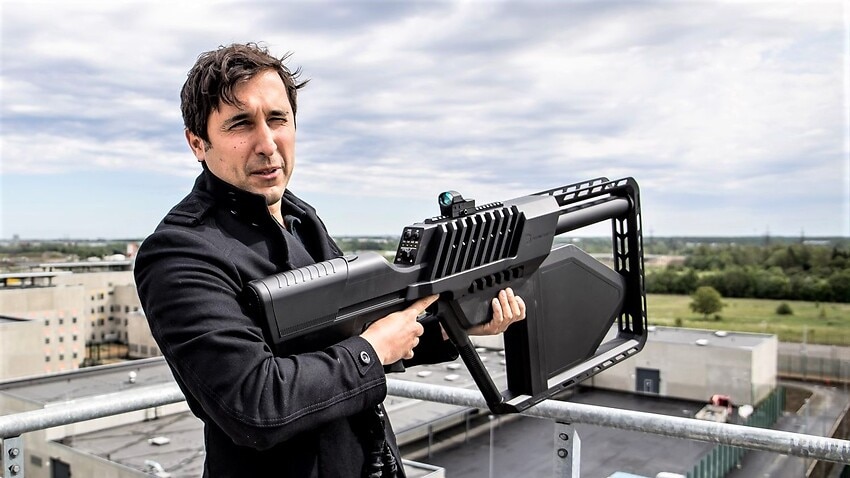 Oleg Vornik is a local CEO with a broad global view.
Prior to the coronavirus pandemic, he was spending six months of the year travelling the world to sell his company DroneShield's counter-drone technology to Australian allies.
Although international border closures have kept the 39-year-old in Australia since, Sydney-based DroneShield has continued to export amid rising global demand for counter-drone technology. 
"We are dealing with a new class of a threat, which is very dangerous," he told SBS News.
Commercial drones are readily available, and authorities across the world fear terror groups could modify the devices as weapons against military or civilian targets.
Parts can also be ordered over the internet to make unregistered devices.
"Anyone can go online and build [a drone] with a significant level of capability, completely autonomously and completely anonymously," DroneShield chief technology officer Angus Bean said.
The DroneShield technology works by first detecting a drone's signal, then disabling it and forcing it to land safely.
"If you are in a battle zone, there is a lot of value in retrieving the drone in a safe manner, because then you can get all kinds of information from it," Mr Vornik said.
DroneShield now exports to more than 100 countries worldwide.
The firm also counts the Australian government as a customer, as well as other agencies from countries across the Five Eyes intelligence alliance.
This week's federal budget increased security funding for Australia's national spy agency, with a $1.3 billion allocation over 10 years aiming to help it "identify and respond to threats in a more complex security environment".
During the pandemic, DroneShield has also emerged as one of Australia's export success stories, recently winning a NSW Premier's Resilient Exporter award from a field of almost 150 applicants.
"We picked DroneShield because of what they did last year to make their company sustainable, to keep it growing during a really difficult time for everyone in the world," Export Council of Australia chair Dianne Tipping said.
Mr Vornik said the company has grown steadily since launching five years ago.
"During the pandemic, our staff tripled from 15 people to about 50 people today," he said.
Malcolm Davis, a senior analyst at the Australian Strategic Policy Institute, has written extensively about the military use of drones, particularly in the recent Nagorno-Karabakh conflict between Armenia and Azerbaijan.
"The war has been most visibly characterised by 'kill cam' footage of drones attacking armoured fighting vehicles, including main battle tanks, as well as unprotected infantry, with devastating effect," he wrote last year on ASPI's The Strategist website.
Dr Davis said counter-drone technology is an important tool to have in a country's arsenal.
"A major challenge [for security forces] is the homegrown terrorist, a lone wolf actor who decides that drone technology is something they can use to inflict fear without putting themselves at risk," he said.
"[Another] challenge is the prospect that in wartime, our military forces will be confronted with a very sophisticated swarming drone capability.
"Australia needs to be able to defend against that threat, in order to preserve our military capability."
Source link