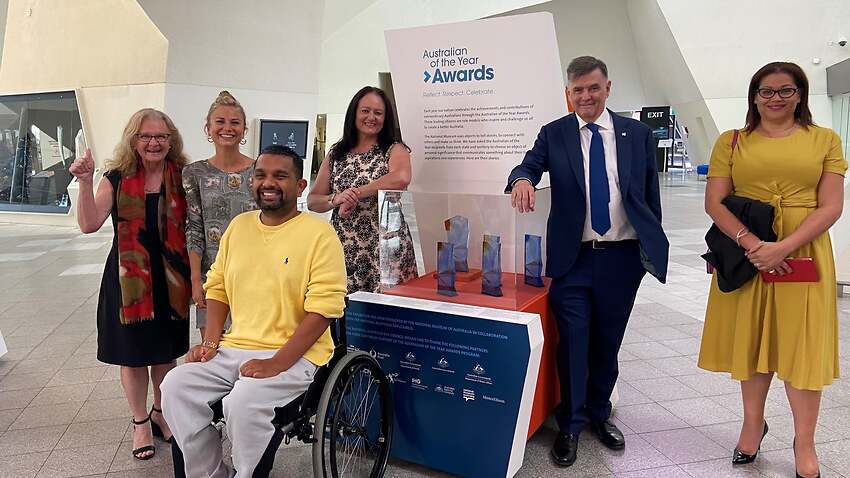 A broad field of candidates are in the running for the 2021 Australian of the Year Awards.
Thirty-three Australians have been listed as finalists across four award categories: Australian of the Year, Senior Australian of the Year, Young Australian of the Year and Australia's Local Hero.
National Australia Day Council chief executive Karlie Brand said following a year of bushfires and the coronavirus pandemic, the finalists showcased the "extraordinary ways" Australians responded amid times of crises.
"The past year has been particularly challenging and many of the finalists have shown incredible leadership or stepped up to help in extraordinary ways," she said.
"These are the people who make our nation and our communities great – real people doing important work and showing leadership when it's needed most."
Australian of the Year
The twin crises faced by Australia in 2020 – the bushfires and the pandemic – were reflected in the finalists selected in the Australian of the Year category.
Former federal chief medical officer Brendan Murphy is a finalist, as is ex-New South Wales Fire Commissioner Shane Fitzsimmons. 
"I didn't want this ghastly virus to come, but I was there when it came," Dr Murphy said after being named 2021 ACT Australian of the Year in November.
"I was determined to save the Australian people from what we saw in the rest of the world. It's been the most privileged thing I've done all my life." 
Mr Fitzsimmons, now the leader of Resilience NSW, said the summer of 2020 will always stand out as the worst fire crisis he had seen in the decades since he became a volunteer firefighter in 1985.
"It was the most extreme. It was the most extensive. The fires were the most ferocious, and spread further than anything we had seen before. And of course, the toll was enormous," he said during the 2021 Australia Day address on Monday.
"Volunteerism, people coming together, making a difference in their local community… As Commissioner during the fires, I was inspired every day. It kept me going, by all who involved in the firefighting effort… there was an army of men and women."
Australia's first Indigenous medical doctor, Helen Milroy, is the finalist from Western Australia.
"You can't grow up as an Aboriginal person in WA in the 1960s, 1970s and 1980s and not be struck by the contrast that you're exposed to. And I think throughout my life and my career, I have seen both the frailty and strength of the human spirit," she said in December after accepting WA's award.
The artist and author also served as a commissioner in the royal commission into child sexual abuse. 
Also an advocate for Indigenous advancement, Tanya Hosch has held leadership roles in sports, the arts and public policy.
She is the first-ever Indigenous person and second woman to join the AFL's executive team, which came after her work in the Recognise Movement for constitutional reform. In 2020, she played a leadership role in a social media campaign aimed at protecting Indigenous communities from COVID-19.
Ms Hosch has spearheaded the AFL's Indigenous strategy and gender diversity policy.
She told NITV News in October her passion for fighting racism has been informed by her lived experience.
"I grew up with a keen sense of justice, and that is something that has impacted me from a young age, based on the racism and discrimination I experienced."
Rounding out the category is sexual assault survivor advocate Grace Tame, Queensland's first quadriplegic doctor and law graduate Dinesh Palipana, founder of the National Homeless Collective, Donna Stolzenber, and Aboriginal health expert Wendy Page.
Senior Australian of the Year
Alyawarre woman Patricia Anderson, 76, has spent her life advocating for Indigenous Australians, serving as a chair on multiple organisations, including the National Aboriginal Community Controlled Health Organisation and the Prime Minister's Referendum Council.
She said she is particularly proud of her work in helping to form the Uluru Statement from the Heart in 2017, a consensus statement on Indigenous constitutional recognition arising out of a convention of 250 delegates.
"It's time for us all, all Australians to settle the unfinished business between us, between First Nations people, and other Australians, these days coming from a wonderful diversity of backgrounds and influences," Ms Anderson said.
"In 2017 it was my privilege to be part of the deliberative process which delivered the Uluru Statement from the Heart. This is offered to all Australians as a gift of hope. The statement calls for a constitutionally enshrined voice to parliament … We gifted this to you, the Australian people." 
Finalist Bich Cam Nguyen, 80, is the founder and current full-time chief executive of the Australian Vietnamese Women's Association.
Since arriving as a refugee in Australia in 1975, her advocacy has expanded to include refugees and migrants of many cultural backgrounds.
"I think it is important that new arrivals feel that they are welcome and being taken care of and helped. And that way they feel they are part of the community, ready and able to contribute."
Professor Richard Bruggemann, 76, continues to provide expert advice to governments on disability services and rights, recently serving on the taskforce investigating the death of cerebral palsy sufferer, Ann Marie Smith.
He said over 40 years of advocacy there has been a shift towards a growing recognition and participation of people with disabilities in all aspects of society, such as work, sports and the arts, but there is still work to be done.
"Services continue to be important, but they are not an end in themselves, rather they are the vehicle for developing skills needed to enable people to participate and contribute.
"Thereby enriching our community. Being a part of that ongoing journey has been a rich reward in itself; and is the motivation to continue working to ensure that people with intellectual disabilities have the same rights and responsibilities as all other Australians."
Other finalists include Indigenous elder Isabel Reid, Aboriginal activist and artist Dr Miriam-Rose Ungunmerr Baumann, Torres Strait communities advocate Aunty McRose Elu, scout leader and mentor Brian Williams, and advocate of Aboriginal culture and reconciliation, Dr Richard Walley.
Young Australian of the Year
A gold-medal athlete in the Invictus Games for people with disabilities, finalist Nathan Parker is a commercial pilot and flight instructor – all things he initially thought would not be possible after a military bus accident when he was 20 resulted in his left hand being amputated. 
"Despite that life-changing accident, and the various challenges that accompanied it, I have had some of the most amazing experiences and opportunities, and I have learnt first hand along the way that our situation, our setbacks don't have to determine our story.
"All of us have a far greater capacity to be resilient then we realise."
At the age of 18, finalist Isobel Marshall set up a social enterprise to end the stigma around menstruation and improve access to female hygiene products.
"We are all driven at Taboo to do our work because we know that each individual has value and we believe that each individual should have access to equal opportunity to reach their full potential – no matter their biology.
"And this can only be done if period poverty is addressed and menstrual stigma is challenged."
Other finalists include: youth advocate Tara McClelland, Aboriginal health practitioner Stuart McGrath, animal conservationists Daniel and William Clarke, AFLW footballer Tayla Harris; advocate for climate action and youth empowerment, Toby Thorpe; and founder of anti-slavery group Walk Free, Grace Forrest. 
Local Hero
Finalist Rebecca Prince-Ruiz started the Plastic Free July initiative a decade ago. 
It now has an estimated 326 million global participants.
She said the idea came out of a strong impulse to act.
"I am passionate about reducing the impact I have on the environment and helping others to do the same. Ten years ago, I set myself a personal challenge of trying to refuse single use plastic for a month. I was inspired to do this after visiting my local recycling facility and seeing for the first time just how wasteful a society we've become. I knew I had to do something different."
Kenyan-born Rosemary Kariuki fled family abuse and violence in her home country in 1999.
She became a multicultural community liaison officer with Parramatta Police in 2005, helping migrants fleeing domestic violence.
She co-founded the annual African Women's Dinner Dance 14 years ago, which is attended by more than 400 people.
Ms Kariuki said the project arose out of a desire to end the isolation for newly arrived migrants.
"These women who don't go out or make connections… it is because the services help them, but don't connect them. They are lonely," she told the Australia for UNHCR supporter event in December. 
"The African Women's Dinner Dance is to bring the women… on top of socialising, on top of making friends, it is a way, it is a vehicle for them learning what services are out there for them. It is a way of making the connections, it is a way of making friendships. And those friendships stay forever."
Other finalists include founder of Lids4Kids, Timothy Miller, police officer Erica Gibson, founder of Drought Angels, Natasha Johnston, respectful relationships advocate Russell Ebert, founder of Kingborough Helping Hands Edna Pennicott, and founder of Gowns for Doctors, Dr Kirby White.