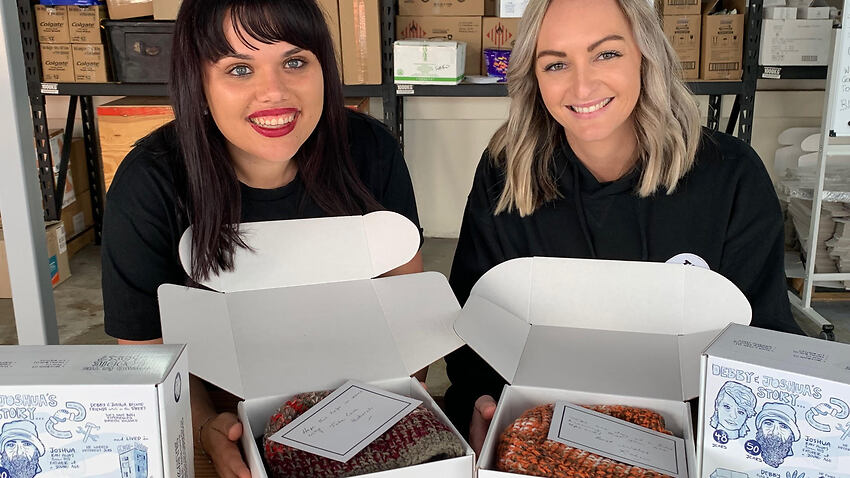 Jakulaith Wolff knew there would be no future for him in Kuwait.
As a transgender man living in a country largely intolerant of the LGBTIQ+ community, he knew from a young age he had to flee.
"If a country fails to protect a citizen for their basic human rights, then the citizen has no option but to leave and search for a new place to call home," he said. 
But while he came to Australia aged 21 with hopes of a better life, his optimism was short-lived.
"I didn't know anybody, my English was bad, I was just lost and scared."
That social isolation saw him become one of the nearly 120,000 people who sleep rough across the country on any given night.
After a year of calling Melbourne's Victoria Park home, he found some light at the end of the tunnel thanks to a unique social enterprise.
The Good Box
Gali Blacher and Maddy Jones were working at a charity magazine in Sydney when they were forced to face the bleak reality of Australia's homelessness crisis.
"There were so many people that would walk straight past people experiencing homelessness, sometimes as if they didn't exist", Ms Jones said.
It prompted the pair to create The Good Box in 2019. The social enterprise began in a warehouse in Brisbane and creates gift boxes for people experiencing homelessness, partnering with various charities to help deliver them.
The boxes can contain everything from a hat and gloves to keep warm, to toiliteries including lip balm and toothpaste. Some also contain snacks such as hot chocolate and muesli bars, as well as surprise items such as a cinema voucher or a book. Gift boxes are also available for pets. 
The initiative saw its founders quit their jobs in order to work on it full-time. 
"We really try to cater to every single type of person experiencing homelessness", Ms Jones said. 
"It's not just those who are sleeping rough, there are also people sleeping in overcrowded dwellings, in emergency accommodation and even couch-surfing."
And while a lot of thought goes into the items in each box, the box itself is just as special.
Each one is designed to tell the story of someone who has experienced homelessness.
Its founders say as well as helping people in need, one of their biggest missions is to bust myths about what it means to be homeless.
"Misconceptions lead to people treating the homeless poorly," Ms Blacher said. 
"When those people are treated poorly, they then feel isolated and are unlikely to seek help."
"It's all just one large domino effect."
The most unique aspect of the boxes is the little notes that are put inside.
Handwritten messages can be sent from those who purchase the gift boxes to the recipients as a way of connecting two strangers together during a time of need.
The note Jakuliath Wolff received with his Good Box was so meaningful to him that he still has it.
He said the note gave him the strength to get back on his feet and inspired him to start painting again.
After selling his first painting earlier this year, he says he will always be grateful to The Good Box and the people involved in the initiative.
Soaring demand
More than 10,000 boxes were distributed to local charities across the country over the past 12 months.
Of those, about 60 per cent went to people in Melbourne, where demand has surged as a result of several COVID-19 lockdowns.
While its founders say they want to keep up with growing demand, they say they can't do so without public help.
"It's really important we band together as a community and help those that are in desperate need," Ms Blacher said.
The boxes are priced at $21.99 and are available at thegoodbox.com.au
Source link