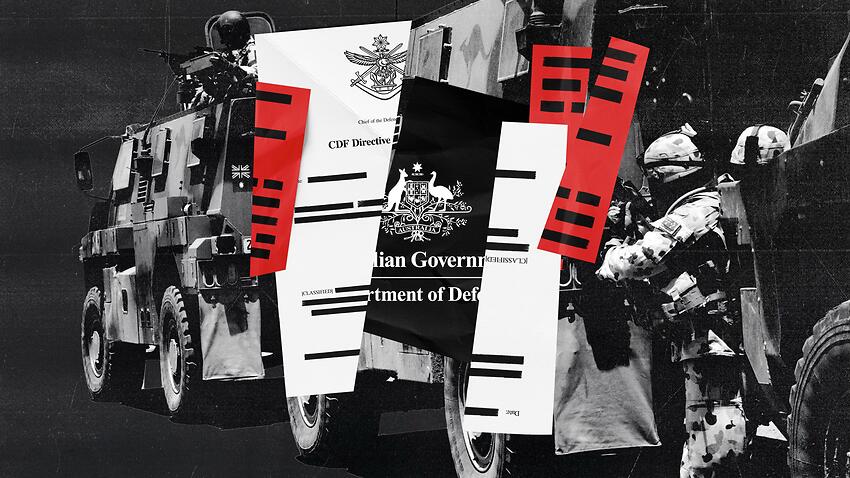 The Afghan government says Australian authorities should apologise to the families of victims of alleged war crimes by Australian special forces in Afghanistan. 
The redacted version of the Inspector-General of the Australian Defence Force Afghanistan Inquiry report is due to be released on Thursday after four years of investigation. 
It is expected to reveal the extent of alleged misconduct by a small group of SAS soldiers in remote Afghan villages between 2005 and 2016.
What is in the report?
Prime Minister Scott Morrison has warned Australians the report would contain "difficult and hard news". 
The inquiry was launched in 2016 to investigate rumours that had been circulating about alleged misconduct by members of the elite Special Operations Task Group. It is led by Major General Paul Brereton, a NSW Supreme Court judge.
Over the past four years, the Brereton Inquiry has been holding private hearings, looking into 55 incidents or issues around alleged unlawful killings and cruel treatment of Afghan civilians or 'non-combatants' over an 11-year period. More than 330 witnesses were also interviewed.
It is not a criminal investigation, but an administrative one. The Inspector-General of the Defence Force has previously stressed that the process, "is intended not only to ascertain whether there has been misconduct but equally to exonerate those who may be affected by unsubstantiated rumours and allegations".
The inquiry is not probing decisions made by soldiers in the "heat of battle" but how people who were clearly non-combatants or no longer combatants were treated.
The report is expected to formally detail accounts of alleged misconduct. But outside of the inquiry, there has been extensive media reporting on various allegations of war crimes in Afghanistan. But it is unclear – and there is no suggestion – that any of these incidents will be confirmed in the report.
What has Afghanistan said about the allegations? 
Rahmatullah Andar, a spokesman for the Afghan National Security Council, says the Afghan government assisted with the inquiry. 
He said Australia should be commended for launching the investigation, adding the bravery of soldiers who spoke out should be lauded.
"Whoever admits a criminal act [shows] moral courage," Mr Andar told SBS Pashto, calling for an apology. 
"If the investigation finds that because of such crimes, particular [Afghan] families are affected, saying sorry to them is another [act of] moral courage, and it is also a good thing to do under human rights [laws]. They have to apologise." 
What about the alleged victims? 
The families of alleged victims are hoping it will finally confirm what happened to their loved ones.
Jawad Zawulistani, the managing director of the Afghanistan Human Rights and Democracy Organization, which represents victims of war crimes, says some of the families don't even know the redacted report is being released.
His organisation has spoken a handful of relatives of the alleged victims, who say they're hoping to finally find out the truth.
"In most cases, they didn't know what has happened to their dear ones," he told SBS.
"In some of the reports, bodies were thrown in the river, [they] … find a dead body of their relatives somewhere in their villages and they didn't know what has happened to them."
He also says the actions of the coalition forces, including Australians, may have led to the rise of the Taliban in the remote villages of Uruzgan. 
"I think because of this kind of treatment to the civilian population that the Taliban and other insurgent groups found foothold in those in those villages," Mr Zawulistani said.
What about the Taliban's response? 
A spokesman for the Taliban echoed that statement, saying it gained a foothold because of the actions of coalition forces, including Australia. 
"Afghan people can not see any foreign troops in their country, especially those who come with guns and bombs. Afghans in all areas are against it," Taliban spokesman Muhammad Naeem told SBS Pashto. 
Mr Naeem said an apology – and even potential prosecutions – would not be enough for the victims.
"The only prosecution of the criminals is not enough, this might calm the feelings of the victim's families, people's homes were destroyed, and their family member was killed, only prosecuting some might not help them. 
"We demand the countries who are honest in dealing with such matters, they should visit the families in those areas and ask people what do they want."
What details will be made public?
We're not expected to see the names of any soldiers, alleged victims and witnesses in the report. 
There'll be a summary and analysis of the evidence behind each incident and a conclusion as to whether or not there's been a breach of the Law of Armed Conflict.
If there's evidence of misconduct, there'll be a recommendation to the Chief of Defence Force as to what should be done to address it.
There will also be a review of the structural, operational, command and cultural environment that may have allowed such acts to occur and advice as to how to address it.
What will happen next? 
A special investigator will probe any criminal matters raised in the report. If that is the case, it will gather evidence and refer briefs to the Commonwealth Director of Public Prosecutions for consideration.
The Office of the Special Investigator will be housed within the Department of Home Affairs and staffed with investigators from the Australian Federal Police, legal counsel, and support personnel.
The Afghanistan Independent Human Rights Commission contributed to the inquiry and shared information of its own investigations. The chair of the commission, Shaharzad Akbar, said some of the Australian media reports detailing the alleged crimes are being translated in Dari and Pashto. 
"There, of course, will be anger and grief, because of what happened, because of these allegations," she said
"Australians were there to improve the lives of Afghans, and not everything Australian forces did was wrong, but there were really shocking incidents that need to be addressed," she said. 
She said the victims should be compensated as well as there being a judicial process.
"They should be held accountable."
We Thank To Our Readers For Your All Contributes. We Still Seek Your Support In Pandemic CoronaVirus.
Donate Bellow For Better Future
[charitable_donation_form campaign_id=57167]